The first top-level international women's hockey competition since April 2019 will finally kick off today, Friday, August 20, at the WinSport Arena in Calgary, Alberta. The tournament was already cancelled once at the 11th hour due to rising COVID-19 infection rates in Nova Scotia, where it was originally going to be held. The fact that the IIHF and Hockey Canada made Women's Worlds happen this summer is exciting for those of us who have missed watching hockey at this level, and is mildly heartening considering the fact that men's hockey tournaments were played throughout the pandemic with massive resources allocated to them while women's hockey was treated like an afterthought.
That said, the COVID situation continues to worsen in many locations. While Alberta is certainly not the worst off right now, they are maintaining masking and distancing restrictions and recommendations throughout the province until at least late September – though restrictions are definitely more lax in Alberta than elsewhere in Canada. There was probably a certain amount of urgency to run the tournament on many fronts due to the 2022 Beijing Winter Olympics set to begin on February 4. This is probably the last time we will get a close look at these national teams before then – for many, it's their last chance to play each other at a high level in a real game situation with something at stake. IIHF World Rankings are already set from 2019 since the 2020 tournament was cancelled and there was some question as to whether the 2021 tournament would even take place, but considering Finland's big silver medal performance in 2019, the top 3 could be in flux in the coming years.
Upon arrival in Calgary, all players and staff are subject to a 5-day quarantine. Per the IIHF, this was preceded by a 7-day quarantine for players and staff at their points of origin with multiple tests throughout that period. All teams arrived in Calgary via private charter flights. COVID protocols in Calgary also mean that no team can add players after arrival at the site, so roster sizes were increased to 25 for each team to allow for lineup flexibility in the event of injury or illness. On August 16, all players at the tournament recorded negative COVID tests, and were released from quarantine to begin pre-competition play on Wednesday. Since August 10, the IIHF reports they have returned 1,557 PCR tests for players, staff, officials, and IIHF personnel, all negative.
In 2019, the IIHF expanded the top division Women's World Championship tournament to include 10 teams, so this is the second tournament with 10 teams in IIHF history. That year, Sweden and France were also relegated to Division IA, and Denmark and Hungary were promoted to the top division.
Group A
United States
2019 finish: A confusing shootout thriller saw Team USA capture its fifth-straight gold medal at the IIHF Women's Worlds in Espoo, Finland. While the championship finish might at first glance look like a preservation of the status quo in the sport, it was an outrageously close game that Finland almost took in stylish fashion on home ice. That said, Team USA is still the top-ranked team in the world for a reason.
Forwards: Dani Cameranesi, Alex Carpenter, Jesse Compher, Kendall Coyne Schofield, Britta Curl, Brianna Decker, Lacey Eden, Amanda Kessel, Hilary Knight, Abbey Murphy, Kelly Pannek, Abby Roque, Hayley Scamurra, Grace Zumwinkle
Defense: Cayla Barnes, Megan Bozek, Natalie Buchbinder. Jincy Dunne, Savannah Harmon, Caroline Harvey, Megan Keller, Lee Stecklein
Goaltenders: Alex Cavallini, Aerin Frankel, Nicole Hensley (Maddie Rooney suffered a lower body injury during training camp and was replaced by Frankel)
Head coach: Joel Johnson; this will be his first tournament as interim head coach of the national team, though he has been with the program as an assistant coach since 2018
How are they going to do?: It's a weird and perhaps contrarian thing to say about the world's best women's hockey team, but this is a big and important tournament for figuring out the identity of this team going forward. Many of the roster players here are newcomers to the senior team, but there is also a good balance of proven veterans. Basics like coaching and systems can be hard to criticize when you're used to first place finishes, but the last two first place finishes in top level international competition (Pyeongchang 2018 and the 2019 WWC in Espoo) came by razor-thin margins in shootouts. Individual performances are great to have to lift you over the edge in tough games, but Team USA is likely looking hard at the basics of their systems and how to best utilize their elite talent. They'll have a medal at the end of this tournament, but the gold is just going to keep getting harder to win.
Keep an eye on: Team USA has a long legacy of extremely mobile blueliners who move the puck creatively and quickly; this next generation of defender talent is no different. Look for scoring opportunities from Jincy Dunne and and future Wisconsin Badger Caroline Harvey, for example, in addition to the ones you already expect from Megan Bozek, and for a lot of this team's offense to start from the back end. This is a team that can steamroll lower-ranked squads without breaking too much of a sweat, but the D will make a huge difference in what should be closer games against Canada and Finland. Among forwards, keep an eye on Abby Roque who led the 2021 PWHPA Dream Gap Tour in goals (6) and tied Marie-Philip Poulin for the lead in points (11). She's the next generation of offensive talent for Team USA and is already making her mark at this level.
Canada
2019 finish: Team Canada won their first-ever bronze in Espoo in 2019 after an upset by Finland in the semifinals; it was their only third-place finish in WWC history.
Forwards: Rebecca Johnston, Laura Stacey, Sarah Fillier, Jill Saulnier, Mélodie Daoust, Brianne Jenner, Sarah Nurse, Natalie Spooner, Emily Clark, Emma Maltais, Marie-Philip Poulin, Blayre Turnbull, Kristin O'Neill, Jamie Lee Rattray, Victoria Bach
Defense: Jocelyne Larocque, Renata Fast, Ella Shelton, Ashton Bell, Erin Ambrose, Jaime Bourbonnais, Claire Thompson
Goaltenders: Ann-Renée Desbiens, Emerance Maschmeyer, Kristen Campbell
Head coach: Troy Ryan, also in his first tournament as head coach after 3 seasons as an assistant
How are they going to do?: This roster is solid on paper, and particularly terrifying at forward and down the middle. Expect aggressive forechecking and a game focused on puck possession with the added motivation that this is essentially a lowkey revenge tour for the Canadians, ahead of the Olympics, and on home ice. Anything less than the gold medal game would be a massive disappointment, so they will be looking to play some of the tightest and most disciplined hockey of their lives and outworking their opponents on every shift. I honestly think they're the most likely team to win it all, though getting through Team USA will be no easy task.
Keep an eye on: It's easy to get excited as hell about seeing Marie-Philip Poulin on the ice again, but there are a lot of other great goal scorers on this roster. Personally I think Jamie Lee Rattray is due for a big performance, and she really shines in challenging situations, which may yet present themselves to Team Canada. Sarah Fillier is also making an appearance on this roster that is several years in the making, and she is a versatile player who can be deployed at both center and wing. Also keep an eye on who is in net – Kristen Campbell is making her senior team debut and it will be interesting to see when and if she gets the start. Desbiens and Maschmeyer are of course proven with this squad –  this trio of goaltenders gives Canada world-class performance in net in every situation.
Finland
2019 finish: Finland captured the silver medal in Espoo in a game that changed women's hockey forever. They sit a mere 60 points back from Canada in the IIHF World Rankings as a result.
Forwards: Sanni Hakala, Elisa Holopainen, Michelle Karvinen, Julia Liikala,
Petra Nieminen, Matilda Nilsson, Tanja Niskanen, Jenniina Nylund, Sofianna Sundelin, Susanna Tapani, Nora Tulus, Vivi Vainikka, Sanni Vanhanen, Emilia Vesa
Defense: Jenni Hiirikoski, Aino Karppinen, Sini Karjalainen, Nelli Laitinen, Rosa Lindstedt, Ronja Savolainen, Minnamari Tuominen, Ella Viitasuo
Goaltenders: Anni Keisala, Meeri Räisänen, Jenna Silvonen
Head coach: Pasi Mustonen has been coaching the senior women's team since 2014 and will take them through the Olympics.
How are they going to do?: Finland has lost some big, big names since their 2019 performance, including Noora Räty, who was at that time probably the best goaltender in the world and a huge part of their success in that tournament that can't be overstated. But they haven't lost their major offensive pieces, and as long as they can score and keep up their tempo for 60 full minutes of hockey, they will remain a formidable challenger for Team USA and Team Canada. Their main problems prior to their breakout year in 2019 were conditioning and offense, and those will be the key components to their success as a program going forward.
Keep an eye on: Susanna Tapani has been a steady offensive presence on this squad for a long time and will be a key performer; so will Michelle Karvinen, widely considered the best European forward in the game. Jenni Hiirikoski needs no introduction and will provide essential playmaking from the blueline; she won best defender in the tournament in 2019 due to her offensive firepower and shutdown performance.
ROC
2019 finish: Russia finished 4th overall in the tournament, with both of their victories coming against a Swiss team that struggled mightily and had the worst offense in the tournament. The gap for Russia between 4th place and 3rd place might as well have been the Sulak Canyon – they really haven't been much of a threat in this tournament for some time and will be looking to change that.
Forwards: Oksana Bratishcheva, Ekaterina Dobrodeeva, Landysh Falyakhova, Fanuza Kadirova, Veroika Korzhakova, Viktoriya Kulishova, Sofiya Lifatova, Ekaterina Likhachyova, Ilona Markova, Valeriya Pavlova, Elizaveta Rodnova, Kristi Shashkina, Olga Sosina, Alexandera Vafina
Defense: Maria Batalova, Liana Ganeeva, Angelina Goncharenko, Elena Provorova, Anna Savonina, Anna Shibanova, Yuliya Smirnova, Nina Pirogova
Goaltenders: Valeria Merkusheva, Nadezhda Morozova, Anna Prugova
Head coach: Yevgeni Bobariko was appointed head coach of the Russian senior women's team after their disappointing 2019 performance at Worlds; he previously led the U18 team to a bronze medal finish at the IIHF Worlds in 2017.
How are they going to do?: This is a team that was built to score, though they are without the top scorer in the Zhenskaya Hockey League, Anna Shokhina, for this tournament. They still have an amazing core of players from the ZhHL, especially Agidel Ufa, which is a perennial contender in that league. Improving on their fourth place finish would be a pretty big upset. They have the offense up front to make a case for that, but they will need outstanding defense and goaltending to get those opportunities. Their more realistic goal is to hang on to fourth place, but do it in a commanding fashion.
Keep an eye on: Obviously Olga Sosina is the major veteran scorer here, but also look for Anna Shibanova to run the play from the back end and potentially get Russia some needed goals on special teams. Anna Prugova was the best goalie in the ZhHL in the 2019-2020 season, and Valeria Merkusheva the second-best the following year. Both of them got absolutely pasted in the friendly against Team USA on Wednesday, but Prugova seems more likely to be the main backstop for ROC in this tournament – when she's on her game, she has the mobility to stop the best shooters in the world point-blank even when she's out of position.
Switzerland
2019 finish: Fifth overall; lost all five games they played and scored just three goals. Not something they're going to want to do again.
Forwards: Rahel Enzler, Mara Frey, Emma Ingold, Lena Marie Lutz, Alina Marti, Alina Müller, Kaleigh Quennec, Evelina Rasell, Lisa Rüed, Dominique Rüegg, Noemi Ryhner, Phoebe Staenz, Lara Stalder, Laura Zimmermann
Defense: Lara Christen, Sarah Forster, Janine Hauser, Nadine Hofstetter, Sinja Leemann, Shannon Sigrist, Nicole Vallario, Stefanie Wetli
Goaltenders: Andrea Brändli, Saskia Maurer, Caroline Spies
Head coach: Colin Muller, who has been with the team since 2019 and is positioned to lead them through the Olympics.
How are they going to do?: The big question for Switzerland is whether they can create offense – but the first step towards generating shots is getting out of your own end. They need to get back to basics. Moving into fourth place would be big for them, but ultimately, the finish doesn't matter quite as much as them getting some goals under their belt while they look ahead to Beijing.
Keep an eye on: Andrea Brändli has been extremely strong in net for Ohio State in the WCHA, but in her last outing at Worlds she had her work cut out for her facing a high volume of shots. Her job will be to keep her team in it with big saves while conserving her energy; meanwhile, the Swiss will need huge performances from Alina Müller and Lara Stalder, who should be incredibly fun to watch. Stalder was the top scorer in the SDHL this past season, with 31 goals in 36 games, adding 51 assists for a whopping 82 points.
Group B
Japan
2019 finish: 8th overall; they fell 4-0 to Team USA in the quarterfinals.
Forwards: Moeko Fujimoto, Makoto Ito, Remi Koyama, Hanae Kubo, Mei Miura, Chiho Osawa, Chika Otaki, Akane Shiga, Miho Shishiuchi, Suzuka Taka, Haruka Toko, Rui Ukita, Hikaru Yamashita, Haruna Yoneyama
Defense: Akane Hosoyamada, Shiro Koike, Yukiko Kawashima, Fumika Sasano, Aoi Shiga, Sena Suzuki, Ayaka Toko, Shiori Yamashita
Goaltenders: Nana Fujimoto, Akane Konishi, Mei Sato
Head coach: Yuji Iizuka is a longtime coach with the senior Japanese women's team going back to 2007. He was last head coach in 2019.
How are they going to do?: It's Japan's time to shine. They've already directly qualified for the Olympics for the first time ever (without having to be the host nation or play through qualification tournaments) and they are ranked sixth in the world. A strong performance in Group B play could land them a favorable draw in the quarterfinals and they have the potential to make a semifinals appearance in this tournament. They have some great veteran players, plus young talent with some speed; it's a great moment for this program.
Keep an eye on: Goaltender Nana Fujimoto spent the 2019-20 season with Färjestad BK in Sweden, winning 8 of 8 starts with a 0.967 save percentage and an 0.62 GAA; she's been the starter with this team for some time and she is looking ahead to what may be her last Olympics at age 32. I am truly looking forward to watching her make some spectacular saves. On defense, look for Ayaka Toko, who was a key playmaker for this team in 2019 as well as for the Seibu Princess Rabbits in the Asian League as the team's top scoring defender. 38-year-old Hanae Kubo has been playing with the women's national team since 1998 and consistently contributes offense while making it look easy against higher-ranked teams.
Czech Republic
2019 finish: 6th overall; lost to Finland 3-1 in the quarterfinals
Forwards: Kateřina Bukolská, Klara Hymlarova, Denisa Křížová, Tereza Mazancová, Alena Mills, Natálie Mlýnková, Kateřina Mrázová, Noemi Neubauerová, Kristýna Pátková, Michaela Pejzlová, Vendula Přibylová, Lenka Serdar, Tereza Vanišová
Defense: Sára Čajanová, Magdalena Erbenová, Pavlina Horalkova, Samantha Kolowratová, Dominika Lásková, Daniela Pejsova, Tereza Radová, Klára Seroiszková, Aneta Tejralová
Goaltenders: Klara Peslarova, Viktorie Švejdová, Kateřina Zechovská
Head coach: Tomáš Pacina will be coaching this squad at a top level international tournament for the first time after a long career coaching in North America, including as head coach of the Calgary Inferno in 2017-18.
How are they going to do?: This Czech team is one of the most fun in the tournament. They topped Group B in 2019, going undefeated in group play, with their only loss coming in the quarterfinals to a Finnish team that was at their best. It'll be challenging, but they certainly have the potential to repeat their group play performance and put on a strong showing in the playoff round. In November, this team will head to qualification tournament in Příbram (home ice for them) hoping to grab a spot in the Olympics, so this tournament is a big opportunity for them to play their best hockey and find their groove ahead of the qualifiers.
Keep an eye on: It's easy to talk about the great forwards on this team – Tereza Vanišová was nearly a point-per-game player when she was at the University of Maine, but her post-collegiate career has been marred by the pandemic. She really didn't get to be her best with the Boston Pride in the Lake Placid season, tallying only 2 assists in 7 games and taking 10 PIMs. With her team gearing up for an essential qualification tournament and a lackluster pro appearance behind her, Vanišová could be poised for a breakout. Kateřina Mrázová should also be absolutely dazzling.
Germany
2019 finish: 7th overall, with some OT thrillers in the mix. They had the unlucky draw of Canada in the quarterfinals, a game they lost 5-0.
Forwards: Anne Bartsch, Nina Christof, Marie Delarbre, Nicola Eisenschmid, Katarina Häckelsmiller, Bernadette Karpf, Laura Kluge, Jule Schiefer, Kerstin Spielberger, Svenja Voigt, Theresa Wagner, Sonja Weidenfelder, Julie Zorn
Defense: Tabea Botthof, Lena Dusterhoft, Tanja Eisenschmid, Nina Jobst-Smith, Rebecca Orendorz, Anna-Maria Reich, Yvonne Rothemund, Carina Strobel
Goaltenders: Sandra Abstreiter, Franziska Albl, Jennifer Harß
Head coach: Franziska Busch; the former German national team forward will be coaching the women's senior team for the first time after spending several years after her playing retirement coaching their U18 squad.
How are they going to do?: Germany is also gearing up for an Olympic qualification tournament on home ice in Füssen. They had great early success in Group B in 2019 but dropped off towards the end, losing an OT game to France (who were eventually relegated) and mustering only 10 shots on goal through 60 minutes while getting blanked by the Czechs. In short, their conditioning and consistency were a bit of an issue. That said, their main goal is Olympic qualification in November, so the mindset here will likely be to keep it simple and not stress too much. Expect some great performances in Group B from them and maybe a tighter quarterfinals matchup if they play their cards right.
Keep an eye on: Jennifer Harß is stunning in net and will need to be Germany's best player every minute she is on the ice. At forward, look for Marie Delarbre – she doesn't put up huge numbers, but has a knack for scoring in essential situations, like in Germany's SO win against Sweden in 2019.
Denmark
2019 finish: Denmark is playing in the top division for the first time since 1992 after finishing 2nd in Division IA in 2019.
Forwards: Silke Glud, Mia Bau, Lilli Pearl Friis-Hansen, Michelle Weis, Josefine Jakobsen, Nicoline Søndergaard Jensen, Michele Brix, Julie Oksbjerg, Julie Østergaard, Josefine Persson, Maria Peters, Emma Russell, Sofia Skriver, Mille Sørensen
Defense: Amalie Andersen, Josephine Asperup, Sofie Skott, Malene Frandsen, Kristine Melberg, Linn Ploug, Amanda Refsgaard, Simone Jacquet
Goaltenders: Lisa Jensen, Emma-Sofie Nordström, Cassandra Repstock-Romme
Head coach: Peter Elander, a Swedish coach who has previously coached the Swedish women's national team (including winning an Olympic bronze medal with them in 2006), though he left in 2010 to be an associate coach at the University of North Dakota, and later Ohio State.
How are they going to do?: There are no demotions this year, so Denmark will not be fighting to keep this spot. That should take the pressure off a bit and allow them to have fun. They'll be especially focused on their matchups with Germany since they will be competing in the same qualification tournament with them in Füssen hoping to make it to the Olympics.
Keep an eye on: Denmark has a great roster of forwards who have played in the SDHL and Danish leagues and can score goals. Team captain Josefine Jakobsen has been an alternate captain with Djurgårdens IF for the last several seasons and has been a consistent goal-scorer and playmaker during that time. Josefine Persson spent last season with Luleå HF, amassing 13 goals and 9 assists in 34 games. If Denmark hopes to do well in this tournament they will need scoring from more than just their top line and they should have the pieces to make that happen.
Hungary
2019 finish: Hungary is making their top division debut after finishing 1st in Division IA in 2019.
Forwards: Réka Dabasi, Fanni Gasparics, Alexandra Gowie, Imola Horváth, Alexandra Huszák, Kinga Jókai-Szilágyi, Andrea Kiss, Emma Kreisz, Regina Metzler, Hanna Pintér, Lili Pintér, Alexandra Rónai, Mira Seregély, Petra Szamosfalvi
Defense: Jelena Grkovic, Franciska Kiss-Simon, Sarah Knee, Fruzsina Mayer, Bernadett Németh, Lotti Odnoga, Réka Pártos, Enikő Tóth
Goaltenders: Anikó Németh, Fruzsina Szabó, Zsófia Tóth
Head coach: Lisa Haley, a Canadian coach who is currently serving as the NWHL's Vice President of Hockey Operations. She previously was an assistant coach with the Toronto Six in the 2020-21 season, and has been head coach of the Ryerson Rams since 2011.
How are they going to do?: Like Denmark, Hungary doesn't have to worry about being demoted, and they are also headed to an Olympic qualification tournament, playing in the same group as the Czech team, so matching up against them will likely be a focus for them ahead of the November qualifiers.
Keep an eye on: At just 24, Anikó Németh is the veteran in net, since Fruzsina Szabó and Zsófia Tóth are just 17 and 18 respectively. Németh was key to their Division IA victory, with a 0.968 save percentage and an 0.73 GAA. This will be a big test for her considering the offensive talent in Group B, and her team's success depends on her consistency. Also don't sleep on the Hungarian offense, particularly Míra Seregély, who is headed to the University of Maine and will likely anchor this team on offense for years to come.
---
The tournament kicks off at 2:00 PM Eastern with the Czech Republic facing Denmark in their first ever top division game, followed by a 6:00 PM rematch between Finland and Canada who last met in the 2019 semifinals. At 9:30 PM, Team USA meets the Swiss team.
Here is the full tournament schedule with broadcasting info, via The Sporting News: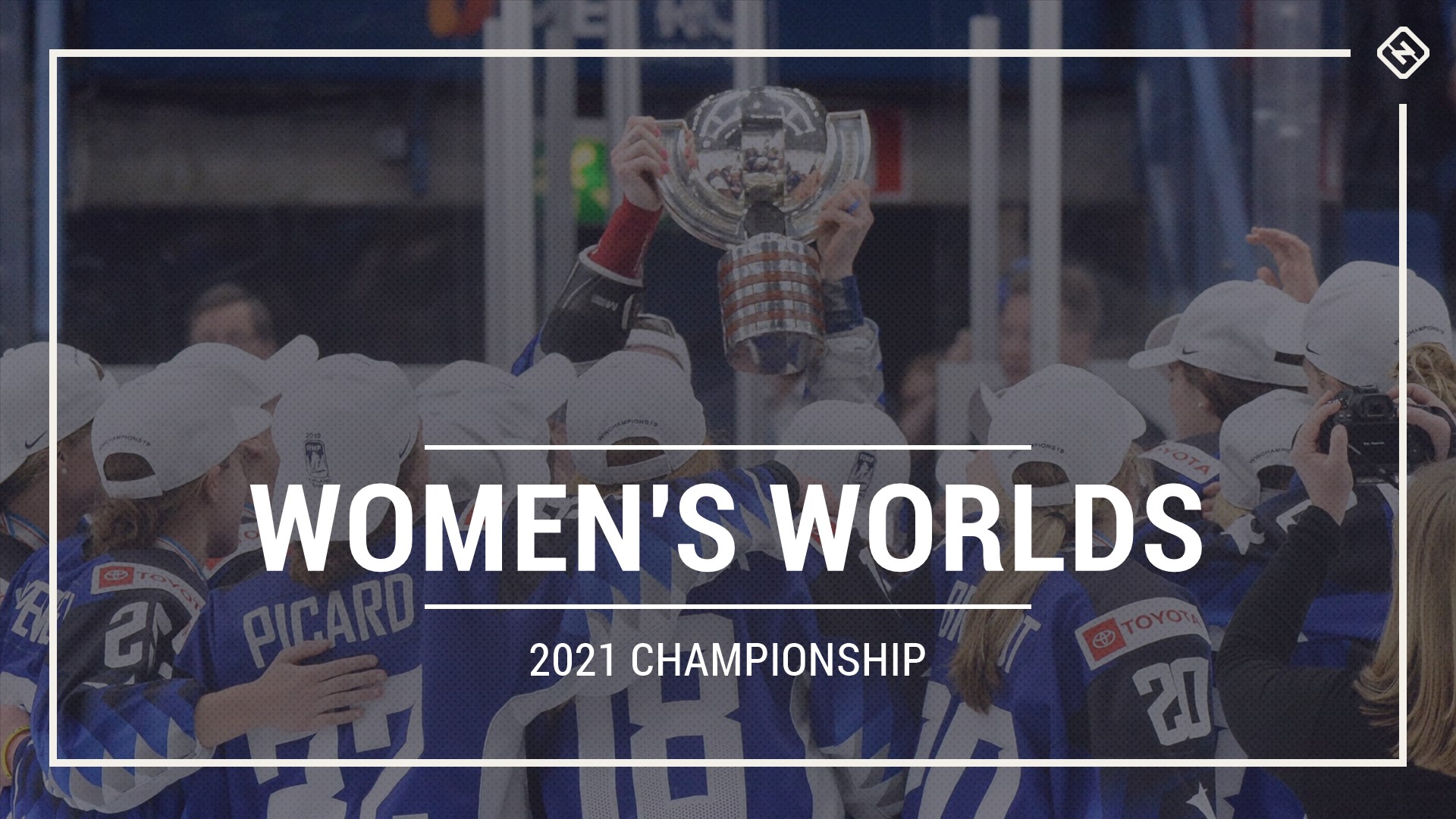 Friday, August 20
Czech Republic vs. Denmark - 2:00 PM Eastern - TSN, ESPN+
Canada vs. Finland - 6:00 PM Eastern - TSN, NHLN
Switzerland vs. USA - 9:30 PM Eastern - TSN, NHLN
Saturday, August 21
Germany vs. Hungary - 2:00 PM Eastern - TSN, ESPN+
ROC vs. Switzerland - 6:00 PM Eastern - TSN, ESPN+
Denmark vs. Japan - 9:30 PM Eastern - TSN, ESPN+
Sunday, August 22
Hungary vs. Czech Republic - 2:00 PM Eastern - TSN, ESPN+
Canada vs. ROC - 6:00 PM Eastern - TSN, NHLN
Finland vs. USA - 9:30 PM Eastern - TSN, NHLN
Monday, August 23
Germany vs. Denmark - 2:00 PM Eastern - TSN, ESPN+
Japan vs. Czech Republic - 6:00 PM Eastern - TSN, ESPN+
Tuesday, August 24
USA vs. ROC - 2:00 PM Eastern - TSN, NHLN
Switzerland vs. Canada - 6:00 PM Eastern - TSN, NHLN
Hungary vs. Japan - 9:30 PM Eastern - TSN, ESPN+
Wednesday, August 25
ROC vs. Finland - 2:00 PM Eastern - TSN, ESPN+
Czech Republic vs. Germany - 6:00 PM Eastern - TSN, ESPN+
Denmark vs. Hungary - 9:30 PM Eastern - TSN, ESPN+
Thursday, August 26
Finland vs. Switzerland - 2:00 PM Eastern - TSN, ESPN+
USA vs. Canada - 6:00 PM Eastern - TSN, NHLN
Japan vs. Germany - 9:30 PM Eastern - TSN, ESPN+
Saturday, August 28
Quarterfinals - 12:00 PM Eastern - TSN, NHLN
Quarterfinals - 3:30 PM Eastern - TSN, NHLN
Quarterfinals - 7:00 PM Eastern - TSN, NHLN
Quarterfinals - 10:30 PM Eastern - TSN, NHLN
Monday, August 30
Semifinals - 3:00 PM Eastern - TSN, NHLN
Semifinals - 7:00 PM Eastern - TSN, NHLN
Tuesday, August 31
Bronze medal game - 3:30 PM Eastern - TSN, NHLN
Gold medal game - 7:30 PM Eastern - TSN, NHLN