We have been doing the Victory Press since 2015, if you can believe it. Times were very different then and in some respects it feels like a lifetime ago. Every now and then, we like to (re)introduce our staff and let you all know what we're up to. This hockey season, in particular, we are hoping to give you some insight as to why you might want to become a paying subscriber and support our work so we can continue to work towards growing the site and making it sustainable. (Look for more details about some minor tweaks to our subscription tiers/benefits later this week!)
Our current regular staff consists of Melissa, Nicole, and Zoë. Get to know us, and what our plans are for the rest of the hockey season, below!
Melissa Burgess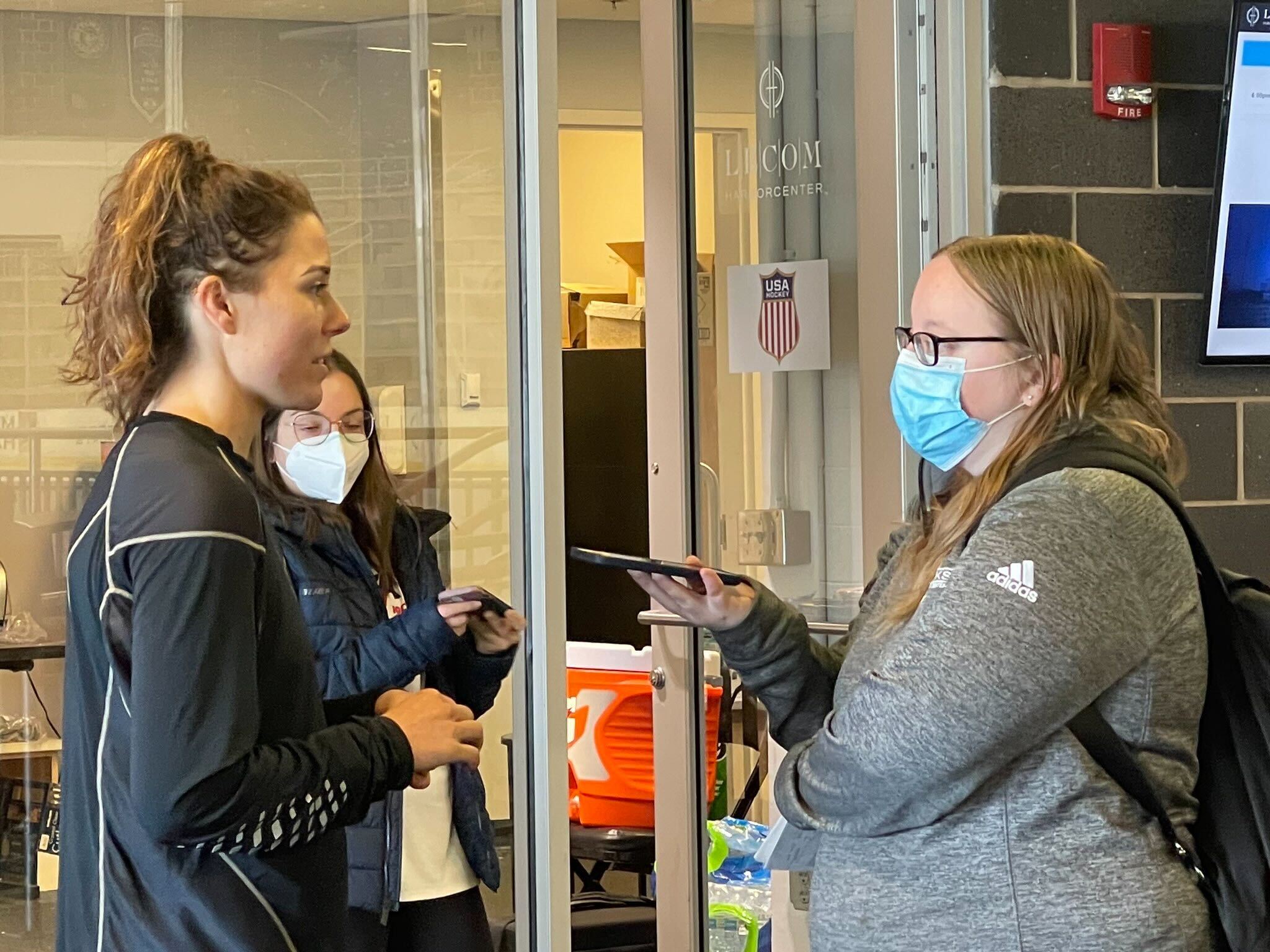 Hello! For those who might be new around here, my name is Melissa Burgess and I am incredibly proud to be part of the staff here at the Victory Press. I've been writing about sports in some capacity for the past 11 years, and I've loved the sport of hockey since a very young age – but I really didn't get introduced to women's hockey until 2015, when the U18 Worlds came to Buffalo.
There's just something special about watching Jincy Dunne score a gold-medal winning goal in overtime over Canada. That tournament was truly my introduction to women's hockey, and for that, I'm incredibly fortunate. Just a few short months later, the NWHL came onto the scene, and I also discovered the CWHL. The landscape of professional women's hockey in North America has changed vastly over the years since.
Here at the Victory Press, my beat is mostly women's hockey, with a specific focus on the Premier Hockey Federation (PHF), though I have also written about the PWHPA, international hockey (Worlds, Olympics, etc.) and a few other sports. (I'm currently chasing a few features/profiles related to racing - NASCAR, Formula 1, etc.) I've covered the PHF (previously NWHL) since its beginnings, and my content has included everything from team previews to game recaps to features, breaking news and in-depth investigative pieces.
As the PHF continues to expand – this year, to seven teams – my coverage is going to shift a little bit. I'm just one person, and realistically, I can't possibly watch every single game, every single weekend. In order to make sure I'm providing the best possible coverage, I'll be picking one or two games each week to focus on while briefly highlighting other important moments around the league.
Over the course of the season, I'll also be writing player-specific features to highlight some of those doing incredible work within the PHF. My goal is to write one feature on each team, providing an in-depth, unique look at the players and their stories, on and off the ice. The first, on Montreal Force forward Brooke Stacey, will be published in the next week or so and will detail her return to pro hockey while balancing motherhood and a full-time job. These feature stories will be locked, available for subscribers only for a period of time, before they're opened up to the public for all to read and share.I'm really proud of the work we do here at the Victory Press, from traditional coverage to in-depth stories to social commentary, and I'm grateful for all of those who support the work we do. Stay tuned!
Nicole Haase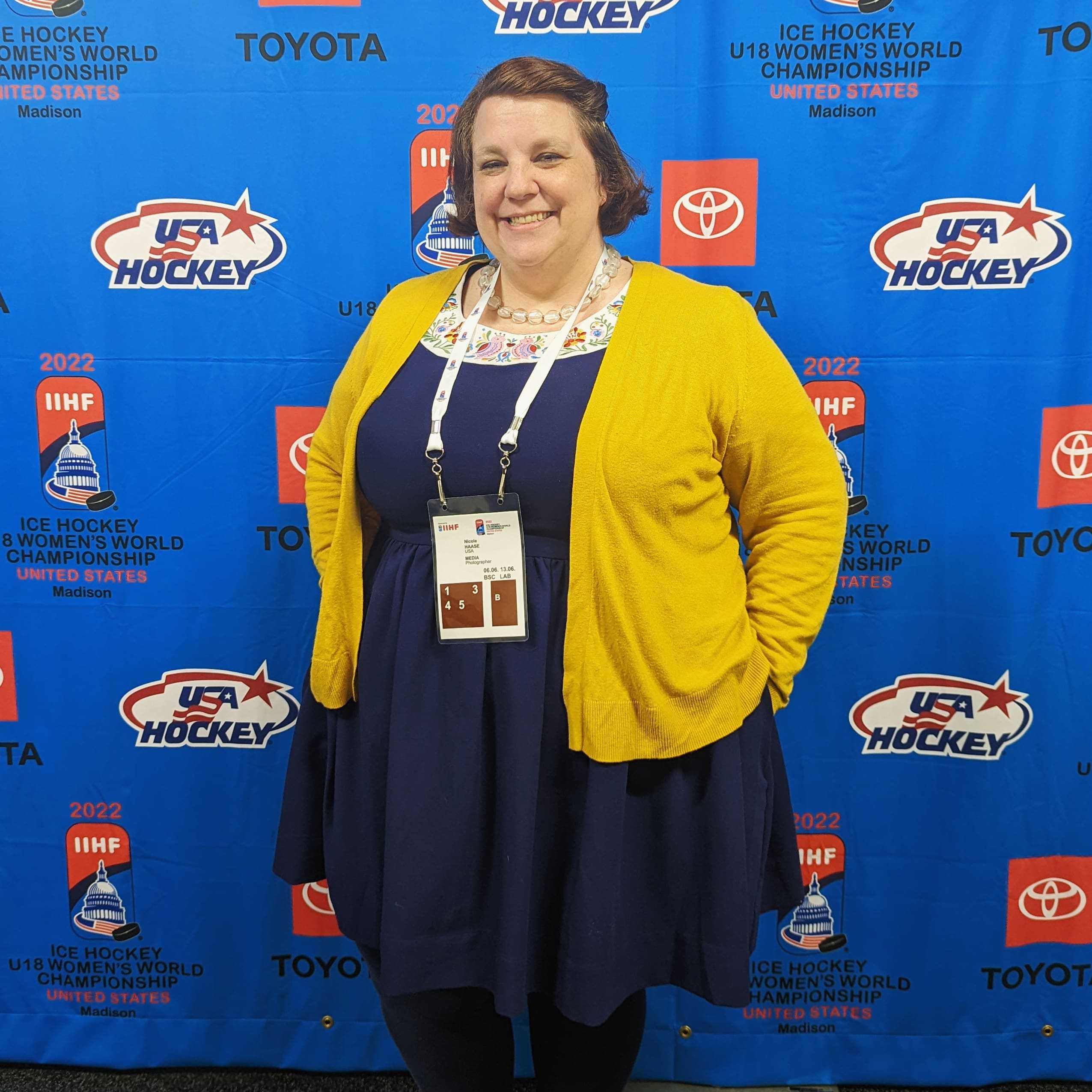 Hi friends, readers and supporters! I'm Nicole Haase, a freelance journalist based in Milwaukee who is so beyond proud and privileged to be a writer at Victory Press.
I went to college knowing I wanted to be a journalist and began covering high school sports while I was there. I've been writing about sports ever since. When I'm not writing about women's hockey, I spend my time writing food and travel articles.
When my now-husband and I started dating in 2006, he took me to Wisconsin men's hockey games and I quickly discovered how good the Badger women's team was – and how it felt like nobody was paying attention when there were literal world-class players and future legends of women's hockey that could be seen for $5 a ticket. I grew up soccer-obsessed in the 80s and 90s and spent my youth as the only girl on any number of boys soccer teams. In women's hockey, I saw a lot of parallels in what I'd seen in the growth of women's soccer throughout my life. As a former goalie, I learned hockey through a soccer lens, which made it easy for me to understand and fall in love with the women's game.
I focus on the women's college game in the NCAA. The college game serves as the de facto development program of elite women's hockey, with nearly every player on US and Canada senior rosters – plus a number of players from Europe – having played in the NCAA at some point in their careers. As a result, my coverage bleeds into most other aspects of women's hockey.
My regular coverage includes a weekly post throughout the women's college hockey season where I preview some of the best games each week, give you information on where to watch them and offer up some insight and context about why each game is worth watching. I will travel to cover the WCHA conference tournament to start March and will head to my eighth straight Frozen Four March 17-19, this year in Duluth, Minnesota. On Victory Press, I'll provide more frequent posts throughout the postseason. For however long it lasts, I also provide commentary, score updates, pictures and videos on Twitter (or whatever alternate platform we all end up on).
I have been compiling information and interviews since June to write a big, in-depth piece (or pieces) on international recruiting and development for teenage players and I'll be posting that during the college winter break (mid-to-late December).
In January, I'm traveling to Östersund, Sweden to cover the IIHF U18 Women's World Championship for this site. I'll be in Sweden for two weeks and will provide daily recaps and stories from the tournament itself and am also brainstorming other ideas for additional content I can provide. I'm working on some short audio pieces that will combine interviews I do ahead of the tournament, audio I gather on-site and some of my own analysis to help you learn more about the players participating. We're also planning for me to share video of post game press conferences and my adventures in Sweden.
I am excited about this trip for many reasons, but most especially because the U18 women's tournament has so often been an afterthought. We are just one tournament removed from the infamous doorbell camera broadcasts and a year removed from the IIHF canceling the tournament for the second-straight year before USA Hockey resurrected it in June. I want to give these players the attention and coverage they deserve and I hope my being there helps make the tournament more accessible and enjoyable for our readers.
It means so much to have a home for my writing and to work alongside some of the smartest, most thoughtful and thought-provoking people in women's sports. I'm so thankful for the people that subscribe to Victory Press and make what we do possible.
Zoë Hayden
For those of you who don't know me: I'm Zoë and I'm from Fayette County, Pennsylvania, though I'm currently based in eastern PA. I founded the Victory Press right as I was moving back to Pennsylvania after seven years in Boston, during what was probably the second-most-fever-dream period of my life (don't ask about the first). My relationship with VP has changed a lot in the intervening years. I am in my thirties now and I am a lot less angry now, though perhaps even more opinionated and definitely more tired. This website continues to be a wild ride.
I had big plans for Victory Press at the beginning of 2022, but stuff in my personal life had to take priority. I lost my father suddenly at the end of January; he passed away in an accident. He and I were incredibly close and the process of settling his affairs and just grieving in general has been overwhelming and difficult for a variety of reasons. He always prioritized fun and joy in his life, and wanted me to do things I enjoy as much as possible – so that's what I'm endeavoring to do this year for VP. I'm excited to get back on the horse, so to speak, and get back to doing stuff I love (like actually attending and writing about hockey games!) My dad was also a huge fan of VP (though perhaps not its biggest fan – that honor belongs to my mom, who is still with us and is our most excited paying subscriber).
This year, I'll be primarily covering the PWHPA while continuing to offer editorial/opinion pieces and providing ongoing editorial support and guidance for our feature articles and freelance pitches. I truly cherish working with writers to take their pieces to the next level through detail-oriented editing and deeper discussions about their goals. I also just really, really love watching hockey – something I was reminded of time and time again this year while watching the Olympics, the Frozen Four at Penn State, and the U18s. The women's hockey tradition is just so incredible, with such emphasis on skill and creativity and mobility. I remembered this year, when I finally got back out to the rinks for the first time since early 2020, why this sport lives rent free in my head in the first place. I started watching hockey in 2007 and didn't discover women's hockey until 2014, but every time I see a truly good hockey game I get the same feeling in my chest, right above my diaphragm – like a little wrist shot to the heart.
One of my ongoing goals with Victory Press has always been to bring on another editor who loves another sport the way I love hockey and wants to provide their own editorial support and guidance to special coverage about that sport. I want to bring ya'll some truly excellent stuff this year so that we can get a little bit more money and I can find and pay that person. I have some other, loftier goals, but I'd like to particularly re-state that one because it's the one that would mean the most to me – to be able to offer someone enough money that they could spend at least a few hours a week just on the sport they love most, and not have to worry about losing income because of it.
When you subscribe to VP, you're giving me the ability to put money in our writers' bank accounts and to pay for the ongoing upkeep of the website and benefits to subscribers. You're paying for things like travel expenses and the occasional per diem for meals and arena coffee. It's not much, but it does mean a lot, and I'd like it to be more!
So, join us as we embark on this hockey season. For my part, I'm planning to attend the PWHPA Secret Dream Gap Tour in Pittsburgh (actually Cranberry) later this month. I'm also planning on continuing my Post-Capitalist Sports Future series by digging further into sports business and practice and presenting analysis about how it could be meaningfully changed. Last year, I thought Part 2 would be about how sport could be changed by eliminating gender categories. I still have plans for that, but I am also working on a piece about the history of sports labor unions and potential alternatives to private team or league ownership. So we will have to see what happens and what I finish first, but I promise it is in the pipeline.
Thanks for being part of this journey with us. We wouldn't have it any other way.