Game of the Week
Montreal Force 5, Buffalo Beauts 4 (SO)
Getting to see the PHF's newest expansion team, the Montreal Force, in their first-ever games, was certainly a special treat for those of us in Buffalo. As I've said before, I expect this team to be competitive for one of the top spots in the league standings this season. My expectations were perhaps slightly tempered by this past weekend's games, but Montreal still looks good to kick off their inaugural season.
After the Beauts took an early lead Saturday on Antonia Matzka's first PHF goal, Ann-Sophie Bettez scored the first goal in Force history on the power play. As Montreal cycled the puck through the zone, Catherine Daoust put a shot on net that found Bettez in front for the tip.
Just 18 seconds later, Jade Downie-Landry gave Montreal its first lead on a deflection near the crease, beating netminder Lovisa Berndtsson. The quick sequence was just enough to deflate what momentum the Beauts had been quietly building up until that point.
Understandably this early in the season, we saw a lot of players notch their first-career goals. Buffalo's Whitney Dove was one such player, as she scored in both games. Overall, a four-goal first period on Saturday was filled with back-and-forth action and momentum swings in both directions, paving the way for an exciting rest of the game.
Midway through the game, Maddie Truax regained the lead for Buffalo, but Montreal rallied back for yet another pair of quick goals in the third period. Sarah Lefort and Kim Deschênes tallied within a nine-second span to tie the game, then give the Force the lead. Bettez threw a shot on net from below the goal line, which found Lefort in front for the quick redirect. Deschênes walked in along the far side of the ice, beating out two Beauts players, and shot the puck high and over Berndtsson.
As the clock ticked down, Claudia Kepler played hero for the Beauts, scoring with 3:16 left in regulation to make it a four-all game. After a fruitless overtime – despite a Buffalo power play – the teams headed to shootout. (As a reminder, per PHF rules, once the initial three-round shootout is complete, teams can choose from their open roster – meaning players can shoot multiple times.)
The shootout was tied after the opening three rounds, with Deschênes and Emma Nuutinen both scoring for their respective teams. It would take five more rounds before another puck hit the back of the net, with Samantha Isbell scoring the game-winning tally in the eighth round of the shootout. Michaela Boyle was unable to match that, giving Montreal its first-ever win in franchise history.
Force president Kevin Raphael summed it up nicely, when he repeatedly proclaimed "Hockey is fun!" after the game, in the rink and outside the locker room.
Montreal's top line (Lefort, Downie-Landry, Bettez) combined for three goals, three assists and seven shots on goal. Buffalo's top line (Klienbach, Boyle, Nichols) recorded three shots on goal. The Beauts went 0-for-4 on the power play, which is definitely something to keep an eye on going forward.
Other Weekend Action
The Toronto Six swept their weekend series with the Minnesota Whitecaps with a pair of 3-2 wins. Brittany Howard had three goals, including the OT game-winner on Saturday.
The Boston Pride notched a pair of shutouts, with a 4-0 win over the Connecticut Whale and a 2-0 win over the Metropolitan Riveters. Corinne Schroeder had a combined 63 saves in the pair of games.
The Beauts rallied back for a 3-2 win over Montreal in the second game of their weekend series; Montreal and Buffalo split the weekend, with Buffalo having an edge in the standings due to their shooutout loss.
League Standings
Boston (2-0-0), 6 points
Toronto (2-0-0), 5 points
Buffalo (1-0-1), 4 points
Montreal (1-1-0), 2 points
Minnesota (0-1-1), 1 point
Metropolitan (0-1-0), 0 points
Connecticut (0-1-0), 0 points
League Leaders
Goals: Brittany Howard (3)
Assists: Anjelica Diffendal (3)
Points: Brittany Howard (4)
Shots: Brittany Howard, Loren Gabel (11 each)
PIM: Sarah Lefort (19)
GAA: Corinne Schroeder (0.00)
Save Percentage: Corinne Schroeder (1.00)
News & Notes
Kaleigh Fratkin recorded her 75th and 76th career PHF points over the weekend, making her the first defender in league history to reach that mark.
Toronto Six head coach Geraldine Heaney received a one-game suspension (served November 6) after the team dressed 21 active players for Saturday's game. PHF roster limit is 20. We're still waiting to hear from the league if there will be any further sanctions or punishment.
The following players scored their first PHF goals: Élizabeth Giguère, Whitney Dove, Allison Attea, Deziray De Sousa, Kristina Shanahan, Antonia Matzka, Ann-Sophie Bettez, Jade Downie-Landry, Maddie Truax, Sarah Lefort, Kim Deschênes, Leah Lum, Brittany Howard, Natalie Snodgrass, Sidney Morin, Liz Schepers
The following players recorded their first PHF points: Élizabeth Giguère, Loren Gabel, Summer-Rae Dobson, Deziray De Sousa, Jade Downie-Landry, Catherine Dubois, Kristina Shanahan, Kaity Howarth, Antonia Matzka, Catherine Daoust, Christine Deaudelin, Sarah Lefort, Courtney Maud, Kim Deschênes, Leah Lum, Brittany Howard, Sydney Brodt, Natalie Snodgrass, Courtney Gardiner, Nadine Edney, Olivia Zafuto, Dominika Laskova, Sidney Morin, Kati Tabin
I want to highlight Beauts netminder Tera Hofmann, who came to the rink Sunday in a "Protect Trans Kids" t-shirt. I asked her about the importance of & meaning behind the shirt after the game:
"There are a lot of people in my life who identify as trans. The opportunity for them to play in sport is not always there. I know how much sport has changed my life & created a space for me to exist safely, and I want that for everyone else. That's why I wore that shirt today, because hockey's really something bigger than just us."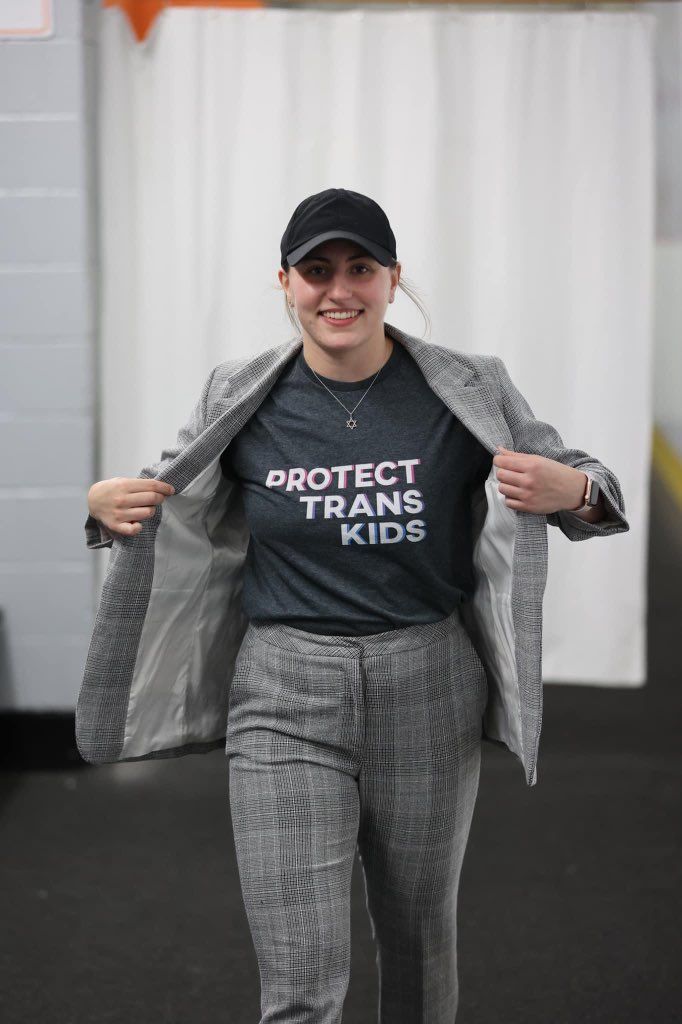 Upcoming Games
Friday, November 18: Boston vs. Minnesota, 8:00 PM Eastern
Saturday, November 19: Toronto vs. Metropolitan, 1:00 PM Eastern
Saturday, November 19: Buffalo vs. Connecticut, 6:00 PM Eastern
Saturday, November 19: Boston vs. Minnesota, 7:00 PM Eastern
Sunday, November 20: Toronto vs. Metropolitan, 12:00 PM Eastern
Sunday, November 20: Buffalo vs. Connecticut, 12:00 PM Eastern