The last nine years of covering women's hockey have been a roller coaster for me personally, and the last eight years of Victory Press have, at times, been really challenging. We started the Victory Press in 2015, and it's now 2023. We're now covering our third pro women's hockey league in that timespan. The world has been really bad, to say the least – we cover topics like homophobia, transphobia, gender-based violence, climate change, public health, labor rights, imperialism, and racism, and it has been a wild, gut-wrenching eight years around all of these things. We're just a little sports website that focuses on women's hockey, but we try to lend these topics the gravity that they deserve and try to illustrate the relationship they have with sports, and it can be emotionally draining work.
That said, we also want to bring you joy. We want to cover the major events in the sports we love and experience them with you all – the PWHL draft was an amazing experience, for example, and while we've finished our draft recaps by team, there's still more to write about and reflect on about what this moment means for women's hockey. We've covered tournaments, All-Star games, and training camps; we've written book reviews, media criticism, and personal essays. We're really proud of the body of work we've created so far, and how we've evolved over the last eight years.
Now is as good a time as any to share with all of you how things are going at Victory Press and name a specific goal for the upcoming months.
How much money does this thing make?
(Note: all dollar amounts listed here are USD.)
Right now we make about $578/month from subscriptions after Stripe fees are deducted.
Victory Press currently offers a $165/month stipend to each staff writer during a month where they publish any work. This comes out to $495/month if three staff writers are working. If budget allows, I try to offer more to staff writers if they've been writing/reporting more than usual.
I have also started paying $25.00/hour for a few hours of work per month to help manage our social media and create graphics for Instagram – if you've seen any of our social graphics, you have Catherine Morrison (@cathmorrisone) to thank!
For freelance pieces, I try to offer between $100 and $250 depending on the scope of the work. I would like to be able to offer more and I do not always have the budget for freelancers. But when the right pitch comes I try to make it work.
Anything left over goes towards the "unseen" costs of operating a website – hosting, domain name costs, rewards for subscribers, postage, bank fees.
I try to keep a cushion in the bank as well of at least a hundred dollars in order to deal with an unexpected expense but that doesn't always work out.
Here's how subscriptions come together to support our operation:
In 2023 so far, at time of writing, subscribers have generated $3,706.33 for Victory Press. Every month, nearly 100% of our revenue goes into paying writers, reimbursing expenses, and other operating costs.
Since switching to Ghost/Stripe in September 2021 for all subscription payments (after leaving Patreon), subscribers have generated $12,155.39 for Victory Press.
We sometimes receive additional PayPal donations outside of subscriptions from generous readers which have allowed me to pay for extra freelance work or travel expenses. These can range from $1 to several hundred dollars, but we do not get large donations often.
For a staff writer writing regularly, this can mean an extra $1000-$2000 in their annual income.
In 2023, I was able to raise the monthly stipend I provide from $135 to $165.
It's not a lot, but we're really grateful for each and every penny, because it supports really special work that no one else is doing.
Let's send Nicole to Switzerland!
Which brings me to the real reason I'm writing this post: Nicole is prepared to go to Switzerland to cover the IIHF U18 Women's World Championship in January, but we need your help to make it happen. Nicole has been able to cover both of the U18 tournaments that have taken place in person since they returned after the 2021 cancellation. The first in 2022 was right in her backyard in Wisconsin, and this past year's was in Östersund, Sweden. The cost of traveling to Sweden was surprisingly cheap, and we were able to reimburse about half of her airfare. Accommodations were affordable to the point that Nicole was comfortable paying for them herself. Nicole was also able to travel in person to cover part of the senior IIHF Worlds in Brampton this year – truly, she's been working her butt off.
The 2024 U18 Worlds are in Zug, Switzerland, and the Switzerland trip is much pricier than Sweden was. Accommodations are a lot more expensive, and so are the flights – each will cost north of $700, and that's if we book them now. This means we are looking at about $1500 in airfare and accommodations alone.
So: we are hoping to raise at least $1500 to pay for Nicole's major travel expenses to go to Switzerland in January and cover the tournament.
Here's some stuff that Nicole was able to do in Östersund last year for subscribers – profiles of players on the U18 teams and postgame mixed zone interview videos: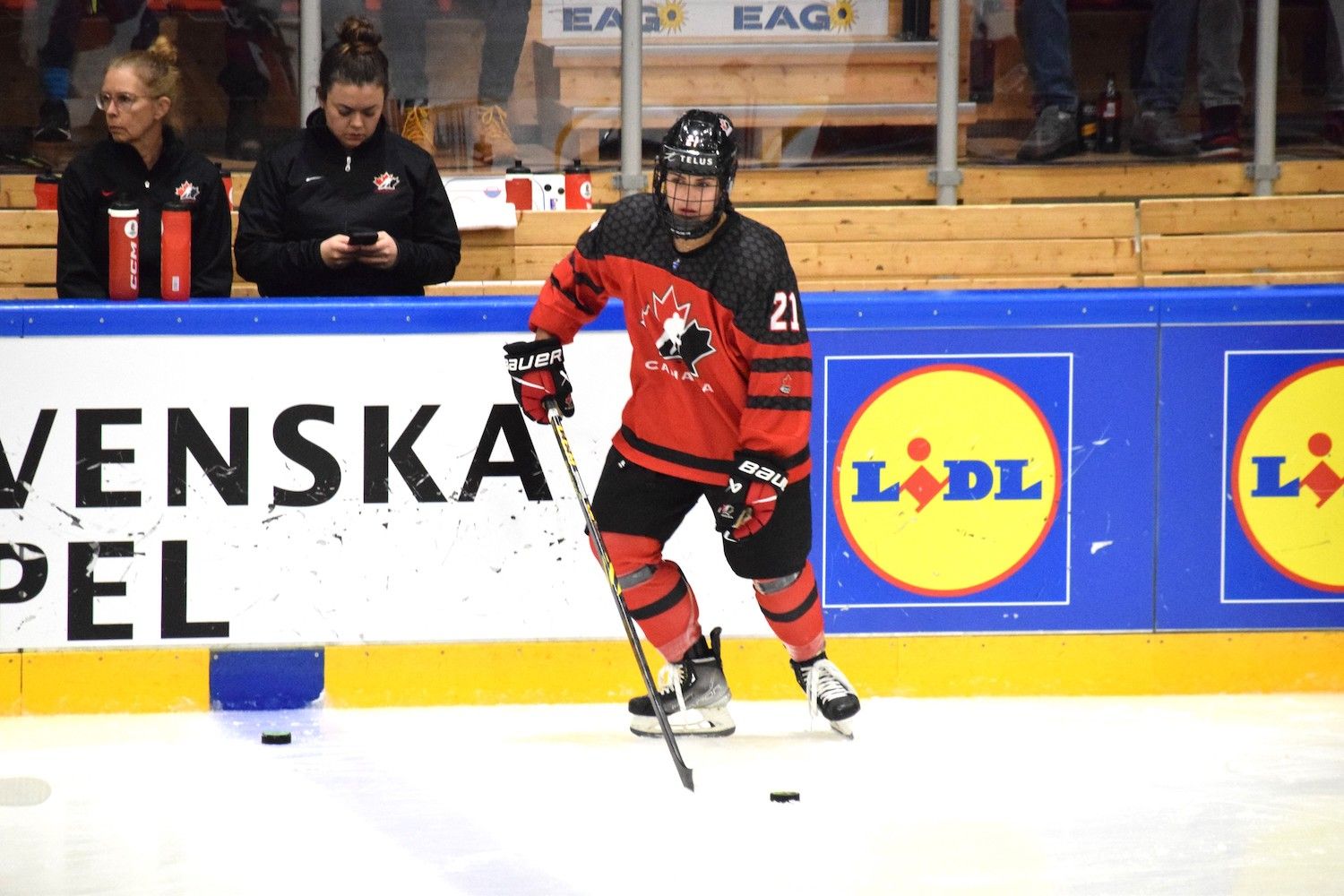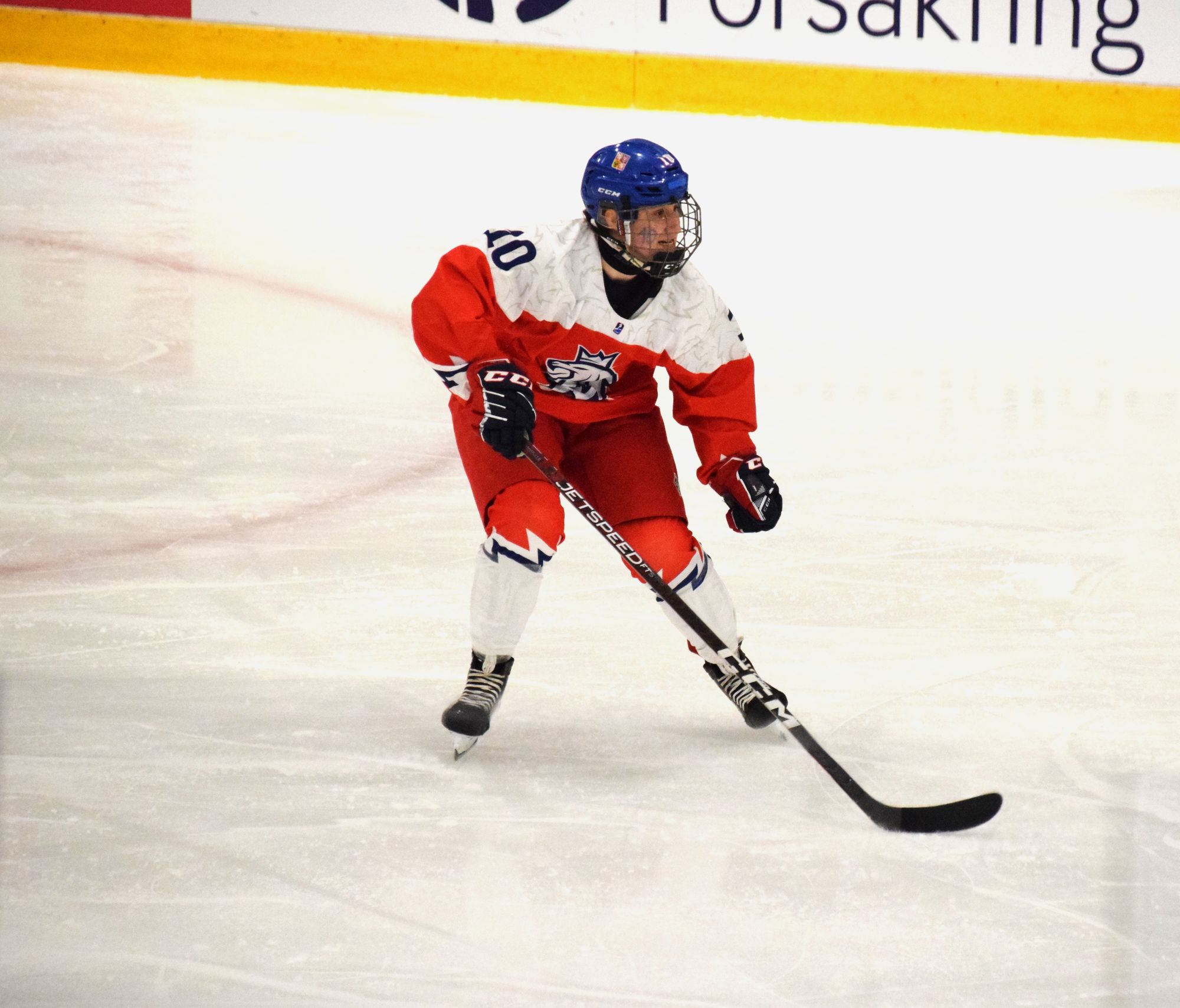 Not to mention on-the-ground coverage of the games. My personal favorite was her recap of the semifinal and placement games, which included a surprise upset of Team USA by Sweden and Finland falling to Canada in overtime, plus Czechia triumphing over Slovakia and ascendant superstar Nela Lopušanová (seriously I get hyped just reading this):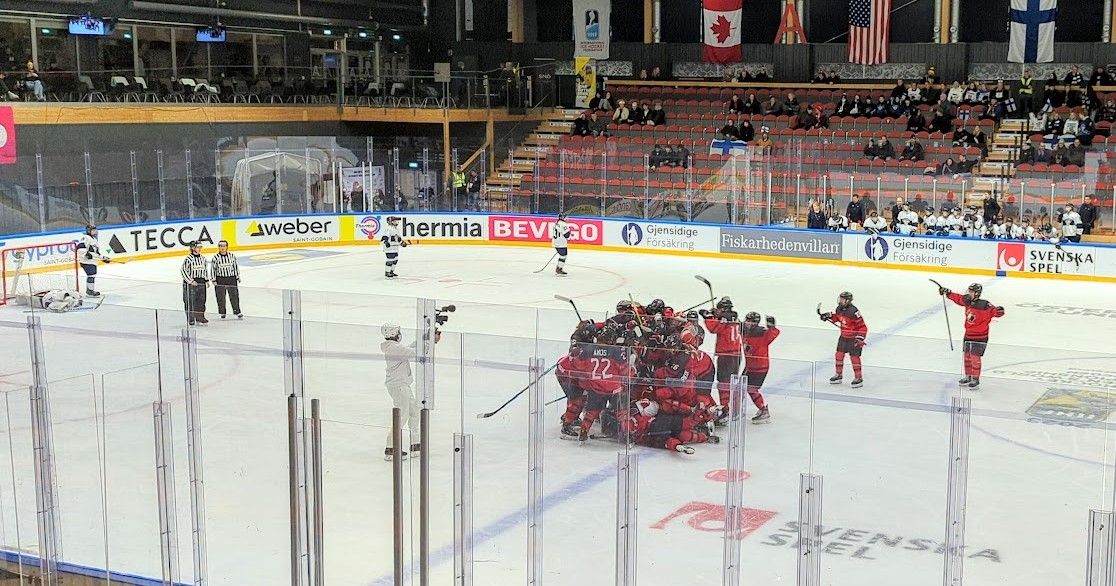 We are so excited to have the opportunity to continue Nicole's comprehensive, on-the-ground coverage of the U18 tournament, which is a center-stage view of the future of women's hockey. Many of these players are future Olympians, NCAA and USports stars, and pros in any number of leagues including the PWHL and SDHL. The U18 program provides insight into how each country is handling youth development domestically for women's hockey, and from what we've seen the last couple years, the future is very bright.
Switzerland in particular is in a unique situation as their team hasn't had a strong senior level performance in some time, even as they hang on to a #3 IIHF World Ranking. Showcasing their U18 team on home ice is an opportunity for the Swiss Ice Hockey Federation to generate interest in the game at both the youth and senior levels as we look ahead to the 2026 Olympic cycle. Hopefully this tournament can be the start of an upswing for Swiss women's hockey, and we'd love to be able to bring you all the details from Zug about how it goes.
So: consider donating or subscribing to Victory Press so we can send Nicole to Switzerland and get more of her amazing work. Here's how to do it:
The more we grow, the more we can pay our writers and finance trips to important events like the U18s that often lack comprehensive coverage at other outlets. Thanks so much in advance for your help – we really truly couldn't do this without you.