Canada 7, Slovakia 0
It was a surprise for Canada to have dropped two of their three preliminary round games, ensuring they'd have to play a quarterfinal instead of getting a bye into the semis. But the short turnaround between last night's drubbing at the hands of the Americans and this afternoon's quarterfinal against Slovakia might have been something of a hidden bonus. There was no time for the Canadians to dwell or get in their own heads about the historic loss. They had to rest, recover and try to learn a little bit about Slovakia, who they've never played.
The knockout round proved to be something of a reset for the Canadians, who put up a lopsided 7-0 win of their own on Friday. Seven different players scored and 12 notched points in the win. Maybe most importantly for Canada, Jade Iginla, who had previously been announced as out for the tournament, was cleared to play and on the ice in the quarterfinal. She had the second assist on her team's second goal.
After struggling to shoot with purpose, use screens and tip shots during the loss to Finland, Vicky Sunohara, one of Canada's assistant coaches, was happy with how the team adjusted on Friday.
"It's something that we recognized that we need to focus on," she said. "We really focused on shooting, but shooting with a net front presence. We really want to crash the net, making it difficult for the defense and the goalie to see the puck. We did a pretty good job of that, but we need to continue to build for sure."
What We Learned:
Slovak staying power: Slovakia may have gotten to this tournament by accident, but they played with purpose and will finish fifth or sixth in the world in this age group. They knew they'd be overpowered by Canada, but they didn't look like they didn't belong on the ice. They played very good defense and goalie Livia Debnarova was nothing short of spectacular. They have work to do, but they've also now seen what's possible and the things they need to do to compete. They brought such joy and an amazing attitude to the tournament.
Resiliency: One of the most fascinating things to see so far this tournament is how quickly teams adjust and how easy it is to see teams improve literally day to day. Canada came out tense in their opening game against Finland and that result didn't do them any favors in terms of not holding their sticks so tightly. But these young players have really been able to brush off the losses, focus on the good and really stay in the moment. Those losses are somewhat inconsequential now, since Canada was still alive in the knockout rounds and is right back to the semifinals.
Standout Performances:
Livia Debnarova: The Slovak goalie's performance nearly defies description. She made 58 saves on 65 shots on goal. She was incredibly mobile, quickly covering the breadth of her crease and stopping a number of point-blank Canada opportunities. Many of Canada's goals came on second and third chance shots. She needs more help on defense, but she's the kind of goalie they can build a team capable of upsets around.
Emmalee Pais: She had a number of fast breaks and odd-player rushes. She was great in the neutral zone and her own end, gathering the puck and starting the breakout. She seemed to grow in her confidence and ability to manage the puck as the game went on and it paid off in a late goal.
Quotable:
"Sarah [Swiderski] is such a skilled player and we've been really trying to encourage her to shoot the puck. She's really got a weapon of a shot, so we're going to continue to push her to do that." – Vicky Sunohara
"We started out the tournament with some jitters, I think we were holding our sticks pretty tight." –  Sunohara
"We're not really focusing on winning the game, but what we're going to do each period to make that happen. I think we really stuck to the game plan and were consistent." – Canada forward Ava Murphy
"We know our roles. We have to stick to them. We have to keep moving the puck, do everything we can get pucks to the net and have bodies in front. That's how we're going to win." - Murphy
"[Livia Debnarova] was honestly an amazing goalie. She had so many shots. She stood on her head for that team. Big congratulations to her. [Scoring on second and third chance opportunities] just taught us that we're not here to score pretty goals. It's not always gonna come easy so just get positioned from the net, get those rebounds. I think [this game] really helped us see how we need to do that in these games. We really talked about creating habits for our next games." - Murphy
Sweden 2, Czechia 1
I was reminded once again last night how much fun it is to watch a great, hard-fought hockey game in which you have no stake. I was internally cheering for both teams at different times during the game last night and just marveling that I got to be in the rink as it was happening.
There were 11 penalties in the game and frankly, there could have been more. It was chippy and physical and dangerous at times as both teams scrapped for every inch of ice.
Czechia scored first on a power play goal for Tereza Plosová. Adela Sapovalivova and Tereza Pištěková had the assists, putting Sapovalivova in a tie with Americans Laila Edwards and Sydney Morrow for the tournament lead with seven points. Plosová is tied for second with USA's Tessa Janecke with six points.
Nicole Hall tied it up for Sweden in the final minute of the opening frame, showing off the scoring prowess that had her leading her team, Djurgården, in the SDHL.
Jenna Raunio scored a power play goal for Sweden in the second to give them the lead. She sniped a shot through traffic that few other players on the ice could have made.
Czechia pulled their goalie and skated the final few minutes in a 6-0n-5, but had the same struggles getting good shots on Sweden goalie Lisa Jonsson that they'd had all game. Their movement up ice and into the neutral zone was stellar, but the team seemed to freeze up a bit in the offensive zone. Their game slowed, their decision-making was labored and they just weren't able to carry the momentum towards the net.
Sweden was stellar in shutting down the middle of the ice on defense. Czechia could not get pucks across the ice or down to their players in the slot. That being said, they had possession much of the third and had plenty of chances to tie the game, but could not finish. Just look at the shot chart for the third period.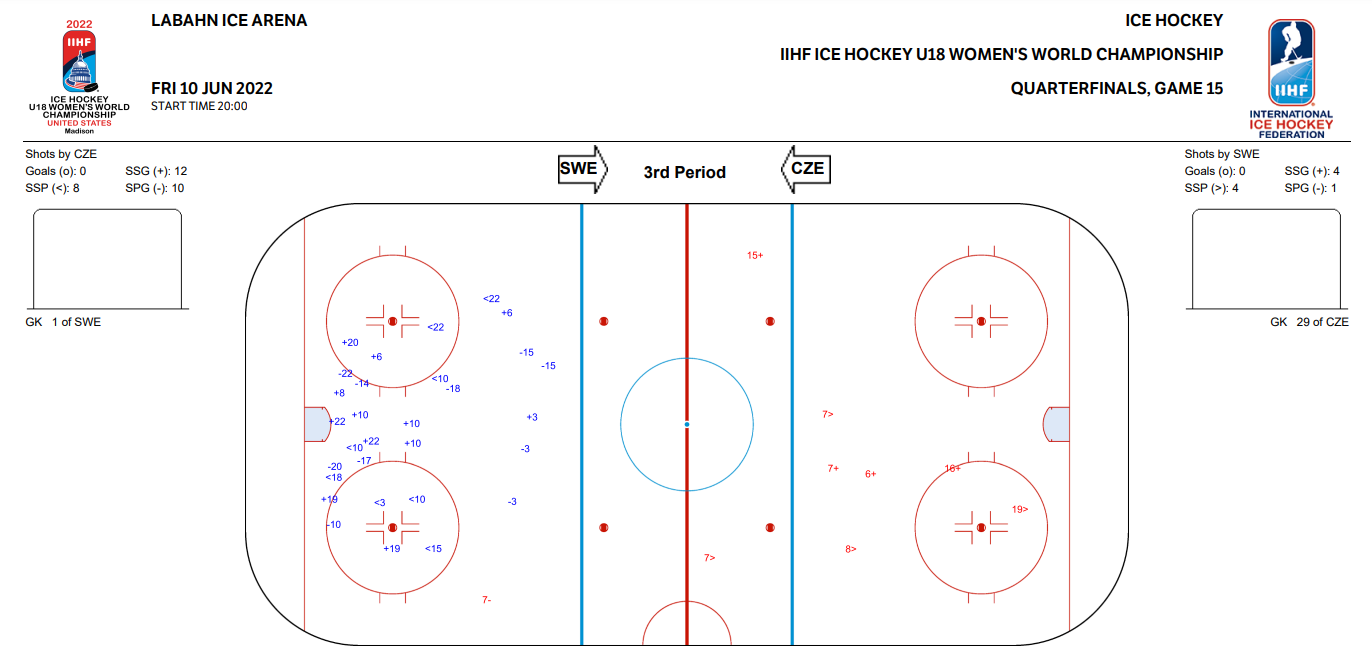 The biggest opportunity for the Czechs to even the score late in the game came with about 10 seconds left on the clock where Pištěková crossed the puck between two Swedish defenders to Tereza Mašková on the back post. Mašková went to one knee and took the shot, but she ultimately missed the open net and time expired.
What We Learned:
Watch it all: All of my favorite games so far this tournament have featured neither the US or Canada. The two North American countries garner the attention and attendance, but folks that didn't watch this game missed some really great hockey. Finland and Sweden was another great preliminary round game. Seeing teams play the big guns doesn't give you a great idea of their strengths and rivalries that we North Americans have a rooting interest in aren't the only interesting rivalries.
Czechia consistency: I really like the direction we see Czechia women's hockey heading. Between this tournament, the Olympics, and the hiring of Carla MacLeod, it's clear their federation is investing in them and it's paying off. Coach Dušan Andrašovský pointed out that a number of women from this roster will get to play in one to two more U18 World Championships and that there is a new crop of young, exciting talent they'll be bringing into the program soon.
You have to finish: This Czechia team had a lot of talent, but seems to be lacking a player or two that has a game-changing shot. They had so many opportunities to even the game and could not do it. Some of that is puck luck, but at least a part of it comes down to not having a finisher that can light the lamp when needed. Raunio played that role for Sweden and Czechia did not have an answer.
Special teams need to be special: I was actively mad at how poor the Czechia power play was in this game. The team was magnitudes better at even strength and seemed to totally freeze when it came to executing special teams. Sweden coach Madeleine Ostling said her team and staff had the Czechia power play well scouted, so maybe that's what caused them to look like they were frozen and wooden on the player advantage. It was painful and frustrating to watch and is something I hope we see improvement on from Czechia.
Swedish simplicity: The Swedes did a great job of not overthinking things. On the penalty kill, they weren't concerned with where the puck was, Mira Jungaker said. They trust Lisa Jonsson in net and concentrated on marking bodies and lifting sticks and left the pucks to her.
Standout Performances:
Adela Sapovalivova: She's the compass for this team. She directs plays, distributes the puck and seemed to be trying to will her team to victory all on her own. It's clear her teammates respect her and look to her to lead them. She seemed to be involved in every big play.
Lisa Jonsson: She has been the calm presence that the Swedes can trust in two big wins now. She's so solid, so quick, and doesn't give up a lot of extra chances at the puck. She had nothing but traffic in front of her for the final 20 and handled a number of breakaways and extra attacker situations and just was not phased by any of it.
Quotable:
"She has a really good shot. And then when it comes to these important minutes, she needs to score and she does. So she's really important." – Swedish captain Nicole Hall on Jenna Raunio
"I think the girls played incredible. They really laid it all out there. They really went all out. We just didn't have the luck today, unfortunately. It was a tough game, tough loss. Gotta move on." – Czechia goalie Michaela Hesová
"It's a big inspiration for real because we've never really had a good women's hockey team. This year, they made it all the way to the Olympics. So that's incredible." - Hesová
"I'm very proud of my team. They were fighting a lot like lions all game long. But we did a couple of mistakes and they got two goals and it was finished for us. Still, I'm so proud and happy that we played like this. I'm just not happy with the score." – Czechia coach Dušan Andrašovský
"I'm very happy to have another chance because we learned a lot from that 6-1 game, We need to step up our activity, we need to be stronger in the 50-50 battles, and also believe a little bit more in ourselves." – Sweden coach Madeleine Ostling
"I can focus on the rebounds, because I know she'll take the first shot. So she's really nice to have there." – Sweden defender Mira Jungaker on goalie Lisa Jonsson
"The team played really good and it was a super-tight game. But what is important is to score, and that didn't work out for us. Still it was a good game, a good team effort." – Czechia forward Tereza  Plosová
"I want to push extra for our goalie Lisa Jonsson. She was phenomenal in the net. She was great." – Ostling
"Believe in themselves. Enjoy the moment. You have nothing to lose. They love to play ice hockey. If you love it and don't feel scared, you play the best. So that's what I want them to feel." – Ostling on what she hopes her team takes away from the tournament
"We have played against Finland like six times this season, so we know we can score against them. We can win against them." – Sweden forward Nicole Hall
Switzerland 1 , Germany 0
Naemi Herzig, skating in her first game after missing the start of the tournament with an upper body injury, scored on the power play in the middle of the third period to give Switzerland the first win in the best of three relegation series. Germany had won their preliminary round matchup with a goal in the final minutes, so Switzerland was happy to get their revenge. They kept Germany to just three shots over the final two periods of the game.
What's Next
For the first time, the IIHF is reseeding the tournament after the quarterfinals. That means we're headed for a rematch of Finland and Canada in Sunday's early semifinal at 2:30 PM Central and the Americans will play Sweden at 6:30 PM Central.
Switzerland and Germany will meet again in second game of the best-of-three relegation round series at 2:30 PM Central Sunday at Capitol Ice Arena. Czechia and Slovakia will play at 6:30 PM Central in a placement game to determine final tournament rankings.