When Neena Brick's grade one class was asked to set out their future aspirations, Neena said her goal was to play for Team Canada. Had the 2021 U18 Women's World Championship not been cancelled, this week may well have been her first chance to do so.
Neena began skating at two years old, and was playing hockey by age three. Her dad, Jeff, says it started because as a kid, Neena wanted to do whatever her older brother was doing, but soon blossomed into a genuine passion for the game. Whether it was mini sticks in the basement, shinny in the bay, shooting in the garage, or skating on a pond, much of her time away from schoolwork was tied to hockey. She grew up watching the national team on television, and recalls the impact of her first time attending a Canada-USA game in person.
"I was pretty young at this time," she says. "After that game I was super pumped up and wanting to play there one day, because it was a great experience. And I just pictured myself playing on that team."
Despite her dedication and big dreams, though, Neena didn't always realise quite how good she was. She played co-ed hockey for most of her life; one of her fondest memories is of scoring in the final as her team won an important tournament in Fargo, North Dakota, where she earned a trophy that was bigger than her nine-year-old self. But having played almost exclusively with boys until bantam, she says she had no real sense of how she compared to her peers.
"I wasn't too confident with myself, because I always thought the guys were better than me," she explains. "When I switched over to bantam and played on an all-girls team, I had a lot of success that year, and I really stepped up my game and continued to set goals for myself. That's when I realised that I was able to play at that next level and compete with the girls my age."
From there, she continued to thrive. By her second year of bantam Neena was averaging over 2.5 points per game, and last season in her second year of U18 play, she led the Saskatchewan AAA league in points, won MVP honours, and was the highest-scoring player at the U18 National Championship as she helped her province to a historic silver medal. The tournament final, a narrow loss to Ontario Red, was televised on TSN, an opportunity that stands out as a highlight among many in a season full of accomplishments.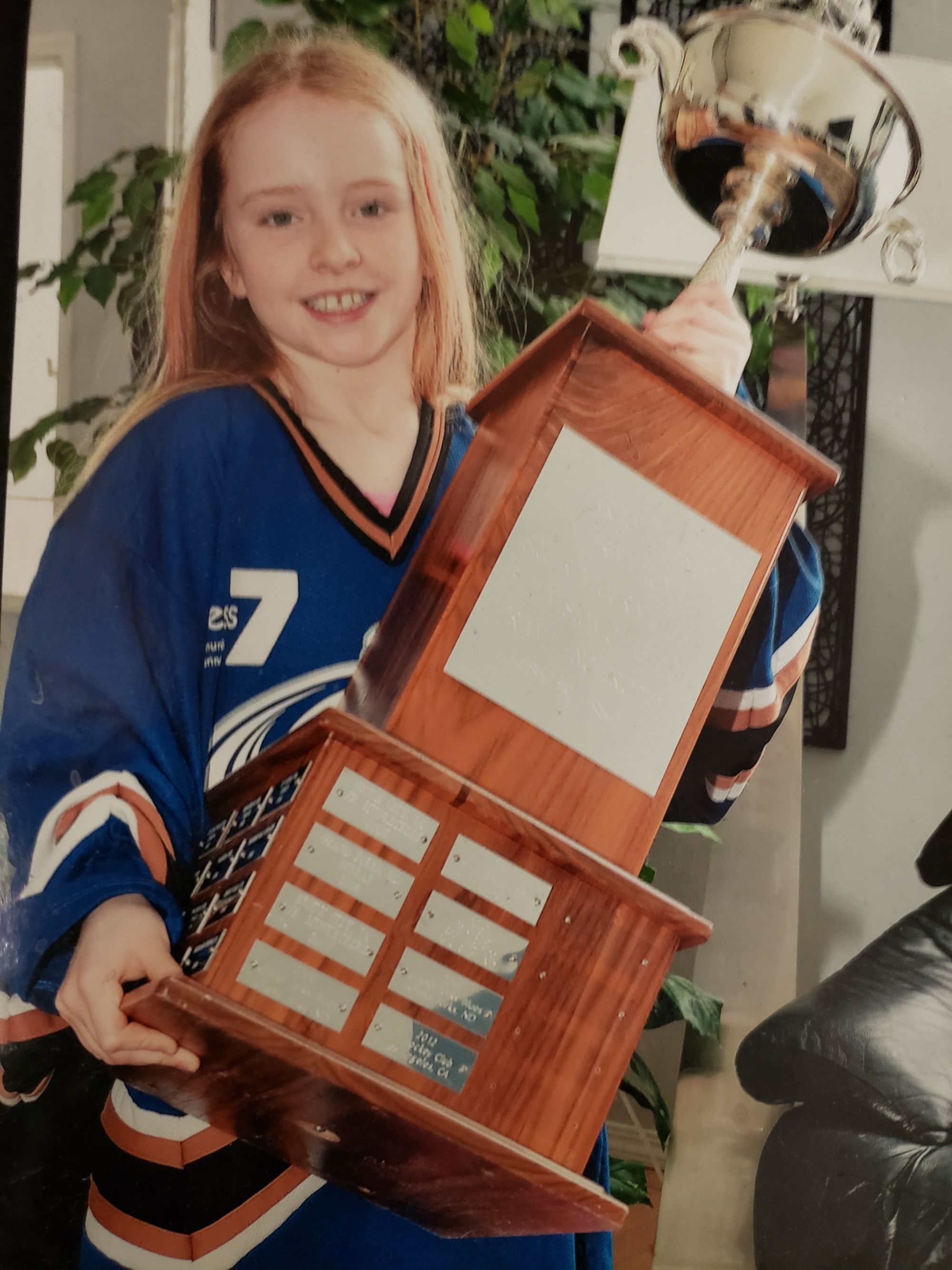 Neena is a talented offensive player, with a keen ability to read the play and quickly determine her best option. Jeff, who coached Neena through most of her hockey life, also points to her willingness to continue to work on her craft, both technically and analytically. Despite her offensive dominance as an underaged player, Neena is constantly striving to find areas to improve.
"One thing that I'm working on right now is skating on first touch," she offers as an example. "As soon as I get the puck on my stick, I'm skating as fast as I can full speed, which really increases the pace of the game, I find, and creates lots of time and space for me."
It's no surprise that her 2019-20 campaign earned her a spot at Hockey Canada's virtual U18 camp, but receiving the invitation was the first big step towards fulfilling a lifelong goal. She points to the opportunity to speak with the top players in the country as a particularly impressive experience.
"I remember getting the email saying that I was invited to summer camp, and I was really excited about that because that's something that I've dreamed of since I was little," she says. "So that gave me even more motivation to train harder on and off the ice and to continue to work on my skills."
While the cancellation of U18 Worlds was a tremendous letdown, Neena has chosen to focus on what is in her power in order to continue to build on her abilities.
"I was really disappointed and upset because that's something I've been training towards for my entire life, pretty much," she says. "I realised, though, that it's not something that I can control. So I just need to focus on what I can control, and that's working on my skill development and continuing to improve my game and get better. So I just use that as motivation."
Jeff echoes that, and has seen his daughter confront the challenges posed by the COVID-19 pandemic by working on any aspect of her game that she can. She's concentrated on individual skills and has been reviewing video footage from past games, using her time away from the rink to improve her tactical knowledge and learn from what has and hasn't succeeded in the past.
After having been recruited to the Oakville Jr. Hornets, Neena, originally from Regina, relocated to Ontario for her final season of youth hockey. Though the PWHL's season, like most, has been severely impacted by the pandemic, the Hornets managed to fit in some modified four-on-four games before escalating case rates prevented further contests. She's especially enjoyed the chance to measure herself against players from Ontario, which has historically been the hotbed of girls' hockey in Canada.
"It's been great," she says. "I love being there and playing for Oakville. The girls were super welcoming at first, and I felt like I belonged there. It's a great opportunity because it's a new experience and new challenges have come up, and my coach has been awesome."
Next season, Neena will begin her studies at Colgate University, where she's hoping to make an impact from the start.
"The coaching staff was amazing," she says of the reasons behind her commitment. "They're awesome, loved my style of game. And I feel like how I play really fits into the coaching style and how the team plays. Also, the academics and school is great there. There's lots of support around the athletes."
As she continues to progress in the sport, Neena hopes to excel with the Raiders and eventually crack the under-22 development team. Until then, the 17-year-old remains devoted to taking advantage of the extra time provided by this period of uncertainty in order to break down her game and become a better player. In doing so, she hopes to remain on track towards achieving the goal she first set for herself at five years old.
(All photos courtesy of Jeff Brick)