Sarah MacEachern has spent nearly as much time talking hockey on Zoom as she has on the ice this year, but the 16-year-old defender from Canoe Cove, Prince Edward Island has found it plenty educational. Although she hasn't gotten any game action and has been limited in her practices, she's had plenty of positive take-aways so far.
"For me, it really hasn't been a horrible season," she says. "And I've definitely learned a lot of new things."
After having been named top defender and a first team all-star as a triple-underager in the PEI league last year, MacEachern made the decision to relocate to Ontario and play with the Etobicoke Jr. Dolphins of the PWHL, while attending Appleby College. Though she didn't arrive until mid-October, she says the transition's been as smooth as possible, under the circumstances. Seven members of the Dolphins are students at Appleby, of whom five, including MacEachern, live on campus, which has helped in creating an immediate bond.
Etobicoke had only recently reclaimed its dressing room from the NHL's Columbus Blue Jackets, who used it as a home base during the Toronto portion of the league's summer bubble, when the team played its first and last games of the season. MacEachern arrived just afterwards and has yet to suit up with her new squad. Instead, she's been on the ice Tuesdays, Thursdays, and Sundays, with twice-weekly Zoom calls in between. Along with providing an opportunity for the team to catch up, one of those meetings each week features guest invitees ranging from national team players to scouts and officials. In some ways, the Dolphins' programming mirrors what MacEachern enjoyed as one of the youngest invitees to Hockey Canada's virtual U18 camp this summer.
"It was actually a great experience," she says of the camp. "Every week we had a call. There were tons of awesome guests ― we had a nutritionist, sports psychologist, strength and conditioning coach, amazing guest speakers from the current national team, and former national players. For me, I learned so much. We also got one-on-one time with the coaching staff and the players, so even though we couldn't meet them in person, it kind of felt like the same."
Given the context in which the camp took place, MacEachern says she wasn't caught particularly off guard when the tournament itself was eventually cancelled.
"Obviously it was disappointing, but when I got invited, it was in lockdown," she explains. "So you just had to keep an open mind, but you couldn't really set your hopes on that."
As one of five 2004-born players among the 59 invitees, MacEachern will have another chance to try out next year, and hopefully have a U18 World Championship to compete at. Her coach, Joe Butkevich, has high praise for her approach and says it's clear from the way she carries herself that she is grateful to make the most of any opportunity she's given.
"She's just very mature beyond her years, and she is a sponge," he offers. "She wants to get better: she wants to be the best. She's very humble, yet very driven. She is non-stop working out, she's non-stop looking for the smallest edge to get better."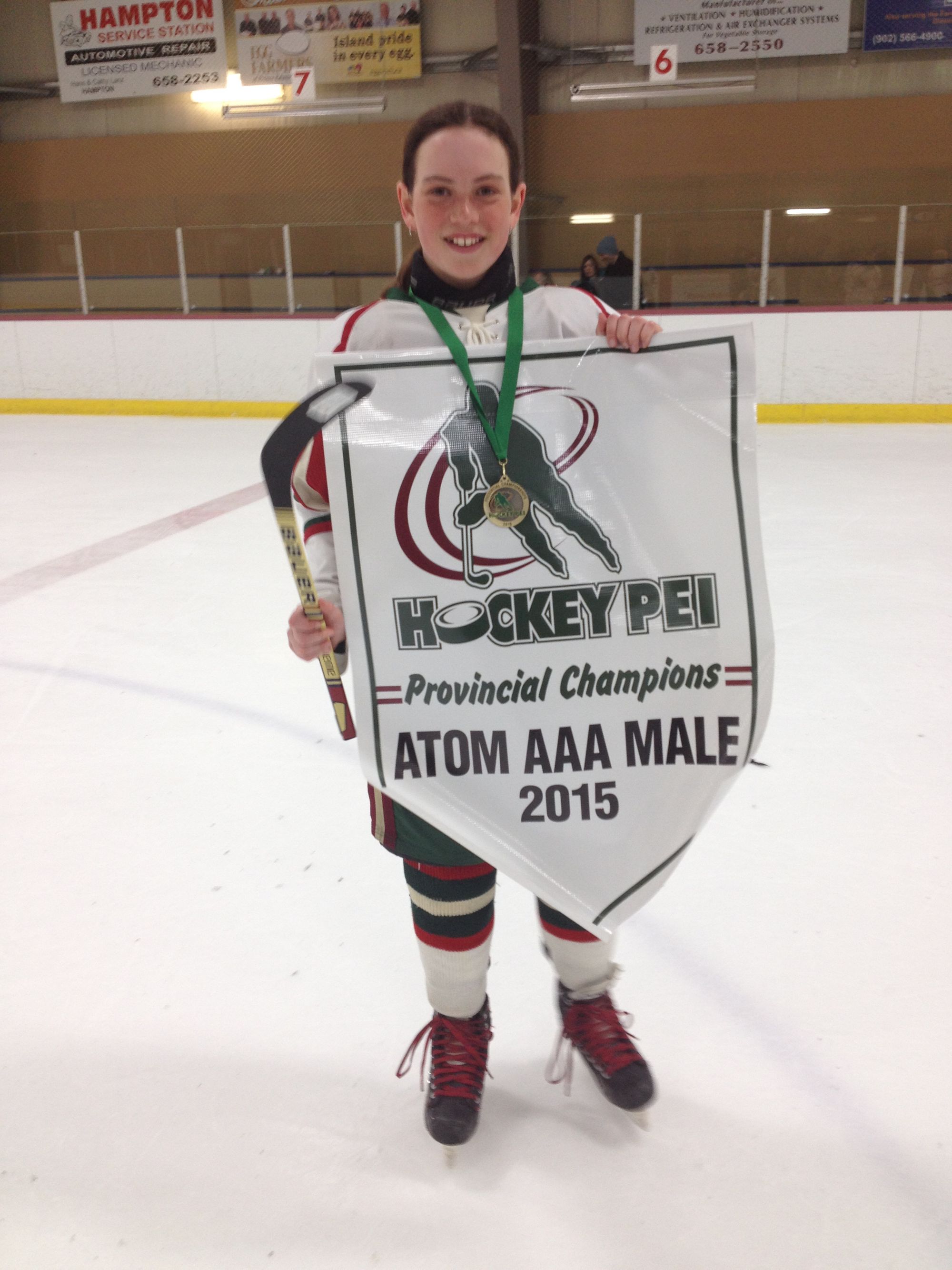 MacEachern got her start on defence at age four and says she embraced it from the start. "I liked shutting down the people," she recalls with a laugh. "And when I was little I was more of an offensive defenseman, too, so I still got to score a couple of goals!"
She describes herself as a smooth skater and takes pride in playing a simple game and making the play that needs to be made. While that sums it up neatly, it may be a bit of an undersell.
"She's strong beyond belief; she's physically strong," Butkevich notes. "She doesn't lose too many one-on-one battles. She really knows how to play the body rather than the puck, so she's really good with her gap control. She has a really good active stick in all three zones. She's not scared to jump up in a play when the opportunity presents itself ― she's a heads-up player, too."
MacEachern is also a talented multi-sport athlete: she played field hockey in school, ran track and cross country at provincials, and remains a competitive soccer player. Last year she represented PEI at U15 girls soccer nationals, and she's hoping to earn a spot on the island's roster for the 2022 Canada Summer Games. She's already got a Canada Winter Games under her belt, having suited up for the hockey team at just 14 years old in 2019.
MacEachern grew up watching the Olympics and says that Hockey Canada has been her goal her entire life, but adds that her dream was solidified when she got the chance to meet some of her role models in 2015.
"Caroline Ouellette had camp and she brought it to Summerside in PEI, and Julie Chu and a bunch of Olympians were there," she recalls. "They had presentations and stuff, and I just saw myself ― I wanted to do that. Before that I still aspired to play at a high level, but that just kind of made it real for me. It was so cool meeting them."
When MacEachern cites Marie-Philip Poulin as a player who inspires her, she doesn't mention Poulin's accolades. Instead, she points to the captain's work ethic. That comes as no surprise to Butkevich, who sees the same dedication in his pupil. Beyond her efforts on the rink, the coach describes a young athlete who makes a point of including all her teammates, and who took the initiative to reach out and send holiday gifts to her carpool driver.
"She's just a remarkable individual," he says. "You come around athletes at certain times where it's not I think they're going to be successful, you know they're going to be successful. Whatever Sarah chooses to do in her life, it's without question that she's going to be successful."
Though she hasn't had the competitive opportunities that an ordinary season would provide, MacEachern has adapted her mindset to maximize what she gains from her training.
"Having so many practices is definitely a wonderful thing," she explains. "But you kind of have to go in with a different perspective because now you don't really have games to set goals for. You have to set them in practice so that whenever you're in practice, you just need to treat it like a game, to keep that mentality and keep your speed of play up."
In two years' time she'll be headed to Cornell University, where she hopes to combine her interests in sports and science. MacEachern aims to make an impact wherever she's playing, whether it's in future games with the Dolphins or her eventual debut with the Big Red. Until hockey resumes in earnest, she's focused on improving her shot, strength, and whatever else she can to continue to develop as an athlete.
"Hockey Canada is definitely my goal and has been for my whole life, and making that team would be amazing," she says. "Not only U18, but to keep moving forward in the program."
(Header photo by Lori Bolliger; all photos courtesy of Sarah MacEachern)