When the Wisconsin Badgers took to the ice to open their season last Friday, it had been 551 days since Annie Pankowski had put on her familiar white sweater with a large red W on the front.
Taking a year off of college and deferring eligibility in an Olympic year isn't that unusual – her teammate Emily Clark did the same thing in order to play for Canada in Pyeongchang. The 18-plus months of toil and sacrifice had a payoff for Clark as she won silver with Team Canada.
Not so for Pankowski, who was cut from Team USA in early December, just 64 days before the team's first game in Pyeongchang.
When Team USA named their roster for centralization in May 2017, there were 23 women on the roster – the number of players they were allowed to take to Pyeongchang. It was an unusual move to not have a larger pool of players that would be whittled down during the residency process, and many assumed that this roster was the one that would eventually and officially become the Olympic team. Then, in November, three additional players were added to the roster and it was clear cuts would need to be made prior to leaving for the Olympics.
It was a frustratingly familiar situation for Pankowski, who was one of the last two players cut from the Team USA roster prior to the 2014 Sochi Olympics. Then still in high school and the youngest player on the roster, Pankowski had come to terms with that cut. Before her 2018 experience, she referred to the 2014 cut as "The Setback" and said it helped her learn what it was like to go through adversity, which seems almost laughable now.
With the benefit of way too much disappointment and life experience, Pankowski said she can see now that she was not yet ready to play at that level at that time and said she wasn't mature enough mentally or physically. She's not sure she should have ever been there in the first place. That's just not the case when it comes to the 2018 squad.
"I honestly feel I've never been more prepared than for that last Olympics. That was really hard to take," she said. "I mean, to be honest, when it happened, I was so shocked that it wasn't even real. If you asked me right now, I 100% deserved to be on that team. I believe that and I think that makes it a lot better than thinking, Man and I played like crap. I should have done this. I should have done that. I don't have any of that."
Talking about 2014 is the only time she seems to have a "what if" moment. How would her second centralization experience have been different if she didn't have the expectations she had after her first go-round?
That single question feels especially poignant because the biggest lesson Pankowski seems to have learned from this whole ordeal is not to look back. The only way she's known how to survive the devastation of the past 18 months is to focus on one day at a time, she said. There's no point in getting bogged down in questions, both about the past and the future.
"I think right now it's just keeping one foot in front of the other," she said. "It's almost not worth it for me to try to go through that mental battle of okay, what's next? I'm just kind of going with wherever my life goes."
That's frankly a character shift for Pankowski, who was already giving interviews to the Orange County Register about her Olympic aspirations when she was 15. Back then, she talked about having no life or hobbies because all she wanted to do was skate, so it's not difficult to understand why 551 days away from the Badgers was more than enough time for Pankowski.
"When I found out it didn't make it, I went home, packed my stuff and I was already driving back to Madison when I called my parents. And I was like, 'Hey, I'm enrolling in school, I found an apartment.' I did that in two days. I was like alright, we're moving on."
Madison has provided a bit of a haven for Pankowski as she sorted through the mental minefield of the past year and tried to cope with not only her personal disappointment, but also feeling like she let her family down, many of whom already had plans for traveling to South Korea. In Madison, she enrolled in classes and went back to practice with the Badgers and eventually found a role.
"I didn't really have much motivation. I was really in a bad spot, mentally, and kind of a whirlwind," she said. "Just playing the game and going through the motions here really kind of got me back on my feet. And honestly, the team aspect of it was huge. I got to step in, and be a part of something."
She worked on defense, not a natural position for her, and she spent a lot of time in the stands watching games from above. A dynamic player known for her vision on the ice and her wicked shot, Pankowski has always been a doer. She contributes on the ice and she's hard on herself when the puck's not going in the net.
For the past 10 months, she's had to learn how to help her team off the ice and an unexpected bonus of watching so many games from the seats instead of the bench is she learned how to have a wider view of the game as it's happening. Where before she'd be hyper-focused on her own shifts, now she said she's much more aware of what's happening outside that bubble.
That's just one of the many small lessons Pankowski has learned over the past 18 months. It would have been nice to have learned them in a less devastating way, but there are some positives to be found.
Team USA's focus on pace and sprint speed improved her first three steps, said Pankowski. That increased pace of play was the norm for the five months she was centralized and that also improved her game.
"I think that I think the game a little faster. It's either that I've been pushed to play at a faster pace so this game is slowing down, or I've just been thinking faster so that I can make better plays out there," she said.
That part has to be concerning for opponents, since Pankowski was already known as a quick-thinking, cerebral player. She'll be returning to a line with Clark, who Pankowski said makes her think faster and move faster. Their chemistry has been one of the reasons the Badgers have been so successful.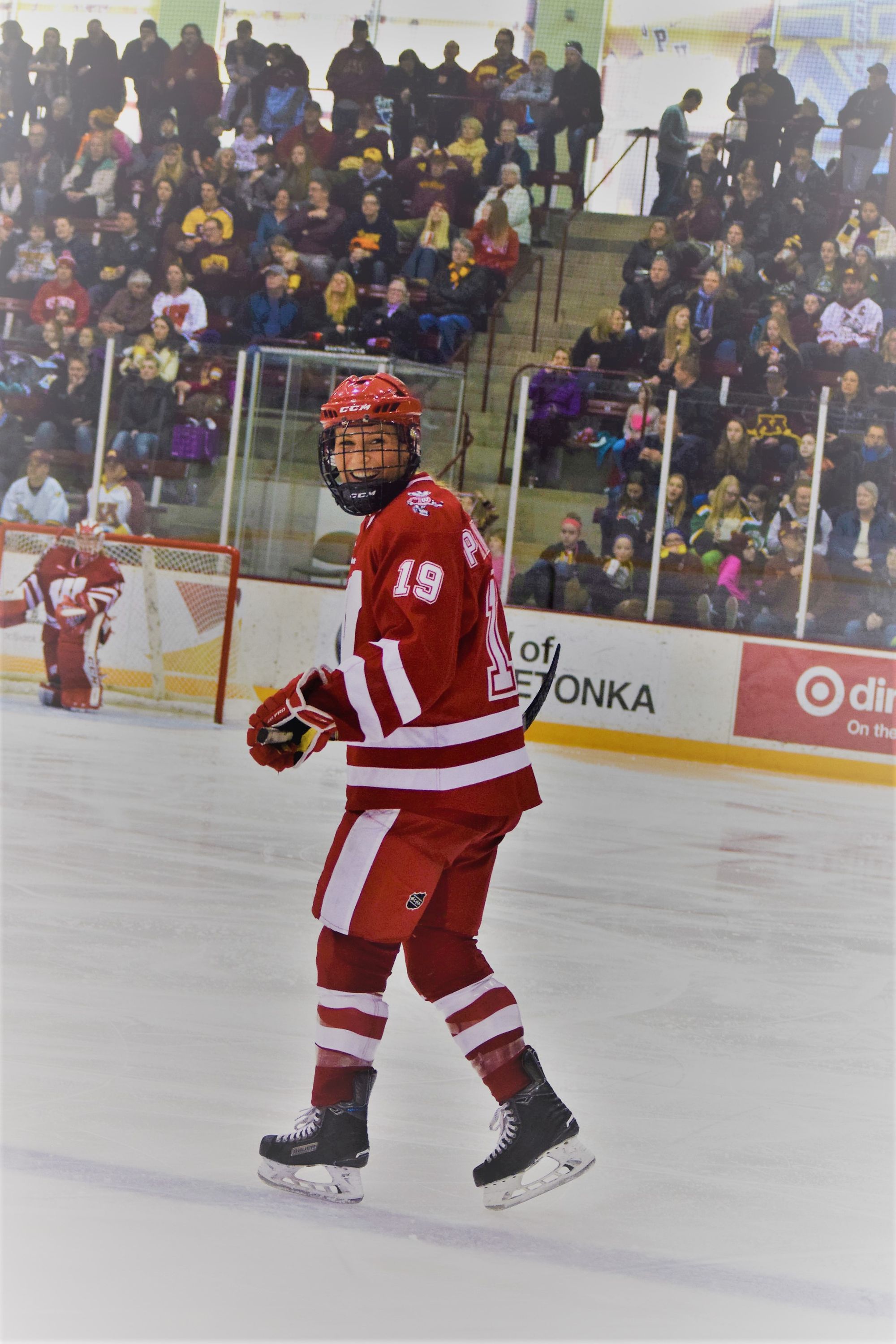 "I absolutely love playing with Annie. I have such high respect for Annie as a player and a person," said Clark. "I don't think I've ever seen a more natural goal scorer. It's not luck. It's a skill and it's a skill that I wish that I could acquire and that she could teach me, but I'm afraid that it might be natural."
Clark described it as them seeing the ice differently, together. They complement each other so well that they're able to anticipate where the other is moving and they're able to put pucks into the space where they know the other person can get.
Pankowski said Clark makes her less rigid. The two are incredibly competitive, even in simple practice games, but they share a similar humor and they're both stoked to be back in Madison for their senior year.
Both players noted that their first practice back playing together, they couldn't wipe the smiles off their faces. It's been a long time, Pankowski said, since she remembered that hockey is supposed to be fun.
"Last season really gave me another set of fire than that I had my freshman year [but had] just dwindled out a little bit. I think I'm just going to be a force and I think I'm going to be more relentless than I have in the past," Pankowski said.
It's already been an impressive college career for Pankowski, who was the National Rookie of the Year in 2014-15. She was a Patty Kazmaier top-10 finalist each of the next two seasons and her junior year, she was tied for second nationally with 25 goals.
While she's focused on remembering why she got into hockey in the first place, Pankowski is also learning that hockey isn't her whole life. She said she's incredibly focused on her academics this year and she spent time before the season applying to veterinary school, following the footsteps of both her parents.
Since her freshman year, Pankowski has worked with a group called OccuPaws, training puppies to become guide dogs. It's pretty much impossible to find Pankowski anywhere on campus without a dog in tow and being able to focus on the dogs she was training was crucial to helping her heal in the spring, she said. Though her dogs often end up at LaBahn Arena with her, they're also a constant reminder that she isn't defined by what happened with Team USA – or by hockey at all.
Her social media is usually full of pictures of the dogs she cares for. The day of this interview, she posted the following quote: "Maybe life isn't about avoiding bruises. Maybe it's about collecting the scars to prove we showed up for it."
"I've got a few of those," she said, referring to the scars. But if there's anything she wants everyone to know about her, it's simply this.
"I'm okay," she said.
It was a very long 551 days and the past five years have packed a lot of tough life lessons, but Pankowski said she's learned to smile through the BS and put one foot in front of the other.
"It's been a really long mental journey and I learned a lot about my character, and a lot about what defines me outside hockey," she said. "I think I'm only stronger because of it. I think I've really grown from this process and I'm proud of the person that I am now and how I handled that whole situation. Moving forward I feel like I'm better equipped to handle some of the stuff that life has to throw me."