It's rare that I attend a hockey game as a fan anymore, but when the USA/Canada December series was announced, it seemed the perfect opportunity for a short road trip that was high on garish American-flag-themed outfits and low on press responsibilities.
We attended Saturday's game in Plymouth, Michigan, and I watched the live stream of Monday's game from Sarnia, Ontario.
Melissa covered the true awfulness of the Monday broadcast here, so I'll leave that alone and stick to giving you some of my impressions of the two teams after seeing them in person.
Let me preface all of this by saying that I was somewhat distracted for most of the game with worry over the status of Canadian goalie Ann-Renée Desbiens, who is also a Wisconsin Badger. With her injury early in the game, I had to really force myself to continue to focus and watch the game, and to enjoy the experience.
I appreciate and respect how much Team USA staff have tinkered with rosters, talent pools, coaching, and strategy since Sochi. When I spoke to Ken Klee before last year's Four Nations, he was very up-front about knowing that the job for Pyeongchang was not guaranteed to be his.
USA seems to be trying every possible combination of players and coaches, looking for the best fit. They've had rosters that were almost entirely composed of collegiate and high school athletes and they've had rosters that featured none of those younger players. They are searching through a wide pool of talent and hoping to come up with a gold-medal-winning combination.
For the December series, longtime women's assistant Robb Stauber was given the chance to take the reins. It's impossible to know which, if any, of the problems or changes to the team's play he is responsible for, so instead of critiquing him, read this as a critique of the team as a whole.
The most concerning thing that came out of the weekend was the fact that Team USA was employing a "dump and chase" style. With the exception of Hilary Knight, the Americans don't have the size up front to be effective with this -- especially against larger Canadian defenders.
Even if there is an argument in favor of this particular style of play when looking at Knight, it should immediately be countered with the fact that her linemates, Kendall Coyne and Brianna Decker, are both barely more than five feet tall, and their skills are not best served by hunting for the puck along the boards against larger Canadian skaters.
More than once in the series, Knight attempted to pass and skate her way past defenders along the offensive zone boards, while they pinched her off and kept her from completing the play.
Not only do they not have the personnel to successfully carry off a dump and chase, but it's almost the antithesis of what Team USA is usually about. They are a fast-skating, crisp-passing, finesse front-three on nearly every line. Taking the puck away from them and asking them to dig in the boards against larger defenders is a waste of their talent and seems doomed to end injury.
Of course, the "usually" part of that last point is crucial, since this past weekend the Americans struggled with puck control in every aspect. They had difficulty with controlled zone exits. The passing was nigh on disastrous, while zone entries were only mildly better. Canada was pressing them in the defensive zone, which only served to fluster them more. It often took several clearing attempts to get out of the defensive end and often, they fumbled passes and exchanges in the neutral zone. They didn't display any of the finesse that is usually their hallmark.
These sloppy entries and exits really impacted Team USA's ability to be most effective, even when trying to run a dump and chase system. It took the fast-break away from Coyne and forced Amanda Kessel to be creative with the puck -- which she did, but she often had no one with her when she found her way into the offensive end.
All these things showed improvement in Monday's game, but this lineup has played with each other consistently enough that they should have been able to find their footing before the first game. If the USA come out like that in a big tournament against a team like Finland, they could find themselves in a hole that they can't dig out of.
One of the only reasons Team USA was in the lead on Saturday at all was due to the numerous Canadian penalties. Yes, the Americans scored two power play goals, but they were just two for 10 on the power play on Saturday and 0-4 on Monday.
The sloppy passing and terrible puck retrieval that marked the rest of Saturday's game were amplified with the extra attacker on the ice -- and it felt like the players knew it and got scared to shoot the puck, for fear of sending the play the other way.
Coyne, Decker, and Knight were the only set line -- the others scrambled from Saturday to Monday. Kessel was more effectively use on a line with Jocelyn Lamoureux and Kelli Stack. On Saturday, when paired with Haley Skarupa and Hannah Brandt, she was completely neutralized and became a non-factor.
One thing that has been niggling at me while looking back at line sheets and box scores is how little I remember players like Alex Carpenter and Meghan Duggan. Those are skaters that USA needs in order to make an impact, and it felt like you barely felt their ice presence.
The defense never felt particularly solid in either game. Megan Keller looked like the college player she is and I'm not sure that pairing her with Cayla Barnes, the 17-year old making her Team USA debut, was the best strategy on Monday.
Lee Stecklein has been a blue-line stalwart who is virtually unbeatable for Minnesota, but has recently shown some cracks in her armor. Confidence might be the only thing that's missing, but USA could really benefit from her playing up to her full potential.
A common refrain about Jessie Vetter for the past season has been wondering about her game-readiness when she wasn't playing regularly in any top-level capacity. Alex Rigsby felt a bit like she was following that path, as she looked rusty and a bit slow on Saturday.
Several skaters, both on forward and at D, looked like the were diving in on skaters and biting too easily on fakes.
Even with the extra skater for most of the first period on Saturday, they didn't necessarily look like the better team. They were scrambling and unsteady. They didn't seem to be in control.
In contrast, on Monday, they were crisper on the pass and cleaner across the board.
On the other side of the ice, Team Canada looked more cohesive if not a bit slower. Jennifer Wakefield had a brilliant series, Shannon Szabados was effective and exciting (re)addition in the net, and Rebecca Johnston seemed to be able to score at will.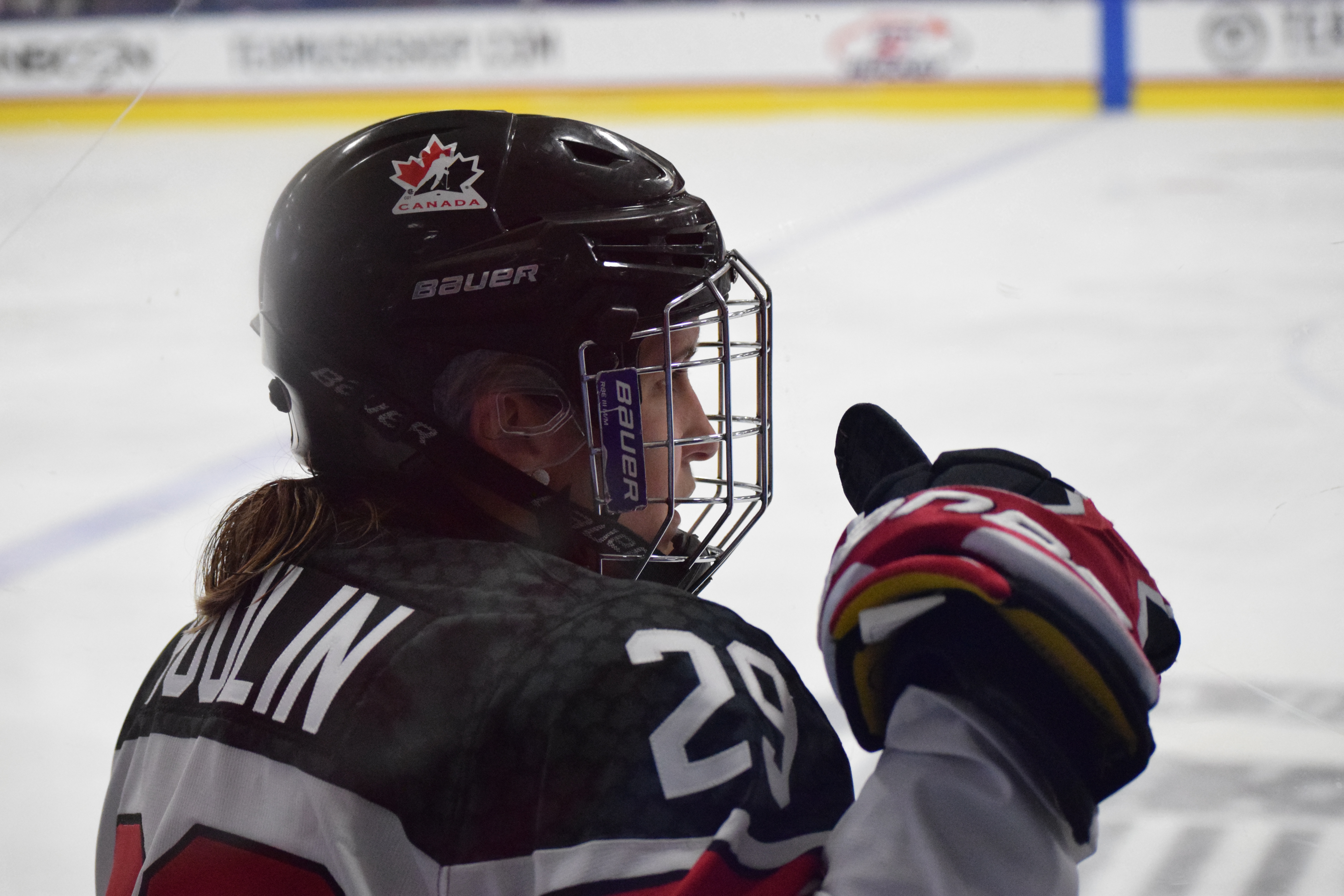 While Team USA seems to be willing to try any combination of players, Team Canada seems happy to stick with their "tried and true" lineup. They are 12 women aged 24 or older, and seven of them are 27 or older. Sophie Shirley and Amy Potomak were the high-schoolers given a chance with the senior squad, but seemingly as a rule, Canada has been steering away from younger players.
It's hard to say which roster strategy is more effective -- but it does seem to give Canada lower odds in the future if they aren't grooming and developing younger talent to take over.
Canada showed was more flashes of brilliance -- when they were good, they were outstanding -- but those moments came less frequently than they would have liked, especially considering the relatively poor performance of Team USA.
At about a year out from Pyeongchang, I'm not sure either association can be thrilled with what the series showed from their teams. There's work to be done on both sides and only a handful of tournaments left in which to work out some of the kinks.
The Women's World Championships are the first week in April in the same arena that Saturday's game was played. Some prolonged time playing together and a larger sample size of games should help give us a better look at where the two teams stand.