The preliminary match between Team USA and Team Canada in the 2016 IIF Women's Worlds was knotted at 0-0 for much of the evening, but it wasn't short on action. At both ends of the ice, goaltenders Alex Rigsby and Emerance Maschmeyer were repeatedly called upon to make huge saves; and after a close, tense, checking first period, the game opened up with intense and relentless speed.
As much as goaltending took the spotlight, special teams was a major storyline through two periods, as Team Canada took six penalties in the first 40 minutes of the game. Despite extended time skating 5-on-3, the Americans were unable to capitalize on the advantage. The Canadians' forecheck and breakout was superior for much of the game, and Maschmeyer looked unbeatable. Team USA, skating without one of their top defenders in Kacey Bellamy, seemed to be having trouble with their breakout. Emily Pfalzer was one of the most successful defenders at carrying the puck up-ice on her own to start the attack, but was often stymied at the Canadian blueline before getting it deep. 19-year-old Megan Keller of Boston College, making her second appearance in the senior IIHF tournament for Team USA, was particularly hesitant with the puck, failing to take shots and leading to multiple giveaways.
Keller also took the first penalty for Team USA (a holding call) at the tail end of the second, which led to more power play time for the Canadians at the top of the third. Laura Fortino picked up a rebound in the slot and put it past a sprawling Rigsby to give Canada a 1-0 lead.
After Keller took her second penalty, Team USA put together a successful kill and came right back to tie the game. It was Hilary Knight with the equalizer, smoking a shot past Maschmeyer that found a seam between her glove hand and left pad. Maschmeyer had been stopping everything; and so late in the game, it was a turning point.
Did you get your tickets to the @Emerance_M show? #WomensWorlds pic.twitter.com/N48uczD88k

— CWHL Gifs (@CWHLHighlights) March 29, 2016
.@Hilary_Knight's ridiculous shot ties the game for the United States. #WomensWorlds pic.twitter.com/vTzNWSx6fA

— CWHL Gifs (@CWHLHighlights) March 29, 2016
The tides then fully turned halfway through the third period. After successfully killing a kneeing penalty to Jocelyne Lamoureux, Team USA got yet another power play chance with Team Canada's veteran defender Meaghan Mikkelson in the box. This time, they were able to make Canada pay, as Brianna Decker buried a rebound from in tight to give the USA a 2-1 lead. The goal came with just over six minutes to go, and it wasn't enough for Canada to mount a comeback.
Goal! @Bdecker14 puts the US up 2-1 #WomensWorlds pic.twitter.com/T6711PYPKg

— CWHL Gifs (@CWHLHighlights) March 29, 2016
Hilary Knight added an empty netter with 20 seconds remaining, and the final score would be 3-1.
This was a hard-fought game between the two best national teams in the sport, and it hardly felt like a preliminary game. Some notes:
Canada's blueline is more mature, and that's going to mean a lot going forward. They had a much cleaner breakout for most of the game, while the US was mostly gaining zone entries on turnovers and brute force. Lauriane Rougeau and Jocelyne Larocque are especially good at that first pass.
Still, Team USA's speed eventually got the better of them. While they didn't score, the line of J. Lamoureux, Carpenter, and Pankowski was able to get a low cycle going late in the game that frequently tilted the ice for the Americans.
Keller had a rough game, but her d-partner Bozek kept a level head and was steady throughout. Bozek was good at getting shots through traffic from the blueline as well, whereas Keller frequently held onto the puck for much too long and created giveaways.
Monique Lamoureux on the back end led Team USA in shots on goal. The only skater who had more was Canada's Meghan Agosta, with 6 to Lamoureux's 5.
Hayley Wickenheiser was a force all night on a line with Jennifer Wakefield and Emily Clark. It was a "third line" for Team Canada, but they were extremely difficult to play against down low and their passing game was superb.
The performance from both goaltenders was outstanding overall, but Maschmeyer had to make 35 saves on 37 shots. Canada mustered just 23 shots on goal, and many of them were high-quality chances. Rigsby weathered an early storm and shook off the first goal to give her team a chance to win. If this is the next generation of starters for the USA and Canada, both programs have little to worry about in net. Veterans Jessie Vetter and Charline Labonté sat on the bench for this preliminary game. It's hard to envision either team tapping them for the potential gold medal matchup after how Maschmeyer and Rigsby performed on Monday night, but there's still some tournament left to play.
Canada faces Russia today at 10:30 PM Eastern/7:30 PM Pacific. Team USA takes Finland at 6:30 PM Eastern/3:30 PM Pacific. Switzerland vs. Czech Republic is at 4:00 PM Eastern/1:00 PM Pacific, and Japan vs. Sweden is at 8:00 PM Eastern/5:00 PM Pacific.
Via the IIHF, here are the standings after Day 1 of the tournament: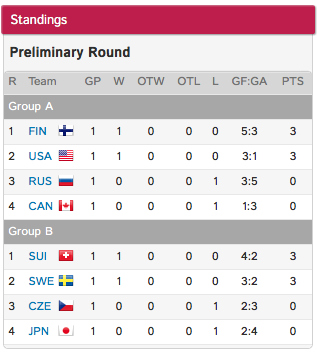 Game stats: IIHF