The 2016 IIHF Women's World Championships begin tonight in Kamloops, British Columbia.
In addition to being yet another opportunity to witness the great United States vs. Canada hockey rivalry, the tournament is an important step along the road to the next Olympics which many casual fans can miss out on. This year, the USA vs. Canada preliminary game will be televised live on NHL Network (tonight, March 28, 10:30PM Eastern/7:30PM Pacific), as will the gold medal game (likely to be another USA vs. Canada tilt). Other Team USA games will air on tape delay on NHL Network.
Here is the full schedule of games, via the IIHF: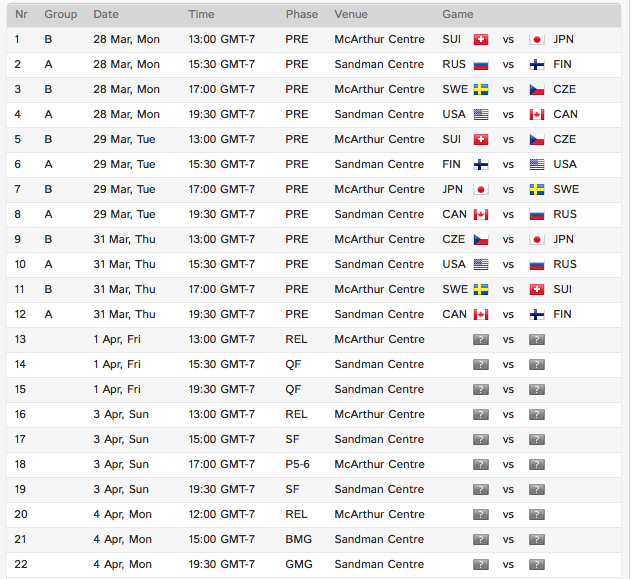 And here is the full NHL Network TV schedule for the tournament: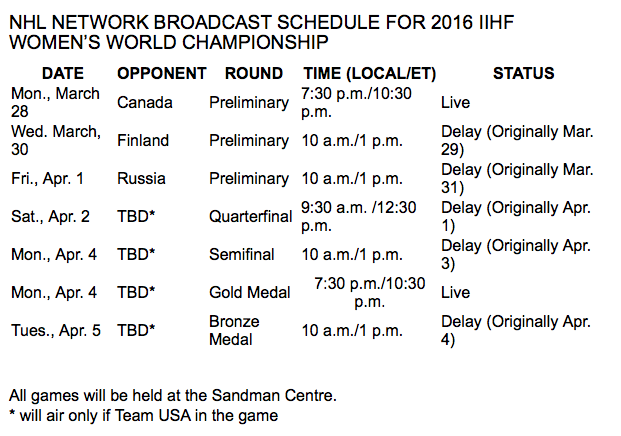 TSN will, as expected, be providing more coverage as well. The NHL Network stream will likely be pulled over from TSN.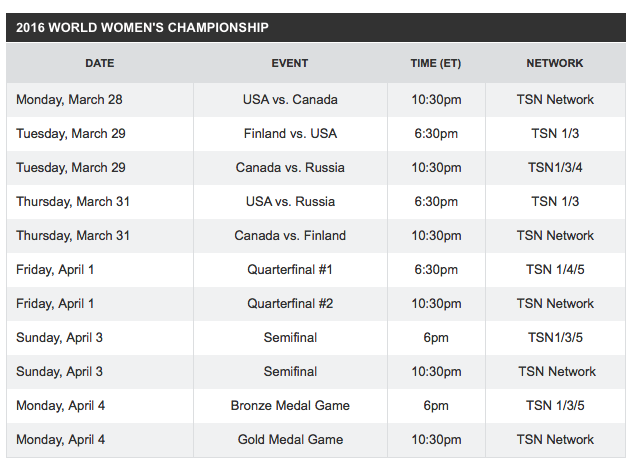 The 2016 Women's World Championships have direct ramifications for Olympic qualification. This detailed Wikipedia article explains the qualification process for Pyeongchang. Those countries that finish in the top 5 global rankings after the Kamloops tournament qualify directly for the 2018 Olympics. South Korea as the host nation is automatically qualified. An additional series of group tournaments determines who captures the remaining two spots.
Here's a screenshot from that article showing the current world ranking: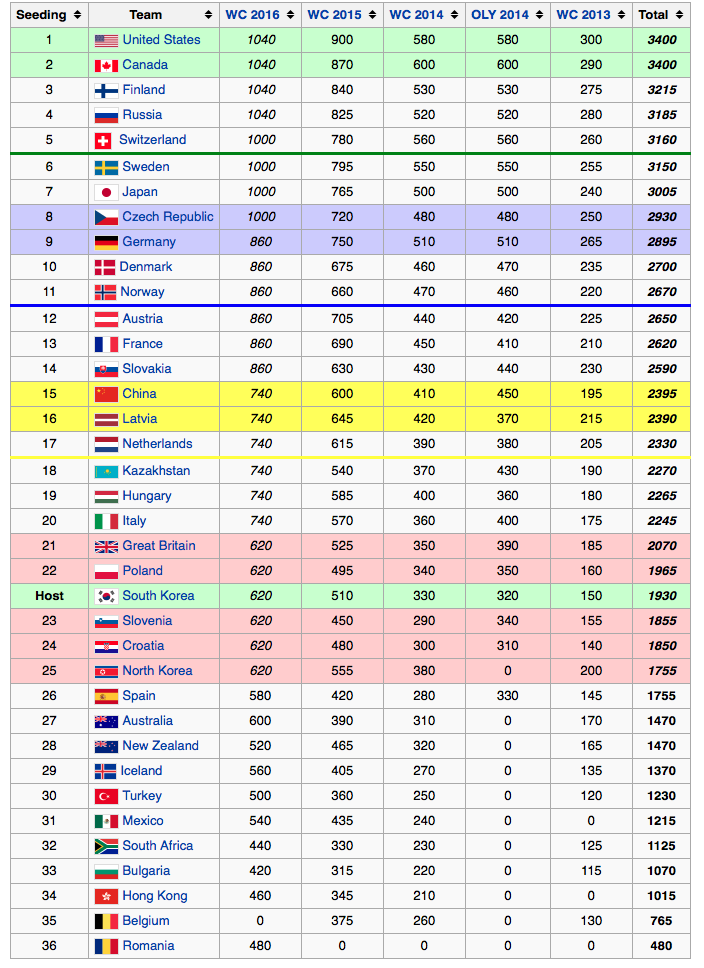 All teams participating in the top division tournament this year in Kamloops stand to make huge gains in the World Ranking and directly qualify for the Olympics. Finland, Russia, Switzerland, Sweden, and Japan are all in the hunt for direct qualification, depending on how well they perform; Switzerland in particular will need a strong finish if they want to hold off Sweden, who are only 10 points behind them in the rankings. The Czech Republic was recently promoted to the top division after a strong finish last year in Division I; they will be looking to prove that they belong after being demoted following a last-place finish the last time they were there, in 2012.
Suffice it to say that both the US and Canadian rosters are, as they say, stacked. Team USA took home gold last year and will be looking to repeat; but the matchup between the US and Canada in women's ice hockey is arguably one of the best in all of sports, and it's not going to be easy.
We'll be providing some Women's Worlds analysis both during and after the tournament here at Victory Press; for now, get excited for the late puck drop.
In the first preliminary match of the day, Switzerland topped Japan 4-2. In progress, Finland leads Russia 1-0 in the second period. At 8:00PM Eastern/5:00PM Pacific, Sweden takes on the Czech Republic.