It has been 887 days since the last time U18 women were able to compete in an IIHF World Championship. The 2022 iteration is also happening six months later than originally scheduled. The tournament was cancelled in December 2021 by IIHF President Luc Tardif. At that time, the IIHF said: "Due to league commitments within Sweden during possible postponement dates, it was determined that it will not be possible to move the women's U18s to a later date."
In February, it was announced that it had actually been rescheduled, and that USA Hockey along with the University of Wisconsin would host the tournament. Games will take place at LaBahn Arena, on the UW campus, home of the Wisconsin women's hockey team, and at Bob Suter's Capital Ice Arena (Cap Ice), eight miles away. Group A games as well as quarterfinal, semifinal, and medal round games will be played at LaBahn. Group B and relegation games will take place at Cap Ice.
The Americans come in as defending champions, having won gold in 2020 and in five of the last six tournaments. Canada last won gold in 2019. They are the only two countries to have taken the top spot in this tournament, which until recently, had been competed every year since 2008.
Sweden is the only country other than the US or Canada to play in the gold medal game – they took silver in 2018. They also lead the way with five bronze medals. Russia is second, with three bronzes, including in 2020, where they defeated Finland 6-1 for the medal.
Most every player on the USA and Canada rosters have already committed to NCAA DI programs. (Find those commits here).
Schedule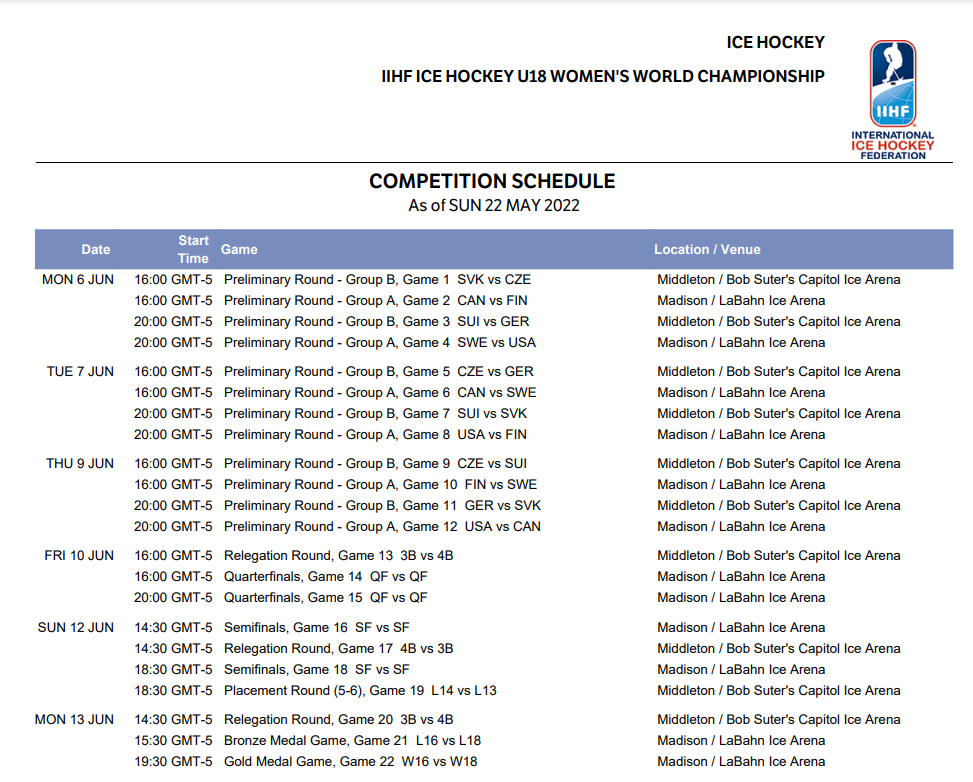 This is a screenshot of the official IIHF schedule document. For all game times, you can refer to their website as well.
Format
Eight countries are in Madison this week. They are divided into two groups, which are determined by their IIHF standings (based on how they finished in the 2020 tournament). Those teams play a round robin series within their group to determine who moves on and who plays in the relegation games.
Group A is the United States, Canada, Finland and Sweden. Group B is Czechia, Switzerland, Germany and Slovakia. The IIHF suspended all Russia and Belarus from all IIHF competition in February 2022.
The top two teams in Group A receive a bye to the semifinals. The third-place team in Group A will play the second-place team in Group B, and the fourth-place team in Group A will play the first-place in Group B.
The two last-placed teams play a best-of-three Relegation Round series. The winner of the series plays again at the 2023 IIHF Ice Hockey U18 Women's World Championship, while the loser will be relegated to Division I Group A.
Semifinal matchups are set using group tier and ranking within that group.
The tournament uses a three-point system and gives an extra point to a team that wins a game in overtime or shootout. More detailed information on overtime, penalty shot and tie-breaking procedure can be found here.
Television and Streaming
In the US, all of Group A's preliminary games  and all quarterfinal games will stream live on ESPN+. Team USA's games will be replayed on NHL Network the next day at 12:00 PM Eastern. The gold medal game will air live on NHLN. Broadcast info for the semifinals and the bronze medal games are to be determined. HockeyTV will also stream all of the games not being broadcast on television.
In Canada, TSN will show all of Group A's prelim round games, plus all quarterfinal, semifinal, and medal games live.
What to expect
Previewing the U18's is difficult at any time as this age group plays so few games and the ones that are played have often been impossible to watch. While many of these players have played full seasons in 2021-22 with their own leagues and schools, tape for younger players is also extremely limited. For many of these teams and players, this is our "first look" at them on the world stage.
(Video description: Our friend Kirsten Whelan's semi-viral tweet from December 26, 2019 reading, "I'm so glad that whilst World Juniors and the Spengler Cup are on every TSN, we get the great privilege of watching U18 Women's Worlds online through a glorified doorbell cam." The video shows a very poor quality distant fisheye lens view of Canada vs. Russia streaming on the IIHF website, being watched by 474 people. You can't see what is going on at all or identify any players – nor was there any commentary.)
Add in the fact that these teams are made up mostly of players most of us have never really seen play, certainly not at the international level, and it's nearly impossible. I'll do my best, but know that I'm working with limited info and experience.
United States
Even with the long break, Team USA returns two players who won gold in 2020 – Danielle Burgen and Kirsten Simms. Simms has been named team captain, with Burgen and Laila Edwards serving as assistant captains. Simms was a standout player two years ago and has only had that time to get better. Watch for her skill with and away from the puck.
This is a tall and physical team. There are eight players 5'10" or taller, topping out with Edwards at 6'2", and all three goalies falling in that category. This team should be strong along the boards and in and around the net.
Up front, Elyse Biederman is small, but uses that to her advantage.
Canada
Not to downplay the Canadian offense, who will undoubtedly be potent, but pay attention to their blueliners. Sara Swiderski and Brooke Disher have played together for awhile and were atop their league's scoring at D in the 2021-22 season. Tova Henderson scored Canada's lone goal in their warmup game against the Americans this week.
Swiderski and Sara MacEachern were paired together prior to the tournament and should give opponents a tough time. Watch MacEachern in transition and how easily she moves on the ice. She skated at the Canada Winter Games at age 14 and did not look out of place.
Many folks are excited to see Jade Iginla make her Hockey Canada debut at this tournament. It tends to feel like she's everywhere on the ice at once and never gets outworked for the puck. Her hockey IQ is high and I expect we'll see her make some really smart plays.
Finland
Sanni Vanhanen is just 16 years old but already has a senior level World Championship and Olympic games under her belt. And she wasn't there just to learn. She scored the game winner over Czechia in the World Championship quarterfinal in Calgary. She brings pace and urgency to the Finnish offense.
One advantage Finland seems to have is that many of the players on this roster have come from their development squad. In an era when no one has spent a lot of time playing together, their familiarity with each other should be a big boon.
Coach Mira Kuisma said she had a bigger pool of talent to select from than ever before and she was able to pick players for specific roles. Expect a well-rounded team that does not need to rely on a handful of players to carry them.
Sweden
There are a lot of familiar names on the Sweden coaching staff. Pernilla Winberg makes her debut as an assistant coach and Kim Martin Hasson is the team's video coach.
Ebba Hedqvist had two goals and two assists for the team in the European Youth Olympic Winter Festival (EYOF). Astrid Lindeberg, Mira Jungaker, and Jenna Raunio are offensive threats from the blue line. Nicole Hall is the player to watch among the forwards. She's smart and efficient with the puck and has a nose for the goal. Watch for Mira Markström to be a playmaker in front of the goalie.
Czechia
At the risk of sounding like a broken record, much like at the Olympics, Czechia is probably the most intriguing team. They have not fared well in this tournament in years past, winning bronze twice, in 2008 and 2014, but they did just win the first-ever women's hockey tournament at the EYOF, beating out Finland, Sweden, and Switzerland, among others. The growth of the senior women's team shows increased investment in the country's women's hockey program and many of the women making waves at the top tier started in the U18's.
What this team needs to focus on is a consistent 200-foot game. They have the confidence boost of the EYOF win and the experience of playing together recently. They also saw what the senior team did in Beijing. This is a federation on the rise. If they can combine that with a solid all-around effort, they have as good a shot as any team outside of the US and Canada.
Switzerland
The key for this team is likely Alina Marti, who played for Switzerland at the most recent Olympics and Women's World Championships. She didn't crack the scoresheet, but that much time around the elite talent on her team (Alina Mueller, Lara Stalder) and against the best in the world is likely to have impacted her game.
Many of these players have been able to compete in leagues at home in Switzerland over the past few seasons, helping them be prepared for this tournament.
Slovakia
The Slovakian team was moved up to this tournament when Russia was suspended from IIHF competition. A number of women on this team played in the 2020 World Championship and won bronze at the World Youth Olympic Games in 2020. It was the country's first-ever medal in Youth Olympic ice hockey. The then U-16 squad came form behind to beat host Switzerland. Coach Gabriela Sabolová is hoping that experience at the international level will help her team, who does not have much experience or knowledge about playing against these opponents in Group B.
Germany
The Germans return to the top tier for the first time since 2018.  Coach Franziska Busch will be supported by women's senior national team coach Tom Schädler as an assistant. This team has not spent as much time together as Franziska would have liked due to the end of the school year for her players.
Captain Annabella Sterzik had 10 goals and seven assists in 20 games with Eisbären Juniors Berlin. Svenja Voight had 11 goals and seven assists in 18 games at Stanstead College in Canada.
---
Needless to say, we'll know a lot more about these players and programs when this tournament is over. It's an important tournament for young players in the women's game, and we are lucky to have streaming available from major broadcasters.
If you happen to be in Wisconsin, day passes for tournament games are just $15 USD per person at both venues. The IIHF has links to buy tickets at each location.
Here's to the first IIHF U18 women's tournament in two and a half years. It's been a long time coming.