You might not have known it from watching the tournament, where she was among just three Canadian players to score multiple goals, but the second-youngest athlete on Team Canada at the 2020 U18 Women's World Championship was also by far the least experienced. In fact, Sarah Paul had never even set foot on ice before she began playing hockey at age eight.
When she started in the sport, the 5-foot-8 forward says she was looking for an excuse to spend more time hanging out with her older brother, who himself had just signed up. But Paul can identify the moment three years later when she realised that she wanted to take hockey further.
"It was the 2014 Sochi Olympics ― that game was crazy," she recalls. "That's when I was super inspired and decided that I really wanted to go to the Olympics, which is one of my goals still."
Later that same year, her team got tickets to see the 4 Nations Cup in Kamloops, British Columbia, and she's continued to follow the women's national team ever since. It was nearly five years to the day from attending that game that Paul found out that, at 16 years old, she'd been selected to represent her country at last year's U18 Worlds.
"Just getting to wear the jersey, honestly, that's probably the biggest thing," she says of her highlights from the experience. "Just being in that room with that group of girls and looking around, and we're all wearing that jersey that most of us have looked up to wearing for years. And now we're there. It's kind of a this isn't real moment. It's a bit surreal."
In addition, Paul points to the bonds she built with her teammates, many of whom she hopes will remain friends for life. She also vividly recalls taking a moment to soak in the experience before stepping onto the ice. But while Paul was thriving in Slovakia, it wasn't always easy for others to follow her success. Paul's immediate family was able to join her on the trip, but for the first two days of the tournament, the only way to watch from afar was through a stationary fisheye camera hosted on the IIHF website.
"I actually had some teammates text me after a game saying I'm sorry we couldn't watch, because you just couldn't see anything," she mentions. "And I had grandparents in the Netherlands also trying to watch through the stream that just couldn't even see ― like, it just didn't work."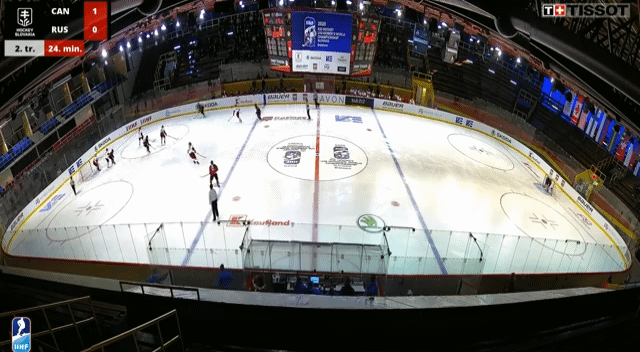 Paul's first international goal came during the opening contest against Russia, and she rounded out the event with the shot that sent the gold-medal game to overtime. By that point, the camera set-up had finally been improved enough to see who'd done it. With just under four minutes remaining in the extra period, though, Kiara Zanon scored to claim the title for Team USA. As soon as the very next day, avenging the loss in 2021 was at the top of Paul's to-do list.
"Getting that gold back, it's what you look forward to next," she says. "It's what you focus on next, even though it's a year away. It's what you train for, what you get up for on the tough days. And during quarantine it's what kind of kept me sane and kept me going, is to see that I have goals and things that I want to reach."
As she continued to train towards a shot at revenge, Paul's club season at RINK Academy got underway. On September 16, 2020, her team did an exercise aimed at identifying factors they could and couldn't control. By that point she was becoming concerned about the possibility that she might not get a chance to go for gold after all, and wrote "Worlds getting cancelled" on her worksheet. In retrospect she says she should've seen it coming, but she still wasn't prepared for the next day's news of the tournament cancellation, which, to make matters worse, came mere minutes before she had to run the beep test.
"I was devastated," she says of finding out the tournament wouldn't take place. "It was definitely heartbreaking in a way, especially knowing that obviously the boys got to play. So that stung even a bit more. There's no sugar-coating it, you know what I mean? It just sucks, to be honest."
While losing her opportunity to win a World Championship was disappointing enough in itself, the cancellation hit especially hard for Paul's family. Along with her mom and brother, Paul moved to Canada from the Netherlands when she was one, and her grandparents still live there. Because they can no longer travel overseas and because the high cost of hockey makes affording trips to Europe difficult, she hasn't seen them since she was eight years old. With the tournament slotted to take place in Sweden, her family had hoped they might get a chance to reunite.
"We were hoping to see them this year, and it'd be one of the last times that I would see them, but it wasn't possible, obviously," she explains. "So we were hoping to see them if that was going to happen."
Back in Kelowna, as the COVID-19 pandemic has continued to impact every aspect of life, the competitive hockey season has been put on indefinite hold. Her RINK squad is still able to practice, but its only games came between mid-October and mid-November. Paul, for her part, sustained a shoulder subluxation in the opening match, and spent the next six weeks rehabbing the injury. Though she was fortunate to have a relatively easy recovery, her season has thus far been limited to a total of two periods. The change in structure has led her to concentrate more heavily on her longer-term objectives.
"We're not playing games anymore, so I kind of focused from then on the Hockey Canada side to try to do my best to get in with the U22s," she says. "And then with my club team, just keep focusing on getting better every day."
Next season, Paul will suit up for the Princeton Tigers in the ECAC. She describes it as the best of both worlds between academics and athletics, and says the opportunity hockey has given her to attend a top Ivy League university is one she isn't taking for granted. Paul was also particularly drawn to coach Cara Morey's claim that her group is the hardest working team in the country, and says she values that much more than the idea of joining a perennial powerhouse that regularly blows out its opponents.
"With their hockey program getting better every year, it's been really cool to watch that as I've been committed," she adds. "Seeing their program get better and me getting to go in at this year is awesome."
Paul plans to study psychology once she arrives on Princeton's campus, which she says she immediately fell in love with when visiting. As she pursues her career in the NCAA, she also aims to earn a place on the national development team, and eventually fulfill her childhood dream.
"I would love to go to the Olympics for sure," she says. "That's been my goal for a few years. It's more of a long-term goal than it is short-term, but hopefully every year it becomes a bit closer to short-term than not."
(All photos courtesy of Sarah Paul)