Kassidy Sauvé was surprisingly calm going into her first weekend of professional hockey. Deep down there were a lot of emotions, she figures, and probably the usual jitters that she didn't even pick up on. But mostly, heading into the PWHPA Dunkin' Showcase in Hudson, New Hampshire, she was relaxed and looking forward to the opportunity.
"I was excited to get on the ice, especially to play with and against the players within the organization," she said. "There's so much talent across the board, so I was just really excited to not only play with those players, but also play against them. To play with different people, too, I think, is really awesome, and being able to do that this weekend ― and how welcoming everyone was ― just made me feel super comfortable going into the games."
After a girls clinic on Friday evening, the tournament opened Saturday with a 6-3 Team Stecklein victory over Team Flanagan and a 3-1 win for Team Knight over Team Lamoureux. Team Lamoureux went on to take Sunday's consolation game, 5-2, and Team Stecklein captured the championship with a 5-4 decision over Team Knight.
Sauvé, in net for the eventual winners, started the first match and allowed one goal through roughly 30 minutes before a planned goalie swap around the halfway mark. She didn't face a ton of shots in that opening sample, a situation she said helped her find her bearings. If there was any real adjustment period for the 23-year-old rookie, though, it didn't show. She led Team Stecklein onto the ice once again in Sunday's final, this time playing the full contest and holding off an experienced Team Knight to claim the title.
The key to victory for the ad-hoc squad? It may well have been a rousing pre-game speech.
"We were kind of joking around about how, as a team, we had prepared for this moment, and how we've been practicing together," Sauvé explained with a laugh. "Which is so false, because we had people from three or four different regions. But I think we just made the most of it.
"Our coaches did a really good job expressing that at the end of the day, pro hockey players can play with whoever, it doesn't matter who they're on the ice with," she continued. "And that's a huge part that's exciting for the fans to see, is that you can throw whoever on a line and they're fully capable of playing together. I think our team did a really good job demonstrating that. But yeah, we just had fun with it. We went into the showcase with a really open mind and we all wanted to play for each other right off the bat, which I thought was really cool and unique considering no one really had a history with each other besides a couple of the girls."
The final was a back-and-forth affair in which Team Stecklein was carrying a 3-1 lead and threatening to pull away when Geneviève Bannon narrowed the gap to one, then hadn't, then had again, in a confusing sequence of officiating decisions.
After a big hit along the bench, Team Knight had carried the puck on net, where Bannon backhanded in a rebound with little resistance. As it turns out, some players on the ice (Sauvé included) had mistaken a whistle from the crowd for a dead play, and the referees initially called the goal off as a result. It took six minutes of discussion plus a spirited lecture from Caroline Ouellette for the officials to figure out that it didn't come from them, and that the goal should indeed be counted.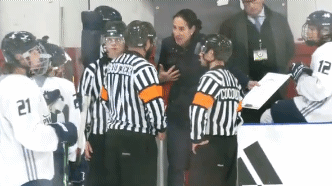 Team Stecklein quickly regained momentum following the lengthy delay, and fended off a comeback attempt to secure the win.
"It was really cool just to see how many young girls and boys, and even older fans, were out there cheering for us," Sauvé said of her first professional series. "It was kind of funny ― you don't really know the home team, because I feel like people were cheering no matter what just because they were happy to be there and happy to be a part of the tour with us. So I thought that was a really cool experience. Obviously this tour is huge, but it's nothing without the people and the fans, the people who are standing by us and supporting us."
---
In many ways, Sauvé is one of the players most impacted by the sudden change in the women's hockey landscape. She's a young goaltender who's been on the cusp of the national team, who relocated outside of her home country and is working a regular job. She said that the move, amidst all the upheaval, felt risky in some respects, but that the PWHPA did a good job explaining what was going on. Having settled in and experienced what the association has to offer, she's no longer concerned.
"I feel very confident about the situation," she affirmed. "So now I don't really feel like it's a risk anymore. And I think for young players it's a really good experience, because we do get to play with the best of the best."
In fact, with the New England region of the PWHPA, she said she's seeing about as much ice time as she got in college. The chapter practices three times a week, coached by Paul Kennedy, and has a large enough group to run full drills. To supplement her training, Sauvé can get on the ice another three days as needed, courtesy of connections fellow PWHPA members have with local skills coaches. It's far more ice than any pro team had access to last year, and more than she expected to have going in.
Sauvé isn't worried about the limited number of games, either, and pointed out that the format can even be helpful in preparing for short tournaments at the international level. Managing the pressure to perform is part and parcel of being a professional athlete, she emphasized, and if anything, having fewer games only makes folks more hungry to give their best. Thus far, the PWHPA has offered Sauvé an opportunity that in many respects already exceeds what was previously available in the women's pro game.
---
The New Hampshire showcase took place in a small (albeit jam-packed) venue, and those involved are well aware that the Dream Gap Tour is far from the PWHPA's end goal. It is not and was never meant to be the final outcome. Sauvé has nothing but good things to say about her experience ― she's found everything very well organized ― but if need be, like all who've joined in the #ForTheGame movement, she's more than prepared to make some sacrifices as they work towards a viable future.
Growing up, Sauvé's favorite goaltender played in the NHL. It wasn't until she was 12 or 13 that she started watching a lot of Team Canada games and fell in love with the styles of Charline Labonté and Kim St-Pierre. She wants to fill that role for other young girls, and enable them to see women as sporting idols at an earlier age than she did. Increasing the visibility of the women's game and the opportunities available to make a living from the sport is paramount for her, and she's already seeing progress.
"We have the support of major brands and companies and so many important people, and people know what the PWHPA is," she noted. "I think that that's a step in the right direction. It's a step that wasn't around last year. I talked to some people this weekend that came out to our games that didn't even know that there was a professional league for women last year, let alone two."
And if there's one thing to take away from the showcase, it's that the PWHPA's gap year is far from a break.
"We're going foot on gas pedal," she said. "We're practicing hard, we're training hard. We're preparing for the season as if it's a pro season and we have so much more to show people. We're eager to be successful on and off the ice, and we're very eager to make a difference within the community and within the women's hockey world."
(Photo credit: Michelle Jay)