With all four Canadian teams on a break during the Four Nations Cup, the Worcester Blades travelled to China to face the Shenzhen KRS Vanke Rays in a three-game series. (The Markham Thunder have already played two of their three games in Shenzhen as well, but those will be covered in next week's recap in order to keep the series together!)
Around the League
Emerance Maschmeyer was voted Goalie of the Week for October 29-November 1 and Kimberly Newell won for November 6-10.
Noora Räty was named Gongshow Player of the Month for October; she posted a .939 SV% and 2.04 GAA, both of which ranked third among goalies with at least three games played.
The CWHL announced that both the 2019 All-Star Game and Clarkson Cup Final will be hosted in partnership with the Toronto Maple Leafs; the ASG will be held on January 20 at Scotiabank Arena (formerly the Air Canada Centre), while the Clarkson Cup Final will take place at Coca-Cola Coliseum (formerly Ricoh Coliseum) on March 24 in a doubleheader with the Toronto Marlies.
The Toronto Furies will host a charity skills clinic in partnership with the Grindstone Award Foundation on Saturday, November 17 at Mastercard Centre.
Worcester Blades vs. Shenzhen KRS Vanke Rays
Leah Lum got things started quickly for Shenzhen on Tuesday with a goal just 1:15 into the game, and teammate Rachel Llanes closed out the period with a shorthanded tally.
Hannah Miller had the lone goal of the middle frame, at 6:14.
Madison Woo scored at 2:09 of the third, and Emma Woods added two more for a 6-0 final.
The Rays were 0-for-1 on the power play but perfect on three penalty kills, even gaining a shorty.
Kimberly Newell made 18 saves to earn the shut-out, while Mariah Fujimagari turned away 32 of 38 pucks for Worcester.
Meghan Grieves got the Blades on the board first on Friday, at 7:05 of the opening frame.
Hanna Bunton tied things up 10 seconds into the second, but it was the only goal of the period despite a 13-2 shooting advantage for Shenzhen.
Michelle Ng and Alex Carpenter scored less than two minutes apart in the third, pushing Worcester to replace goaltender Lauren Dahm with Fujimagari. Cayley Mercer then picked up a long pass for a breakaway and made it 4-1.
The Blades were perfect on two penalty kills, while Shenzhen wasn't called for any infractions.
Newell made 10 saves on 11 shots. Dahm turned away 29 of 32 chances through 48:59 and Fujimagari stopped six of seven in 11:01.
Erin Kickham opened Saturday's scoring with a power-play goal -- the Blades' first of the season -- at 6:12, but the game quickly became a one-sided affair. Carpenter and Mercer scored in the first period to head into the intermission with Shenzhen up 2-1.
Stephanie Anderson scored 58 seconds into the middle period, and Hanna Bunton made it 4-1 at 7:43, at which point the Blades replaced starting netminder Jessica Convery with Fujimagari. Miller made it 5-1 not three minutes later, and Anderson added her second to round out the period.
Wang Yuqing replaced Newell in net to start the third. Teammate Miller notched her second of the day just 1:19 in, followed by goals from Llanes and Wen Lu. Carpenter's second at 16:25 cemented the Rays' 10-1 win.
Shenzhen was 0-for-2 on the power play, while Worcester was a perfect 1-for-1.
Newell stopped 11 of 12 shots through the opening 40 minutes and Wang allowed no goals in the third -- the box score suggests she didn't even face a shot. Convery stopped 10 of 14 through 27:43 while Fujimagari turned away 18 of 24 in 32:17.
According to Shenzhen head coach Bob Deraney, a combined total of over 10,500 fans took in the series.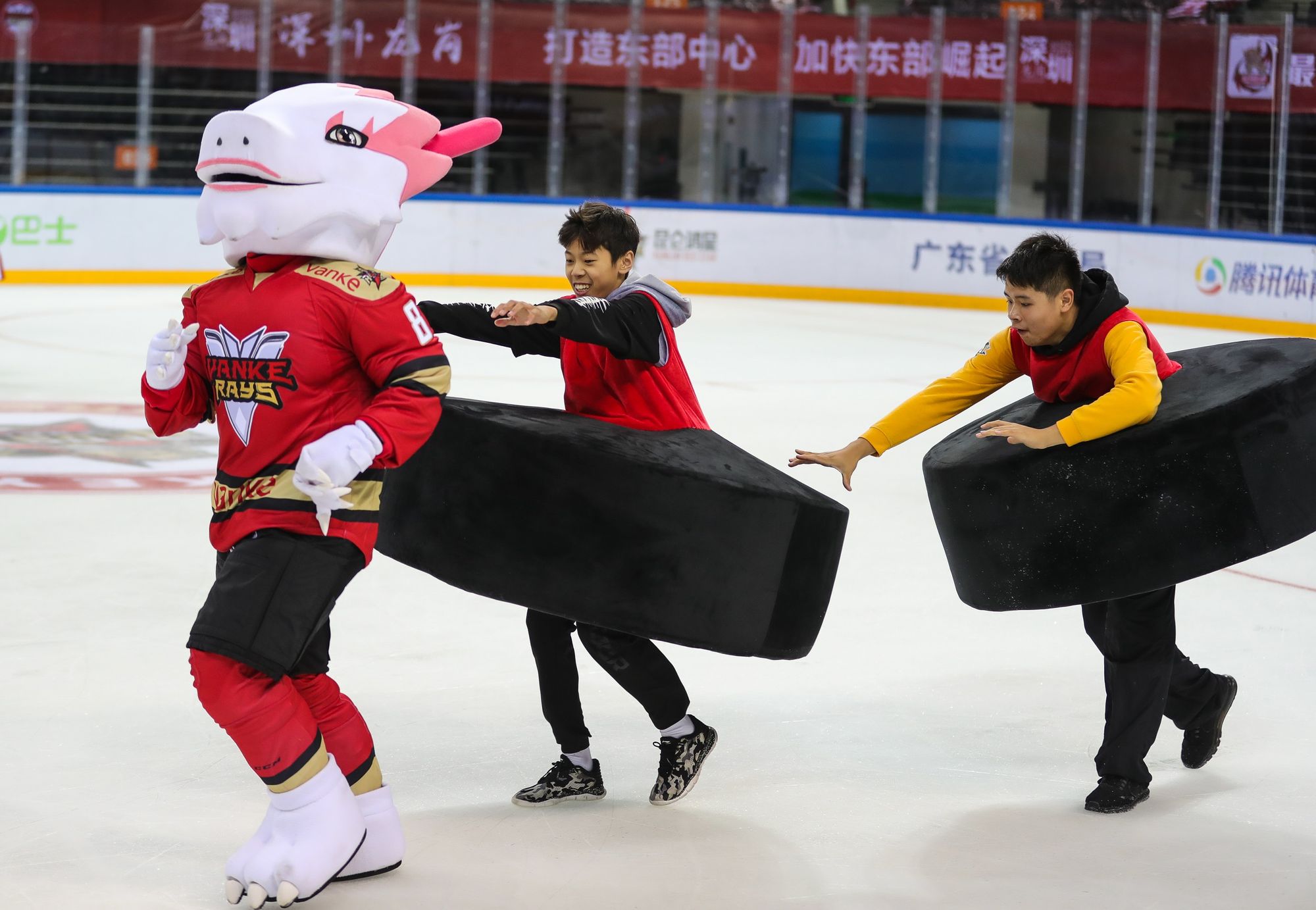 The Blades didn't get the scoring they were hoping for, but they did get their first goals from players not named Casey Stathopoulos. They next host Les Canadiennes de Montréal at the 12,000-seat DCU Center on Saturday, November 17 in a doubleheader with the ECHL's Worcester Railers.
Coming Up Next
Markham Thunder vs. Shenzhen KRS Vanke Rays -- November 14 at 7:30 PM China Standard at Shenzhen Universiade Sports Center; November 16 at 7:30 PM China Standard at Shenzhen Universiade Sports Center (streamed); November 17 at 2:30 PM China Standard at Shenzhen Universiade Sports Center
Les Canadiennes de Montréal vs. Worcester Blades -- November 17 at 3:30 PM Eastern at DCU Center; November 18 at 12:30 PM Eastern at Fidelity Bank Worcester Ice Center
Calgary Inferno vs. Toronto Furies -- November 17 at 7:00 PM Eastern at Mastercard Centre - Rink 1; November 18 at 3:15 PM Eastern at Mastercard Centre - Rink 1
(Photo credit: Visual China/CWHL)
Filed under:
cwhl
;
ice hockey
;
worcester blades
;
shenzhen krs vanke rays
;
2019 CWHL All-Star Game
;
2019 Clarkson Cup Final
We are entirely reader supported. Consider supporting this work with a
SUBSCRIPTION
or making a secure, one-time donation via
PAYPAL
.