"Somebody say amen."
WNBA President Lisa Borders did not hide her excitement at a press conference on Saturday. Later that night, many in the sports world understood why.
Many examples of Borders' efforts to grow the WNBA were on full display over the weekend during the Verizon WNBA All-Star 2018 festivities in Minneapolis, Minnesota. Many of the All-Star players gave back to the local community at events ahead of the game itself on Saturday.
Though that All-Star Game was the league's 15th, it felt like a brand new contest amid a brand new weekend in many ways. Fans, media, and the players and staff got to vote for the contest regardless of conference affiliation for the first time. Captains Elena Delle Donne of the Washington Mystics and Candace Parker of the Los Angeles Sparks got to pick their respective teams the same way, too.
Both captains -- and many others -- hope that trend continues.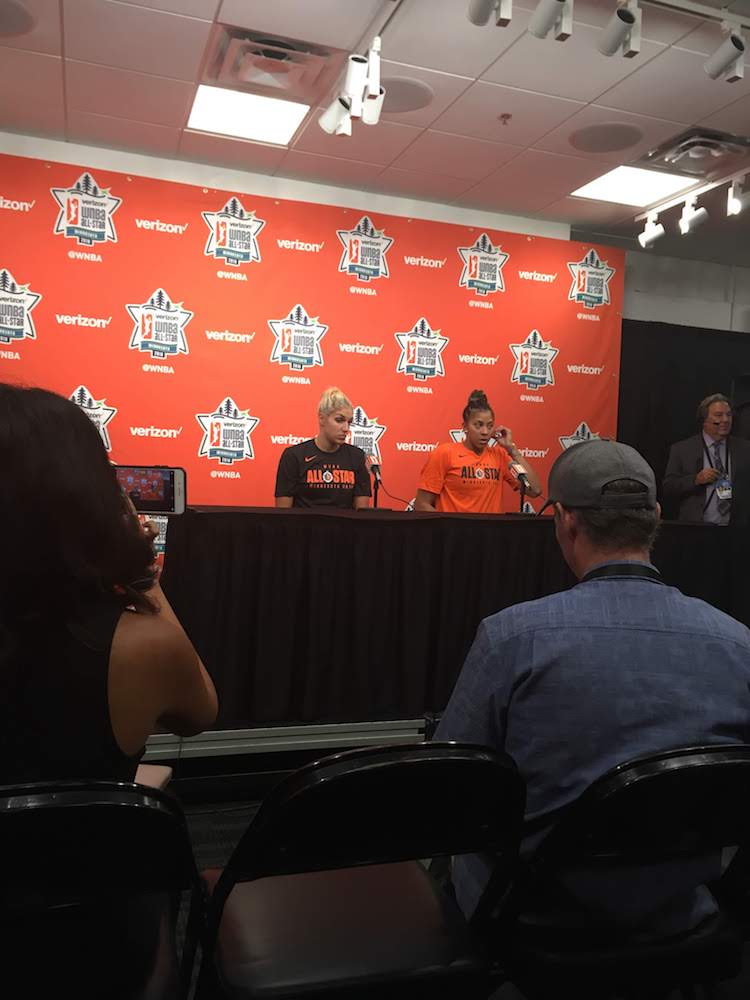 "You talk about it like you're not going to make a bad pick," Parker said about the drafting process. "Everybody is here for a reason."
"It's just fun changing it up, [and getting] to be with different players," Delle Donne added. "It's all about having a good time."
The festivities also had a first-time host in the Minnesota Lynx. Though she wasn't on the sidelines this year, Lynx head coach/general manager Cheryl Reeve still interacted with fans throughout the weekend, and at the game. That combined with the camaraderie felt from one of the biggest fanbases in the league made everyone feel welcome in Minneapolis this weekend -- even some of the Lynx's biggest rivals.
"A Minnesota fan high-fived me, and I was like, whoa, this is the All-Star Game," Parker said after helping guide her team to a 119-112 victory. "That's the main thing in the WNBA. When we have fans, even if they're against you, they rally behind their team, [and] I respect it. So it was fun."
Those fans (along with those watching the ABC broadcast) saw plenty of action from both teams in the midsummer contest. After a big first half from Team Delle Donne -- and an absolutely amazing three-point contest -- Team Parker fought back to win the game.
And oh yeah, Dallas' Liz Cambage sealed the deal with a dunk.
THAT IS HOW YOU FINISH 👏👏@ecambage ends the #WNBAAllStar with the DUNK

Final Score: #TeamParker 119 - #TeamDelleDonne 112#WatchMeWork pic.twitter.com/dxbd6byHUJ

— WNBA (@WNBA) July 28, 2018
15,922 fans packed the sold-out Target Center for the All-Star Game. It's fair to say that many of them went home happy after Lynx star Maya Moore was named the All-Star MVP for the third year in a row.
"To just be fortunate enough to be in positions to continue to win, to be playing well, to be healthy, to be here, and obviously to do it here in front of our home fans, friends, family is so special and makes it even more special," Moore said after the game.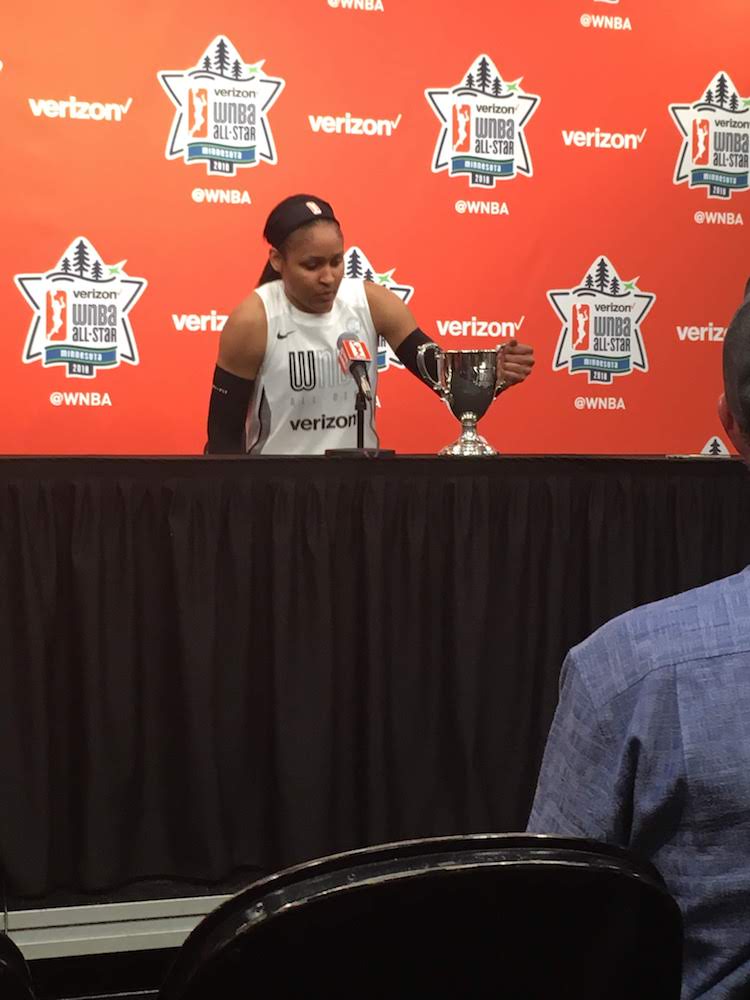 Moore was one of four All-Stars from the hometown Lynx along with Rebekkah Brunson (Team Parker), Seimone Augustus, and Sylvia Fowles (Team Delle Donne). While the players were on separate teams, which meant someone had to lose, they did see some positives in the new format.
"It says a lot just about the league itself just growing," Fowles said. "For us to have four All-Stars on this team on our home floor in front of these amazing fans, it meant everything."
The WNBA has indeed grown in just Borders' third season as league president. Viewership of games on ESPN2 and NBA TV is up 35% so far this year. The league is also livestreaming more of its games on Twitter this season, and more of an international crowd is watching. Borders says the league is using this data and more to find additional distribution channels -- and possible appointment times.
"We look at the data to see when the fans are watching," she said. "Maybe it's the time that we're playing, maybe it's the date that we're playing. So we're analyzing the data to find out what question would we ask a platform, like may we have every Tuesday night or every Friday night during a season. So internal analysis would be first.
"We are always looking for new ways to innovate the game, to innovate the league, to spice it up, so our fans are watching exciting entertainment."
An example that was mentioned many times over the weekend would be an expansion of skills competitions like the three-point contest. A stacked roster of contestants were cut to two -- Chicago's Allie Quigley and Las Vegas's Kayla McBride. The final round extended into overtime after McBride hit a buzzer beater to tie the contest -- but then Quigley went off.
Here is @alliequigley's final round of the #WNBA3Point which proved to be good for back-to-back titles! #WNBAAllStar pic.twitter.com/kZzj18ijRW

— WNBA (@WNBA) July 28, 2018
The WNBA has made big strides in giving back to the communities they serve, including in the three-point contest. Quigley's win meant an extra $10,000 for the Patrick Quigley Memorial Scholarship in honor of her father.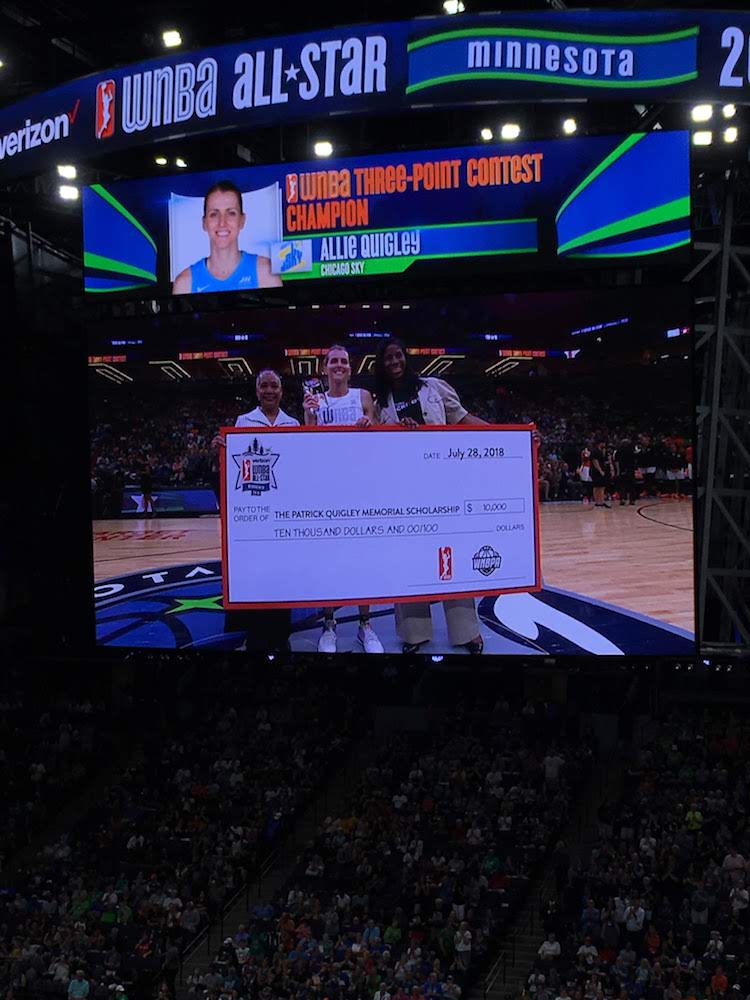 "He passed away when I was young and he went to this high school [Joliet Catholic Academy] that it's going to go towards and so did I," she said. "It's just for underprivileged kids that aren't able to maybe have the money to go to this school, so it's just a nice scholarship that I'm able to give back, and it means a lot.
"Every time even last year I think about him right before I start shooting, so that's probably the reason why I'm able to win it."
Quigley and her fellow All-Stars took some time to give back before taking to the court over the weekend. A group led local kids in two different exercise and fitness clinics, which the Lynx players especially enjoyed.
"It's a memory for so many [kids]," said Moore. "Not that we traveled somewhere and went to an All-Star Game, but the All-Star Game was in our hometown, and so we're making memories.
"The energy that they had for sure gave us energy."
That group and the Jr. NBA All-Stars were recognized during the game.
The WNBA also started a "Take a Seat, Take a Stand" program this year, where $5 of every ticket sold online will go to one of six national organizations that focus on women's and girls' rights.
"Everybody working with the league knows that we care about what's going on in our community and in our world," Borders said. "[The program is] taking some demonstrable action, and that's what it was all about."
The All-Stars and the rest of the WNBA have surely taken action all season long just by doing what they're doing and being who they are. By showing kids of all genders that women play amazing basketball. By showing the power of giving back and standing up for what you believe in.
I expect to see more of the same next year when the All-Star festivities move to Las Vegas, especially with A'ja Wilson on the Aces team.
"I'm here [in Minnesota] when we play during the regular-season but I never get a chance to really get involved," Wilson said. "So the opportunity to help the community with the Jr. NBA Clinic was a lot of fun."
The WNBA has gone through its ups and downs in its 22-year history. But one thing is very clear from this All-Star Weekend -- the future is bright.
"We know that there is still a lot more to do," said Borders. "But we are proud of where we are today."
Amen to that.