The new National Women's Hockey League was announced in 2015. There was immediate backlash by the Canadian Women's Hockey League and from many in the women's hockey fan and media communities. For many reasons that can be both business-related and deeply personal (like everything in this sport), everyone seems to have an opinion about the NWHL, the CWHL, and the "one league" concept.
"Why are there two leagues? Don't you think they should merge and not compete?" has been the constant and often irritating question from journalists and hockey fans who are stumbling onto the women's hockey scene for the first time. But it's often been more complicated than that, for a variety of reasons.
The most obvious and practical reason to me is that the CWHL has not shown as much initiative in the United States as they have in Canada (and now, even China, thanks to the Chinese government, the KHL, and a sudden influx of cash). However, the United States has a population of players and the infrastructure to support a women's hockey league. One CWHL team in Boston was never going to provide enough roster spots for the amount of American women who can and want to play post-collegiate pro hockey. And yet when that CWHL team, the Boston Blades, was loaded with US Olympians and was perhaps the best hockey team in the world during the 2014-15 season, the CWHL downright refused to promote and support it. It led to a player strike that marred an otherwise stunning Clarkson Cup championship season for that team.
It's important to remember that for many of these players, hockey is a part-time job, and immigration to the US or Canada requires more than just a part-time job playing hockey for little pay. Americans couldn't move to Canada to crack more CWHL roster spots, and players hoping to make Olympic rosters needed to stay in the United States. Needless to say, the CWHL lacked attention to this growing problem -- either that, or they neglected it on purpose. The NWHL appeared to fill that gap by creating four professional teams in America -- but it has also created other problems, including controversy about salaries (the NWHL had to cut them last year) and unstable relationships with investors.
Still, the new league provided American post-collegiate players with an important platform and more places to play. Some of these players were Olympic team hopefuls, of course, but many, many others were not. And competition between the two leagues pushed both towards higher standards in many respects, such as social media promotion and the quality of online streams for game broadcasts.
There is a strong argument to be made that one united league could make the women's game better. Considering the highest-ever overnight rating on NBCSN for the women's gold medal game in Pyeongchang, considering the growing demand for the sport.
But the idea that the NHL should be involved or mediate this merger is preposterous and absurd. The conceit that the NHL is the best hockey league in the world and is therefore qualified to make these sorts of things happen is a rhetorical myth that is exposed by the NHL's actual track record of dealing with its own players and teams. And having financial control of women's hockey ceded to the overwhelmingly white, cisgender, and male contingent that is the NHL Board of Directors would be a massive and inexcusable step backwards. The NHL might have the money, and they should use that money to support women's hockey. But under no circumstances should they have controlling interest in the NWHL, the CWHL, or "one league."
---
"One League" talk has become more prominent in recent days, with many American and Canadian players and former players weighing in.
The next step for players could include speaking engagements along with some more endorsement deals. But they hope for a bigger change: one professional women's league in North America instead of the competing Canadian Women's Hockey League and National Women's Hockey League.

"They currently don't work together," Lamoureux-Morando said. "It's two completely different entities. So I think moving forward, there needs to be some sort of collaboration, whether they merge or start working together. There needs to move forward in that direction."
-- "US women's hockey team looks to continue momentum after gold" by Stephen Whyno; March 4, 2018 (AP)
The future of professional women's hockey is brighter than it has ever been. Now is the time to work together with the @NHL to secure #OneLeague where the best in the world can compete. @NHLPA

— CWHLPA (@CWHL_PA) March 8, 2018
Cassie Campbell-Pascall spoke out in a radio interview about #OneLeague, in a series of comments that seemed like the product of years of frustration:
🔊 Campbell: "You have to point the finger at both [CWHL, NWHL] commissioners. To me, they're both not doing their jobs. Enough is enough. Let's take women's hockey to the next level." https://t.co/MqHUOOPTzt

— Joe Pack (@JoePack) March 9, 2018
Joe Pack also spoke to Liz Knox, a CWHLPA representative:
Why tweet from the CWHLPA acct. with strong support for an NHL partnership?

"Bettman's statement opened the doors for us players to say that's something we're interested in. Because we're not a union or since we don't have the leverage..."

— Joe Pack (@JoePack) March 9, 2018
Perception of an inter-league feud has also been stoked by the recent signing of US Olympian Hilary Knight with Les Canadiennes in the CWHL for the rest of this season. Knight played in the NWHL for the Boston Pride from the league's inaugural season in 2015 until the Pride's playoffs ended in 2017. Knight had also been present at the NWHL's launch event in 2015 while still technically under contract with the CWHL.
BREAKING NEWS: American superstar Hilary Knight to play for Montreal.

Welcome to MTL @HilaryKnight! 👋😊

READ -> https://t.co/3osDPIs9IS pic.twitter.com/obsrjNaBD6

— Les Canadiennes (@LesCanadiennes) March 8, 2018
But it is more likely that Hilary Knight did not join Les Canadiennes as some kind of deliberate slight to the NWHL. Kirsten Whelan wrote about her decision for the Victory Press here. Because women's hockey often involves a more delicate work-life-sport balance than men's hockey might (read: the players are not millionaires and often don't have unlimited means), personal matters and feelings play heavily into where players decide to play -- and that isn't always any of our business.
Most recently, Cassie Campbell-Pascall resigned from the CWHL as a governor ahead of the Clarkson Cup Final.
The Hockey News' Ken Campbell reported Campbell-Pascall's resignation on March 20. Campbell-Pascall said she has wanted to be free of this position for over two years, but was asked to stay on and did so merely in the capacity to secure sponsorships. She said that she felt compelled to make her public comments about #OneLeague after Gary Bettman publicly said the NHL would start its own league if there weren't already two women's leagues.
"Obviously when you're a member of a board, there are certain things you can't talk about," she said. "There are meetings you have that are private. When (Bettman) made his comments public, I finally felt like I had an opportunity to say what needed to be said. There are a lot more people working behind the scenes than just myself. I don't take any credit for stepping up and saying something and thinking you always make change. I think you make change by putting your work boots on and getting the job done."
While only the CWHLPA at this point has explicitly mentioned bringing in the NHL to unite the leagues, it has been a popular talking point -- especially among men in sports journalism who think that the women's leagues are failing because they are not multi-billion-dollar enterprises like the NHL. It's important to examine the ways in which the NHL has failed as a sports league -- and the ways in which their involvement would harm the women's game.
---
Player Safety and Head Injuries
The National Hockey League has been alarmingly callous with regards to their oversight of player safety, particularly when it concerns head injuries. NHL Commissioner Gary Bettman has testified on record that he does not believe that head injuries are a real problem in hockey and that NHL players are not warned by the league about the effects of chronic traumatic encephalopathy (CTE). TSN's Rick Westhead has doggedly followed and reported on this story, despite the fact that most mainstream hockey media ignore it or treat it like an unavoidable consequence of the game.
Commissioner Gary Bettman was asked during a 2015 deposition (unsealed today) whether NHLers have been warned of a possible link between head hits and CTE.
Bettman: "Those exact words have not been used to my knowledge…" pic.twitter.com/vXDSAhBbCw

— Rick Westhead (@rwesthead) March 7, 2018
In any hockey league, player safety needs to be paramount. In women's hockey, the issue becomes gravely more serious because a hockey injury could, in theory, create years of lost wages for a player who likely works another job in order to make ends meet. In addition, scientific research indicates that afab folks and women have a higher rate of concussions and often experience concussions more severely.
The NHLPA might have the power to challenge the NHL, but some players, including Daniel Carcillo, wonder if the NHLPA isn't pushing back because the NHL's biggest stars are not advocating for the change:
Dan Carcillo argues the NHLPA is more worried about political correctness than the health of players, and wonders if the NHL would do more if its stars were more outspoken.@CarBombBoom13 pic.twitter.com/6z5boJL2ll

— Rick Westhead (@rwesthead) March 2, 2018
In this case, both the league itself and its players' union have abandoned hundreds of current and former players to the progression of a degenerative brain disease that is directly caused by sports-related trauma. Many who have suffered head injuries in hockey have written about their struggles with addiction, depression, mood swings, and cognitive issues. Journalists and family members have shared the stories of those who are already gone. CTE cannot be officially diagnosed until after death, and not every NHL player who has died after a battle with depression has been diagnosed with it. But the trauma of head injuries lives with us every day. Just a few examples:
Punched Out: The Life and Death of a Hockey Enforcer by John Branch, The New York Times -- Part 1, Part 2, Part 3 (December 2011)
Women's hockey has a rule against body checking, which is observed on paper by both the CWHL and the NWHL. However, the NWHL in particular has seen some vicious hits to the head, and the CWHL has occasionally had players fighting. While suspensions have been deterrents, the NHL's attitude towards player safety should not be a blueprint for how the women's game handles these matters. There should be a zero-tolerance policy for hits to the head and fighting in all of hockey, and the NHL and NHLPA have not acknowledged their complicity -- in fact, hockey culture's complicity -- in the unsafe on-ice environment that players face, or the abandonment of players after their playing careers are over and how the effects of this environment linger with them mentally, emotionally, and physically.
Track Record with Women and Minorities
The NHL has also had a glaringly poor track record when it comes to advocating for women and the marginalized. When they are called out about this, they often hide behind their "Hockey is for Everyone" month -- which takes place during Black History Month and is clearly a capitalist smokescreen designed to create promotional events without actually advocating for inclusivity, that meanwhile erases and minimizes black players' contributions to sports.
"Hockey is for Everyone" is an absolute farce by the NHL, and women's leagues should aspire to be better at inclusivity. However, being managed by or at the behest of the NHL's financial support would mean regressing to the mean, so to speak -- and what's more, the NHL would use their support of women's hockey as yet another shield when challenged about their abysmal records on matters such as:
If you type "NHL diversity data" into Google, the results are pretty telling: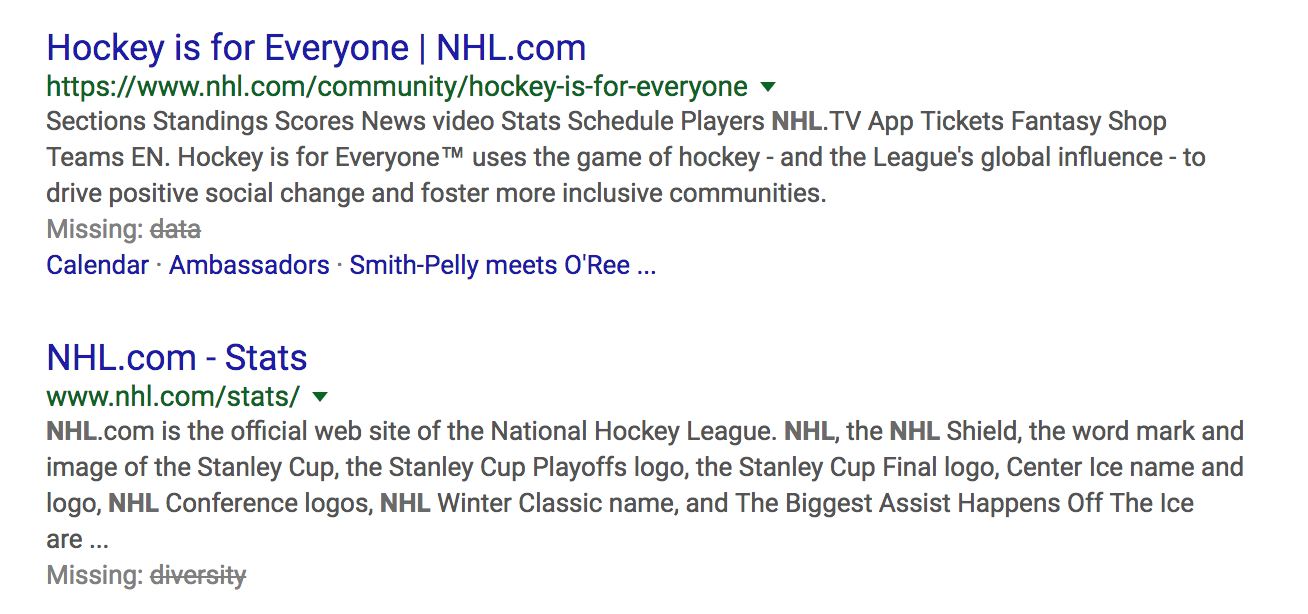 Financial Stability and "Fairness"
The NHL could absolutely provide financial stability to women's hockey if they so desired. Their projected revenue for the 2017-18 season is reported to be $4.54 million US. Gary Bettman's stance has basically been to not get involved because there are two leagues, which he recently reiterated on Calgary sports radio:
"Having two leagues makes it more difficult for us to get involved," Bettman said. "If there were no leagues, we'd probably start one under the NHL umbrella, and I've told both leagues that. But I have no interest in competing with the existing leagues. I think that would be counterproductive."
If the only path to involvement in women's hockey is for the NHL is to have financial control over one league, then the women's hockey league would likely be subject to the same concerns that the NHL has about teams being profitable -- and smaller profit margins could be used to shame the women's game, or to cut funding and support in the future.
The 2013 NHL CBA removed many punitive rules that could be used to cut revenue sharing to teams that did not meet certain performance markers (such as attendance numbers and business growth rates). However, it's important to remember that the 2013 CBA was arrived at due to negotiations with the NHLPA, which is a powerful union that literally encompasses all of the League's talent, and therefore their moneymaking capabilities. Neither the CWHLPA nor the NWHLPA is formally unionized, and they do not carry the same financial clout as the NHLPA does in the eyes of NHL governance. Large amounts of money always come with strings attached. It's unlikely that the NHL will financially support a women's hockey league without establishing certain parameters for returns on their investments.
On one hand, this is just how capitalism works. But on the other hand, it seems obvious that western capitalism is currently a patriarchal system in which white men hold the majority of resources and are extremely reluctant to relinquish their power, or reduce the share of resources that they hold.
---
Frequently, I think back to the quote by Vinnie Matteo, one of the men who owned an original NWHL team, the Quebec Avalanche: "You can't look at this as a business. It's a cause." He said this in December 2006; the NWHL folded less than a year later.
Matteo's comments have the ring of someone who expects to be congratulated for his financial contributions to the sport. He reportedly spent $85,000CAD a year icing his team, with no returns. Clearly, this model was not sustainable.
Also, Matteo was wrong. Treating women's hockey like a business, and like an establishment that deserves to succeed on its own merits, has elevated it to new levels, especially now that many of the decision-makers about the professional game are women. It's not a cause, or a charity case, for men with cash to throw around, nor should it be.
It's just as clear that the NHL's financial success as a business rests on its ability to exclude diverse voices and insulate itself from criticism. If women's hockey is to continue to be successful as a business, following the NHL's business ethics will not do it any favors. The capitalist business models that enable the NHL to make money were not designed to protect the interests of women or the marginalized. Applying them in earnest will ensure that they work exactly as designed.
We also, incidentally, have a recent example of what happened when the NHL last tried to get involved with the women's hockey leagues: the Outdoor Women's Classic, which took place on New Year's Eve in 2015 as part of the Winter Classic festivities at Gilette Stadium. At that event, women's hockey was treated like a novelty and afterthought, and was badly promoted to the point that it seemed deliberate. The message seemed to be that women's hockey should be grateful for the opportunity, even when its execution was blatantly indicative of the NHL's indifference to these leagues and their players.
---
Cassie Campbell-Pascall's comments, though, have hopefully been an effective callout to CWHL commissioner Brenda Andress and NWHL commissioner Dani Rylan. Campbell-Pascall's perspective -- that egos have gotten in the way of the sport's growth -- holds weight considering her close relationship with the CWHL and Hockey Canada. Notably, Campbell-Pascall isn't necessarily saying, as others have, that the NHL needs to get involved to mediate this dispute. Her call to action is that the CWHL and NWHL figure out how to work together.
Many of us who have covered the women's game for years, and who have interviewed both Rylan and Andress, have probably always felt like this was a pipe dream. It is by no means a bad idea -- but it's an extraordinarily difficult idea to pull off correctly. At any rate, the NHL's track record with player safety, minorities, women, diversity, and business ethics should automatically disqualify it from any involvement in a women's hockey league. To say otherwise is to immensely discount the opportunity that women's hockey has to create a league that actually pushes the sport and its culture to be better.
(Photo: Braydon M/Flickr)