Last night, Meg Linehan of Excelle Sports was able to publish documents indicating that an alleged investor, Michael Moran, was demanding repayment of funds that he provided for the league's startup. The demand letter published at Excelle Sports doesn't specify why Moran is requesting the sum to be returned, but gives a deadline of 5:00PM on April 22nd (today) to either pay the amount or be granted an extension.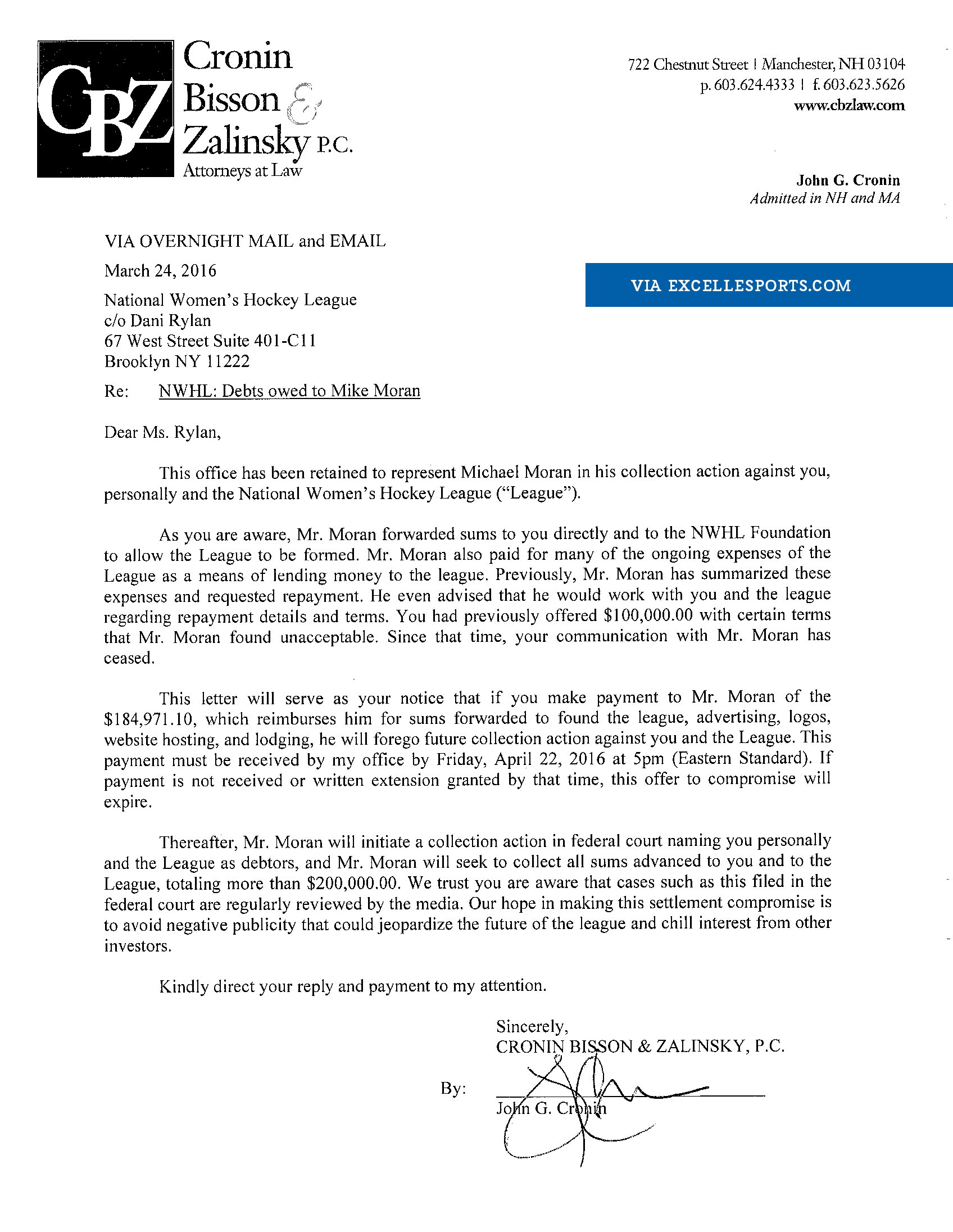 The demand letter is fairly standard and does not indicate a current legal action, but an impending one. The NWHL commented subsequently that they are not aware of current legal action.
Linehan's story also releases two sides of the story from anonymous sources. One source is a player, who says that commissioner Dani Rylan is not fit to run the league and that she is "pretty sure Dani could go to jail for some of the things she's done this year." Another source states that Rylan has a restraining order against Michael Moran and that this demand letter and threat of lawsuit is part of a pattern of harassment against her.
Rumors and reports about the NWHL's poor relationships with investors and employees have been circling for some months. Jen Neale of Puck Daddy reported that former COO George Spiers was behind various attempts to discredit the league. A series of whistleblower emails was eventually released detailing alleged misconduct, though it is unknown if Spiers had anything to do with those messages. Rylan also reportedly went behind the backs of Connecticut Whale management to terminate head coach Jay Mastel.
Additionally, the conduct of those working for the league has also been publicly inappropriate. Notably, Jake Duhaime, who at one point was very visible as a PR contact for the league, has actively harassed writers on Twitter regarding their choices and expressed opinions about professional women's hockey, the NWHL, and social media conduct. Another such incident occurred last night when he began sending harassing messages to the author of this article and also insinuating that Rylan's restraining order had to do with sexual harassment or assault:
@zoeclaire_ No, let's talk about it. Does no not mean no? Does no mean yes if you are an investor?

— Jake Duhaime (@jakeduhaime713) April 22, 2016
There does indeed seem to be a pattern of people in administrative positions for the NWHL initiating inappropriate or unprofessional conversations with reporters.
All of that said, here are some thoughts to keep in mind as this story unfolds, some of which have already been brought up by others:
The NWHL is a startup and it is unknown what, if anything, was promised to its official investors in terms of return. An official investor to the NWHL should have contract paperwork dictating repayment and interest. It is notable that the demand letter from Michael Moran does not refer to an investment contract and even specifies that repayment terms have not been formally established. This would seem to indicate that any sums he provided to Dani Rylan or the NWHL were provided on unofficial or "handshake" terms. However, this is purely speculative as the NWHL will not comment on the record.
It is important to have an acute understanding of the difference between an NWHL employee and an NWHL volunteer. Many positions at the NWHL, even high-ranking ones, are not for pay and may not have any specific terms attached to them. A high rate of turnover could be expected in year two because of this. So when the league's response to Today's Slapshot calls Michael Moran a volunteer while the Excelle piece says he was one time attached as Chief Marketing Officer, it's entirely possible that both of these things are true. Any "NWHL employee" could in fact be a free agent donating their time to the league.
However, NWHL volunteers and employees who could be perceived as representing the league ought to, perhaps as a matter of professional courtesy, not spread unconfirmed information about business matters (or the private affairs of their bosses) on their personal social accounts.
In addition, these reports are notable because they come with corroboration and point towards relevant sources. Reports that do not point towards relevant sources and do not come accompanied with corroboration should be taken with a grain of salt.
Relying on the investment and labor of men, particularly if their financial generosity is necessary for its sustenance, may be extremely dangerous for the NWHL. Unfortunately, the power balance among the investment community is heavily concentrated with men, and in fact courting powerful men as investors may be necessary to get a "seat at the table" with other professional sports leagues. Every investment has risks for both the investor and the beneficiary; in the case of this dispute between the NWHL and Moran, it seems to have gotten interpersonally nasty. One hopes that the insinuations made on Twitter are not at all true and that all parties involved are safe. It's more than a little upsetting that I even have to add this caveat.
The mysterious nature of the NWHL's finances and the transitions that we expect to take place between year one and year two would make this offseason quite busy by anyone's standards. However, between the potential lawsuit and the as-yet-unclarified expansion teaser, this could get progressively more tumultuous all summer.
(Photo credit: Melissa Kania/Twitter)