Come back each week for a breakdown of the most interesting upcoming games, how to watch or listen to them, and some thoughts on the movers and shakers of the previous week.
We've made it to the NCAA Tournament! This week it's the quarterfinals. One game, winner-take-all. The winners head to Durham, NH for the Frozen Four. Three games to a National Championship.
All games will stream online free, per NCAA rules.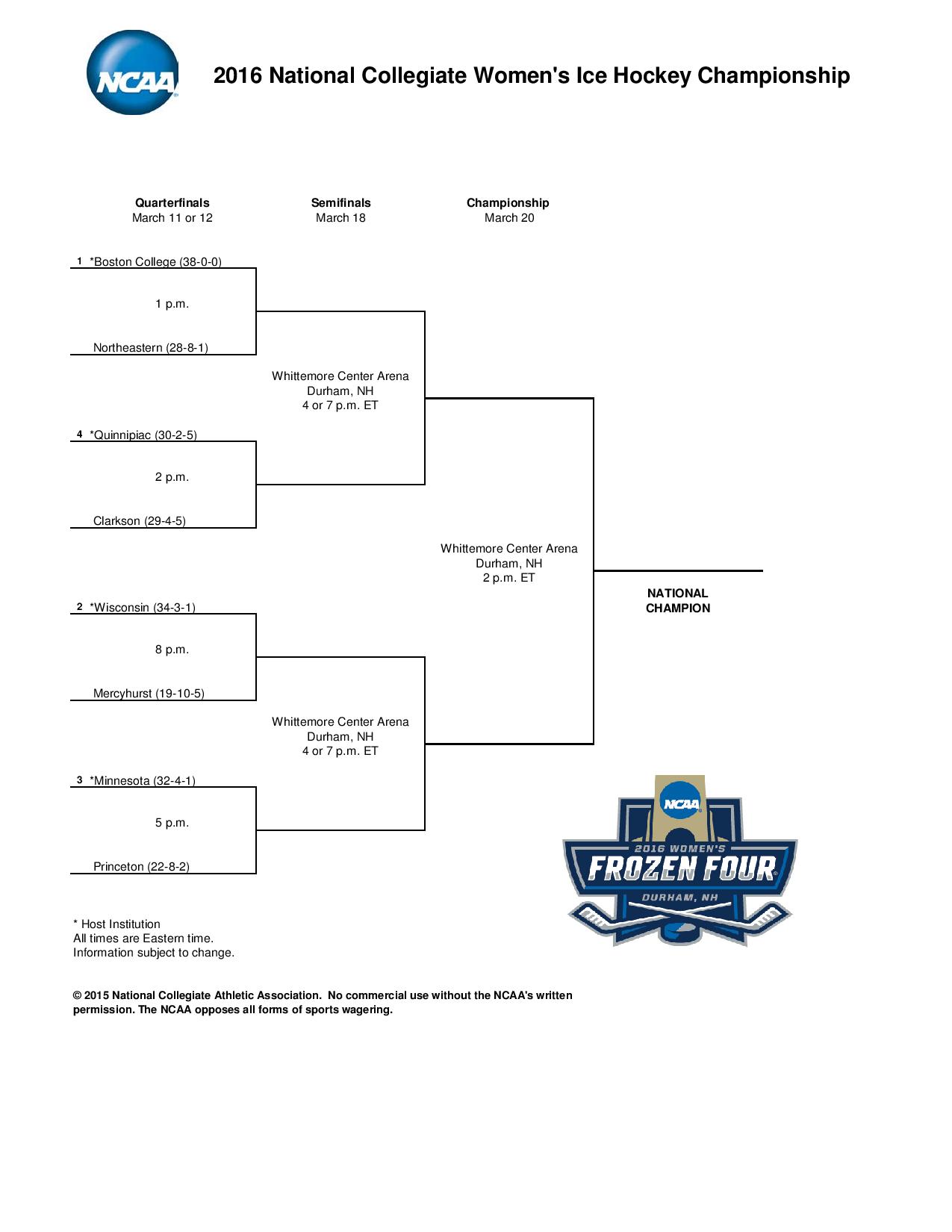 It's not the bracket we expected, but the selection committee's capriciousness brought us some match-ups that look very exciting. The first two games feature familiar foes.
Northeastern at Boston College
1:00 PM EST
These teams have met up four times this season and BC has won them all. The first and last games were close, while the middle two were blowouts in BC's favor. In one of the blowouts, Northeastern was missing their starting goalie, but they've got no such excuse for the other.
For Northeastern, it's a one-note offense that centers around Kendall Coyne and linemates Hayley Scamurra and Denisa Křížová. As they go, so go the Huskies. There's a dramatic drop in production from Northeastern's first line to second and third line. That lack of depth is something they haven't been able to overcome against the Eagles.
When Boston College has been able to keep Coyne in check, they've dominated. When they lose track of her, they're in trouble. Both teams top lines may be able to essentially cancel each other out, so it's how the rest of the team steps up that may carry this game.
Clarkson at Quinnipiac
2:00 PM EST
These two teams have met up three times already this season, including in last week's ECAC tournament championship game. Quinnipiac owns the season series 2-0-1, including last week's championship.
The teams are about as evenly matched as two can be. Special teams and whichever team makes less mistakes are going to decide this one.
Princeton at Minnesota
4:00 PM CST
Princeton lost in the opening round of the ECAC tournament and still managed to not only get an at-large bid, but to convince the selection committee that they should be the sixth seed. With Quinnipiac and Clarkson holding most of the spotlight, Princeton was quietly able to put together a very strong season.
Minnesota was already good. Then, Amanda Kessel returned. As North Dakota coach Brian Idalski dryly put it at the WCHA Tournament, any time you can add a player who's top five in the world, you're probably going to get better.
The Gophers had some bobbles this season -- North Dakota got to them and then they struggled at times against much weaker WCHA teams. Losing to North Dakota especially showed that Minnesota can be beaten by a less talented team. And Princeton is probably deeper than the Fighting Hawks.
If nothing else, the Gophers have a lot of experience on how to handle themselves in the postseason and they'll have the home crowd advantage.
Mercyhurst at Wisconsin
7:00 PM CST
Mercyhurst won the CHA auto-bid into the tournament, otherwise they wouldn't be here. That being said, there's talent on the roster that hasn't reached it's potential. If they can find a way to make all the gears work together, they'll be scarier than their record would suggest.
The Lakers average less than three goals a game and they're running into the buzzsaw that is Ann-Renée Desbiens. Desbiens is up to 20 shutouts this season and did not allow a goal through the WCHA tournament.
Wisconsin appears to be on a roll and destined for one last match-up with Minnesota. The Badgers are a year ahead of schedule, but don't tell them that.
They were already incredibly talented. Then they put together a season for the record books and the confidence that's come with those accomplishments makes an intangible difference in their game.
They've got three legitimate lines that are scoring threats and it's rare that any team can match them for depth. And on top of that, they've got a historically good defense.
Stick Taps and Snark
↑Wisconsin Badger fans -- Wisconsin sold out it's quarterfinal game less than 24 hours after putting the tickets on sale.
↓NCAA Selection Committee -- There's so much vagary involved in the selection process that there are always questions, but the pairings this year aren't just odd, they're boring. I may never forgive them for not sending Northeastern to Minnesota.
↑Access -- The WCHA tournament final was televised live. The Hockey East final was on tape delay. Many of the tournament games were streamed for free and the Wisconsin quarterfinal game stream is also free.