We're not quite halfway through the tournament, with eight of fourteen games complete and one rest day under our belts.
I've gathered some interesting quotes and stories that haven't made it into the daily notebooks, but still should see the light of day, so I'll try to do these after the off days and probably after the medal games.
---
This photo from the IIHF of USA's Laila Edwards and Finland's Tuuli Tallinen just really puts in stark relief what I'm talking about when I'm mentioning Edwards' reach. Tallinen is listed at 5'9" and would be one of the taller players on the ice in most women's hockey games. Look at the distance between their gloves (not too significant) and the distance between the blades of their sticks (an absolute chasm).
I don't want to focus too much on the physical details because Edwards is a very good player regardless of her size, but I can't share a single picture to show you her skill in the way that this one really emphasizes what a different her reach makes.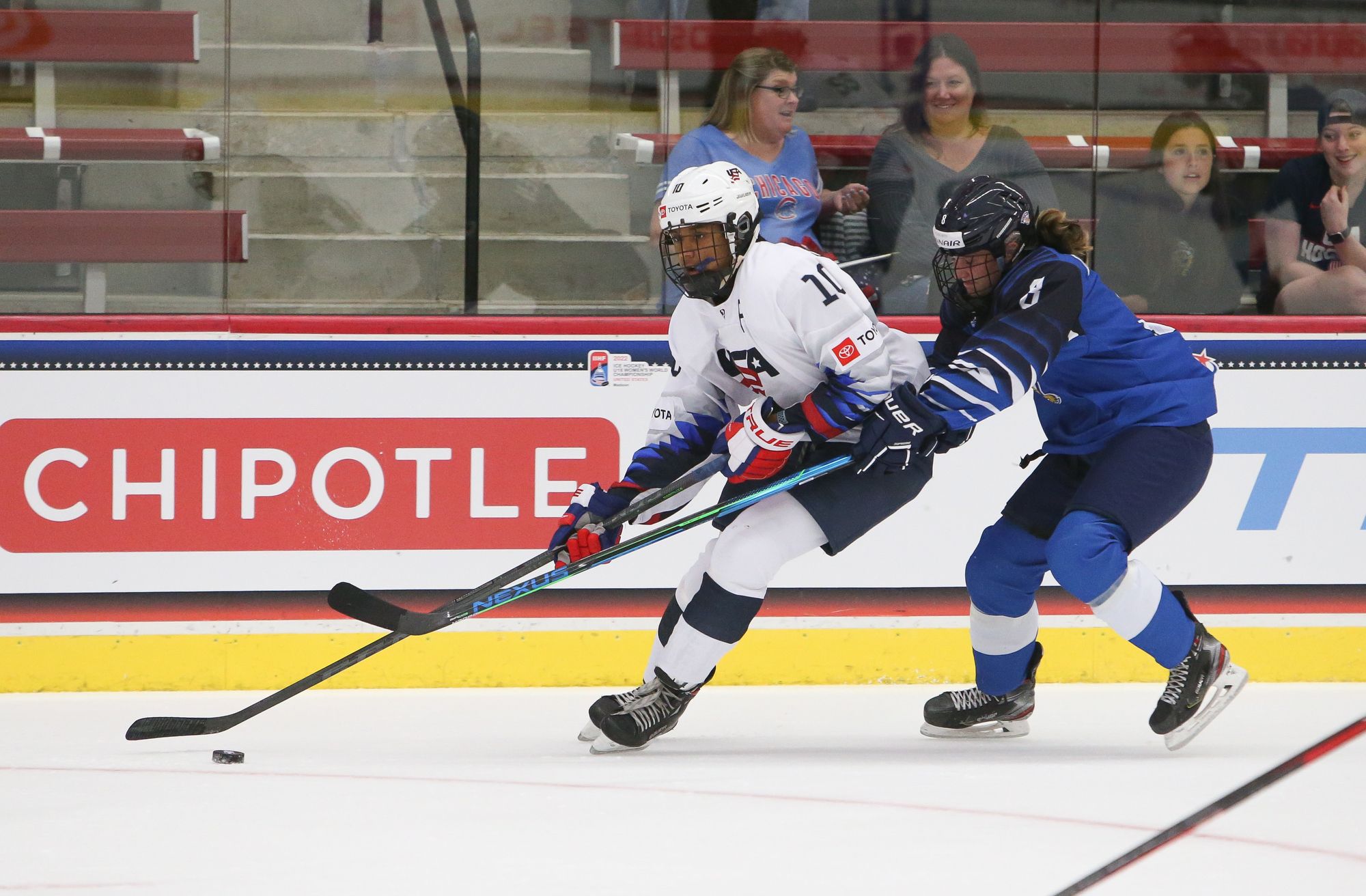 ---
I haven't been watching the broadcasts and streams obviously, since I'm at the rink, so I'm not sure if they've talked about this at all. I thought it was important to point out the sacrifices these players happily made because they're thrilled to be playing this tournament. Some of the seniors had to skip their high school graduation. Many of them will be reporting to their college campuses as soon as the tournament is over for orientation and summer school classes and offseason team training. Edwards, who will be staying in Madison, had to have her mom pack up her things and meet her there so she can move right on to the UW campus. I'm guessing it's the same situation for many of the players. Obviously they're all very willing to do it and view it as worthwhile, but in some ways it's amazing these players have their heads together enough to be doing so well. I don't have the timeline for the European players, but many of them are in a similar situation of missing milestones and complicating their summer.
---
(Sorry this is very US-centric, I'll be talking more to the Canadians today and on the next tournament off-day.)
---
I've been really interested in the approach the US coaching staff has taken to the mental side of the game, both themselves and with the players.
After practice, I asked her how being the head coach at Holy Cross University informed her stint with the U18s and vice versa. College coaches have to spend a lot of time tending to things not directly related to playing hockey and tend to be very firm on their plans and schedules. Lachapelle's answer wasn't what I thought my question would elicit, but is still really telling about mindset and approach, I think.
---
The Swiss supporters are here with their alpine cowbells, one of my favorite fan things. I am just truly enamored and fascinated by the idea of them traveling with these large bells. Thanks to @BirchDuck on Twitter, I know that these parents, at least, packed them in their suitcases, but to be honest, knowing that just gives me even more logistical questions. As BirchDuck pointed out, they ring them for the full 60 minutes, which is no easy feat.
I don't have a nice picture from this year, but enjoy this one from the 2017 Women's World Championships in Plymouth so you get an idea what I'm talking about.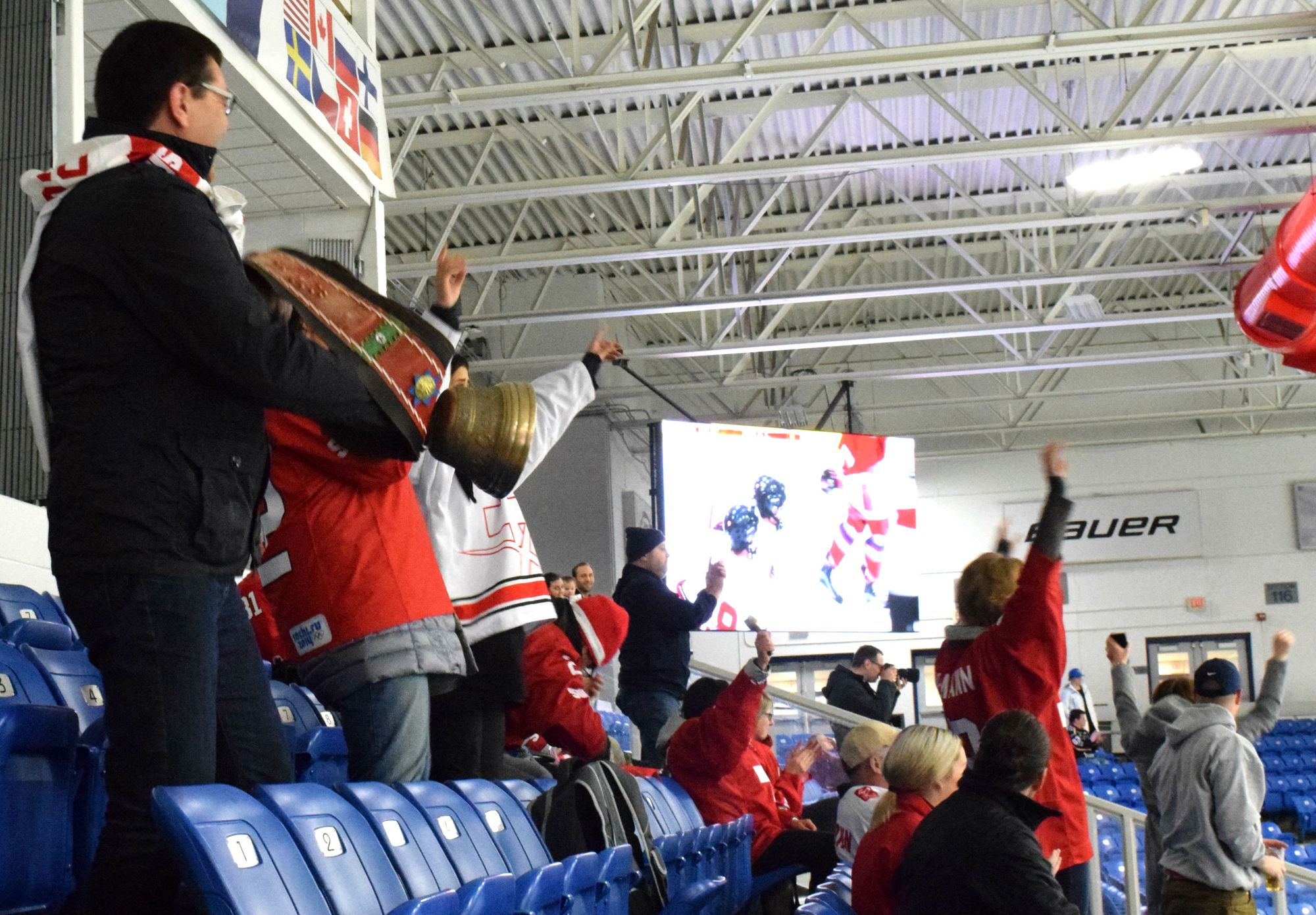 ---
The first two days of the tournament were not as well-attended as I'd hoped they would be, but word is they had planned to send out another ticket email and had to cancel it because just a handful of tickets were left for Thursday, Sunday and Monday. A number of players mentioned the fans and atmosphere positively when the arena was half full, so I hope more of them get to experience it at capacity.
---
College coaches tell me all the time that it's impossible to simulate a real game. On Wednesday, Lachapelle talked about the importance of having played Canada in a warmup game just before the tournament started.
---
The Americans have allowed just one goal. While that's unlikely to continue, it is, tangentially, a product of the team's approach to each game. As mentioned above, USA is focused on simplicity, trusting their hockey instincts and IQ and knowing that if they do everything right, the rest is taken care of. Here's Lachapelle talking a bit more about the team philosophy.
---
Here's Lachapelle talking about why Canada vs. USA is a great rivalry and a bit more about how her team is hoping to play.
---
Since I wasn't sure, either, I wanted to share that we asked and were told the correct way to pronounce Czechia is "CHECK-EE-AH."
---
Finally, here are some player and coach quotes that didn't fit in anywhere, but I thought were worth sharing:
"I had a bit of a growth spurt a few years ago, so it took me a little bit to get comfortable with my body. But once I got comfortable, I started taking advantage of it, using my long strides." – USA's Laila Edwards
"She's my partner in crime. My dynamic duo. She gives me so much confidence. She sees me well. I see her well. That just makes it so fun." –Edwards, talking about Kirsten Simms
"Speed. Strength. Ability to create plays and make plays for other people." – USA's Tessa Janecke on what to watch for in her game.
"Laila is very talented, she's able to slow the game down to a stop which not many people can do." – Janecke on Edwards
"I think it's just about playing with heart and knowing that offensive opportunities will come, but it really starts in the D zone. Working hard for just 10 to 15 seconds will get you the puck and the opportunity to work your way down the ice." – Janecke on playing a 200 foot game
"I think if we really come out and play like the way we did in the first and the third period tonight for that whole game, then we'll take care of it. I know we can. I think we're the stronger team in this. We just have to show it." - Janecke on Tuesday talking about Canada.
"Our line as a whole this tournament is really coming together. We're really finding our confidence and really getting going now. The off-ice bonds come on the ice." – USA's Maggie Scannell
"I never played in front of this many people, but the energy is awesome, especially being in America. So that's really cool to have everyone here. I think that we really build off that energy. So it's really nice to have." – Scannell
"After [yesterday's win over Canada] we had a good self confidence. But we knew that that USA will come hard. It wasn't surprised but it was surprised. But I think first period was okay, we survived that. And second period was good for us. That last five minutes. It's sad that we let three goals in." – Finland coach Mira Kuisma
"The next 24 hours, we won't talk about ice hockey. We're going to focus on that on Thursday morning." – Kuisma on how they will prepare for their game against Sweden on Thursday
"It was not perfect. I think the second period was not good. I think it's important that in a game where we don't play perfect, we still won 6-2. We controlled the game. It was a very hard game for us but good for our confidence that even if it's not a good performance, we can win the game" – Czech coach Dušan Andrašovský after this team's 6-2 win over Germany
"We have to improve our personal comfort and personal confidence. We have to be in the game for the whole game." – Andrašovský