For each day of competition, I will continue to provide a longer recap with quotes from the games I was able to cover in person, and a shorter summary of the games that I couldn't attend.
USA 5, Finland 0
Though the full game was much closer than the stats and scoreline suggest, the Americans still came away with a victory to put them in the driver's seat in Group A.
Penn State commit Tessa Janecke had a breakout game and led the way for the Americans, scoring two goals and adding two assists. She was not as noticeable in USA's first game, but really made herself a part of every play on Tuesday.
"Last night was a little bit nervous. I felt like I couldn't really keep the puck on my stick. But tonight I really was able to just keep those nerves down and just play hockey because that's all it is," she said.
A frenetic, fast-paced game that featured tons of up and down the ice action, neither team seemed affected by fitness. USA was able to pull away in the final five minutes and pad the score line because they exploited Finland's attempts to get back in the game. The Finns tried to get more offensive and creative, but ended up just creating bigger passing lines and more open looks to the net as they tried to even up the score late in the game.
Though overall the game had far fewer penalties than we've seen in other games in this tournament, it did start off with an illegal hit called against Peppi Virtanen in the first few minutes that they Americans were able to capitalize off. Laila Edwards bookended the night, scoring the first and final goals of the game.
The US top line tallied eight points in the game and top-line defender Sydney Morrow added two more assists.
What We Learned:
Forward Finns: There's been such a big leap forward in development from Finland and it's been so great to see non-North American teams finding ways to grow their programs within the framework of the resources available to them. Yes, the game got away from them in the end, but Finland gave the Americans a tough game. They kept up with their speed, had breakaway of their own and really forced the US to play a different game than they had against Sweden. This is a top tier team and that correlates to the work that's been done to identify and grow young talent.
Silky Smooth: Do yourself a favor and spend time watching how Kirsten Simms runs the offense. She's not tallied as many points as her linemates, but she is the key to how successful their line has been. As Tuesday's game wore on it was clear she had settled in a bit more and was feeling confident. The way she moves around the ice is really fun to watch. She's been so dynamic that when she has the puck it has made her opponent lose track of Laila Edwards, which frankly should be impossible. The way these two and Janecke work together really is a sight to see and not just when they light the lamp.
Standout Performances:
Tessa Janecke: She really showed up and showed out for the Americans in a tough game. She was active along the boards and showed off her instincts and ability to drive to the net. The backhander she used to score her first goal is a skill she has worked on and is comfortable with, she said, so it seemed like the right time to use it.
Hannele Tarkiainen: In the grand tradition of Finland, the goalies are some of the best players on the team. In years past for the senior team, Noora Räty played lights out to keep the team in games. In this tournament, they're also getting lots of support from their skaters, and can be a bit more active in the crease. Tarkiainen moved around the scoring area, stick-handled, and on the rare occasions when was left out to dry a few times, she still kept the Americans in check.
Quotable:
"I think we're all special players in our own way, and then we mesh that together. We move the puck well, we talk well, we see each other, we have fun." – USA forward and Player of the Game Laila Edwards, on the top line's chemistry.
"We need to continue with our creativity, continue with our trust in our line mates and just get shots on net." – USA forward Kirsten Simms
"We tried to keep our five players together, but in the third period, we tried to take some risks and it cost us." – Finland coach Mira Kuisma
"Our team is definitely ready. We're pretty confident going in. We trust everyone. We're getting closer each day and we're ready to g0." – Simms, on playing Canada
"We love the energy that we're playing with. They're always chatting on the bench when they come off and talking about the next play." – USA coach Katie Lachapelle
"[Kirsten Simm] draws everybody to her. She gets a lot of attention and it opens other people up. She's so good with the puck. She's so good at protecting it." –  Lachapelle
"We are taking it day to day and just making sure that we keep playing the way we want to. We've really just been trying to concentrate on ourselves and how we play." – Lachapelle
"Good player, great person, and my best friend. We are good goalies." – Hannele Tarkiainen on her relationship with goalie partner Emilia Kyrkko
Czechia 6, Germany 2
The Germans were the victim of the short turnaround between games one and two as they finished up around 10:30 PM local time on Monday night and dropped the puck again just 18 hours later. It showed in their skating on Tuesday. After a grueling, hard-fought game that they won in the final minute of regulation, the Germans simply were not able to keep up with Czechia's skating and puck movement, particularly as the game wound down.
Tereza Pištěková and captain Lucie Grunkova were the stars for Czechia as they each scored twice. Pištěková also had an assist. Adela Sapovalivova continued on a tear. She leads the tournament with six points through two games after adding three assists on Monday. Tereza Plosová had a goal and two assists in the win over Gemany, moving her into a tie for second place on the scoring leaderboard with five points.
Czechia controlled possession for much of the game, outshooting Germany 11-1 in the first, 14-4 in the third and 33-14 overall. Ten different players on their roster tallied a point in the win.
What We Learned:
Confidence Czech: While he was happy with most of his team's performance in the win, Czech coach Dušan Andrašovský said there is still room for improvement. Though they've cruised through their first two games and have 10 goals, it's an ongoing process to keep his team's confidence where it needs to be to be able to succeed here.
German persistence: Despite the lopsided score, Germany coach Franziska Busch was very happy to see her team bounce back, show resilience and even score a late (if ultimately inconsequential) goal. She was proud of her team's pride and work ethic to keep pushing for a goal late in a game that was all but over.
Standout Performances:
Lucie Gruntova: The Czech captain was demure after the game and said this isn't normally how her game goes, but she was one of the most compelling players on the ice. She moves on the ice like she's supremely confident and competent. Each of her quick goals resulted from her easily skating through the defense and finding open lanes before releasing quick, well-placed shots.
Germany's work ethic: It's hard to pick out just one player – Lola Liant, Anna Rose, Svenja Voight all stood out – but as a whole the team was just really impressive for how they pressured the puck, forced turnovers and didn't get discouraged as the game progressed. They were still aggressively forechecking, looking for a change to nab a puck deep into this game.
Stray Observations:
Both teams had stellar, poppy goal songs that have been stuck in my head since the game.
Quotable:
"We have to improve our confidence and be in the game all game." – Czechia coach Dušan Andrašovský
"We knew they move very well in the offensive zone. They have patience. It made [it] hard for us to block shots." – Germany coach Franziska Busch
"I feel good because I scored and we won. It was a good day for me and the team." - Czechia forward Tereza Pištěková
"They fought for every goal. That's how we wanted to end the game, with offensive power and a goal. It was 6-2 and they [still] celebrated. They wanted the goal and they got the goal." – Busch
"We know what we can do and we know what we want. As I know the team, when they want something, they will get it." - Busch
Canada 3, Sweden 1
Rhea Hicks led the Canadians with two goals and helped engineer a turnaround for this squad that got off to a disappointing start. Reichen Kirchmair also scored for Canada. Goalie Mari Pietersen won her IIHF tournament debut and made 33 saves.
Sweden got on the board in the second on a goal from Tuva Kandell, but it was too little too late as the Canadians used speed and smart puck handling to keep Sweden from every really maintaining possession.
Switzerland 3, Slovakia 1
Zuzana Dobiasova put Slovakia up 1-o early in the second and it looked like bad news for Switzerland, but they were able to fight back. Assistant captain Nina Harju scored on the power play to tie the game. In the third, Slovakia missed a penalty shot and a chance to recapture the lead. The Swiss did not waste the opportunity that presented for them. Captain Elena Gaberell scored on the power play to put her team ahead. Later, with Slovakia on the power play, Jade Surdez ended any chance for a comeback when she nabbed a turnover and launched down the ice to score short-handed and give Switzerland the 3-1 win.
What's Next
Wednesday is an off day for all teams.
Thursday, June 9 will be the final day of group play.
In group A, USA takes on Canada at 8:00 PM Central. Sweden and Finland face each other at 4:00 PM Central.
In group B, top-of-the table Czechia faces Switzerland at 4:00 PM Central while Slovakia looks to salvage their tournament as they face off with Germany at 8:00 PM Central.
Thanks to @nicktheiihffan on Twitter (an invaluable follow during all IIHF tournaments), we know what each team has to do to advance. (Details below).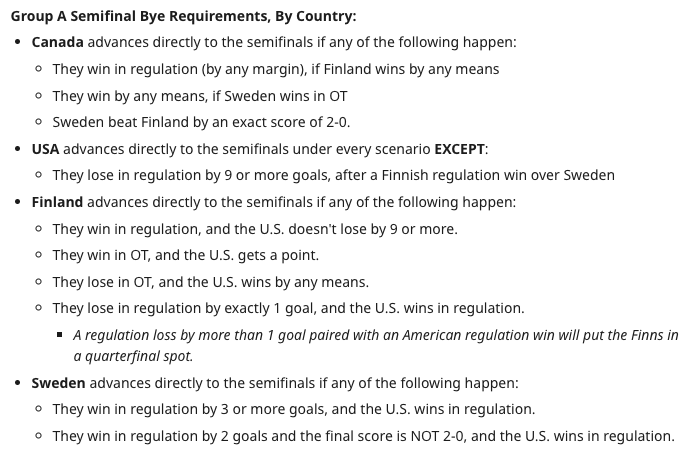 Check out Nick's Twitter threads for accessibility and more information (1, 2, 3, 4, 5, 6).
(Photo credit: IIHF)