With the ongoing COVID-19 pandemic happening across the United States and Canada, professional women's hockey fans should not reasonably expect to see the sport return for some time. In all sports at this point, the health and safety of those involved and impacted should be the top priority. This is perhaps even more important when you're reminded that NWHL players are not paid a living wage, and PWHPA players are not paid at all. However, even if they were getting paid hundreds, thousands or even millions of dollars like some professional men's players are, sports aren't – or shouldn't be – the priority right now.
NWHL Expects to Begin in January 2021
With that in mind, the NWHL recently announced its timeline for season six. In some sense, it is an optimistic timeline, which sees games between teams begin in January 2021. Obviously, with the ongoing pandemic, we don't know what things are going to look like in January; however, it is certainly a smarter choice on the league's part to target a January return rather than an earlier one.
With the regular season being pushed back to January, teams are now expected to play a 20-game schedule, which would likely see each team play each other team four times total (twice at home, and twice on the road). That's a small cut from the 24 games they played in the 2019-20 season, but it's also fit into a significantly tighter timeline. The NWHL still expects to complete its Isobel Cup Playoffs by the end of March, which likely means each team playing a pair of games each weekend, with no breaks.
The league also said it will aim to hold its annual All-Star Game, but not until after playoffs have been completed. Prior to regular season action beginning in January, optional on-ice practices and off-ice training are expected to be available beginning in late September, with formal team practices beginning in mid-October.
This is, of course, subject to health and safety protocols about gatherings and group contact, and laws established in each respective market. (Safe to say the regular season plan is also subject to these same guidelines, which are fluid and constantly changing as new information is discovered about coronavirus.)
In planning for next season, the NWHL has thus far announced 99 player signings for the league's sixth season (as of August 3, 2020). Forty-two of the players announced thus far will be newcomers to the league, including goaltender Elaine Chuli, defender Taylor Turnquist, and forward Melissa Samoskevich.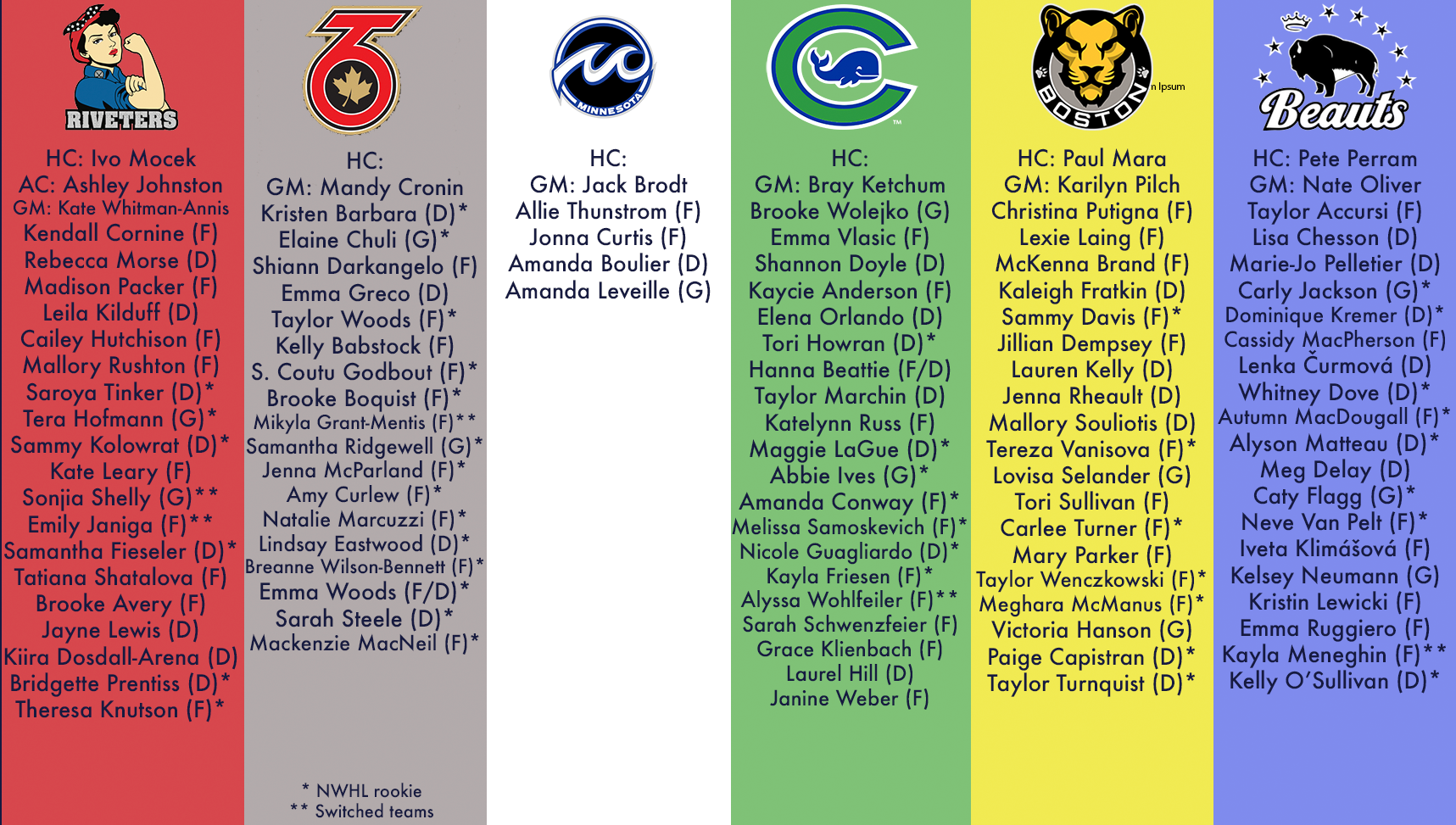 (follow this link for a text version of these lists)
Assuming the league does begin on-ice play in January, there are still questions – namely, the presence or absence of fans in the rink. The NWHL traditionally broadcasts its games on Twitch, but bringing fans into the rink will inherently be more complex to manage amid a pandemic, and will likely depend on the status of COVID-19 in the various markets.
PWHPA Still Monitoring The Situation
The PWHPA has not yet announced a schedule of any sort for the upcoming season, though the organization did announce its new region-based structure back in May. The organization will have five regional training hubs (Calgary, Toronto, Montreal, New Hampshire, and Minnesota). This model aims to provide players with access to full-time locker rooms, support staff, and more.
Although any player can sign up to be a member of the PWHPA, players will be required to participate in a tryout to make their respective regional training hub, with a maximum of 25 active players for each hub. The organization's tentative plans announced in May include scheduled showcases as well as regional games.
Jayna Hefford, executive director of the PWHPA, said on July 31 that the organization doesn't have any updates to share at this time regarding their upcoming season.
"We are still closely monitoring the situation," Hefford said. "The health and safety of our players, staff and fans is our primary concern as we consider various scenarios."
Despite the uncertainty of what lies ahead, the organization has announced 130 players who have rexwgistered to be part of the PWHPA for the 2020-21 season thus far, including newcomers like Maddie Rooney, Jincy Dunne, and Terra Lanteigne.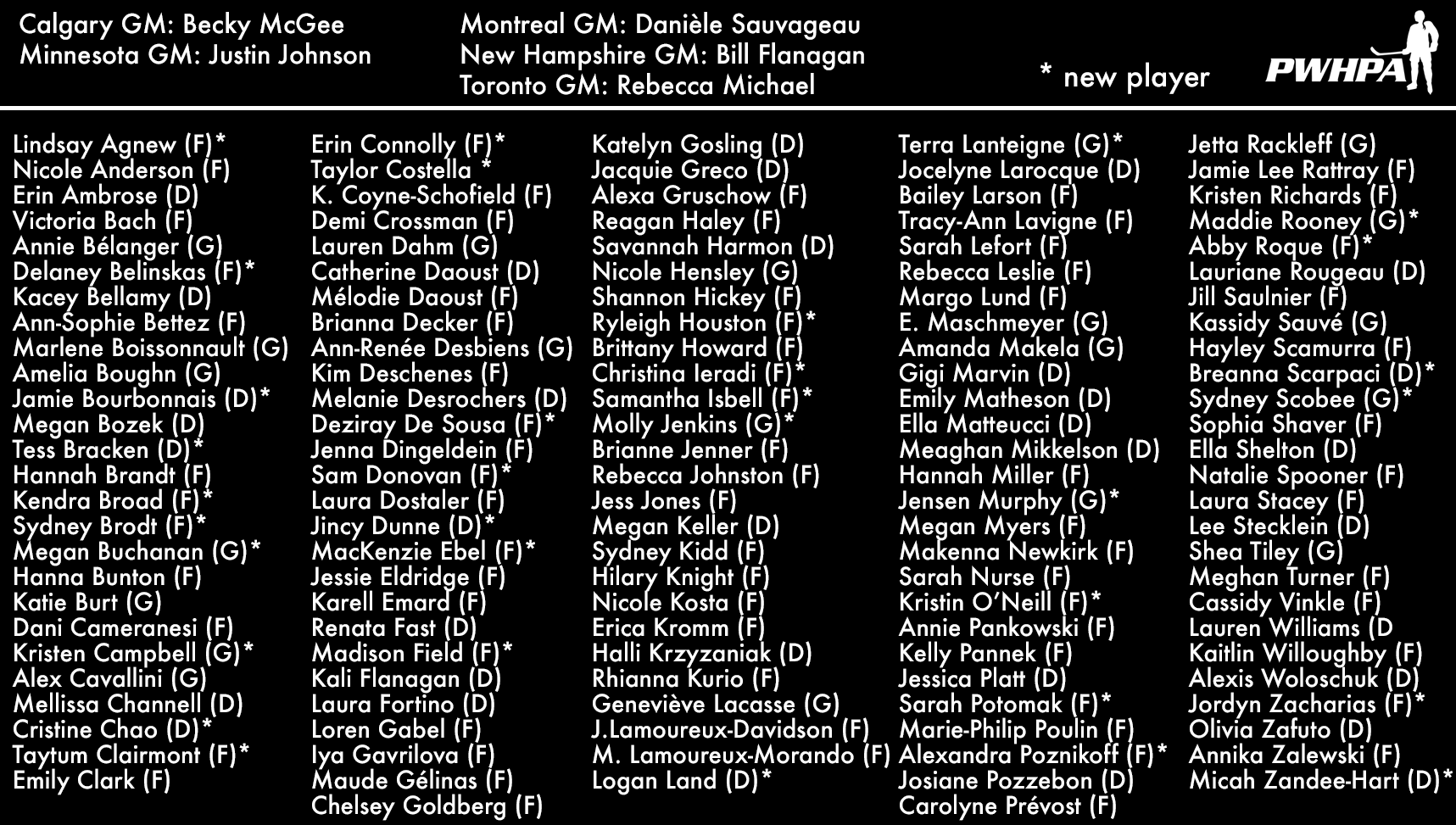 (follow this link for a text version of this list)
When I spoke with Rooney several months ago, as the pandemic was beginning to arrive in North America, she spoke about her upcoming plans to try out for the Minnesota region of the PWHPA, while serving as an assistant coach at Centennial High School.
"I've been fortunate enough to still be able to train pretty regular off ice, but on the ice, I've been forced to take a few months off, as we all have," Rooney said. "It's about focusing on training in other areas that don't usually get so much attention, such as watching video, hand-eye coordination, visualization, flexibility... all those things that are important but during the season or offseason can get pushed aside."
Rooney said that her affiliation with the U.S. National Team played a factor in her decision to join the PWHPA for the upcoming season.
"Both options that are available to women's hockey players in the U.S. are great options," she said. "I ultimately decided to go to the PWHPA because being around all the National Team girls, I had a lot of background about it."
"The training setup here for the PWHPA in Minnesota is going to be great for me," she added. "It's going to be pretty local and I'll be able to skate with Minnesota National Team girls pretty regularly."
"I think both options are great for girls who want to keep playing hockey, but I just thought overall, the PWHPA was going to give me the best challenge and it's what I was familiar with," Rooney said.
I also spoke with Jincy Dunne a few months ago, just after it was announced that she'd registered for the PWHPA. Her plans for next season including hitting the books – and hitting the ice.
"I haven't really thought too much about it [the PWHPA's region-based model]," she said. "I'll be in Columbus finishing school, but I definitely plan on trying out for one of the regions."
Dunne is returning to The Ohio State University to complete her master's degree in sport coaching. Like Rooney, she said the players in the PWHPA are part of what inspired her to register for that organization for her first post-collegiate season.
Dunne said she spoke with a few players who skated with the PWHPA last season and their feedback shaped her decision to choose the organization. "Obviously, things aren't perfect, but they're progressing," she said. "I think hearing their perspective and what their thoughts were helped as well."
Although Dunne's playing days with the Buckeyes may be done, OSU continues to have an impact on her. Assistant coach Emily West helped encourage Dunne in deciding the future of her hockey career.
"She said, 'I just think there's so much more untapped potential.' I'm like, okay, I'm in my fifth year in college, and I'm like, really?," Dunne said. "She's someone that I look up to and respect so much. Anything she says, I hold onto for dear life because she's just incredible. She's just the most encouraging, positive person I've ever met, and she just has a gift of seeing the best in everybody and really pulling out people's strengths."
"I want to find what she's talking about and keep going," she added. "I'm just hoping to just keep getting better. I definitely think there's more – I don't think there's a limit."
Plenty of Questions Remain
For both the NWHL and the PWHPA, there's still plenty of uncertainty in what lies ahead. The COVID-19 pandemic is still ongoing; hospitalizations and deaths are still happening, and each region has its own level of safety measures in place.
Neither the NWHL nor the PWHPA would be able to realistically afford a "bubble" playing situation. This isn't the same as NHL players/teams crossing the border to Canada to play in the hub cities of Toronto or Edmonton, since those players are able to make their livelihood from playing hockey. Women's hockey players wouldn't reasonably be able to leave their off-ice jobs for such a period.
The other significant piece of the return of the NWHL or PWHPA is the ongoing closure of the US-Canada border. The NWHL just announced an expansion team in Ontario; the PWHPA has planned to have three of its five regional hubs in Canada. It's unclear at this point how either organization would manage a hockey season if the border remains closed.
Both in and out of the sports world, everything seems so tentative and uncertain. At this point, all we can do is wait and see what happens.
(Photo: Flickr/somehoosier)