The PWHPA is playing hockey this season. Good hockey, even. But the gameplay itself and the postgame scrums make it very clear that these are not just regular hockey games.
Each game is competitive, full of skill and physicality, but obviously there is some tension missing when each showcase is a self-contained weekend event. It's like a never-ending regular season. The prize at the end of the season isn't a Cup  or a cash bonus or a contract extension or bragging rights (well, maybe some of those). The underlying idea behind the PWHPA is that they are playing hockey this way because they want something better for the sport. That's the goal. I admit that while I understood it in principle, I didn't know how affecting it would be in person.
The bad things about women's hockey, the things we complain about every day as fans and media, were still part of the PWHPA showcase. The PA announcer who doesn't know how to pronounce names properly; goals getting credited to the wrong player because some of the players are wearing the same numbers; a very small rink with less-than-ideal sight lines for both fans and media. Two days before the Philadelphia Showcase, it was announced that ESPN would be streaming PWHPA games on its app. But the PWHPA games were buried at the bottom of a long list of events rather than featured as live matches, and the stream apparently didn't work properly on ESPN's app for long stretches of Saturday's games. (A stream via the CBC, which has been broadcasting PWHPA events since October, was up and running for Canadian viewers.) Media scrums took place in a room at the Voorhees Flyers Skate Zone normally reserved for children's birthday parties. There was even a large piece of pink birthday confetti hanging from the ceiling, wafting gently in the breeze above players' heads. Oh, and the power went out in the rink between periods during the first game.
But, as always, the hockey is exceptionally good.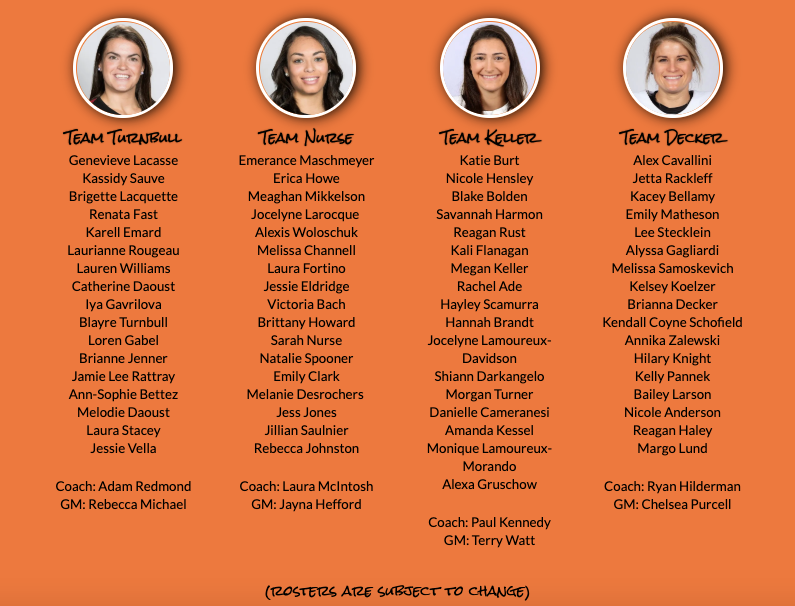 The PWHPA divided into four teams for the weekend's Showcase. Team Keller and Team Decker both consisted of Americans; Team Turnbull and Team Nurse consisted of Canadians, with the exception of Team Turnbull's Iya Gavrilova. (In games that Gavrilova played in, the arena played the State Anthem of the Russian Federation – just for her. In the first game of the weekend, which had no American players on the ice, the arena did not play The Star-Spangled Banner, which was a lovely reprieve, but did lead to some confusion since nobody in the stands really recognized the Russian national anthem.)
Day 1 of the showcase was heavy on offense. In the first game Team Turnbull beat Team Nurse 7-2 and Team Keller triumphed over Team Decker by a 6-2 margin.
The games on Sunday were much closer. First, in the consolation game, Team Decker and Team Nurse played an exciting back and forth. Alyssa Gagliardi opened the scoring for Team Decker with a cross-crease tip-in on Emerance Maschmeyer. Natalie Spooner soon evened up the score on her first goal of the weekend, after amassing at least five shots the previous day without finding the net. Jetta Rackleff was stellar in goal for Team Decker and kept her team in it despite a flurry of shots, giving enough time for Kelsey Koelzer to take the lead back on a second rebound.
Jessie Eldridge evened the score in the second on a power play goal for Team Nurse, and the rest of the period was a goaltender's battle (with some help from posts). This set the stage for a physical third period which featured multiple body checking penalties. On a clearing attempt by Team Nurse, Hilary Knight was able to hold the line for Team Decker and get the puck to Kelly Pannek, who stuffed it home for the late game-winner.
The championship game ended up being an OT thriller. Team Keller took the lead early on a goal by Dani Cameranesi, and Kassidy Sauvé was kept busy in net for most of the period. Loren Gabel tied the game 1-1 before the end of the first, but Team Keller pulled ahead again in the penalty-filled second with another goal by Cameranesi. A goal was also put on the board and then taken back for Team Turnbull following a goaltender interference call, and a late 5-on-3 tip-in by Monique Lamoureux put Team Keller up 3-1 after 2 periods.
In the third, goals from Gabel and Blayre Turnbull tied the game, setting up 3-on-3 overtime. Ultimately, defender Brigitte Lacquette would win it for Team Turnbull, coming into the zone off the bench and pouncing on the puck to beat Nicole Hensley.
---
So, what's different about the PWHPA? It's the fact that they are no longer in the untenable position of having to act like this is enough. Without a league, there are no bosses – no investors or owners to keep happy. They can focus on pointing out the inadequacies, and what they need that they don't currently have. This isn't to say that they aren't gracious to their hosts, because they are, in exactly the same way you'd expect if you've been around hockey's special brand of rote civility for many years.
But in this case, the players specifically asking viewers to see the discrepancy between the on-ice product and the amount of cachet and capital that it is afforded. This is a gesture that carries weight, especially when you do see all of those little kids in the stands, wearing jerseys, making signs, and cheering on their favorite players. They haven't shown up because a league has successfully marketed the game. They've shown up because the players have essentially extended a direct and personal invitation. It's a huge difference, with a much different mood and message than a regular season pro women's hockey game has had in the past.
It's different for the players, too, because without a league structure and the built-in institutional support that comes with being in a league, the players are fully responsible for the quality of their on-ice product. "It's definitely a lot different than having a league and playing for a championship," Rebecca Johnston said. "We have to hold each other accountable, making sure that we're on the ice and staying in shape. We're pushing each other, because it is a different year for us, and we're always on a different team or playing with different people... We have to be very adaptable, but it's also exciting."
The attention paid to a loosely constructed, non-league event like this is, honestly, rather remarkable. There were more media members and ticketed fans at the PWHPA showcase than there were at many regular season CWHL games in years past, and the ESPN deal (which will hopefully have its technical shortcomings worked out by the next showcase in Arizona) is enormous. As Sarah Nurse said to the media on Saturday, "When we played in the CWHL, people didn't even know that we were there. They didn't know that we had a league until the league folded, because, you know, we were kind of buried. And so I think that we really need that marketing. We need that exposure. We need people to see us. So when our games are on TV, that's huge for us."
There is still an institutional politeness in their messaging that is inherent to hockey. The NHL and individual NHL franchises that have partnered with the PWHPA were described by Brianna Decker as "really generous", citing the ongoing participation of women's national team players in the NHL All-Star Game, which grew from having a few players participate in skills demonstrations in 2019 to having 20 players on-ice for a 3-on-3 game in 2020. "And, you know, I think it's... you've got to take what they give you. It's not always asking for more, but you know, using them as a platform," she said.
Of course, Decker is right in that demanding more from the NHL in a confrontational way probably isn't a good way to build their relationship. If the NHL offers something in terms of resources and exposure, it would seem foolish to refuse them. However, the NHL's true willingness to back a women's league, similar to how the NBA backs the WNBA, is dubious – and I don't think the PWHPA will get the resources they need without asking for more. How to ask, what to ask for, and even whom to ask are questions the PWHPA will need to address in the coming months and years.
Especially because, in case anyone needed to be reminded, it's really hard to pull off an event like this.  It takes a lot of bodies. A true, professional league requires even more. "For one player's success, there might be 20 guys right behind them both on and off the ice. So, whether that's medical staff, or equipment managers, or boosters of some sort... there's so many different puzzle pieces that go into a single player's success, then you multiply that," said Hilary Knight.
The details are important, but Meaghan Mikkelson followed up Knight's comment by reminding us that the goal is simple. "I think that the biggest thing that we're working towards is a single professional women's league. For young girls to even have that to aspire to," she said, and added that she wants her 13-month-old daughter to have the a professional career to aspire to if she ends up playing hockey. "What we have, what we don't have – I don't think any of us are really thinking of that front of mind. It's: we want a league."
There is, of course, still a league remaining after the CWHL folded last spring. When asked directly about the NWHL, Knight said, "I think a lot of media stories have been us versus the NWHL, and you know, it's kind of shame. You know, they're doing what they're doing, the PWHPA is doing what we're trying to do, and maybe they're different visions, maybe they align... [that's for] people behind the scenes to work out. But, I don't necessarily see them as a problem. I think what we're doing is fantastic, and it's electrifying."
Mikkelson added, "I think it speaks volumes that we have 200 players that have come together and banded together. For me, it's the end goal and the vision of the PWHPA that resonated... It wasn't one versus the other. It was that goal and that vision that I wanted to be a part of." Essentially: they do not want to talk about the NWHL, because to them, it's not a highly relevant topic, and the question about why they don't play in it has been asked and answered.
It's not a complicated answer, either: they wanted something else and were willing to organize in order to create that – to play these smaller rinks, to do much of the work themselves, and to directly invite us all to see exactly what they can do.
---
What's next?
The PWHPA will play their next showcase on the Dream Gap Tour in Tempe, Arizona on March 6, 7, and 8 in partnership with the Arizona Coyotes. Makenna Newkirk and Katie McGovern, both Arizona natives, will each captain a full team and play two games against each other. The weekend will wrap up with a PWHPA team facing off against a team of Arizona Coyotes alumni. Full details about the showcase are available at the Arizona Coyotes website. All games will take place at Oceanside Ice Arena, home of the Arizona State Sun Devils.
Friday, March 6: Team McGovern vs. Team Newkirk – 7:30 PM Mountain standard time (9:30 PM Eastern)
Saturday, March 7: Team McGovern vs. Team Newkirk – 3:00 PM Mountain standard time (5:00 PM Eastern)
Sunday, March 8: PWHPA vs. Arizona Coyotes Alumni – 12:30 PM Mountain standard time (3:30 PM Eastern) (Most of Arizona does not observe daylight saving time, so once the clock shifts ahead at 2:00 AM Eastern on Sunday, Eastern time will be three hours ahead of Tempe, as opposed to two hours ahead for the previous two days.)