When she first heard that her former University of North Dakota coach Brian Idalski was moving to China to take a job as head coach of the Shenzhen Kunlun Red Star Vanke Rays, Amy Menke was happy for him. She had no intention of following suit. After all, the 24-year-old had a stable 9-to-5 at home in Minnesota.
Enter Rebekah Kolstad.
When Menke's former teammate, who she's known for about a decade, announced in late July that she'd signed with the club, Menke reached out to learn more about what the move entailed. Still, it was more out of curiosity about her friend's plans than anything else. Uprooting to a China-based team playing in Russia's Women's Hockey League (ZhHL) seemed a hefty commitment to make. "When I was first talking to her, I think I said there's a 2% chance that I'm going to quit my job and join them," she recalled. And that was that, until Idalski told Menke he'd heard from Kolstad that she wanted to play.
"I was like, 'Whoa ― I didn't necessarily say that'," she said with a laugh. "But I guess if we're going to talk about it, let's actually seriously talk about it."
Ultimately, with the numbers in front of her, quitting her day job wasn't such a tough decision after all. Menke enjoyed her work in inside sales with a manufacturing company, even if she did have to learn the language of mechanical engineering ― a field she had absolutely no background in ― on the fly. But the lifelong athlete found herself restless sitting at a desk, and knowing how few women have ever had the chance to earn a living from the sport made that offer a hard prospect to turn down.
"It was an easy decision for me to take this job because right now in women's hockey, this may be the only team that is paying ― unless you're on a national team for the United States or Canada ― it's the only team that can financially support a grown adult that has all their bills," she noted. "For me, everything's on my own: my medical, my car insurance, my phone plan. So I really think it's something that was an opportunity that I couldn't pass up."
After graduating from UND in 2017, Menke spent time playing in Sweden and the United States, before joining KRS in China and Russia. And although she called the ZhHL the most professional of the leagues she's played in, even it doesn't top the resources available in college. "They're definitely making some great strides over here," she said. "But there's still some things we could work on."
Much like when KRS played in the now-defunct Canadian Women's Hockey League, conditions for the Shenzhen-based team are a step above its opponents. But while the ZhHL isn't fully professional in that not all players make a sustainable living, the league's partnership with the Kontinental Hockey League allows for greater administrative support, and major league events benefit from the KHL's resources. "The all-star game was unbelievable, the way they packaged it, did it, and paid attention to detail," Idalski offered as an example. "It was an event, and they made it an event all the way around." Every game is streamed, and the league tracks statistics down to individual shots and face-offs. Several of the ZhHL's teams share franchise ownership with their local KHL squad, though they don't all have access to the same high-end facilities as the men.
When it comes to the on-ice product, depth is perhaps the biggest difference between the ZhHL and the top teams in North America. While each squad has a handful of star players whose names would be familiar to fans worldwide, the drop-off is steep, with teenagers typically rounding out the rosters. What they lack in pace of play and overall team skill, though, they make up in structure, according to Rachel Llanes, who's been with KRS since its start in 2017. The cohesion can be attributed in part to the fact that most Russian teams are on the ice five times a week and do their off-ice training together, too.
"You just find these teams are more structured ― not so much creative, but just structurally sound," she explained. "You're not going to try to beat five of these players, even though there is a lesser skill level. You can't because they all play together, they support each other. If one person doesn't do their job, there's always a person who's filling in for them."
With a level of depth and experience that exceeds most of their opponents, KRS has been highly successful during its first season in the league. The team employs a translator who is fluent in Mandarin, English, and Russian, and the team doctors are Russian, so many of the language barriers are mitigated. When in China, the Chinese players and staff are happy to help their North American counterparts with everything from ordering food to buying items on Taobao, a hugely popular online marketplace. But while operating off the ice is made easier with the support, it can be tougher in game situations. The league's on-ice officials are mostly unilingual Russians, and making sense of controversial decisions has been a problem, even with the translator's help. If referees' calls can be a mystery when everyone's speaking the same language, they make even less sense filtered through three.
As for public recognition, attention on the ZhHL's major events has been strong, but media coverage can still be lacking, and narratives often take a specific gendered turn. In Russia, that's exacerbated by cultural understandings of women's roles and a hesitance by some to accept female athleticism, particularly outside of artistic sports like figure skating and rhythmic gymnastics. Much of the league's promotional material sexualizes the sport; during the regular season, even the cartoon thumbnails on the streams were anatomically creative. Menke acknowledged that the way women are seen (and looked at) in Russia is something she's noticed outside of the rink, but added that although it's uncomfortable, being in a safe team environment has allowed her to brush it off and absorb both the good and the bad as all being part of the experience.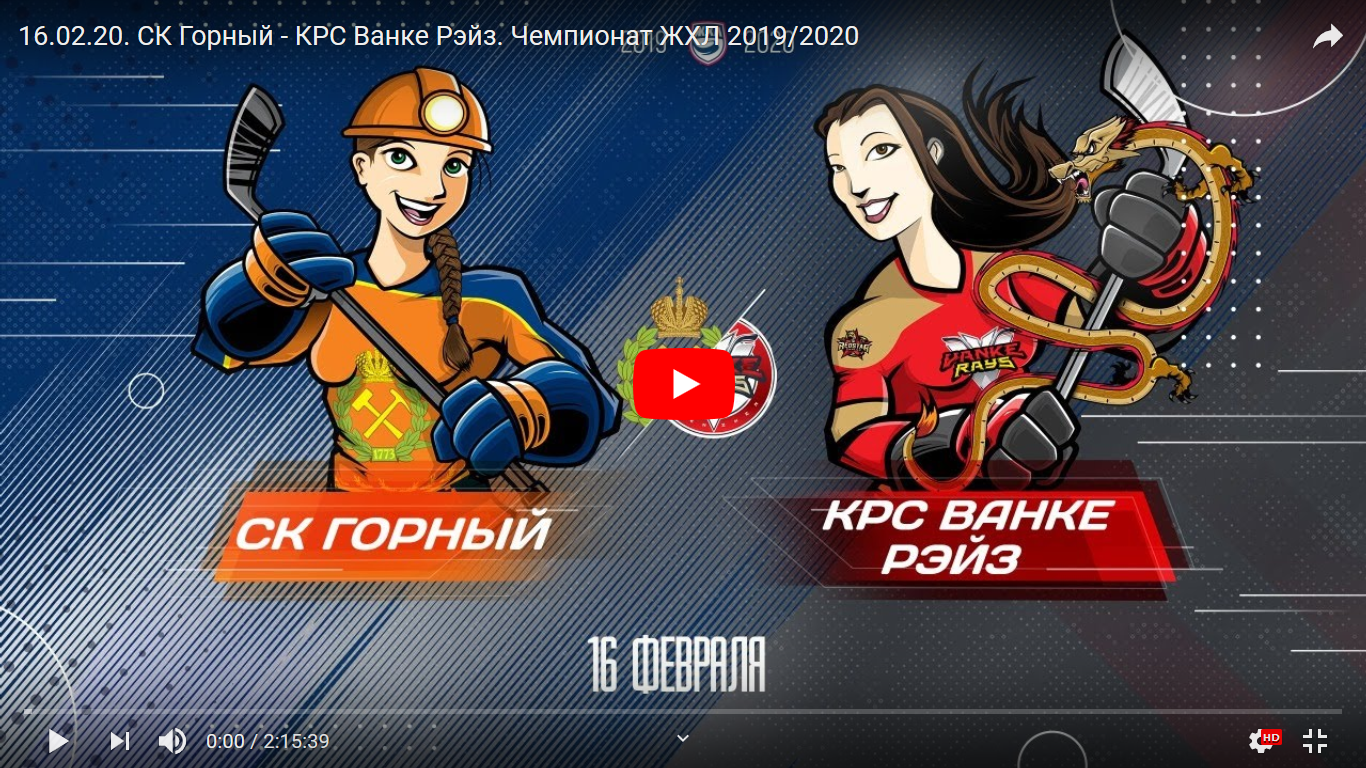 Despite the institutional support the league receives, what is potentially most challenging to the growth of the sport is the influence of gendered expectations. Though it's obvious that not all Russians subscribe to such stereotypes ― the athletes of the ZhHL prove this well ― deeply-entrenched notions of acceptable femininity persist. Menke, for instance, recalls being taken aback by one interaction where she and some teammates met a young woman about their own age and were asked what brought them to Russia. When they told her they played ice hockey, she wondered aloud why they would.
"Oh, hockey, that is for boys," she responded. "That is a boy sport. Why would you do that?"
There's a certain irony, to be sure, to the fact that many of the best offerings in women's team sports are found in a country that sometimes struggles to embrace women's presence in traditionally masculine spheres. But perhaps that only throws into starker relief the disparity between discursive and material support that currently exists in North America. Canadian and U.S. players on KRS have traveled to plenty of Russian cities, visited historic sites in Beijing, and explored their home base in Shenzhen; many have also spent breaks visiting other parts of Asia. They've been immersed in different cultures and built relationships with people they'd never otherwise have met. It's been a phenomenal experience, and one they've gotten in large part because they honed their game in the nexus of the sport, where nothing comparable exists.
---
When Llanes first signed with KRS in 2017, she did so as the team's strength and conditioning coach. Digit Murphy informed her from the start that she'd be playing in a third-line role, but her primary duties would be off the ice. The idea was that if all went well, it might lead her to the Olympics not as an athlete, but as a member of the support staff.
In that first year of the KRS women's program, the focus was on development. North American imports were paired with Chinese players and took on a direct one-to-one mentorship role, with regular meetings and on-ice sessions. It was a very hands-on approach. As time has gone on, the organization has gradually moved away from that model. Last year saw a less pronounced emphasis on individual mentorship, while this year's philosophy has involved a more general effort to lead by example for the team's collection of younger Chinese athletes. Rather than looking to their North American teammates, the Chinese players regularly spend extra time working on skill development with assistant coach Sun Rui.
The move away from a one-on-one focus followed an increased emphasis on on-ice performance. That flows from the notion that winning draws greater attention and increased public support ― something that rings true in most contexts, but is perhaps especially useful in a country without a rich history in hockey and which has no shortage of other sporting successes to cheer for.
"Going into this year, the expectation was being in a new league you want to establish yourself and win," Llanes said. "I think that's the main thing China wants to see, is that if we're going to pay players to play professional hockey at a salary that you can live on ― and that's more than what a lot of the North American players are making ― then you definitely want to win. And you definitely want to establish yourself as a good hockey club."
KRS has done a fine job of that so far, compiling a 20-2-1-5 record in regular season action and sweeping HC Tornado in the semifinals. Llanes finished second in the league in scoring, and she's noticed her personal game improve.
Back in year one, her responsibilities as strength and conditioning coach added an extra dimension to her role. On game days that season, she'd be up early to get her lift in before coaching a pair of sessions, first with the Chinese players, then with the North Americans. After grabbing breakfast she could settle into her personal routine, but only until they got to the rink, where she was in charge of preparing and supervising the team's warm-ups before squeezing in her own. Her expertise in the field meant she knew how to take care of herself well enough to pull it off, but it was grind. Still, despite the challenges, it was rewarding.
"Being able to stay healthy that entire season and actually improve as I went along, especially towards the playoff time, and seeing that, especially the Chinese girls, were actually making strength gains and keeping up with the play throughout the whole year ― that was huge for me," she said.
In trying to give her all to both she knew something would eventually have to give, and acknowledges that there were times where her own training suffered. But she says it didn't feel like a job, and she would've happily continued in the role for a second year if given the chance. Instead, with the change in coaching and structure, her focus turned more towards the ice, though she maintained a mentorship role in the weight room. In her third season she's taken a further step back, allowing her to prioritize her own game and truly be a full-time athlete. "I think you can see just from my stats alone, being able to focus 100% on being just a hockey player makes a huge difference."
---
As concerns around the new coronavirus amplified in January, KRS officials were monitoring the situation. What was initially just cautious observation quickly evolved into a plan of action as the virus continued to spread, Idalski explained. "We went from, 'Hey, this is going on, don't worry about it, not a huge deal' to 'You know what, we probably should... we'll leave a week earlier than what we had originally planned,' to 'Hey, we're leaving in two days, get your stuff together'."
The hasty departure cut short the vacations of those who'd been traveling during the Lunar New Year break, but in addition to prioritizing the health and safety of the squad, it may well have salvaged the team's season. Players and staff left Shenzhen before the city went into partial lockdown and entered Russia before it imposed a travel ban on Chinese nationals ― neither of which were immediately foreseeable when the decision was made.
"I can't stress enough how impressed I was for the organization to take that on financially," said Idalski, noting that at this point, the team has been on the road for a month with a couple of weeks still to go. "I can't even begin to fathom what that is financially."
KRS' willingness to invest in women's hockey and to choose the better option rather than the cheapest, even when faced with unexpected expenses, was one of the reasons Idalski took the job. The Shenzhen-based team has set the standard for fan support too, establishing and then breaking the league attendance record throughout the year. One side of the full-size arena's lower bowl has typically been filled, and a crowd of 4,100 ― the largest in ZhHL history ― took in a January 19 match against top-ranked Agidel Ufa, just a day after setting the previous high mark of 3,788.
"I felt like the organization was trying to do things the right way," Idalski said. "I felt like financially they were supporting it in a way that you won't find anywhere else. And so that has been my experience, to be pretty first class. Obviously, some of the kids from other leagues kind of tell of some different experiences. It's been good the way they're trying to do things: the way we travel, the accommodations, the equipment ― all those things have been super good."
Since returning home to Shenzhen for the playoffs was out of the question, the second-seed team found itself in the unique position of playing out a home-ice advantage semifinal series in its opponent's arena. Although there are certain inconveniences to life in hotels ― players are paired up with roommates in Russia, whereas at home they have their own accommodations ― the host team advantages remained the same on the ice, with KRS sitting on HC Tornado's bench and benefitting from last change. Though Tornado boasts a dangerous top line featuring Anna Shokhina, Alevtina Shtaryova, and Lyudmila Belyakova, KRS won all four regular-season meetings and was able to maintain that success through the playoffs. After a 2-1 comeback victory in game one, they punctuated the series with a 6-2 result.
For the five-game finals, KRS will lay claim to its own rink in Ufa, where first-seed Agidel is based. This time they enter as underdogs, having gone 1-3 in head-to-head play. Led by Olga Sosina and Czech national team captain Alena Mills, Agidel is a physical opponent with a strong team game. All five of their losses this season came by a single goal, whereas most of their wins were decisive.
"They're very good at skating up the ice as five and back down the ice as five, where our team, we have a little bit of trouble with the transition game ― and I think Ufa knows it," said Llanes. "So we've been covering some of that stuff in practice, and then we'll have a couple of practices to pre-scout Ufa. We can't go in confident and expect anything because anything can happen, especially now that it's a five-game series. I think Ufa skates as much as we do, so the conditioning factor would be the same. It's just going to come down to who executes their game plan and who wants it more."
Under normal circumstances the championship would've been extremely travel-heavy, with KRS hosting a pair of games in Shenzhen. Though they'll no longer have the opportunity to play for a title at home, the revised schedule does allow for fuller recovery by eliminating days' worth of flights. And in the end, the team knows they're fortunate to even be in this position.
"I can't imagine that anyone cares about hockey at the moment in China," Llanes points out. The organization has dedicated its postseason to those battling the coronavirus epidemic in China, with the team sporting helmet decals and jersey patches; HC Tornado also added the patches in support. Viewership on the smartphone application where all of KRS' games are streamed has been strong from the jump, so while a victory may not garner the momentum that it otherwise might have, the team's fanbase can still celebrate its success from afar.
---
While KRS was able to avoid the direct impact of the coronavirus, other members of the Chinese national team (which has mainly been training in Minnesota) found themselves quarantined recently in Beijing. With just over a month to go before the Division IB World Championship, eight athletes spent 14 days confined to small hotel rooms, unable to leave or even control their nutrition, with meals being delivered to their doors. It's a difficult situation for anyone, and made keeping in peak athletic form seem near-impossible. So Llanes, who's remained close with the players who previously were on KRS, took note of the living arrangements and stepped back into her strength coach role. Using what was available to them, she devised a program to minimize the adverse effects on their training and continue building towards Worlds. Where the isolated players saw cramped quarters, Llanes saw possibility.
"It's actually really fun for me because they're like, 'We don't have anything,' but to me, I see in the room they have a table, they have a chair, they have a little bit of space, and some of the players even had bands, which was huge," she explained. "So I just put something together in terms of mostly strength. The conditioning obviously in a room is tough, but there are still ways. You've just got to be creative."
If making the logistics work was a first challenge, the psychological toll of the quarantine was another. Llanes checked in regularly to evaluate the training program, but also to see how they were doing mentally.
"Obviously in that situation, they're pretty down and they don't want to stick to routine at all," she noted. "They just want to sleep ― a lot of them were sleeping at like 3 AM and they're waking up at 2 PM."
Adding in an element of structure helped frame their schedules, though, and when players would complain about wanting an off-day, Llanes pointed out the obvious: What else were they going to do? The strength training began with basic bodyweight and tension exercises ― she remembers making up similar programs for herself as a 12-year-old ― and expanded when players were paired together as roommates. At that point they could incorporate one another into their training by deadlifting their teammates, holding them over their shoulders during lunges, and otherwise using each other to provide external resistance. Their bodies effectively took the place of barbells.
"That was more fun for them," Llanes said, while pointing out that the entertainment value came with its downsides. "I think for me, it's obviously frustrating because you're trying to accomplish things within the lift. I always ask them to send me videos because I want to make sure this looks right, and in their videos they're laughing a lot of the time because the whole situation in general, you kind of just have to laugh about it."
Still, the unconventional program worked. If videos of players giggling their way through the movements didn't help much in figuring out if they were being done correctly, updates on how their bodies felt the next day did the trick. From a coaching perspective, the situation allowed Llanes to see what the players had retained about the purpose behind various exercises, and she appreciated their desire to figure out what they were meant to accomplish with different moves. Now that they're back on the ice, players say they're definitely tired during workouts, but that it could've been much worse. And while they now have access to a weight room, they're still without a trainer, so Llanes has continued to provide a program geared towards preparing the group for Worlds. (The tournament has since been cancelled by the IIHF.)
Whereas two years ago she was excited to work towards making the Olympics as a coach, Llanes now has the potential to get there as an athlete. It remains to be seen how things will pan out with citizenship, as Chinese lawmakers have yet to reveal whether they'll be making exceptions to the restrictive current system, or who those might apply to. She would love to play in the Games, but at the end of the day her focus is on helping the team succeed, in whatever capacity that may be. If the opportunity comes to skate with the national team she'll take it, and as long as the Chinese-born players are willing to ask her questions when it comes to strength and conditioning, she'll continue to answer. The biggest challenge, in the end, is getting everyone up to par.
"I don't even know [the full picture] in terms of the Chinese national players, with how we're separated this year," Llanes mentioned. "I have no idea what they're doing as a team to improve, I don't know what their current goals are. You just hope that when we meet up again, we're on the same or close to the same level."
In looking at the current prospective pool as a whole, both North American and Chinese-born players, Llanes doesn't believe they're close to where they need to be in order to compete with the best. If they want to prove that they belong at the Olympics as more than just the host team, improving their overall standard will be paramount. "I know I can help on the ice, I know I can help off the ice," she said. "So it's only going to come down to, you know, you've got to pick one."
(Photo credit: Shenzhen Kunlun Red Star Vanke Rays/Facebook)