It was yet another wet and wild week in the NWSL, featuring all the usual hits -- a Lindsey Horan goal, a Megan Rapinoe throw-in assist -- as well as some new ones, including Christen Press getting booed in Houston and an intentional handball by Carli Lloyd. Please watch this league. It's very good and I think you'll enjoy it a lot.
North Carolina Courage vs Portland Thorns (2-1 North Carolina)
Sunday's games kicked off with the third and final meeting between Portland and North Carolina in Cary. Although the Thorns never looked completely out of the game, the statistics were pretty staggeringly in the Courage's favor, with the home team outshooting their guests 31-9 and conceding just a single corner kick all game. It was a brutal test for a Portland team that's been picking up steam in recent weeks as various players return from injury -- one that ended with the most dominant team in the history of the NWSL clinching the shield with five weeks to go in the season.
North Carolina channeled their attack almost entirely up the right, with Merritt Mathias pumping in one cross after another. Most of Mathias's services were poor quality and didn't go anywhere, but the Courage clearly smelled blood in Meghan Klingenberg's area of the field -- there's probably not a single player on the Courage roster who isn't faster than the 5'2" Klingenberg, and they used that to their advantage all night. In the 36th minute, that strategy paid off, as Jessica McDonald sprinted into open space to the right on a transition play and played a beautiful cross in for Lynn Williams, who beat Emily Sonnett for the go-ahead goal. Just before halftime, Mathias finally made good on a cross of her own, driving to the endline and sending in a low service that the Thorns were unable to clear before it fell to Williams, who tapped it home.
The Thorns defended better in the second half and looked to have a shot at a comeback when Lindsey Horan got one back early, predictably getting free of Williams to get on the end of a well-placed free kick by Tobin Heath -- but a rally, ultimately, wasn't in the cards. Caitlin Foord's first minutes for the Thorns could be reason for either solace or frustration, for Portland fans: although she clearly wasn't fully in step with the team, the Australian forward looked as good as advertised, with blistering speed and a beautiful touch, and it's hard not to wonder what this season could have been for the Thorns if she hadn't spent its first five months sidelined.
Orlando Pride vs Sky Blue FC (2-2)
For people who like chaos (read: me), Orlando is the gift that keeps on giving. Just a few weeks ago they suffered a 3-1 loss to the Dash in a game that saw the first red card of the season go to none other than Marta. This weekend, they treated us to a sometimes-inane showdown with Sky Blue that had me standing and saluting national hero Carli Lloyd for a last-minute martyrdom that allowed her team to hold onto a draw.
After a first half with a couple chances on each side, Orlando got on the board first, early in the second, with Dani Weatherholt doing well to turn and get a shross past Mandy Freeman and Raquel Rodriguez. Kailen Sheridan blocked her initial effort, but the ball deflected off the far post and fell to Marta, directly in front of the open goal.
Predictably appalling defending by the Pride let Sky Blue get one back in the 53rd minute, with Shea Groom making what were perhaps her best three touches all season to beat three defenders and find a completely unmarked Dorsey square in the middle of the 18. Just a few minutes later, Groom got one of her own when the Pride left her unmarked in the middle of the box and McCaskill headed a ball in off a service from Lloyd. After Groom's header found its mark, she immediately collapsed to the grass, seemingly in a good deal of pain after a desperate arm-flail by Alanna Kennedy got her in the face.
The 2-1 scoreline was Sky Blue's first lead of the season, and it was not to last; Weatherholt found a weird equalizer in the 73rd minute, somehow dribbling the ball straight over a prone Sheridan and shepherding the ball into the net with her torso. Despite a few more looks by Orlando over the final 20 minutes, the score stayed level into stoppage time.
And then. Carli Lloyd, who'd had a hell of a game after subbing on in the 56th minute, took a metaphorical bullet for her team, doing a full-on basketball block while standing on the goal line to keep a shot by Emily Van Egmond out of the net. Of course, she was immediately issued a red card and Orlando was awarded a penalty--which Sheridan saved.
I am not being ironic in the slightest when I say my admiration for Lloyd skyrocketed in that moment. Some might wag their fingers and call an intentional handball "dishonorable" or even "cheating." Those people are wrong. This was an act of unblinking self-sacrifice, done in resolute defense of her team's precious single road point. With Sky Blue out of the running for the playoffs almost since day one, there's not really even a reason the team needed this draw except that to someone like Carli Lloyd, losing is anathema. There is no real choice, in that moment. There is only the ball, and the net, and the irresistible need to stop it going in.
Houston Dash vs Utah Royals (2-1 Utah)
Utah picked up three crucial points on the road in Houston, with Christen Press scoring against the team she declined to join after being traded there in the offseason. The Royals still face an uphill battle if they're to make the playoffs, and would be relying on Portland, Chicago, and Orlando to drop points, but this win means hope is still alive for the expansion side.
Late in a first half that saw Utah dominate possession, Veronica Latsko got loose of her mark on a Sofia Huerta free kick to head one past Nicole Barnhart. Press's 77th minute equalizer was routine work for the forward, who pounced when Jane Campbell passed to Amber Brooks, who didn't seem to be expecting the ball and fumbled it. Katie Stengel got the go-ahead goal five minutes later, getting on the end of a looping pass over the Houston defense by Erika Tymrak to chip Campbell, who was frozen like a deer in the headlights.
The controversy of the night was that throughout the game, Houston fans, refusing to forget Press turned them down to go to Sweden, booed her loudly every time she touched the ball. I approve of this behavior, which demonstrates knowledge of the sport going well beyond tired narratives of Inspiration and Role-Modeling. Dash fans care about their team, and weren't afraid to show it.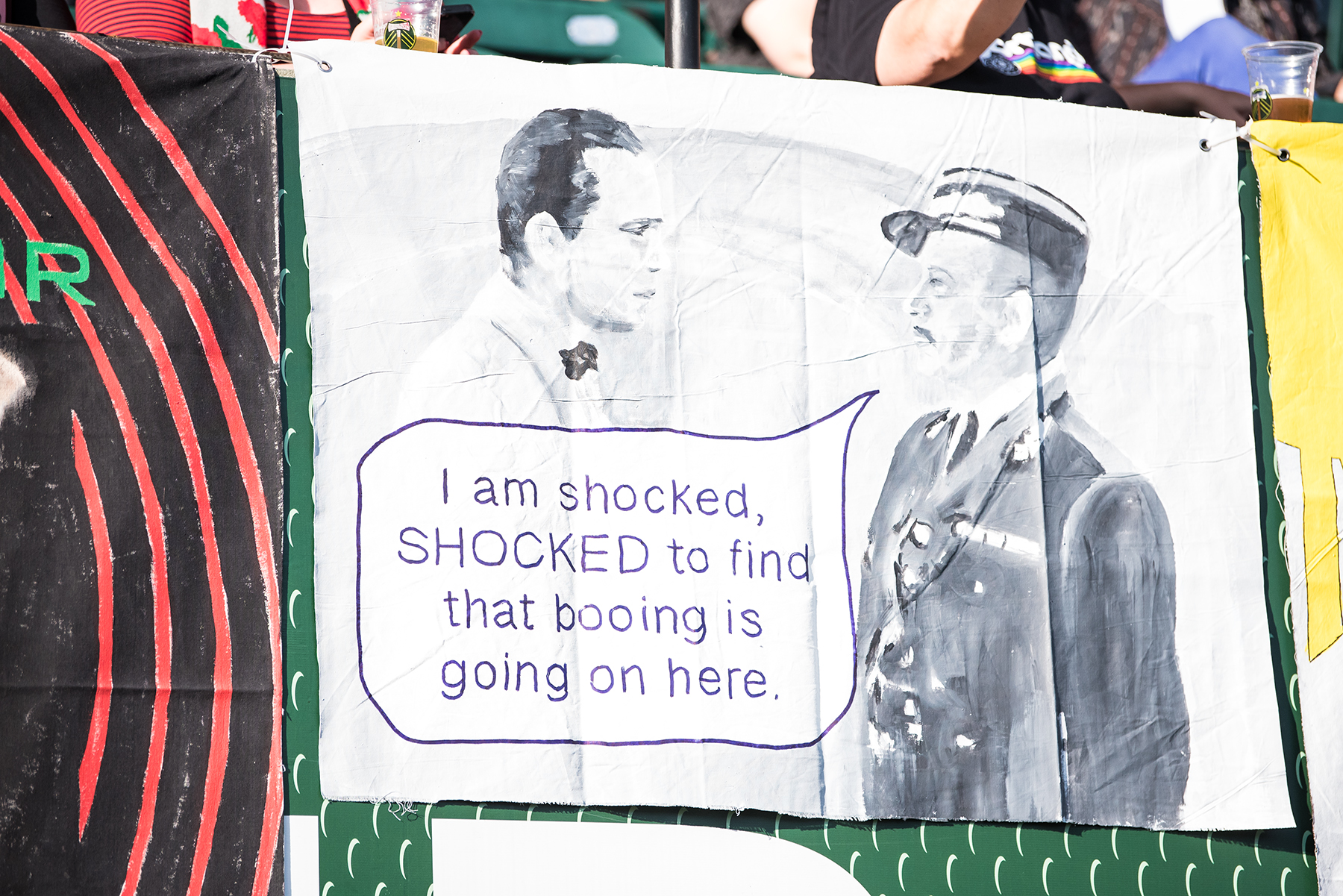 Rose City Riveters rail banner. (Photo by Kris Lattimore)
Seattle Reign vs Washington Spirit (2-0 Seattle)
It has to be considered a lukewarm take at this point that the Spirit are almost as bad as Sky Blue, if not, right at this moment, even worse. Jim Gabarra played a throw-spaghetti-at-the-wall-style lineup, starting a three-back with Tori Huster and Rebecca Quinn flanking Estelle Johnson at CB and Whitney Church (???) in midfield. To be fair to Gabarra, Huster did pretty well with her marking assignment, Jasmyne Spencer, probably better than Church would have.
In any case, if Washington didn't look terrible for the first 20 minutes or so of this game, they certainly never looked like they were going to actually score. They managed to work their way into the box a handful of times but always looked flat-footed after getting there. At that point, Seattle started to pick up momentum and never looked back. Allie Long had a great game, assisting Spencer on her first goal of the season late in the first half. After some beautiful, quick passing between Spencer, Megan Rapinoe, and Jodie Taylor, Long sent one over Washington's back line, and Spencer settled it with an impeccable first touch before chipping DiDi Haracic.
Rapinoe, for her part, spent most of the game embarrassing Quinn on the dribble, only to notch an assist on the Reign's second goal in the 71st minute with one of her patented quick throw-ins. After Taylor Smith lackadaisically cleared a ball out over the sideline in Seattle's attacking third (after, it has to be said, sprinting back to rescue Quinn from Rapinoe), Rapinoe threw the ball over a half-asleep Spirit defense to Jodie Taylor, who put her shot away.
This Week
One midweek match and four over the weekend. Chicago hosts the dreaded Courage, while Utah, Orlando, and Portland all have must-win games as the playoffs draw ever nearer.
Wednesday, August 8
Utah Royals vs Washington Spirit (10:00 PM Eastern/7:00 PM Pacific, NWSLsoccer.com)
Friday, August 10
Chicago Red Stars vs North Carolina Courage (8:00 PM Eastern/5:00 PM Pacific, NWSLsoccer.com)
Saturday, August 11
Utah Royals vs Seattle Reign (3:30 PM Eastern/12:30 PM Pacific, Lifetime)
Sky Blue FC vs Houston Dash (7:00 PM Eastern/4:00 PM Pacific, NWSLsoccer.com)
Orlando Pride vs Portland Thorns (7:30 PM Eastern/4:30 PM Pacific, NWSLsoccer.com)
Photo credit: Nikita Taparia