Editor's note: Mark Kastner has had to step down from writing for us, so welcome Katelyn Best to writing about the NWSL for Victory Press!
With a wild NWSL weekend in the rearview and some unexpected results on the books, one of two things is happening: we're either reaching the point in the season where teams start to settle in and show their true potential, or this league continues to be a place where anything can happen in any given week. More likely, we're seeing a little of both. Up in stock this week are Portland, Houston, and Orlando, while Chicago and Washington are decisively down. Some of these results likely represent true referenda on coaches and rosters, while others may simply be bumps in the wild ride that is an NWSL season.
Portland Thorns vs. Utah Royals (2-0 Thorns)
With their 2-0 win at Providence Park on Friday, the Thorns both notched their most decisive win of the season and handed the Royals their worst-ever defeat -- as much or as little as phrases like "worst-ever" mean when it comes to an expansion side.
The Thorns' performance was far from perfect, as it was marked by errors both unforced and brought about by the intense midfield press of Laura Harvey's Royals. But when Portland broke through that pressure, they found themselves in acres of space and put together some of the best offensive looks they've had all season. Christine Sinclair's opening goal, in the 18th minute, was set in motion by the Australian youngster Ellie Carpenter, who found Sinclair in a vacant central midfield as Desiree Scott, Erika Tymrak, and Becca Moros all closed in on Carpenter on the right wing. Sinclair hit a half-volley diagonally up the field to Heath, who held up for the captain to arrive at the top of the penalty area, then fired off a pinpoint through pass that Sinclair collected and sent past Abby Smith. The second goal, in the 39th minute, was straightforward work for Lindsey Horan, who crashed into the six-yard box to shepherd in a perfectly-placed cross by Meghan Klingenberg.
Meanwhile, the Utah offense was mostly contained by a Portland back line that has taken on a newly solid look since centerback Emily Menges returned to the mix. Amy Rodriguez got a few looks and Tymrak would have put one away if not for a goal-line stop by Klingenberg, but by the end of the game a clearly-frustrated Royals side was resorting to taking cracks from outside the 18.
Unfortunately (or fortunately, depending on why you watch this sport), this game will probably be remembered for a second-half scuffle between the teams, which was set off when Rachel Corsie, stooping over a prone Heath, shoved Klingenberg after the Portland defender seemed to tell Corsie to back away from her fallen teammate.
Chicago Red Stars vs. Orlando Pride (5-2 Pride)
In the first of two goalfests this weekend, the Red Stars fell 5-2 at home to the Orlando Pride, extending their winless streak to seven and dropping them (after Sunday's Houston-Washington result) into sixth place below the Dash.
Things started off poorly and only got worse for Chicago. Rachel Hill kicked off the scoring in the second minute, when an aerial duel in the penalty area against Arin Gilliland ended with the ball at her feet and she managed to embarrass Alyssa Naeher at the near post. The humiliation continued for Chicago's defense three minutes later, as Sam Johnson politely let Alex Morgan slip behind her and get her head on the end of a service by Marta to put Orlando up 2-0.
Sam Kerr equalized with a brace, notching a goal in the 21st minute and another in the 60th; but Chicago's relief was short-lived, as less than a minute after Kerr's second, Sydney Leroux got her first goal of the season off an excellent service by Ali Krieger -- and then another just two minutes after that. Dani Weatherholt put the final nail in the coffin in the 83rd.
All in all, it was an almost shocking meltdown by the Red Stars -- almost shocking because although this was the worst defeat in Chicago's history, it's also a logical extension of the course the team has been on all season. Naeher failing to cover her near post and Johnson meekly accepting her fate as a game happened around her are ultimately just the final straws on the camel's back; between Julie Ertz being in mediocre form, Kerr's general isolation up top, and a lack of support from role-players like Michele Vasconcelos, whatever is wrong with this theoretically strong roster is starting to look deeper and pernicious.
Sky Blue FC vs. Seattle Reign (1-0 Reign)
The dullest game of the weekend ended 1-0 for Seattle, after Megan Rapinoe punctuated a mostly mediocre performance with a second-half goal that was practically handed to her on a platter by the Sky Blue defense.
Ironically, Denise Reddy's side looked as good as they have all season. They managed to string together a number of nice plays going forward and put four shots on target to Seattle's six, while Rebekah Stott did well to limit Jodie Taylor whenever she got into Sky Blue's 18. Ultimately, though, it was the Reign defense that made the difference, as it contained Sky Blue's front six long enough for Rapinoe to score the game winner when she stood unmarked in the penalty area and put away a cross by an also-unmarked Christen Westphal.
Despite looking offensively listless at times in the first half, this was a stark improvement from the Reign's disastrous performance against Houston midweek. Ghanaian international Elizabeth Addo, starting in place of Nahomi Kawasumi, put in a good shift up front.
Sky Blue, meanwhile, continues to be well on pace for the worst season ever by an NWSL team, having earned a single point in eight games.
Houston Dash vs. Washington Spirit (3-2 Dash)
In another match that may come to look like a turning point by season's end, the Dash again found a way to win against a team that should, on paper, be better than them. Washington, of course, haven't been a good team, but it remains striking that the roster many observers had pegged as the worst in the league came out on top against a Washington Spirit side that spent the offseason acquiring just about every young American talent in the player pool.
The game got off to a dismal start when Kristie Mewis subbed off in the 19th minute with what looked like a serious knee injury, with Haley Hanson slotting in for her alongside Linda Motlhalo and Mana Shim. That's a midfield that should be a downgrade from the one that includes Mewis and Kyah Simon, but Washington seemed intent on giving them space to operate, letting Shim (playing in an attacking midfield role) set up numerous chances for the likes of Rachel Daly and Nichelle Prince. In the first-half stoppage time, after 45 minutes of choppy play by both teams, Daly made good on one of those chances, putting away a low cross from Prince, who had gotten on the end of a long ball by Shim and sprinted into the left side of the penalty area unimpeded.
Kealia Ohai scored her first goal of 2018 in the 46th minute, an attractive curving effort facilitated by some disastrous defending. After Jane Campbell saved a Mallory Pugh penalty in the 51st, Estefania Banini got one back for Washington in the 54th minute, courtesy of Houston's own disastrous defending.
In the 78th minute, things got really ridiculous, when Linda Motlhalo intercepted a bad pass by Estelle Johnson. With eight out of ten Washington field players pushed up into their attacking third, it was quick work for Motlhalo to send a well-placed pass to Thembi Kgatlana, who beat Spirit keeper Aubrey Bledsoe -- nearly at the center circle in a vain attempt to interrupt the play -- and tap the ball laterally to Daly. In an act of supreme impudence, Daly practically walked the ball across the line. Then, in the 84th minute, a virtually identical play ended with Daly assisting Kgatlana, whose goal was flagged offside.
The hilarity didn't end until a final defensive miscue by Houston led to an easy goal by Ashley Hatch in stoppage time.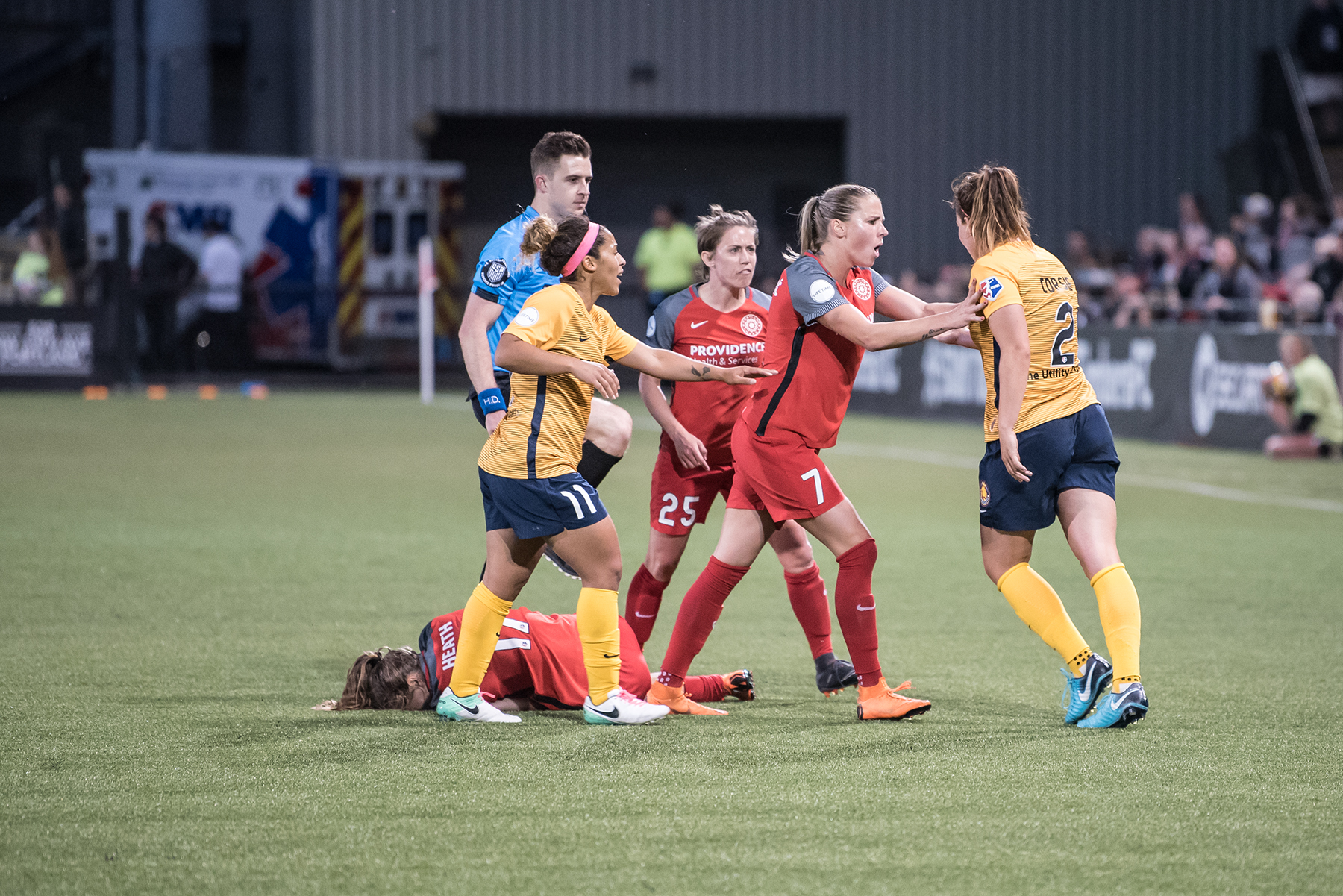 (Photo: Kris Lattimore)