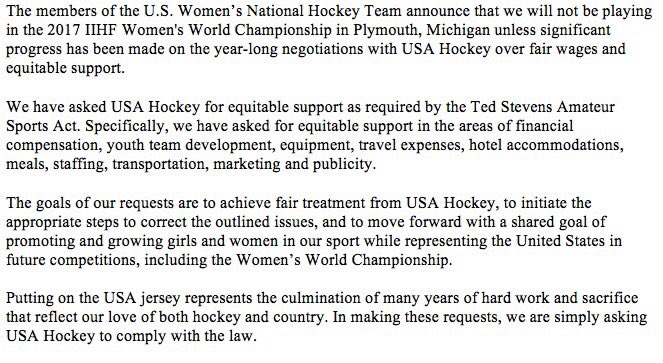 Around 10:00 AM today, many members of the US Women's National Ice Hockey Team tweeted the above statement, stating their intention to boycott the Plymouth, Michigan IIHF Women's World Championship. With pre-camp scheduled to start in a week, this is a bombshell for USA Hockey. The players seem to have clearly timed this for maximum impact and urgency, while still giving a week of negotiation time for things to change course.
[The image above is the full text of the statement as originally tweeted. For a transcription of this text, see the bottom of this article.]
The WWC is the highest-level annual international tournament in the sport and, while Olympic rankings and qualification are already determined, it was sure to be a major event for all of the participating teams as a "last look" at the competition and their rosters ahead of Pyeongchang. With the USA as host nation (and reigning champs), this threatened boycott gives Team USA immense leverage over USA Hockey, at least from a PR standpoint. Overwhelmingly, the reactions seem positive to the demand for better compensation for players' participation in USA Hockey.
Here is a little FAQ section on the matter, with references where available.
What is Team USA asking for from USA Hockey? What do they get now?
Team USA is specifically requesting compliance with the Amateur Sports Act which, in 1978 and 1998 outlined laws that NGBs (national governing bodies) must obey in the United States. This includes the provision that NGBs must provide "equitable support and encouragement for participation by women where separate programs for male and female athletes are conducted on a national basis." The USWNT asserts that USA Hockey does not comply with this law, and are willing to risk their relationships with USA Hockey (and therefore their international careers) in order to correct the situation.
Currently, the flagship program of USA Hockey is its National Development Program, which plays a junior-hockey-type schedule with a U18 and U17 roster. There is no equivalent program for girls' development, though there are several summer camp programs (a total of three U18 girls' development camps are scheduled for 2017). Edited to add: The budget of the NDP was reported last night (3/15) by Bob McKenzie to be $3.5 million per year. We have also seen figures as high as $4 million.
According to Jocelyne Lamoureux-Davidson in the New York Times, players have received a small training stipend of between $750 and $2000 per month. She also told the Times that negotiations on these matters have been ongoing for 14 months.
The question of equitable compensation is tricky, because most men who are playing at a high level and who might be eligible for an international competition, such as the World Championships or the Olympics, are currently participating in NCAA/junior or professional teams that can attend to their training needs and salaries without funding from USA Hockey. In between Olympic years, many women on the national team who are no longer NCAA-eligible are playing in professional leagues that have limited resources and funding and do not make a living wage from playing hockey or have the same level of direct support that they would have if they were, say, playing in the NHL.
It's not just that the US Women's National Team isn't receiving as much support as the men -- they actually need more support, because the hockey development system was not designed to include and support them. They train and play outside of Olympic residencies and are expected to do the same as male professionals with fewer built-in support systems.
This tactic seems familiar...
It does! Not only did NWHL players do a similar social media blast after salary cuts (tweeting a prepared statement in image form all at the same time), but this hearkens back to last year, when the US National Women's Soccer Team made similar complaints about US Soccer. Their accusations of wage discrimination were uncannily similar, especially in light of the similar situation in both soccer and ice hockey -- the men's team hasn't been so great, but the women's team is perennially successful.
What is the alternative?
Cassie Campbell mentioned today that Hockey Canada has, since 1998, has had a committee of players called the Women's High Performance Advisory Committee. This 5-player committee consists of three Olympic athletes and two members of the U22 squad. It also submits a budget for Hockey Canada's approval every year, which is presumably put towards development/support of the highest-level athletes in the sport. This is outlined in the official policies and procedures manual of Hockey Canada.
...we went through similar situation with Hockey Canada after 1998. The working relationship btwn players now and HC is dealt with through..

— Cassie Campbell (@CassieCampbell) March 15, 2017
...a Women's High Performance Advisory Committee that was started back then by Therese Brisson and a small group of people.

— Cassie Campbell (@CassieCampbell) March 15, 2017
In short, the players have more authority over the arrangement due to a committee process. It's Hockey Canada's equivalent of a Players' Association for its most high-level performers.
The USA Hockey Annual Guide from 2017 does not outline budgeting and compensation procedures for its women's program at all. The USA Hockey Board of Directors does not seem to have as detailed a subcommittee structure as Hockey Canada. The Amateur Sports Act mandates a certain level of player control over an NGB -- specifically, at least 20 percent of voting power in any committee within the NGB. While the Executive Committee of USA Hockey boasts many Athlete Directors and Representatives -- including many women -- there is apparently no committee that is exclusively devoted to the women's game.
Edited to add: Per TSN's Bob McKenzie last night (3/15) on NBCSN, the USWNT specifically wants to be "under contract" as employees with USAH (see their response below which speaks to them not employing athletes).
.@TSNBobMcKenzie breaks down the developing situation between the US women's hockey players and USA Hockey. pic.twitter.com/tguTgeytod

— NHL on NBC (@NHLonNBCSports) March 15, 2017
This is different from Hockey Canada's annual budget/committee structure and speaks to paying the USWNT as if they are in a pro league. The USWNT's official statement does not specifically mention this, but USA Hockey's response seems to confirm that this has been part of their negotiations.
The committee/budget structure could be a compromise in this situation.
Has USA Hockey responded?
They sure did!
USA Hockey supports the equitable treatment of our female athletes, a commitment going back decades: https://t.co/fTfFM8g24A pic.twitter.com/s6w4kLDFiu

— USA Hockey (@usahockey) March 15, 2017
Notably, this statement cites the six-month Olympic training program as its main support, and mentions medal incentives that "could total" up to $85,000, but not actual figures of what their support looks like on a day-to-day or month-to-month basis. They do not make mention of support in between Olympic years, or of the fact that the NDP for men is much more robust than that for women.
How is the media reacting?
Like most controversial women's hockey stories, a lot of the big guns are coming out to talk about it. Of the major publications who published on this today, Julie Foudy's piece for espnW is probably the only one worth your time and energy. There's lots of great context in there from the perspective of a professional athlete who directly understands the current concerns of the USWNT.
So, like, a bunch of guys are white-knighting?
You betcha.
Notably, Greg Wyshynski of Puck Daddy contributed to the overall absurdity of the situation by writing:
But another issue is one that USA Hockey has to answer for itself: How does one grow the sport?

It's not by preaching to the converted. It's by reaching out to the non-believers and convincing them how great hockey is.

You do that with grassroots hockey programs. You do that with increased funding to get little girls playing the sport at a young age, so that you create a lifelong devotion to the game and develop new players in nontraditional place – where are you, gender-flipped Auston Matthews?
The sentiment is kind of on the right track -- USA Hockey's role in growing the women's game is in aggressively developing its girls' youth programs and encouraging diversity. There are already so many girls and women who play hockey and who are not really given an opportunity to continue their development, because of the inherent classism of hockey (it's expensive, and hockey academies/prep schools where young girls in the US can go to play are also expensive). But there are already Latinx women's hockey players, other POC in women's hockey, and players from nontraditional markets. Many of them haven't been given a fair shake with Team USA's development program, but have had both NCAA and professional success.
The story of Auston Matthews is also notable for how his Americanness and status as a Latinx man was used to alienate him in the press. Matthews is a can't-miss talent in the most elite men's hockey league in the world, and is inarguably the future of USA Hockey's men's roster. He's a product of the NDP. Asking about the whereabouts of his women's hockey equivalent is pointedly ignoring the WOC who have already been successful in their hockey careers. Matthews' fame and success shouldn't be pinned solely on USA Hockey, but on a hockey culture that could generate media buzz around him. The buzz was not because of his performance with USA Hockey but because of his NHL draft ranking.
Where is "gender-flipped Auston Matthews"? It's a ridiculous question (and the phrasing is suspect, to boot). In this narrative, Matthews arrived from Arizona on a wave of dynamic offense to "save" the Toronto Maple Leafs, and he didn't exactly not get a ton of shit for it. The mainstream media should be the ones answering as to why they don't cover American WOC hockey players or the draft process of the women's pro teams with as much fervor as they do Auston Matthews. They should also be explaining as to why they did such a poor and often racist job at handling his existence.
If they did, they'd know the names of major talents who are WOC and not from New England or from the Midwest (the two hockey hotbeds of the United States). First overall 2016 NWHL draft pick Kelsey Koelzer is from the Philadelphia suburbs. Boston Pride forward Rachel Llanes is from San Jose, California; defender Blake Bolden from the same team is from Euclid, Ohio. Retired former Boston Blades and Connecticut Whale player Jess Koizumi was born in Hawaii and raised in southern California.
One of the most famous women's hockey players of all time, Julie Chu, is Chinese-American. Though Chu is from Connecticut and came up through Choate Rosemary Hall, one of the best prep schools for women's hockey in the nation, her visibility matters like hell if you're trying to talk about the sport's diversity.
Diversity exists -- and that's a fact. It's USA Hockey's obligation to include and foster, certainly, but using Auston Matthews as a lazy analogue is just ignorant of the history of the sport, its current diversity, and the fact that women of color from a variety of backgrounds are already playing the sport to pretty much no fanfare whatsoever, simply because they probably won't be wearing a Maple Leafs jersey anytime soon.
Be better and be good to each other, everyone.
Here again is the full text of the statement made by members of the USWNT:
The members of the U.S. Women's National Hockey Team announce that we will not be playing in the 2017 IIHF Women's World Championship in Plymouth, Michigan unless significant progress has been made on the year-long negotiations with USA Hockey over fair wages and equitable support.

We have asked USA Hockey for equitable support as required by the Ted Stevens Amateur Sports Act. Specifically, we have asked for equitable support in the areas of financial compensation, youth team development, equipment, travel expenses, hotel accommodations, meals, staffing, transportation, marketing and publicity.

The goals of our requests are to achieve fair treatment from USA Hockey, to initiate the appropriate steps to correct the outlined issues, and to move forward with a shared goal of promoting and growing girls and women in our sport while representing the United States in future competitions, including the Women's World Championships.

Putting on the USA jersey represents the culmination of many years of hard work and sacrifice that reflect our love of both hockey and country. In making these requests, we are simply asking USA Hockey to comply with the law.