There were 11 women on the rosters of the four teams playing in this past weekend's WCHA Final Faceoff who are scheduled to compete for their countries in the IIHF Women's World Championships in Kamloops, British Columbia in late March and early April.
Wisconsin's Annie Pankowski and Minnesota's Lee Stecklein will play for the USA, while North Dakota's Halli Krzyzaniak and Wisconsin's Emily Clark will play for Canada. Minnesota-Duluth's Lara Stalder will play for Switzerland. North Dakota's Ana Kilponen and Vilma Tanskanen will play for Finland. Minnesota-Duluth's Maria Lindh, Michelle Lowenhielm and Linnea Hedin will play for Sweden, and their teammate, Katerina Mrázová will play for Czech Republic.
Krzyzaniak and Clark are two of just three college players on Canada's roster. No other women's hockey conference can boast as many players playing in the World Championships, nor the number of countries represented.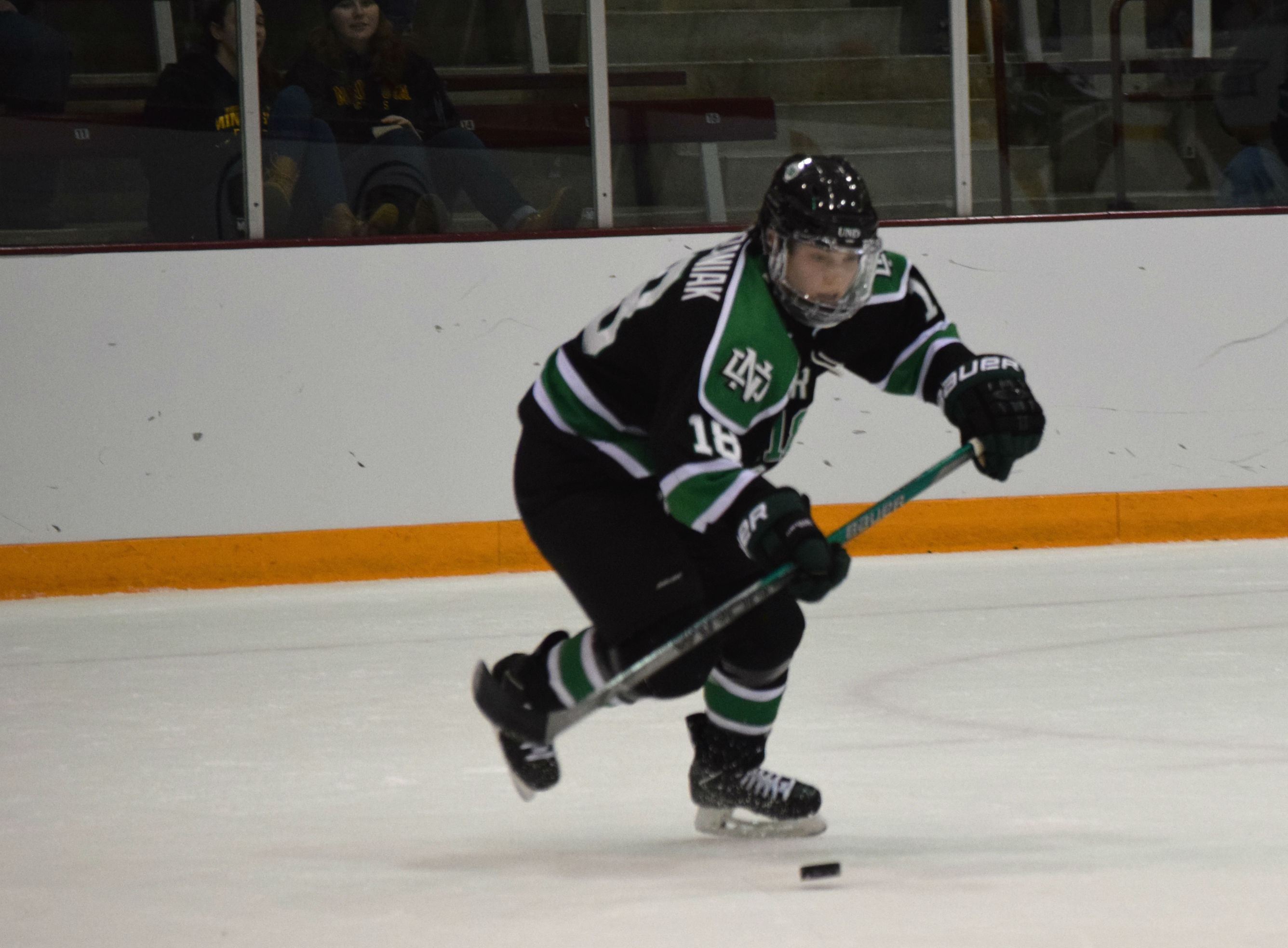 Halli Krzyzaniak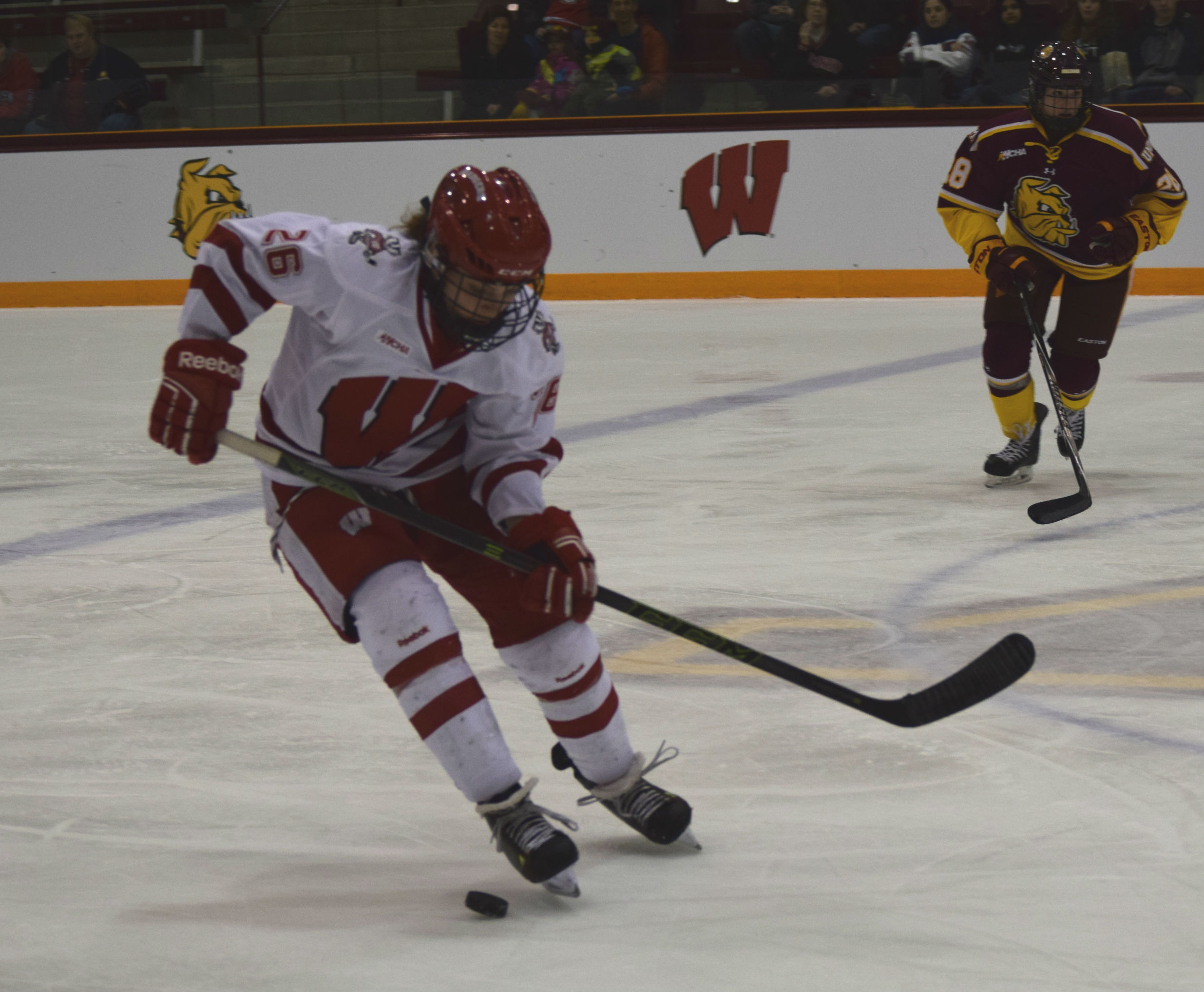 Emily Clark
Worlds begins play just eight days after the women's college hockey national championship game. Many of the women mentioned above learned of their roster spots as their college teams were preparing for the post-season.
Though all of the players are excited and honored by being named to their respective national teams, they were all focused on their current college seasons as the WCHA tournament unfolded.
It can be difficult to compartmentalize and focus on playing for one team while also preparing for a world championship, but Pankowski said she likes to keep the college rink as a haven from anything other than what's happening with the Badgers that week.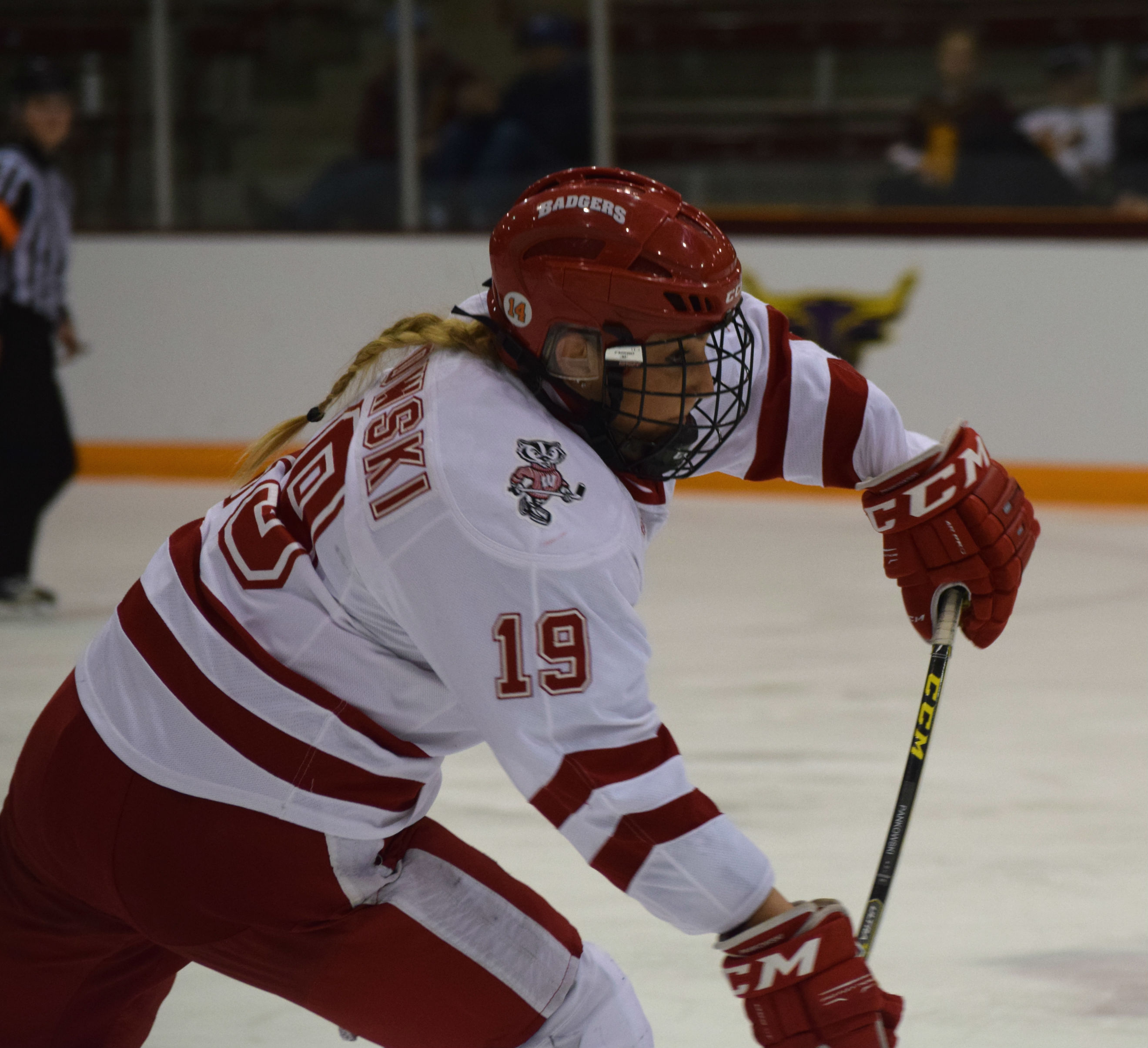 Annie Pankowski
"I think the best way to take it is to just kind of have the rink be a bubble. Everything that happens outside the rink for me just kind of stays outside. Being named to an international roster is one of those things that's on the outside of the bubble. It's usually something that's not a main focus when I get to the rink. Keeping those two teams separate helps to keep my head in the same place," she said.
For Clark, it was about putting a time limit on basking in being named to Team Canada -- taking a short moment to be excited and enjoy the moment, since it represents the culmination of a lifetime of work and a dream come true, and then getting back into the post-season title chase with the Badgers.
While the possible distractions are something the players have to deal with, having the tournament come fresh on the heels of the college season does mean they're both as mentally and physically as prepared as they could be to make the step up to international competition.
Stecklein, who played with Team USA in the past two national championships, said she left to join the national team the morning after the Frozen Four. She ruefully admitted that both times her team had won their last college game, making it a little easier to keep her head clear and make the transition, even if she did have to miss out on some celebrating.
"I just try to focus on what I'm doing in that moment. There's not really looking ahead. I'm excited for Worlds, I'm really, really excited I made that team, but right now the Gophers are my team. Doing whatever I can here with the Gophers is my focus, but luckily it's going to help me for Worlds...even if it's a quick transition from one to the other," said Stecklein.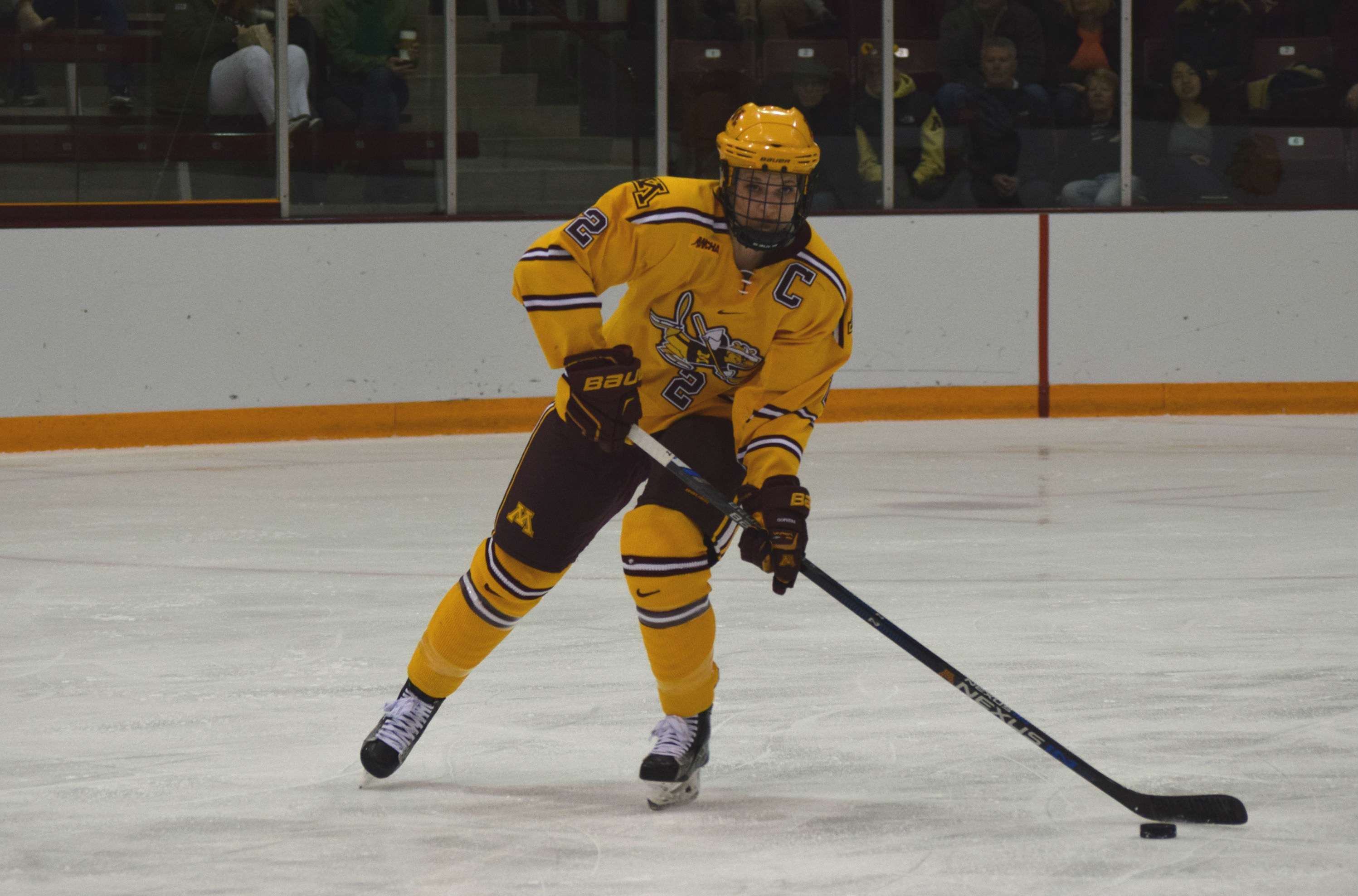 Lee Stecklein
In addition to mental distractions, the players have just a short practice time with their respective national teams before the World Championship actually begins. That means a limited amount of time to re-familiarize yourself with teammates and linemates, as well as with different coaching styles.
Stecklein gives a lot of credit to her college coaches at Minnesota for helping her make that transition easier. They've taught her a lot about looking at the game as more than systems and that bigger-picture approach makes her feel much more confident in making the transition to the college game.
From there, she said, it's about not trying to get too fancy.
"The US coaches know they have a limited amount of time with us, so (they do) whatever they can do to make everyone transition easily -- sometimes that's keeping things really simple. You might not have time to focus on a super complicated power play or penalty kill. But it's about getting hockey players who can adjust to something easily. I feel like the teammates that I get to play with at the US camps focus on the game from a bigger level, so you don't spend as much time focusing on the specific systems -- it's about creating chemistry really quickly," said Stecklein.
The pace of play is faster, but Kilponen noted that the rink in Kamloops is on the smaller side -- similar to the ones they play on in college -- so the college players have an advantage this year heading into the tournament.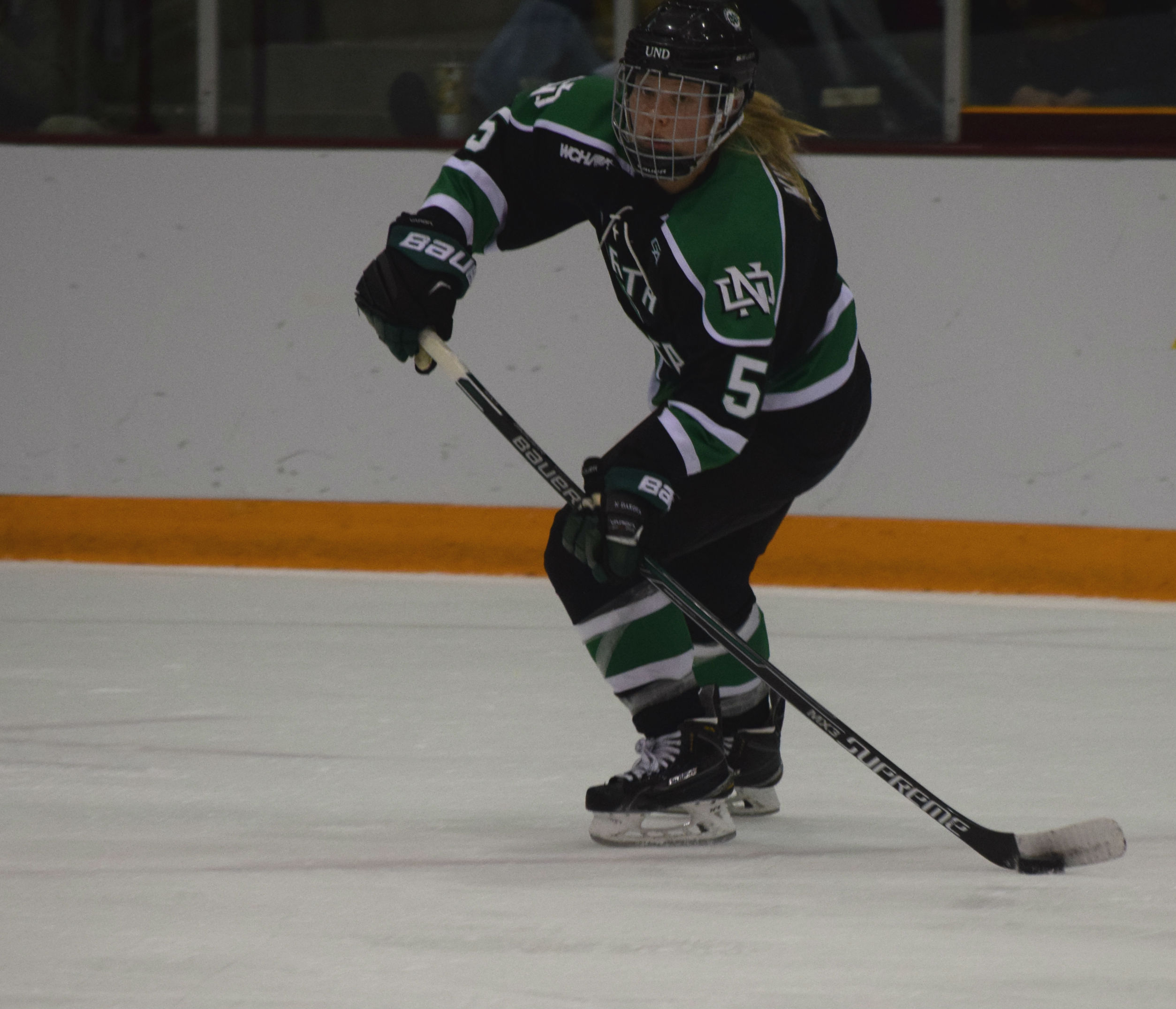 Ana Kilponen
Krzyzaniak noted that it's not as though the national teams normally get a lot of time to play and practice together before any of the tournaments that aren't the Olympics, so the quick turnaround from the college season isn't too unusual for them.
"I think with all those short-term competitions, the practice time with the team is very short no matter what, whether you're in college or not. I think it's just being completely focused while you're there and building chemistry with those linemates, and it usually works very well," she said.
Both the CWHL and NWHL are wrapping up their seasons, which means that most of the women on the US and Canada rosters will be dealing with similar transitions. But, Clark pointed out, the college players have the advantage of having spent a lot more time on the ice in practice and games.
The high level of competition in the WCHA is something all the players said helps them make the transition to the international game easier on them. Playing each other in college and internationally means a lot of the players spend a lot of time on the ice together and allows them to learn each other's tendencies, said Krzyzaniak.
"I think that every game we play is high-paced, intense, physical, and gritty, and I think that's exactly how I want to play at the international level," said Clark.
For Kilponen, playing with Team Finland before she joined Minnesota-Duluth was crucial to making her move to college easier. She's played many of the women in her league before and she'd played in tough, physical, high-paced games at the international level. That made her move to the Bulldogs much smoother.
For some of the European players, playing in the NCAA was the next logical step. It's the best preparation and development they can get.
"I would say that's the best hockey you can find, college hockey...That was the reason, too, that I came to this league. It's international; it's all over. Canada, US, national team players. That's why it's so competitive. The level of hockey is so high, it's been awesome playing in this league," said Stalder.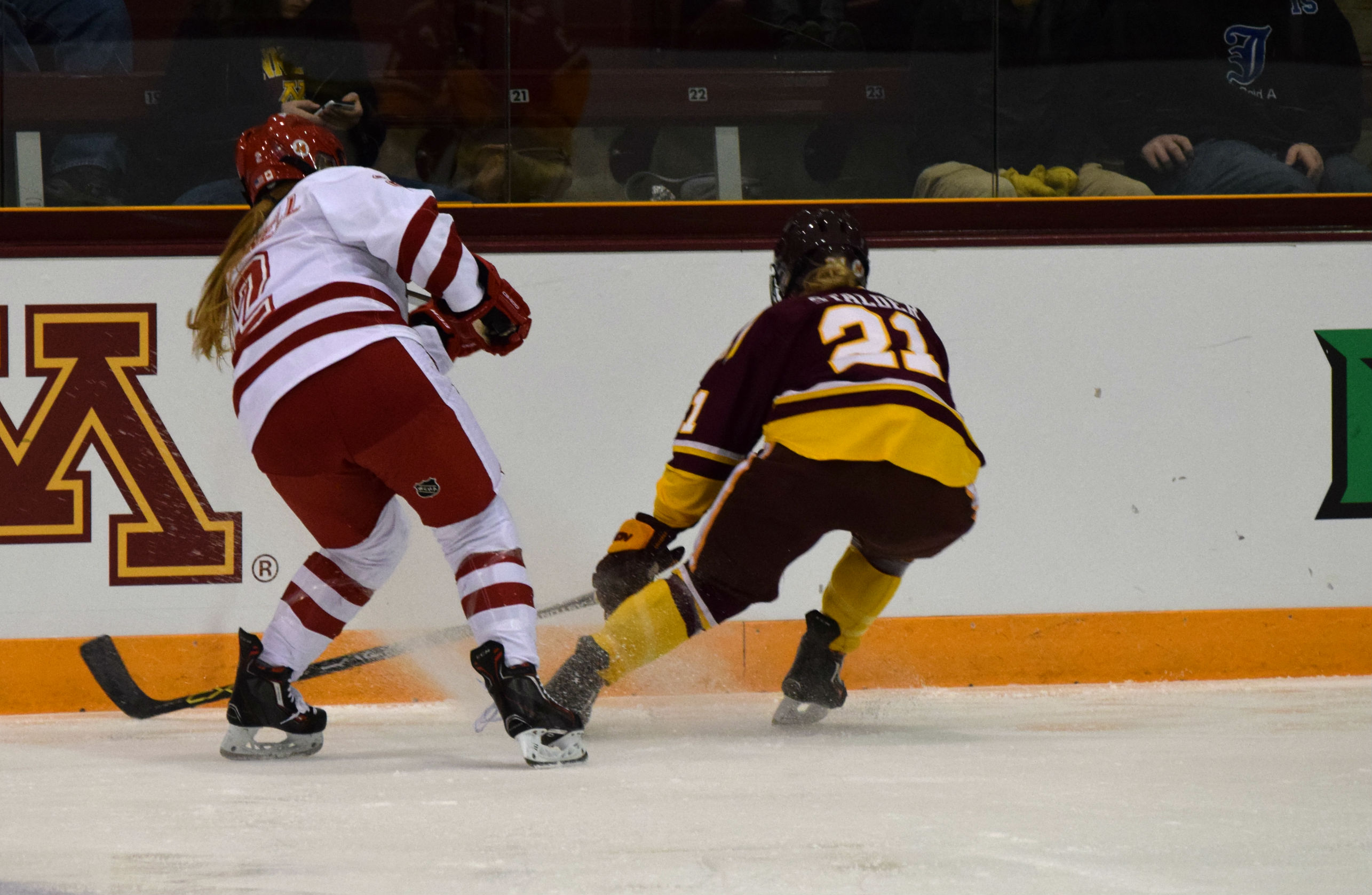 Lara Stalder
Stecklein, who also played with Team USA in Sochi, credits the WCHA and Minnesota with helping her become the successful international player she is.
"The WCHA was exactly what I needed to prepare me. Going into my freshman year, there was no way I ever thought I was going to make an Olympic team. But in the WCHA, you have competition absolutely every game. I feel like I chose a great program and the coaches and everyone was what I needed to help me. Overall, I thought the college game -- they give you a direction and a focus and that combined with the level of competition really makes the transition -- I guess it wouldn't be easy, necessarily, but it definitely helped me prepare for that," she said.
Knowing so many national team players who'd attended WCHA schools helped Pankowski see how the league developed talent and gave players the springboard to become international stars.
"If you look at the national team, a lot of the players that are up there came from this league. Especially the ones from Wisconsin -- I just look at them and the way they play. It makes sense coming from Wisconsin or coming from Minnesota, they've got another layer to their game that you can see they get from playing here," she said.
Moving back and forth between their national teams and college teams allows the players to grow and learn and bring lessons from each team to the other.
To a woman, they all spoke about the confidence that they gain playing on an international level. Being named to the team is a boost, but actually stepping on the ice and learning they can compete -- and fulfill a childhood dream -- does wonders for their game.
Clark, who was one of the youngest players on Team Canada at the 2015 World Championships, looks to the veterans on her squad for some of the intangibles.
"I know it's my second time around, but I still learn so much from them and what they do every day to make them the best players in the world. Just the habits and details and learn from certain individual and as a team what it takes to stay at that level," she said.
Though it seems obvious that each player would learn things with their national team to take back and use with their college teams, Clark said that the college setting has allowed her to grow as a player -- something that will benefit her on the international stage.
"Especially this past year, I've developed a lot more confidence and poise with the puck, offensively. That was one of my biggest goals this year. Throughout the year having some offensive success and success as a team definitely helped with my confidence and I think that's huge going to the international level, being one of the younger girls," she said.
Though each woman loves playing for her college team and has aspirations for the Frozen Four and the national championship, they all agreed that playing for their country is an honor.
"Being able to be able to play at the highest level offered to me -- there's really no words you can put to it. Standing on a podium and listening to your national anthem is one of those super overwhelming feelings. When you're out there with the jersey on, it's a whole new experience," said Pankowski.