Regardless of who wins the hockey game, you want the much-vaunted "best rivalry in hockey" to actually be the best rivalry. But over the last few years, and certainly at the 2022 Olympics, Team USA vs. Team Canada certainly hasn't quite lived up to the hype. Of course, Canada has easily been the better team as of late. Throughout their time in Beijing, they played with a loose freedom and confidence that was enviable. Ever since their stunning semifinal loss to Finland in 2019 at the IIHF Women's Worlds, which was punctuated by the nearly simultaneous dissolution of the Canadian Women's Hockey League, Team Canada has been on a revenge tour, gleefully decimating nearly everything in their path en route to the top podium spot in Beijing. On top of that, they are simply a pleasure to watch.
They also have the ultimate trump card in captain Marie-Philip Poulin, whose two goals in the 2022 gold medal game further cemented her status as the greatest big-game hockey player of all time. Absolutely no one has ever occupied the rarified position that Poulin does in the sport. Every time she is on the ice and healthy, she is lethal, and her performance always elevates on the biggest stage.
The rest of the 2022 Canadian roster is beautifully woven together as well: a mix of explosive young talent, veteran skill, and versatile role-players. And what's more, they seem to have the full trust of head coach Troy Ryan. You can make small criticisms about the 2022 personnel decisions – that Jamie Lee Rattray is more than just a 13th forward, that Ella Shelton and Ashton Bell could have been utilized more – but you can't argue with the results. Almost every player on the Canadian bench saw ice time in the gold medal game, and the numbers bear out that player utilization was relatively balanced and shifts were short. Everyone pitched in for this win. It was a true team effort for the best team in the world.
Which is why it feels like a shame that, on the way to this historic and well-earned victory, they simply did not play against the best possible competition from their Team USA rivals. Supporters of the American squad could hardly be too upset at the 3-2 score line if the events that led to it were part of a well-executed plan designed to support and serve the talents of the selected American players, who went through centralization and COVID protocols in Beijing on top of many combined decades of hockey training in order to reach Olympic ice, some for the very first time.
But the commitment to playing the best possible hockey game was simply not there from Team USA. In the gold medal game, they simply played like shit. This was not the players' fault, and it's unlikely that we'll ever hear the unfiltered oral history of what went down in the American locker room during this Olympic tournament. But even a casual observer of their play throughout the tournament can conclude that something isn't right with this team. Closer examination shows that this is reflected in the player usage statistics. And, shockingly, in some on-the-record truths about what was going on with American players during the tournament.
Let's start with Alex Cavallini playing with a torn MCL, as reported by Laine Higgins of the Wall Street Journal.
Cavallini started 4 games and posted decent numbers, but didn't seem fully herself and gave up a several long-range goals during the tournament that were very uncharacteristic. One wonders why Team USA's management wanted Cavallini to play the bulk of her team's minutes while recovering from a severe injury when they had other, perfectly healthy goaltenders with successful international resumes available.
Let's add the fact that Team USA didn't bring any reserve players (commonly referred to as a taxi squad) to Beijing, as reported by Alex Azzi at NBC.
When Brianna Decker was injured just a few shifts into Team USA's opening game against Finland, she was soon determined to be out for the duration. They tried to bring over Britta Curl, who had been a late cut from the final Olympic roster, but she tested positive for COVID in Los Angeles and was unable to join the team. Considering the situation with COVID protocol in Beijing, and the fact that players had to isolate upon arrival and continually test negative to stay in the Olympic loop, not bringing a taxi squad was a bad idea in the first place. It looks even worse in retrospect considering the loss of Decker and inability to bring Curl over on short notice. Had any American players contracted COVID-19, the situation could have been a lot more dire.
Then again, maybe most people wouldn't have even noticed considering the absolutely bizarre bench management strategies undertaken by Team USA head coach Joel Johnson.
Comparing the player utilization statistics between Team USA and Team Canada rather starkly reveals, in a nutshell, why Canadian players had a lot of jump in their step and had the speed throughout 60 minutes to wear the Americans down. The Americans were simply exhausted. Guess which of these columns indicating total number of shifts and average shift length throughout the Olympic tournament belongs to Team USA and which belongs to Canada (it should be an easy guess):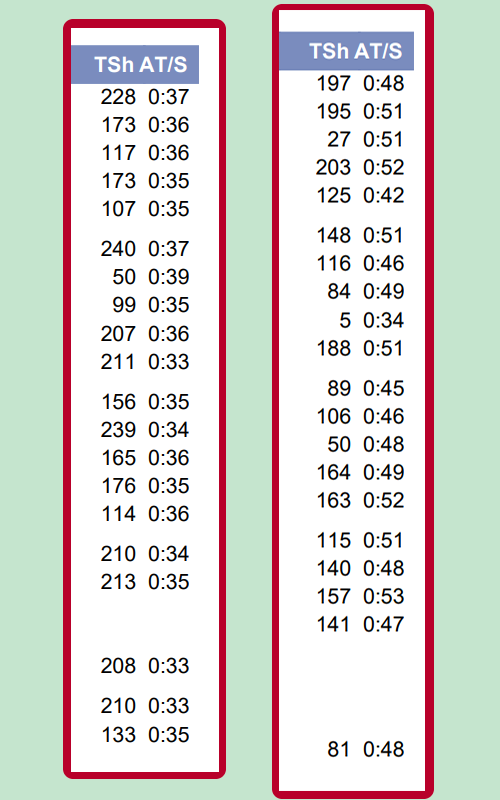 Here are the full tournament statistics for Team USA, and for Canada. No single Canadian player had an average shift length of more than 40 seconds. The lineup was, for the most part, relatively balanced in terms of ice time. Renata Fast led her team in average TOI, but she was at just 21:32 per game. Erin Ambrose led the way in the gold medal game itself, but with just 22:41.
By contrast, all American players (with the exception of Decker, who is the statistical anomaly with just 5 shifts before her injury) had average shift lengths well above 40 seconds. Certainly their bench was somewhat shorter, but Joel Johnson didn't do that shortened bench any favors by essentially relying on 2 forward lines and 4 defenders throughout much of the tournament for no apparent reason. Over time, that adds up. And it indicates a fundamental lack of trust in certain players to perform, which begs the question as to why they were included on the roster to begin with if Johnson didn't want to actually utilize them.
During the semifinal against Finland on February 14th, AJ Mleczko, color commentator for women's hockey games on NBC, said that Joel Johnson had cited media timeouts as a reason he could successfully limit the ice time of Jincy Dunne and Caroline Harvey, essentially using only 5 defenders regularly throughout the tournament, though putting the bulk of the workload on just four of them (Megan Keller, Savannah Harmon, Cayla Barnes, and Lee Stecklein). Megan Bozek herself only skated 88:18 throughout the tournament, compared to 176:22 for Keller. That's still more than twice as many minutes as Dunne skated. Keller led all players in the tournament in total ice time. Joel Johnson managed his bench like he had no depth – despite the fact that he very obviously did. Some of those minutes can be explained by the fact that Team USA simply played more games than most teams in the tournament. But so did Canada, and Renata Fast led the Canadians in total minutes with just 150:45. She's the only Canadian player in the top 30 for TOI.
The case of Harvey and Dunne's ice time is particularly curious. Both were essentially benched after the preliminary round robin loss to Canada on February 8th. Harvey took a bad cross-checking penalty in the first period, and didn't see the ice again until the gold medal game against Canada – missing key games against both the Czech Republic and Finland, but dressed and on the bench. Dunne saw the same fate, though not for any equally obvious reason. She was even on the ice for a goal by Alex Carpenter that put Team USA ahead in the second period.
Team USA would ultimately defeat both the Czech Republic and Finland in the playoffs, but it doesn't take a hockey expert to see how the long shifts and big minutes easily put the team in an impossible position against Canada, who were rolling four lines and splitting the workload much more evenly among their defenders. Being able to skate longer shifts and big minutes can be good in the short term if someone goes down with an injury or in a crucial game situation (trying to hold on to a lead, trying to get a tying goal) where a coach might be trying to obtain a matchup advantage. Using it as the default strategy when healthy players are available and in games where matchups are generally favorable is just outlandish. No amount of skill in the world can make up for physical exhaustion when you're playing against the best team in the world.
The game summary from the gold medal game reads like a bad joke.  While Harvey was permitted 2 shifts in the second period, Dunne saw none, and Keller skated nearly 30 minutes. At forward, Abbey Murphy, Kelly Pannek, and Grace Zumwinkle also saw seriously limited time on the ice. Zumwinkle alone added 2 shots on goal and on one shift forced the Canadians to ice the puck by maintaining possession. Her efforts in the offensive zone could have helped Team USA in a big way.
As Marisa Ingemi pointed out in her piece about Team USA's mismanagement of young talent at The Hockey News, Joel Johnson was unapologetic about his roster management choices:
"As a coach, you're always saying 'shoulda, coulda, woulda' in any situation," USA head coach Joel Johnson said after the gold medal game. "Line combinations and ice time are always something where if you win, nobody asks that question. When you don't win, everybody's got curious questions. I wouldn't have done it any differently."

Since the 2018 gold medal, USA lost Meghan Duggan, Kacey Bellamy, Gigi Marvin, and the Lamoureux twins. Only 13 players remained from that run, and it sure felt at times like they were the only players with any trust, despite an entirely different coaching staff.

Replacing those who retired was never going to be possible, but, with a pipeline of young talent, there was the opportunity to develop a new core.

Dunne and Harvey could have been a part of that core.

[...]

It wasn't just Dunne and Harvey, though those are the most glaring examples. Nine players played fewer than 11 minutes in the gold medal game, despite heavy workloads for veteran players.

[...]

"Every game presents different matchups. Every tournament presents different combinations," Johnson told reporters. "As we went through the tournament, some of the things we were trying to do led us to certain line combinations. Some people get extra ice. Some people didn't get any. That was just a part of how we felt our strengths and weaknesses played out best."
But he should have apologized. It was pretty obviously bad, and his explanation makes limited sense.
What's more, Johnson should be familiar with these players and have trust in them. Dunne, Murphy, and Zumwinkle all played under him at the U18 level and had breakout performances under his leadership. He also coached Murphy and Zumwinkle at the University of Minnesota, and should have familiarity with Dunne due to coaching against her in the WCHA. It may remain an enduring mystery as to why Johnson completely sidelined these highly skilled young players, but it should certainly call his coaching career with USA Hockey into question and prompt a deeper look at how USA Hockey is managing and developing their talent.
The 2017 boycott leading up to the IIHF Women's World Championship by American players demanded a youth development pipeline which has yet to materialize, which should raise concerns especially since the IIHF U18s have been cancelled for two straight years. Players like Zumwinkle, Dunne, Harvey, and Murphy are the next generation of talent for USA Hockey. But the younger players behind them have likely not been formally evaluated in a competitive situation in over two years. And if they watched these Olympics, which I'm sure they did, they got a very eye-opening look at the organization's current direction, which might give them second thoughts about answering the phone when someone from USA Hockey calls.
I'm not convinced that Team USA could have beaten this Canadian team, but it should have been a good hockey game. It was watched by 3.54 million people in the United States, becoming the second-most-watched hockey game in the US since 2019, behind only Game 5 of the 2021 Stanley Cup Final. At least 2 million people watched it in Canada, per Just Women's Sports. If you want to watch best-on-best hockey, Team USA and Team Canada in women's hockey is supposed to be it. Instead, you got best-on-exhausted-and-mismanaged. Add that to the bad discourse about whether women's hockey even belongs in the Olympics, and it feels like the Beijing tournament was a narrowly missed opportunity to show just how truly amazing this sport can be at its highest level.
Not that I think that makes Canada's gold medal victory any less sweet for them, because wow – what a stellar performance. We've already talked about Marie-Philip Poulin's two goals, which are the obvious headline. But how about Sarah Nurse setting a record for points in a single Olympic tournament and becoming the first Black woman to win Olympic gold in ice hockey? How about Sarah Fillier's breakout performance? How about Jocelyne Larocque blocking shots with her whole body in the dying minutes of the game? (Even if Team USA was kind of at their worst, they did still empty their tanks and made a serious effort to get the tying goal.) How about 13 points in the tournament by 24-year-old Claire Thompson? Pretty much every single player on Team Canada had a signature moment throughout the Olympic tournament – the kind of moment that would look amazing immortalized on a hockey card or in a highlight reel. That is something to cherish. Very few teams in international hockey ever rise to this level of pure skill with so much joy and excitement to go along with it.
We'll never know what could have been in 2022, and USA Hockey should have to answer for that in the coming months and years. But this Canadian team in 2022 was lightning in a bottle, probably one of the most dynamic and thrilling hockey rosters ever put together. There will be many more great Canadian hockey rosters, but this one is special. I hope that the next time around, the world can have its eyes on two teams in a gold medal game that are even half this special, regardless of which flags they fly.
(Photo: Olympic Broadcasting Services)