Amid an outbreak of COVID-19 cases affecting several of its teams and a wealth of uncertainty, the National Women's Hockey League announced the suspension of the 2021 season just one day before it was scheduled to host a pair of nationally-televised semifinal games.
The league held a roughly 30-minute press conference on Wednesday evening with commissioner Ty Tumminia; Buffalo Beauts head coach Pete Perram; NWHLPA executive director Anya Packer; Digit Murphy, president and head coach of the Toronto Six; and Six owner Johanna Neilson-Boynton.
So... what happened?
I feel like a broken record saying this, but the NWHL began its condensed season in Lake Placid in what was not a bubble. Players and staff had to test negative within 72 hours of departing, and were also tested upon arrival – but with no required quarantine period, there was never any guarantee that COVID wasn't being unknowingly brought in by one or multiple persons.
After teams' arrival, the next scheduled test was supposed to be a PCR test the following Monday, when a handful of games had already been played. The league then decided to increase their testing to what Tumminia called "pretty much daily" with PCR and rapid testing.
Over the course of the condensed season, we began to hear that several players were "unavailable" for games. The league provided no further explanation for this sudden change in status, which of course fueled speculation that this was COVID-related.
"The reason we chose to say 'unavailable' was mostly because of HIPAA policies and rules," Tumminia said. "That was a defined league policy going into it. I'm not allowed to tell you who has COVID. Also, the amount of numbers right now is also something that the league has taken a stance that we weren't going to talk about."
On January 28, the Metropolitan Riveters withdrew from the season "after several members of the organization tested positive for COVID-19." We now know that ten members of the Riveters tested positive, which commissioner Ty Tumminia stated in the press conference on February 3.
"We had a designated threshold of what that looked like, approved, going into the bubble and when we would make a decision – when a team would be out because of the COVID risk or the number of cases," Tumminia said. "There was no other option for them. They had to be removed."
Just a few days later, on February 1, the NWHL said they had "accepted the decision of the Connecticut Whale to forfeit their game scheduled for earlier tonight against Minnesota and to withdraw from the tournament." No explanation for the withdrawal was given by the league.
The Whale released a statement two days later, which said that they "prioritize our players' health and safety above all else. When given the choice of competing vs. ensuring the physical and mental well-being of our team, we chose the latter."
Tumminia says the league fully supports the Whale's decision as a team, acknowledging the risk. Individual players also had the option to opt-out, either before or during the season.
"We're in the middle of a pandemic, and they were under full knowledge coming into this bubble, like all sports leagues are experiencing," Tumminia said. "Unfortunately, we've now been trapped into what other sports leagues are experiencing as well, and this is no joke. We're right in the middle of it."
Digit Murphy, meanwhile, said her players "had no problem coming in" despite leaving Canada, where they were in lockdown:
"We felt 100 percent safe, and all we wanted to do was play the game... We would have died if we could play the game. We would have died if we could have played against Minnesota. Our kids just wanted to play hockey. They were safe, they were looked after. And we knew when we came in, it was huge – we were going from like 100 cases to 100 million cases. But we wanted to play, so we're here."
Her word choice when speaking about this was particularly noteworthy, given that we're in the middle of a pandemic that has claimed the lives of over 2.2 million people worldwide, according to the New York Times.
Around 9:30 PM Tuesday, the league began to get more test results in, which changed everything and forced NWHL leadership to think seriously about what was going to happen next.
"It was clear, from a league standpoint and conferring with ORDA, that we were not trending in the right direction," Tumminia said. "Our actual numbers, per se, were not alarming in comparison to the scope of other sports clubs or sports leagues. However, if you project a number that was going to happen, it just didn't make sense for us."
Matt Porter from the Boston Globe, who has been on site in Lake Placid, has now reported that six members of the Boston Pride have tested positive, including head coach Paul Mara. Porter also previously reported that the Whale had at least one positive test.
We do not know – and we may never know – if any members of the Minnesota Whitecaps, Toronto Six or Buffalo Beauts have tested positive, or if they might test positive at a later date after they leave Lake Placid.
How did this happen?
At first glance, the NWHL isn't exactly sure.
"We're doing an extensive amount of contact tracing," said Anya Packer. "We're investigating internally. I think right now, what we're trying to do is make sure our athletes are safe, and then go back to ensure that we've figured out where there might have been a chink in the armor."
"From a league standpoint, defining the origin and placing blame right now is not really our game," Tumminia added. "Yes, there is an amount of accountability that has to happen in order to make a bubble successful on a team level... a restrictive access environment cannot be successful unless we have all participants leading in the right direction."
With at least 16 positive cases across the league, and given the nature of COVID-19 and the lack of proper quarantine period, it will undoubtedly be challenging for the NWHL to pinpoint exactly how this happened. Of course, I'd be remiss to write this without addressing the fact that all of players have day jobs outside of hockey, which would have made a formal two-week quarantine period before games began in Lake Placid nearly impossible.
At the end of Wednesday's press conference, Tumminia described the so-called "restrictive access environment," saying that this refers to the fact that the athletes stayed in designated hotels, on designated floors.
"They're restricted in the sense that they went from their room, to the rink. The rink, to their room," she said.
This is demonstrably false, as players posted photos on social media over the course of the week and a half of them walking outside together, posing for photos outside Lake Placid storefronts and sharing what appeared to be hotel lobby space to work remotely.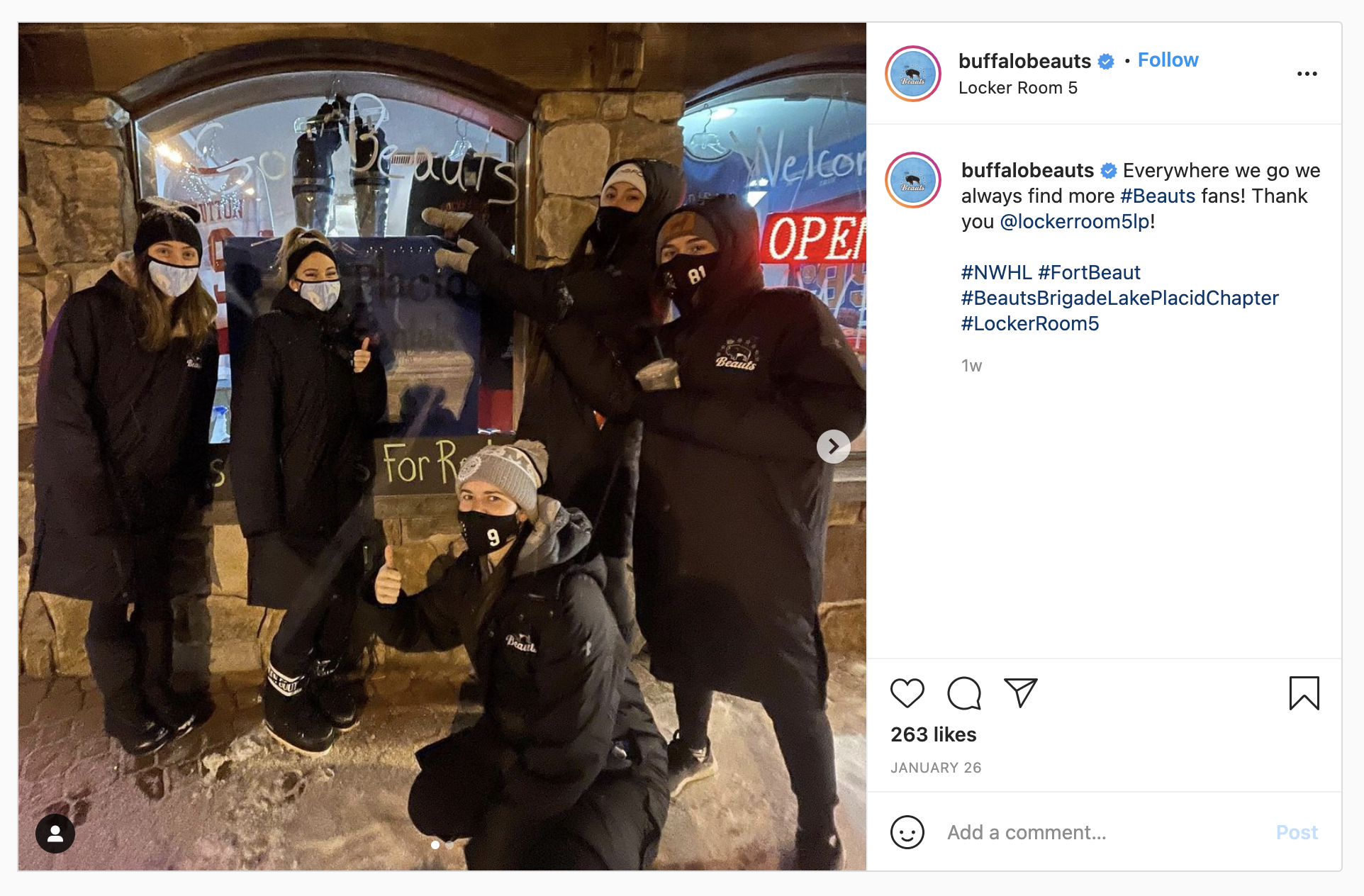 Tumminia said that safety has always been the league's priority, which was what eventually led them to suspend the season. Realistically, if safety was the top priority, the Lake Placid condensed season wouldn't have happened in the first place. But it's clear that at some point, the NWHL realized it couldn't continue.
"Instead of putting our athletes, our staff, as well as ORDA and their staff at risk, it was in our best interest to suspend," she said.
Despite the evidence that things fell apart, protocols may not have been followed, and a handful of personnel are now COVID-positive, Tumminia somehow spun the condensed season as a positive and seemed to pinpoint the most heartbreaking part of it all as the fact that the league and its athletes never made it to the national TV stage.
"I actually see it as a success," she said. "I was 12 hours away from history. I mean, I gotta tell you, I mean, it's really just frustrating and breaks my heart, but overall, I really truly believe that this is successful."
"We saw a lot of hard work and grit. I'm very proud of where we got to this point," she added. "The stuff that we've been able to do in such a short 12 days, it presented not only an incredible leadership challenge for myself and everybody else, but all the remarks and all the comments I'm getting, as soon as we made this announcement, was of heartbreak."
"At this moment today, we will not be raising the Cup tomorrow. And the fact that we didn't get these athletes on their deserved and due platform on NBC. That's the most heartbreaking part to me," she said.
Neilson Boynton echoed similar sentiments.
"We didn't have to even have a season, right?" she said. "We had a whole lot of people come together and say Let's do this, knowing the risk. We knew going in it was a gamble, we were in a really compressed season."
Both Tumminia and Neilson Boynton pointed out the strides the league has made over the last few months, from securing broadcast spots on NBCSN and sponsorships including Discover and Dick's Sporting Goods.
"They're the most incredible, impressive group of athletes and young women and there's so many stories here," Neilson Boynton said. "We've gotten elevated in a way that people really got to enjoy watching really good hockey, and there's just so many successes to it, so it's heartbreaking not to have the semifinals and finals tomorrow on NBC."
"There's so much about this, it's just like a launching pad for so much more," she added. "It's just a chapter in the journey and the story of women's professional hockey and getting where we want to get."
What happens next?
As of writing, there are still players, coaches, and other league representatives who remain at the play site. These people will have to test negative in order to leave Lake Placid.
"There's a lot of choreographing that needs to happen with individual teams, their staff, their leadership and their owners and then my office as well, in order to remove them safely," Tumminia said. "We're right in the middle of that right now."
If we're still somehow thinking about hockey, as of writing, the NWHL has only said that the 2021 season has been "suspended," not cancelled. Tumminia stressed that the league hopes to pick things back up at some point, but there's no clear definition of how that would logistically, safely happen.
"We will definitely try to define an ending to season six, and not let it be a cliffhanger," she said.
With that said, numerous league personnel said that there are things the league can learn from this, including a focus on advocating for its players and increasing the amount of support they get. Pete Perram elected to use a sports analogy to describe the situation:
"Every game, there's going to be mistakes made, we're gonna turn the puck over in the neutral zone. It's going to cause a goal, it's a mistake. Every opportunity build s to a better opportunity and a better result," Perram said.
"I expect that that's going to be the case in this with our experience here," he added. "We can look back at this game that we played as a team. We trusted the game plan she had, and it worked. Yeah, we turned the puck over a couple of times, but in the end, we got to where we wanted to go."
As for the league, with Tumminia at its helm, significant administrative and executive changes can be expected as the NWHL tries to continue to grow.
"It's no secret, I think I've been in the role now for, I don't know, ten seconds," she said. "There was a lot that I had to do coming out of this role for a major event on a network. Now that I've been involved and now actually meeting my staff for the first time... there will be an incredible amount of evaluation and assessment and change. Necessary change, I think."
Questions that remain
There are still so many unanswered questions surrounding this NWHL season.
The idea of returning to their homes is even more complex for members of the Toronto Six, who must cross an international border. Even if they have tested negative, there are rules in place at a federal level in Canada that could require players to enforce a self-funded mandatory quarantine.
As I said previously, we may never know how many teams, players or personnel actually contracted COVID-19 as a result of the season in Lake Placid.
For anyone who has tested positive, or who may in the future, it's unclear what support system the NWHL or its partners has in place moving forward, beyond Lake Placid. Given the nature of the virus, we also don't know what, if any, long-term, lasting effects it could have on these athletes and other personnel, which is perhaps the scariest part of what has happened here.
The league's choice to call the event a success, even under the auspices of providing a positive soundbite, is puzzling. Between the mass outbreak of COVID-19 at their play site, and their continued silence regarding the racist abuse of Saroya Tinker, a lot of things went wrong at Lake Placid. What the league does next will be under intense scrutiny, and they have a lot of work to do to ensure that their planning, communications, policies, and personnel are up to the challenge.
(Photo: Michelle Jay/NWHL)