A forward at Delta Hockey Academy, Katie Chan has quite literally loved hockey since before she can remember. She was born in Toronto, and her parents tell stories of a two-year-old Katie begging her dad to play with her on the backyard rink, inspired by the Maple Leafs games they'd watch on TV. By the time she started organised hockey at age four in British Columbia, she was already comfortable on her skates.
Fast forward five years, and Chan was making her debut on a national stage. During the 2011-12 season, Scotiabank ran a Jr. NHL Skills Competition for minor hockey players, with top regional competitors moving on to the finals, held during the NHL All-Star Weekend in Ottawa. Chan's dad found the promotion online and figured he'd sign her up for it; she recalls the try-out as a series of small obstacle courses on the ice. Nine-year-old Katie was just playing for fun, but her results earned her a trip to the national capital.
"I actually remember that experience pretty well," she says, though she didn't make much of it until she saw how she compared to her opponents and realized she had a real shot. "At that age I was like Okay, let's just do my thing and try my best and see where it goes, and turns out I won! I just had the mindset of having fun, and that led me to performing my best."
From there, Chan rose quickly through the ranks. By the time she was 14, she'd already made the BC provincial U18 team as a triple-underager. It's not surprising, then, that she needed only a few seasons under her belt to recognise that she wanted to pursue the sport seriously. It was when she made the decision to play competitive hockey rather than house league back in atom, Chan recalls, that she realised that she could go far with it.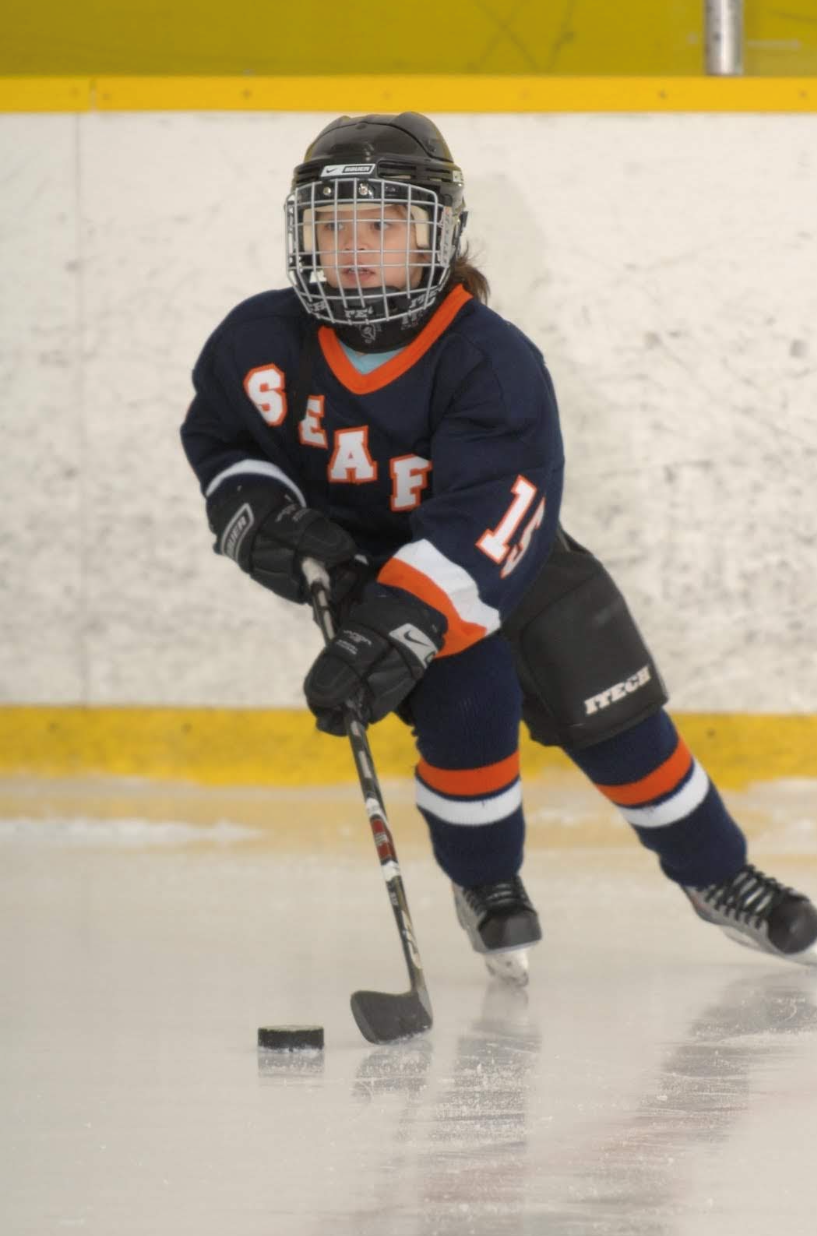 A quick skater who sees the ice exceptionally well and stickhandles with confidence, Chan has learned to analyse situations on the fly. While she's always been a strong playmaker, her coach, Mark Taylor, notes that she's put a lot of work into her shot and is now even more dangerous from any angle. "I don't think there's really a weakness to her game at all," Taylor says. At 5-foot-1, he adds, some may try to hold her height against her, but her speed, smarts, and strength on her skates more than compensate for any perceived disadvantage. Chan says she's faced the challenge head on and, as far as she's concerned, being the shortest player on the ice has only improved her game, having forced her to develop key skills from an early age.
"Being small, you have to be quick and fast and think the game really fast and be agile," Chan explains. "Having those as my strengths has really helped my hockey IQ because now I think the game faster ― to the point where I feel like I can slow the game down in some scenarios, where I think that I have the advantage."
After years on the provincial squad, making the U18 national team was a big goal of Chan's, and she cherished the opportunity last summer to participate in Hockey Canada's virtual camp and learn from senior players and program alumni. Despite the disappointment that accompanied the cancellation of the U18 Women's World Championship, Chan ― who celebrated her 18th birthday on what would've been the opening day of the tournament ― has focused on reclaiming her journey.
"I was absolutely devastated, and really frustrated that the guys' tournament still went ahead when ours got cancelled," she said. "It took me a while to get past my frustration. But as soon as I did, I had to really take a step back and understand that not everybody's path is the same. I'm a strong believer that everything happens for a reason, so I just have to wait for everything to unfold and make my story my own."
Though this season has looked different at Delta, she's been able to continue regular training, and even got to play a handful of games in the fall. Chan was named captain of the team this year, and Taylor says that her desire to develop her leadership skills in whatever way possible has been obvious. Having often been the youngest player on teams growing up, she says she's channeling her experiences to build an inclusive team culture.
"I really was privileged to be able to play alongside older captains who influenced me tremendously, like Kate Reilly and Courtney Vorster, who really took me under their wing and helped me and modeled to me what a good captain and leader looks like," she explains. "On other teams, I didn't have that experience. I just was the younger player and was kind of to myself, and I had to find my way to integrate onto the team. And it was really hard at times. So to go through that adversity as a younger player, as an older player now I understand where younger players are coming from and the adversities and difficulty with trying to find your place on the team.
"Personally I think to myself, Is there any way that I can make it easier for that player?," she continues. "Because I've been through that myself and I really don't want them to have to go through what I had to go through in the past. So I try to go out of my way and cultivate a team environment where everybody's welcome and integrated regardless of their age, race, appearance, et cetera."
That she is constantly striving to develop herself as both a player and a person is a major driver of Chan's success. Next year she'll be enrolling at Colgate University, which, as a liberal arts college, she considers to be a great fit for both her academic and athletic goals. Chan has a strong understanding of what she needs to perform at her best, and feels that the Raiders program offers an environment in which she can thrive.
"They were the only school that really reinforced playing free and fast ― that's actually their motto," she explains. "For me, I've played with coaches who have made me robotic and rely solely on systems or heavily on systems, and Colgate was the complete opposite of that. I find that when I'm playing free, that's when I'm at my best because then I'm not only having the most fun, but I see the game differently and I'm more relaxed."
She has big goals for her freshman season, hoping to crack the top-6 and play her way into contention for conference awards, such as ECAC all-star team and rookie of the year honours. In the future, she hopes to earn a place on the senior women's national team.
"I don't see any reason why she wouldn't be able to take her skill set and take it to that next level," Taylor says. "I have a lot of belief in her and I think you will see her wearing a Team Canada jersey down the road. I've no doubt that'll be something that we'll all see, which will be kind of cool."
In a season where many of the sport's measuring sticks ― games, training camps, and tournaments ― have been rare, Chan is determined to take the extra practice time and use it to become even better. Whenever players are offered optional sessions, Taylor notes, Chan is the first to sign up. She spent her off-season focused on strength and conditioning, and says she's hit different peaks in all areas of her training. Chan fully intends to emerge from this strange season as the strongest possible version of herself.
"This year I have really wanted to push myself to new limits and understand how good I can actually be," she explains. "I want to see those results and just push myself to a whole other level."
(Photos courtesy of Katie Chan)