When she narrowly missed out on making Team Canada for the 2020 U18 Women's World Championship last winter, Dominique Cormier let herself be sad for a week. Then, with support from teammates who'd had similar experiences, she decided to channel it as motivation.
"And I was like, Oh, there's always next year!," she recalls. "But I guess..."
As one of 59 players invited to Hockey Canada's National Women's Under-18 Team Summer Camp and one of just four returnees, 17-year-old Dominique figured she had a solid chance at spending her holidays preparing for the 2021 U18 Women's World Championship, scheduled to take place in Sweden from January 5-12. Instead, with the tournament cancelled, she's been at home in Sainte-Marie-de-Kent, New Brunswick, where she got her start in the sport.
Dominique first took the ice at age four as a ringette player ― "just because hockey only started at five," her dad, Mario, explains with a laugh. That brief stint was fun, as she remembers it, but "it was always just about hockey," she says. "My dad played hockey, my brother played hockey, so I wanted to do like them."
Dominique and her older brother Lukas, a third-round draft pick of the Las Vegas Golden Knights, are just a year and a half apart in age, and played together every other season through to peewee AAA. As kids they practiced in the basement and played plenty of roller hockey, and even spent one year on the same D-pairing back in atom. Her first hockey memories are of playing with Lukas on a timbits team, and he's also why she got her start at defence: when her dad asked her to choose a position, she replied "Well, where's Lukas playing?"
From there, she grew to love the role and hasn't looked back. "I played forward for a few tournaments, at centre," she notes. "But I just always liked defence because you can see the play better."
A smooth skater who's also strong along the boards, Dominique has great vision and solid puck skills. She's confident in her own zone but can jump into the offence with ease, and, at 5-foot-8, she uses her size well to limit her opponents' chances. For Mario, it was obvious from the very beginning that Dominique had something special.
"As soon as she started we thought that if she loves it and she keeps working hard, she'll probably get a scholarship somewhere," he says. "We always knew that if they put the work into it and they kept liking it, that they would have a chance."
Mario coached many of Dominique's teams before she moved to attend Stanstead College, and pushed her to develop that potential ― a dynamic that she acknowledges had its pros and cons.
"Well, it can be good and bad at the same time," she says with a laugh. "He was a good coach, so I obviously got a lot better with him coaching me. But he was harder on me than other coaches were. I guess it's also better for me, it's just it was more annoying at the time. But it helped me a lot."
Beyond hockey, Dominique is a well-rounded athlete who sought balance from a young age. Whereas Mario jokes that Lukas would've played hockey all year had they let him, Dominique enjoyed her season and two extra months of spring hockey, but also relished the summertime away from the rink and the opportunity to focus on other sports. She competed in track and field, soccer, and ultimate frisbee, to name a few, and played badminton at the Acadian Games.
It was during the 2010 Olympics that Dominique first remembers watching the national women's team, though she admits that at that age, she was mostly just interested in the goals. By Sochi 2014, she was fully engrossed in the games and knew she wanted to be there someday, too. She was recruited to Stanstead by then-coach Sarah Vaillancourt three years ago, and it was there that she first began to see a path towards realising her dreams.
"At a young age, I was always watching the Olympics and saying, Oh, wow, I want to do that," she explains. "But I was never really thinking long-term about it. I always said I wanted to go to the Olympics, but I never had a plan on how to get there because I didn't really know the pathway. But when I went to Stanstead, that's when I saw there's NCAA, and there's good hockey, and so I saw more of a future there."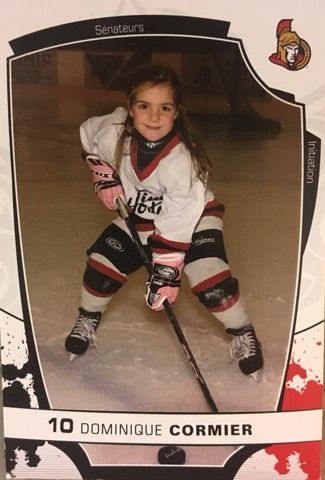 Last year at age 15, Dominique made her first foray into the Hockey Canada program, earning a roster spot for the three-game summer series against Team USA. To be chosen for the summer series as the youngest player at the selection camp was impressive, but not making the final Worlds squad was initially a heavy blow.
"It brought down my confidence for sure at first," she admits. "But after of week of thinking about it and being sad, I just decided, Okay, it's just more motivation. And I had the chance to talk to a few of my teammates who had the same experiences, so that was really helpful. And it was just more motivation to make it next year."
When she got the invite to Hockey Canada's virtual camp this past summer, it felt like things were finally moving forward toward that goal after a spring full of uncertainty. "Every call was so exciting," she says. "Just talking about hockey and just knowing that you're there with the best players in Canada, it's always fun."
Then, on September 17, 2020, the news came: the IIHF announced the cancellation of the U18 Women's World Championship, along with several lower-division tournaments, while confirming that the 2021 men's World Juniors would take place in a "competition bubble". Stanstead head coach Bernie Pimm broke the news to Dominique and teammate Laurence Frenette, who cried when they found out. They processed the situation together as their disappointment turned into frustration.
"I was really mad," says Dominique of her reaction. "And I was maybe more upset than mad at first, but now it's still like, well, how can the guys play?" She points out that the WJC tournament being held in Alberta despite soaring COVID-19 case rates only adds insult to injury. "It's just upsetting that they try so hard for the guys and for the girls, it's just like..."
The Cormier family knows this firsthand: While Dominique's opportunity was taken away from her, her brother attended the U20 selection camp and, as an underaged defenceman, was among Team Canada's very last cuts.
"It's tough, but for Lukas it's different," Mario notes. "He's still got a chance next year and the World Juniors, they did it through the pandemic, so they're going to do it again next year, obviously."
The impact on the U18 girls is further amplified by the fact that there are no other youth IIHF tournaments on the women's side. Dominique's next chance to play at a World Championship will be with the senior team. Even within the Hockey Canada program, the next level is under-22, and because that encompasses experienced collegiate players, only a handful of athletes typically move directly from the U18 to U22 program in consecutive years. She's aiming to earn more opportunities in the national program, while maintaining perspective that those may not come as soon as she'd hoped. She's also working to reorient herself with so many of her objectives suddenly off the table.
"I'm still trying to figure that out right now," she explains. "Because it's really hard to not have any games to look forward to and to be motivated for. So right now my goals, I'm mostly just looking to have a good year at Stanstead and have ice time. That's the only thing for now. And I always know you have to keep working hard, but there's nothing really coming in the next year except Princeton, so that's my biggest focus now. And U22, that'll come in the next few years."
At the club level, this season has been considerably different from most. Stanstead has maintained its daily practice schedule, but no games have yet been possible and there are none on the immediate horizon. Though they've tried to keep things competitive with split-squad contests and a three-on-three tournament, the lack of matches has made it difficult to measure short-term goals.
Next fall, she's looking forward to beginning at Princeton, where coach Cara Morey's been building an exciting young team. If there's any small upside to the many disruptions the pandemic has brought, the Ivy League's cancelled season likely means that Dominique and other members of her incoming class will get an extra year to play alongside some of the Tigers' more established stars. As a freshman, her goals are simple: "Having a good year ― proving that I belong on the team and helping the team win."
Until then, she's taking advantage of whatever ice time's on offer, and there's hope that some games may be possible towards the end of the school year. If this season has laid bare the inequality that persists in international women's hockey, Dominique hopes the response will lead to change.
"It's life, I guess…" she concedes. "I think it'll get better though, with everyone saying stuff and everyone thinking the same way how it's not fair."
(All photos courtesy of Mario Cormier)