Nearly 450 current and former University of Wisconsin athletes have signed a letter that was delivered to Athletic Director Barry Alvarez and the school's 23-member Athletic Board. The letter pushes for action and accountability when it comes to fighting racism and supporting their Black athletes and athletes of color.
The letter urges the athletic department to create a Diversity and Inclusion Report each year so they can be held accountable on hiring decisions and minority fan engagement, among other things. It also asks for the Athletic Department to actively work with student athlete organizations like SAAC (Student Athlete Advisory Committee), SAESO (Student Athletes Equally Supporting Others), and MSAU (Minority Student Athlete Union), as well as the Multicultural Student Center and the university's Department of African-American Studies to actively combat racism and white privilege on campus and in the athletic department. The group asks the university to review their connections to the Madison Police Department and review hiring practices with an eye on how few people of color are on the Athletic Department staff, especially at the senior administration level.
"From my point of view, being a black woman, especially on a predominantly white campus, [it felt like] a lot of the time they talk the talk, but they never really walk the walk. [They just] say things to placate the situation. We want to actually hold them accountable," said Banke Oginni, one of the organizers of the letter and a former UW track athlete. "You never really saw administration holding themselves to the words 'we'll do better.' You never really see administration or coaching staff really take that to heart... I want administration to just do better and say what they mean and mean what they say. You can denounce racism all you want, but what are you doing about it?"
Wisconsin's ongoing problem with racism has been well-documented in recent years. In 2016, the University and its athletic department were criticized by many of their own Black student-athletes for their handling of a Halloween costume worn to a football game that featured a noose around then-President Obama's neck. This year's Homecoming video was almost entirely made up of white students. Racist, sexist, and homophobic graffiti is a persistent issue on campus.
Each incident has, in theory, been addressed in some form, by things like town hall meetings and affirmations of the Regent's "Measures to Alleviate Racism." The athletic department also created a new position for a Director of Diversity and Inclusion. But the events keep happening. As a whole, the University and the department have been reactionary in their handling of these issues, as opposed to proactively addressing the underlying, systemic issues that have made their campus a place where people continue to feel comfortable being racist.
"There's a difference between [being] reactionary and [creating] an approach that would really create justice or create equity in our organization," said Hanna Barton, the movement's other organizer and Oginni's former track teammate who is still at UW, pursuing a Ph.D in Human Factors in Healthcare.
On Tuesday, Barton attended a webinar with Reverend Dr. Alex Gee called "Lean Into Allyship." Gee is president and founder of Nehemiah Center for Urban Leadership and Development, a Madison non-profit committed to "engaging the greater Madison community to empower African American individuals, families, and communities to bring about hope, transformation, and justice."
According to Barton, Gee, who publicly admonished and then worked with the University in the wake of the 2016 noose incident, said in the webinar that what finally made the university call him and address the event was that enough white alumni had spoken up and contacted the Chancellor.
Barton said the webinar got her thinking.
"Who are the people that I could talk to that would listen to me? The next day I texted [Oginni] and asked: What do you think we could make happen in the athletic department that would go beyond just acknowledging that there's something going on, but to take ownership and address the ways that we're complicit in the racism that exists [here]?"
Oginni told her to write a letter, and then the two started using social media – primarily Twitter and Instagram – to reach out to current and former Wisconsin student-athletes to help bolster their position and make the impact stronger.
Their movement started on Sunday with those involved posting graphics to social media that said "One Team" and "Forever Forward." The graphics were made by Mariah Watts, a former UW softball player who overlaid the white letters in the graphics with the names of victims of police violence.
On Monday at noon, the group sent their letter to Alvarez and the Athletic Board and opened up the call to action to anyone who wants to sign it via a petition on Change.org.
They wanted the initial contact to come directly from student-athletes. The University had used their images and likenesses to help brand and promote the school's athletics for years, and even as alumni, former players are used to prop up and strengthen the name recognition of the institution.
Though Black students make up about 2% of the university's student population, nearly half of Wisconsin's student-athletes are black. While the university has taken advantage of the athletic ability and prowess of their Black student-athletes, those athletes feel that they have not been supported as individual Black students on campus. That's why Barton and Oginni felt it was important that this letter came from within the department.
"[This letter is from] your athletes, from Olympians to the folks who've walked on, in every single sport. These people are your people," Barton said.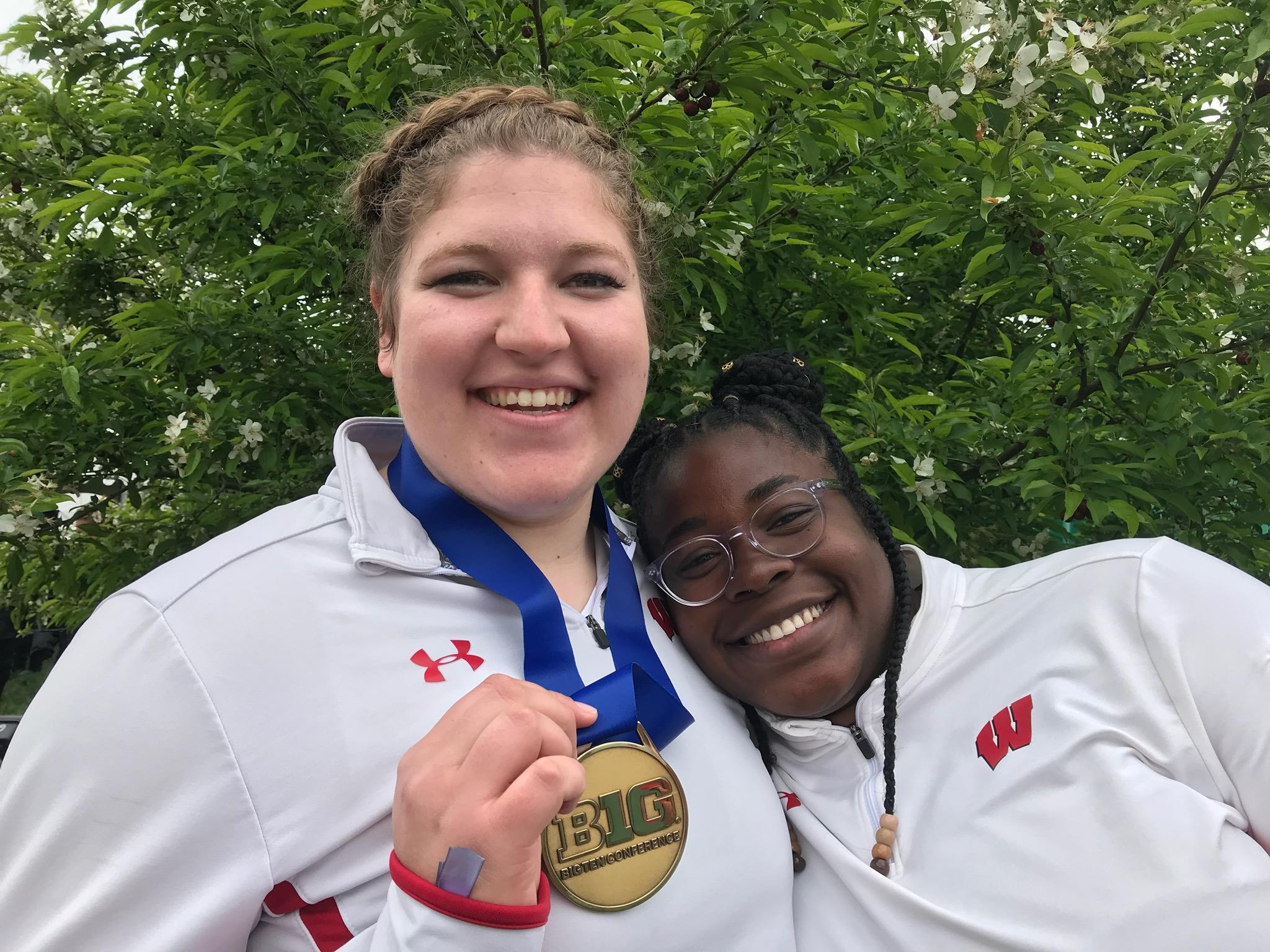 There are signees from every varsity sport at Wisconsin, including members of the Spirit Squad.
For Oginni, it was important to make sure she was representing the experience that she knew best. The student-athlete college experience is completely different from that of a more traditional student. She only wanted to speak for those whose experiences she'd shared.
Speaking up about systemic issues and demanding change at any institution might put current student-athletes in a precarious position. Though there are some current students who signed the original letter delivered to Alvarez and the Athletic Board, the signatories are primarily alumni who graduated from the university in the past 20 years.
There's an adage among athletes – they often talk about leaving a sport (or team, or program) better than they found it. It usually refers to graduating seniors or retiring professionals. In this case, alumni who used to lead on the field are using whatever clout they might have to ensure the University of Wisconsin and its athletics programs can be better.
"If I can fight this now and fight alongside [Oginni] – we probably won't face a lot of repercussions in that environment. If [this] empowers the student-athletes who are there and actually makes a lasting change, I'm willing to do it," Barton said.
Ultimately, according to Oginni, it's about asking the Athletic Department to do the work. "[I want] people to look at Wisconsin and say: that's a solid program; that's the program that I want to be behind. The Motion W is what I want to wear on my chest, because I know what they say, they will do," she said. "Do the work. Sit down and get to the root of it. All the pride and glory that comes with being a Badger is amazing, but besides the medals and accolades, people want substance. If they do the work, it will strengthen the reputation of Wisconsin."
Images courtesy of Hanna Barton.
---
You can read the original letter, athletic director Barry Alvarez's response, and the student-athletes' follow-up letter, on DocumentCloud.