High calibre hockey may have been the only real certainty heading into the Dream Gap Tour's debut weekend. Many weren't sure what to expect from an early season tournament held at a community arena outside of Toronto, but any doubts quickly dissipated when fans entered the rink on Saturday to full stands and a merch table that sold out of most items before the afternoon was up. All but the final game of the showcase ― incidentally between the two Day 1 winners ― were decided by a single goal, and the crowd got a taste of both tight goaltending battles and high-flying offence.
Day 1 saw Team Jenner defeat Team Johnston, 4-3, and Team Poulin edge Team Knox by a score of 2-1. Team Johnston nabbed a 6-5 shootout win over Team Knox to start Day 2, and Team Poulin finished things off with a 5-1 decision over Team Jenner.
The Unifor Showcase took place weeks earlier than seasons have typically started, and most teams had only a couple of practices under their belts. Many players got their fresh gear upon arrival ― Nicole Kosta, who scored the first goal of the series, quipped that she was just glad her gloves weren't too stiff to get a decent shot off. Lines rotated regularly to allow all skaters a good amount of time on ice, with their performance data collected for analytics. Program managers for both Hockey Canada and USA Hockey were in attendance. And while the tournament was less about winning a title than putting on a strong showing, it featured fast-paced, physical hockey as familiar rivalries quickly took hold.
With the level of play never in doubt, it was the reception of hundreds of fans showing up to support a mission they believe in that resonated most heavily.
"I think, going into today, I underestimated how special it was going to be, being on that ice," admitted Brianne Jenner. "You felt the crowd. I think the cheers that we heard were for something bigger than just a hockey game."
The hockey itself was reminiscent of the CWHL, with similar rosters and no shortage of history between them. Off the ice, though, it was the PWHPA's message that took centre stage.
Beyond the relief of finally seeing the summer's efforts come to fruition, many athletes pointed to the impact of playing for an audience that is there to enjoy the games, of course, but which also explicitly shares in the goals and values the PWHPA is fighting for.
"We knew when we started this that regardless of what was going to happen, we were really proud of the stance that we were making and the steps we were trying to push for, and the beliefs we had in women's hockey," explained Laura Stacey. "Seeing the fans out there and seeing the support that we got from the kids and the families, it definitely pushes us to want more. That's why we started this in the first place. It validates it in a sense, of saying that what we did and what we decided to do is right, and there's a lot of people who support us along the way."
The crowd was a solid mix of adults, families, and minor hockey teams, with a Budweiser-sponsored lounge catering to the grown-ups. Some minor and beer league players wandered in after their games, drawn by the commotion and the branded signage. Many others have been coming to women's hockey games for years, making the showcase a reunion of sorts. Still, the atmosphere this time felt different, with something bigger than sports on the line. Even little kids in the stands made it clear that they don't just want to be like their heroes someday, they want to join them in demanding better now.
One of those fans is Adrianna Milani, who plays right wing for the Atom AAA Toronto Marlboros in the GTHL. She showed up to Sunday's match fresh off a practice of her own, and brought a sign reading "Thank you 4 standing up for me." Asked what her goals are in the sport, she said she wants to play for the Olympic team. "And go pro," she tossed off matter-of-factly.
Adrianna's mom, Randi, played defence for the Brampton Thunder as a teenager, in the inaugural season of the original NWHL. She retired after a college career at the University of New Hampshire with little in the way of viable professional options, but her daughter fully expects that there will be a genuinely professional league ready and waiting once she's old enough. In a nutshell, that's what the PWHPA is offering: for kids like Adrianna to imagine a realistic future that's bigger than anything they've ever seen, where going pro is just as important as going to the Olympics.
A young girl who showed up to games last year with a sign saying she wished to play in the CWHL became a fixture of the showcase, this time with a sign asking when she could dream of making a living playing hockey. It's an exponentially bigger question, and one that hammers home a key message of the tour ― that on some level, these kids had already limited their aspirations and settled for less than they deserve, without even realizing they were doing it.
"That's why we created this," offered Stacey. "Everybody came together and said enough's enough. There's so many little girls out there, as we see, that want what we want and want more."
Emma, a goalie for the Clarington Flames Major Atom squad, made the trek across the GTA to attend the showcase in Etobicoke. She got to meet two of her idols in Emerance Maschmeyer and Geneviève Lacasse, and absolutely lit up when Lacasse handed over her game-used stick.
In many ways, that image is no different from any other women's hockey game. Emma was a Markham Thunder fan before the CWHL folded (she lists Liz Knox as her other favourite player), and she's interacted with her heroes before. Anyone who's attended a match in the past has surely seen someone's day made by a picture, an autograph, or a souvenir. But the PWHPA's message has hit home for these young girls, who are watching a tour designed to demand better for them all.
"It's not even just women's hockey ― it's not hockey," said Maschmeyer. "It's these kids get to see us fighting for something bigger than us. I hope those little girls and little boys will be able to speak out when they really feel something's wrong or something should change, not be afraid to voice what they actually truly believe in, and take a stance when needed. I think that you can bring that skill into any facet of life. Standing up for what's right, it doesn't just end at the hockey rink."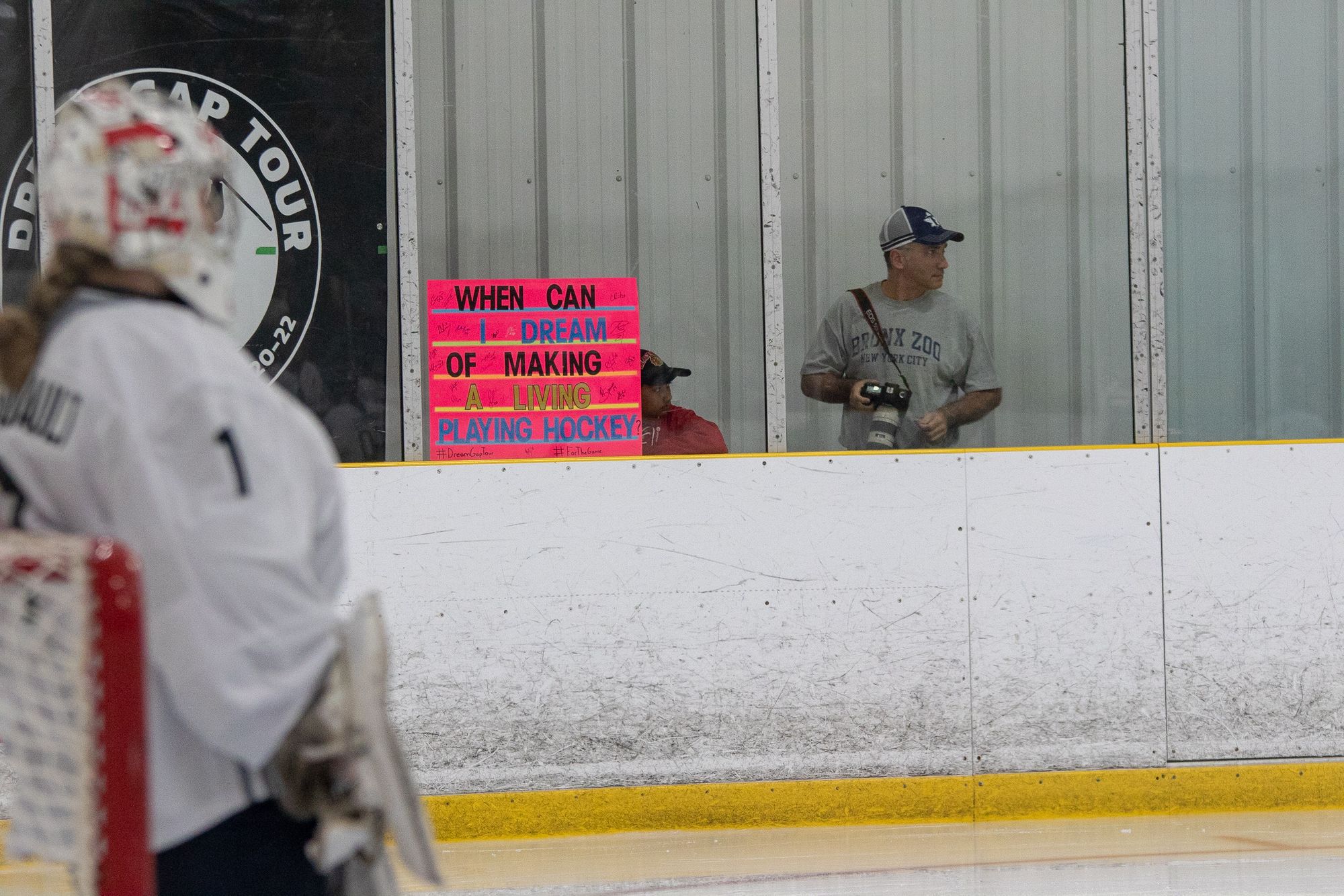 ---
(Header photo: Anne-Marie Pellerin)