(Photo: Buffalo Beauts / Twitter)
It's been a busy week in the NWHL, with 14 player signings since my last notebook. The Buffalo Beauts have now filled 21 of their roster spots, while Connecticut has the most openings remaining, having signed only 10 players to date.
Here is an updated look at each team's roster: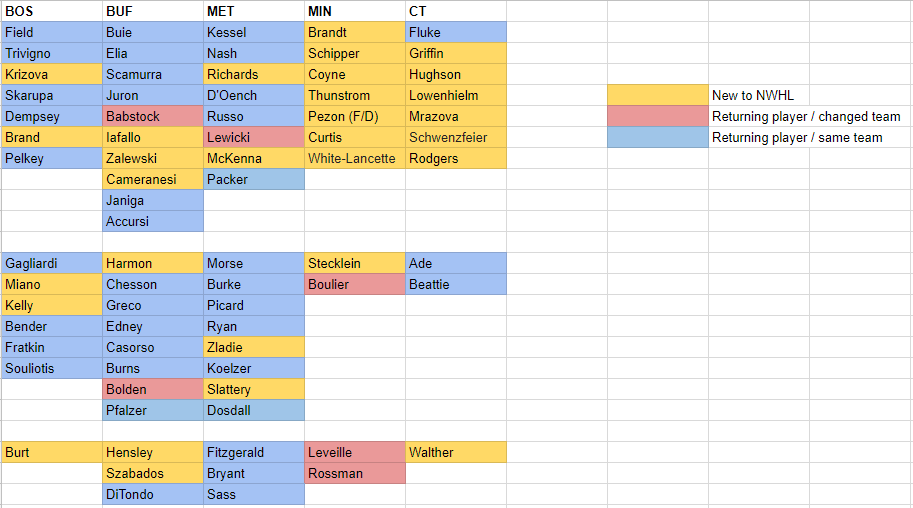 Boston Pride
The Boston Pride have re-signed Amanda Pelkey, Mallory Souliotis, and Kaliya Johnson, and added McKenna Brand, ahead of the 2018-19 season.
Pelkey is back in Boston after winning gold as part of the USWNT at the Olympics. This will be her third season in the NWHL, all with Boston. She was a member of the inaugural Isobel Cup championship team and has registered 17 points in her NWHL career to date.
"We have a great group this year that I believe will build towards a successful season in the NWHL," Pelkey said. "Boston has been my second home for a few years and I'm grateful to have the opportunity to play here again this year."
Souliotis, a defender, is preparing for her first full NWHL season. She appeared in two games with Boston last year after finishing her collegiate career at Yale.
Johnson also bolsters the Pride's blueline in what will be her second season with Boston and third in the NWHL. She has appeared in 30 NWHL games.
Brand was drafted by the Riveters in 2017, but elected to sign with the Pride ahead of her rookie pro season. The forward recently finished her collegiate career at Northeastern.
Buffalo Beauts
The Buffalo Beauts continued to bolster their blueline, re-signing defender -- and former team captain -- Emily Pfalzer and adding Blake Bolden.
Pfalzer returns home to Buffalo after winning gold with the USWNT. Like the aforementioned Pelkey, this will be Pfalzer's third NWHL season. She leads the Beauts in all-time power play assists and has 19 points in 32 games.
Bolden has returned to North America after spending last season with HC Lugano in Switzerland. She previously spent two seasons in the NWHL (2015-17) with Boston.
Connecticut Whale
The Connecticut Whale have added forward Sarah Schwenzfeier, who previously played four seasons at Norwich University. Schwenzfeier has been praised for her two-way play and consistency.
"I wanted to join the NWHL to continue to play the sport that has allowed me so many opportunities in life, and to hopefully inspire young girls to follow their dreams," she said.
The Whale also signed forward Nina Rodgers, who joins the team following a split collegiate career between the University of Minnesota and Boston University.
Whale head coach Ryan Equale spoke highly of Rodgers:
"Nina is an excellent player who will have the opportunity to play a major role on our team this season and for years to come. We're very proud to have someone of her talent and character join the Connecticut Whale organization."
Finally, the Whale re-signed defender Cydney Roesler, who will suit up for her third NWHL season this fall. Roesler will also be an assistant coach for the team.
"Coaching is something I'm passionate about, and to have the opportunity to do it at the professional level is an honor and really exciting," Roesler said. "The league is going to be so strong this season. I feel very fortunate to be with the Whale and the NWHL again to help continue to grow this game."
In other Connecticut news, Anya Battaglino has announced her retirement.
Metropolitan Riveters
The Riveters are bringing the band back together, re-signing Kiira Dosdall and Madison Packer.
Dosdall has signed on her fourth season with the Riveters as the team looks to defend its Isobel Cup championship.
Over her first three seasons, Dosdall has put up 22 points, including 19 assists, in 51 regular season games.
Packer led the league in goals last season and was a finalist for MVP as she helped lead her team to the championship victory. Like Dosdall, she will also be preparing for her fourth NWHL season.
"I have faith in our team, and think that we have another great group prepared to make a run at the Cup, but we have a long way to go before that is on the vision board," Packer said.
"Every season is a fresh slate, and obviously there have been a lot of big signings in the off-season in a lot of places, including for us, so it should be an entertaining season," she added. "If we stick to the culture and team dynamic that has been at the core of the organization from day one, we will have another successful season and control our own fate down the stretch."
Minnesota Whitecaps
The Minnesota Whitecaps have added their second goaltender: Sydney Rossman, who previously played with the Connecticut Whale in the NWHL.
Rossman appeared in all 16 regular season games for the Whale, sporting a 3.14 GAA and .885 save percentage. She also played in the league's All-Star Game and now heads home to Minnesota.
"It means so much to be able to move home and play in front of my family and friends as a member of the Minnesota Whitecaps in their first NWHL season," she said. "I am so humbled to be a part of the Whitecaps and the program they've built for many years. I'm especially excited to see all the young players from Minnesota and help establish a team for them to play on in the future."
Rossman's signing in Minnesota is not completely unexpected; she had posted several times on social media regarding moving to Minnesota and about how impressive the Whitecaps' rink is.
The Whitecaps also signed Brooke White-Lancette, who has played with the organization since their inaugural season in 2004.
"I'm excited to join my teammates in this extraordinary accomplishment and honor to represent the Minnesota Whitecaps in our inaugural season with the NWHL," she said. "I've always aimed to demonstrate through a healthy lifestyle, hard work and passion for the game that anything is possible. We look forward to sparking a new energy in Minnesota for women's hockey, while making a positive impact in our communities."
Finally, Minnesota also added forward Jonna Curtis, who played for the University of New Hampshire from 2013-17. A Minnesota native, she previously played for the Minnesota Junior Whitecaps U-19 team.
Stay tuned for more NWHL news as the offseason draws to a close!