With six schools atop the strength of schedule rankings for 2017, goaltending in the WCHA may be more difficult than in any other conference in the country. Four of the seven forwards named to the Patty Kazmaier top-ten list in 2017 were from the WCHA.
Wisconsin's Ann-Renée Desbiens, Minnesota-Duluth's Maddie Rooney, and Minnesota's Sidney Peter backstop three of the top five teams in the country.
Desbiens is a senior, Peters is a redshirt junior, and Rooney is just a sophomore. All three goalies are at different points in their careers and came to their starting roles in different ways. Rooney came to UMD as a freshman and competed with two seniors for playing time before getting the starting position this season. Peters went to Minnesota from a hockey academy and expected to start playing immediately. Instead, she red-shirted her freshman year and then spent two years as a backup to Amanda Leveille. Desbiens was brought in at Wisconsin because the Badgers thought Alex Rigsby would miss the season to be in camp with Team USA in preparation for the Sochi Olympics. While Rigsby wasn't invited, Desbiens got her opportunity that first year when Rigsby suffered an injury.
Peters has another year of college eligibility before she needs to make any major decisions. Rooney has two years of a college career ahead of her and was named to the Team USA women's world championship roster. Desbiens has spent time with Team Canada for past world championships and still has her sights set on playing for her home country in Pyeongchang.
It can be intimidating, but Desbiens believes that having such high-level talent on her own team helps prepare her to face the talent on other conference teams. She feels more prepared for the caliber of player she'll face in global events when the women she practices with every day are already world-class.
All that practice has paid off, as Desbiens is the NCAA leader in more categories than you can imagine. She's obliterated shutout records, set and then re-set season records for goals against average and save percentage, and generally set a new standard for what it means to be a great goalie in the NCAA.
"In a game, you might receive around 35 shots, but in practice you see hundreds and hundreds, so it's nice to be teammates with those quality players that force you to be better every day," said Desbiens.
Not only do they help the goalies improve, but they also give them the confidence they need to be able to face some of the best teams in the country, week-in and week-out.
"Getting to practice with these girls every day is a fantastic opportunity for me to prepare for the teams I'm going to see on the weekend because I know that if I can stop my teammates then I know I'm going to be in good shape against other teams," said Peters.
Though there are definite perks to being on such a talented team, Desbiens said she and her defense had to find a balance in which she earned their trust and they learned to not try to do too much. It's a balancing act with players that all came from situations where they were the best on their team and sometimes had to be the hero. It's a symbiotic relationship -- Desbiens sees less shots and less contact when she's got a strong defense in front of her and the defense is more free to make plays, push the puck or the zone, and even get involved on offense when they believe in their goalie.
---
The difficulties goalies face are far-reaching: There's the obvious physical demands of the job and the dangers of pucks flying at your head. Then there are all the mental struggles that come with being the final line of defense and feeling like the whole team's success or failure rides on your shoulders.
Being a goalie means limiting your opportunities. Barring injury, only one goalie takes the ice for a team every game. A team, at most, carries three goalies. Choosing to become a goalie at a young age means taking on a phenomenal amount of responsibility while also ensuring your path is more difficult.
If all of that isn't enough to scare you off, Peters reminds us:
"Goaltending is hard. You're an island, whether you want to be or not. You can't hide. A lot of time you get more credit than you deserve, but you also get more criticism than you deserve. Everyone is going to critique you every game. You're never going to get a chance to fly under the radar," she said.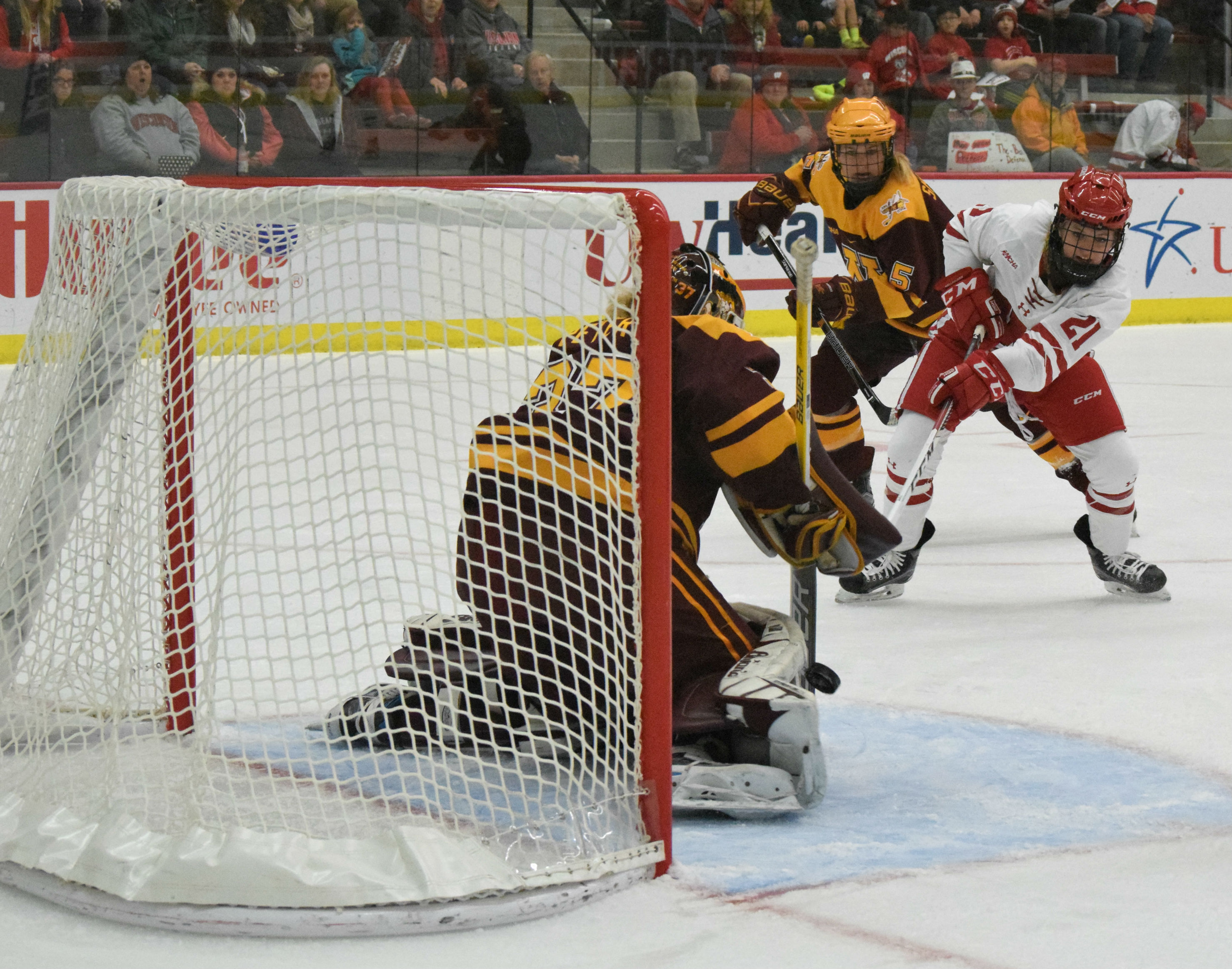 Desbiens agrees, pointing out that when a skater makes a mistake, much of the time no one who's watching even notices. But when a goalie makes a mistake, the game stops, the red light flashes, and the scoreboard lets everyone know. And when that happens, the goalie has to just shake it off and move forward, regardless of what's happening in their head.
"Sometimes you want to freak out in net, but you can't let your team know. You just need to always look calm and tell them it's okay, we're going to be just fine," she said.
To top all of that off, Peters said being a backup goalie is even harder. It's at least as much work, if not more. It's preparing for every game, but not to actually step on the ice. This can be very isolating. If goaltending wasn't already mentally taxing, being a backup will test every bit of your mental fortitude. Each and every practice and game day, the backup goalie has to warm up and prepare themselves physically and mentally -- just in case.
Peters said that though it's important and necessary in case your team needs you, it's also exhausting.
When she went from a high school star to a red-shirt freshman at arguably the best women's college hockey program in the country, Peters didn't quite know what to do with herself. Though it was a major struggle, she learned how to define herself outside the rink and came out of the experience as a stronger person for it.
"I was humbled by the expectations of me. I was humbled by the people I was surrounded by. And just the challenge of it all. I had to swallow my pride and become comfortable being uncomfortable being the backup goalie. Obviously no one wants to be the backup, but it's something you have to do if you want the chance to climb the ladder. You have to start somewhere," she said.
The life lessons and personal growth that come through playing sports are innumerable, and it's clear that everyone on the ice deals with personal struggles that have nothing to do with the puck. But maybe more than any other position, goaltending carries a set of lessons that have helped these women grow off the ice.
There are lessons about handling criticism and pressure, and how to learn from mistakes but not dwell on them. Desbiens said she learned from an early age about taking responsibility for her actions and not passing it on to other people. If she was going to grow as a goaltender, she had to own her mistakes, acknowledge what she did wrong and learn from it -- which is something that many grown-ups still struggle with.
When she came to Wisconsin, Desbiens was a goalie who often found herself needing to make acrobatic saves to cover for being out of position or making a mistake. She was a bit wild on the ice and found it difficult to adjust to the slower women's college game. Toning down her aggressive tendencies improved her game and helped her have perspective not only on her game, but on life.
"Sometimes less is more. Take time to slow things down and make things easier. Don't try to do too much… Life is like that. Quality versus quantity," she said.
---
After Minnesota-Duluth and Minnesota went to two overtimes in the WCHA tournament semi-final, Rooney and her teammates were back on the ice about 16 hours later to play Wisconsin for the title. Over the course of the two games, Rooney made 112 saves and set numerous records. She pushed her own limits physically, and in doing so, found out that she's capable of far more than she ever thought.
"I've learned that even if things aren't going the way you planned, to still push through and finish the game; finish the challenge, never to give up. Have a positive mind in every situation you're put into -- positivity and an open mind can take you a long way," she said.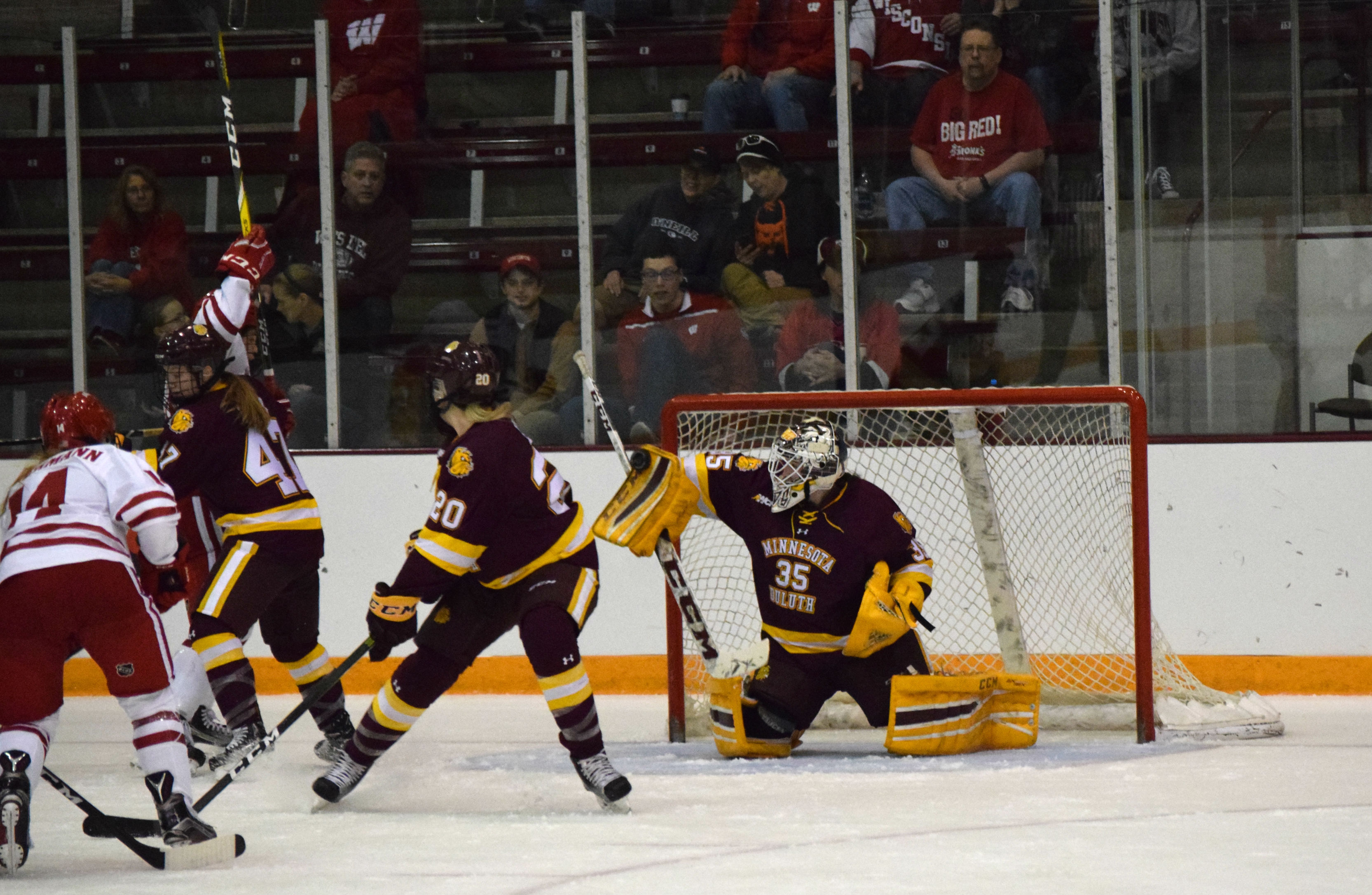 In a contradictory sort of way, goaltending is almost entirely a mental battle that requires you to get out of your own head. There's a thousand things to remember, while a coach tells you not to think too much. It would be easy for a player in that position to get overwhelmed or distracted and move sort of on autopilot.
Peters finds that breaking down a season into games and a game into periods helps keep calm and focused.
"I try to take each game one period at a game. I'm not thinking about the end of the game, I'm thinking about getting to the end of the period and what I need to do in the moment to make sure that I'm prepared for whatever shot I'm going to face next. I find that mindset helps me because it keeps me from getting overwhelmed," she said.
Rooney said some of the best advice she ever received was to not let the pressure get to her so much that she turns into a robot. She fights that tendency by making sure to have fun while focusing on the simplest, but most important thing for a goalie -- keeping the puck out of the net.
Desbiens has had an absolutely legendary college career with a final chapter still yet to be written. But when it comes to doling out advice to young goalies, she doesn't let it get too complicated.
She tells them to remember that in the end, goaltending isn't actually all that difficult. All you really need to do is put yourself between the puck and the net.
"Just put something in front of the puck. Sometimes you might be out of position. Sometimes it doesn't matter how you do it, you just need to find a way to do it."