The Victory Press is grateful to Mike Murphy who contributed additional reporting to this article.
Last season, Connecticut had a score-at-will offense, led by Kelli Stack and Kaleigh Fratkin. However, in their sophomore season, they've been shut out twice and aren't quite the same dominant team. They still have many offensive pieces; though Fratkin has departed for the Riveters, Kelli Stack is often capable of winning games on her own. While Stack made a hard push in the third period of Sunday's game towards getting the Whale on the board, Katie Fitzgerald slammed the door and ensured an impressive victory for New York. The league's leader in goals, Haley Skarupa, was held off the scoresheet.
You may take this weekend's results with a grain of salt, considering that the NWHL's uncertain future may have had a serious effect on morale among players and changed what they were able to bring to the rink. Despite all of that, the Riveters have come together as a very different team than they were last season. A lot of this has to do with offensive help. Rookie forward Miye D'Oench put them up 1-0 early in the first period.
Despite being heavily outshot 12-5 in the second period, the difference-maker on the scoresheet was Rebecca Russo, who scored two goals on setups from Madison Packer. Russo's instincts to drive to the net and her precise shot made the former BU Terrier perhaps the most important addition at forward to the Riveters' lineup this season. (Their most notable offseason signing, Team USA's Amanda Kessel, has not played since October 8th.)
Meanwhile, at the other end of the rink, Katie Fitzgerald put on an incredible performance that would end up earning her the first shutout in New York Riveters history against a team that seemed unbeatable last season. Fitzgerald made 28 saves, including some difficult ones, en route to the win. The Riveters' Janine Weber sealed the deal with an empty-netter late in the third period, and while the Whale had one more rush, they couldn't break Fitzgerald's shutout.
While new faces made the most obvious impact, veterans like Riveters captain Ashley Johnston were an important part of the win as well. Johnston logs big minutes for New York and was instrumental in stopping the Whale's breakout in the third period, which preserved her goalie's shutout. In addition to her empty-net goal, Janine Weber blocked three shots, and Packer set up both of Russo's goals while getting three shots on net of her own.
Despite the remarkable on-ice result for the Rivs, much of the conversation after the game was about off-ice issues.
"Right now, we're fighting to stay alive. We're fighting as a league. And I think that every single player is invested in the NWHL and is invested in what it stands for and what it is. I refuse to believe otherwise. These people would not be here if it were not for that," said Riveters captain Ashley Johnston after the game on the league's tenuous situation.
On Sunday, prior to the scheduled NWHL action, many players tweeted out the following list of requests: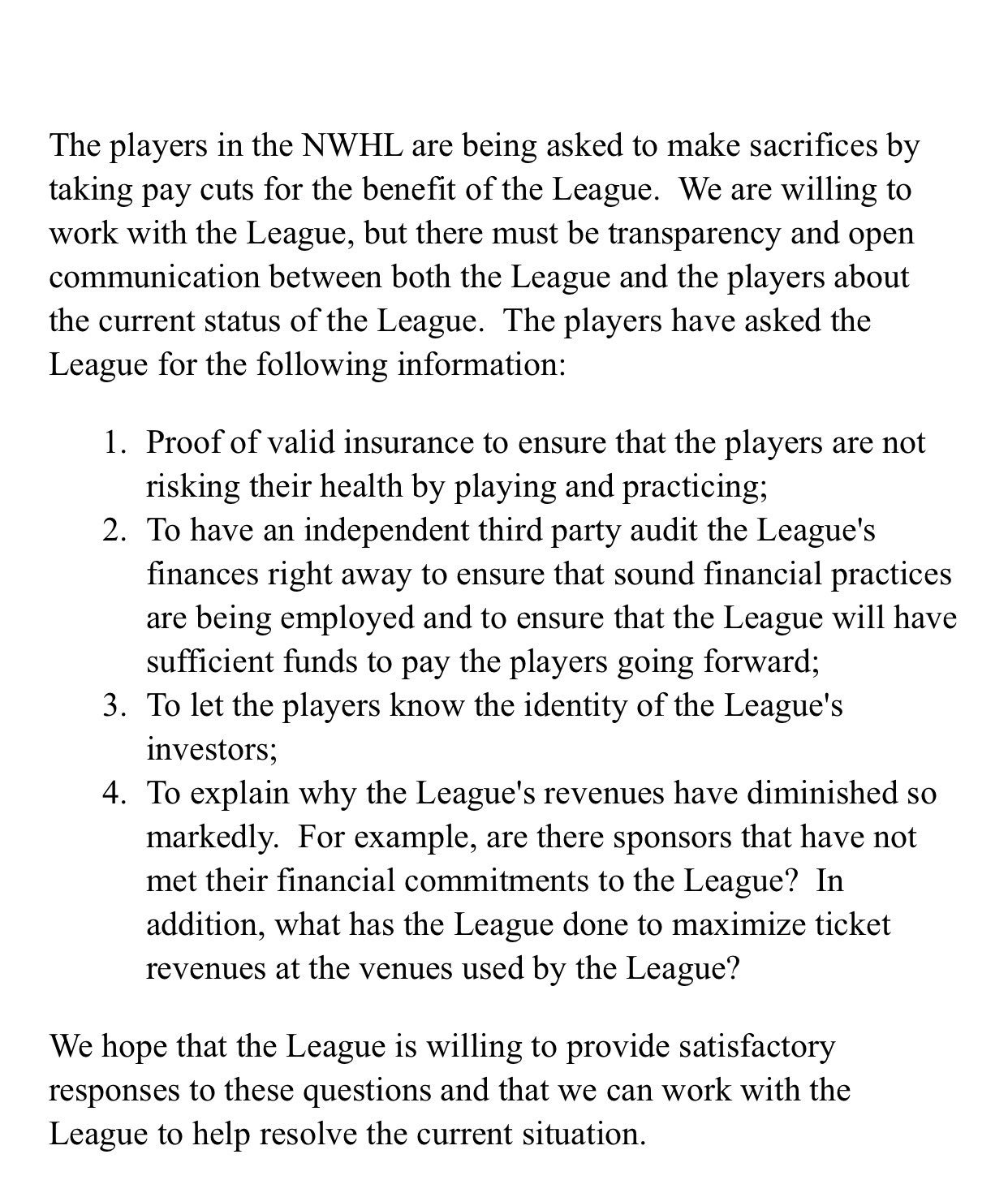 Madison Packer indicated that proof of insurance was provided prior to the game. At the time of this posting, we do not know whether any of the other requests have been addressed.
The NWHL now heads into a break for American Thanksgiving, with no games scheduled until December 3.
(Photo credit: NY Riveters/Twitter)
Filed under:
ny riveters
;
connecticut whale
;
nwhl
;
ice hockey
We are entirely reader supported. Consider supporting this work with a
SUBSCRIPTION
or making a secure, one-time donation via
PAYPAL
.