(Photo: Melissa Burgess)
When the Buffalo Beauts hit the ice for their first game on October 11, it was clear that the team wasn't skating with a fully-stocked roster. Even as players lined up at their respective blue lines, it was literally visually evident that the Beauts had players missing, as compared to their Boston counterparts.
Now, three games into the season and still looking for their first win in the inaugural NWHL season, things are going to change for the Buffalo Beauts, as it appears that the visa issues that have kept multiple players out of the lineup have finally been resolved.
Beauts players Erin Zach, Devon Skeats, Lindsay Grigg, Amanda Makela and Jessica Fickel all took to Twitter to share their relief at their visas finally arriving. All five have been unable to practice or play with the team since before the season started a month ago, and undoubtedly, all are incredibly excited to get going.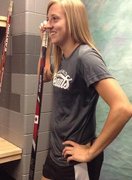 When I spoke to Fickel in September at Beauts media day, she said she expects to wear number 6 with the Beauts, a number that she wore growing up, playing among both boys and girls in the Fort Erie, Niagara Falls, and Buffalo region. The Fort Erie native recently had her number retired by Brock University and is working on her master's degree there.
"I know I have the aggressiveness factor in me. I love to score, having the puck, creating plays, and getting to the net," Fickel said of her on-ice performance back in September.
Zach and Grigg both recently attended the Rochester Institute of Technology, so they're quite familiar with Buffalo's hockey scene, as they spent years playing college hockey just 75 miles down I-90.
Grigg initially shuffled between forward and defense at RIT before going on to captain the Tigers in her junior and senior years. She had 75 points in 143 games over four seasons. Meanwhile, Zach had 74 points in 121 games with RIT. Both won a 2014 College Hockey America championship, and Zach's five shorthanded goals are fifth all-time in RIT history.
Skeats, a Wilfrid Laurier alum, notched 87 points (42-45) in 117 games over four years. She won three Ontario University Athletics Championships and finished third in the 2014-2015 Austrian Cup with the EWHL's Neuberg Highlanders.
Back in September, Skeats seemed incredibly excited to get going with the Beauts and the NWHL, as well as the opportunity that the league offers.
"It's an amazing opportunity for girls to actually get paid to play the sport they love," she said.
Makela joins Brianne McLaughlin and Kimberly Sass in net for the Beauts. A Thunder Bay native, Makela recently graduated from Mercyhurst in Erie, PA. She had a record 781 saves in her years there, which breaks the previous record that had been held for 12 years.
Now the question is this: what will these new players mean for the Buffalo Beauts roster?
One big question mark that remains is Kelley Steadman. Originally brought in as a practice player, Steadman found her way into the Beauts lineup and made a huge impact in the first three games. She's second in the NWHL in goals, with four, and is tied for second, leaguewide in points (5). Only Brianna Decker (7) has more, while Steadman is tied with Hilary Knight, Kaleigh Fratkin, and Kelli Stack.
Coach Seiling called Steadman "a force on the ice," noting that she is considered a big part of the Beauts team. Players (including McLaughlin) have lauded Steadman's talent and scoring ability.
Though logistically, Steadman would be the first one to come out of the lineup -– how can the Beauts possibly yank the player who is arguably their best at the moment? In that line of thinking, it seems likely that Steadman has found a roster spot, and someone else will have to be pulled instead.
As it stands right now, Steadman is one of four practice players on the Beauts roster. Annemarie Cellino, Courtney Cairnes, and Maggie Giamo have each played in all three games so far this season as well, but haven't produced quite as effectively as Steadman. It's possible that they may be pulled from the game roster to allow players like Grigg, Zach, and Skeats to come in.
As for Makela, the Beauts will now have a three-goalie system to contend with. McLaughlin has played all three games so far, with Sass as her backup -- but that will obviously change with Makela in the mix.
It's also possible that the Beauts won't put the newly-arrived players in the lineup right away. Coaches Looney and Seiling may want to make sure they're fully acclimated and able to get in several practices with the team ahead of their NWHL debuts.
After all, although they've surely been skating and practicing independently in the interim, they've yet to skate with the team since things really kicked off.
"You wonder about their game shape," Seiling said. "There's one thing about being in practice, but you really get into game shape by being in the game. That's a totally different aspect of it."
"They might know the gameplan, but getting them up to speed with the rest of the girls -- I think that will be the biggest thing."
Based on that, the Beauts may give Grigg, Zach, Skeats and company some time to adjust and practice with the team and then slowly work them into game action, perhaps with limited ice time, which would naturally increase as the season goes on and as the players grow more into their roles & the team's plan.
While Steadman is likely to stay in the lineup -- in a well-deserved role -- the other practice players may find themselves swapping in and out as the new arrivals get accustomed to the team.
Those new arrivals should provide more strong offense and plenty of speed to the Beauts, who have been improving on a game-by-game basis slowly, but steadily. Makela will also provide a third option for the Beauts in net as they work into that rotation. It'll take some time for the new players to fit in to what's already in the works, but their presence can only help the team as they continue to look for their first win.
The Buffalo Beauts, and the NWHL, return to action this Sunday after three weeks off. The Beauts host the Connecticut Whale at 3:30 PM, while the New York Riveters host the Boston Pride at 7 PM.