On and off the ice, Toronto Six defender Saroya Tinker works tirelessly, not just as a professional hockey player, but as an advocate for Black women in hockey. The 24-year-old Tinker is in her second season with the Six and third in the Premier Hockey Federation, and is certainly enjoying the ride.
The Oshawa, Ontario native actually started out her journey in sports in gymnastics at a young age, but was told in the fourth grade that she was too tall and decided to make the transition to hockey.
Hockey runs in Tinker's family. Her father playing in Scarborough, but experienced a lot of racism while doing so, she said. Still, although he never made it to a high level, he loved the game. That love, it seems, was passed down to her.
"Growing up, I always very focused on my schoolwork and my education," she said. "We had no TV growing up, so it was either – go outside and play, go work on your shot, or do your homework. I was a huge nerd outside of hockey."
In high school, Tinker played hockey, but also badminton, basketball, curling, field lacrosse, soccer, track and field, and ultimate frisbee. She earned accolades from the beginning and served as a captain on multiple teams, eventually joining the PWHL's Durham West Jr. Lightning. She also suited up for Team Canada at the 2016 IIHF World Women's U18 Championship.
Fast forward, and next thing she knew it, Tinker was off to Yale to further her education and play hockey.
"It was an opportunity to attend an Ivy League school," she said. "I figured, why not play hockey and get an amazing education as well?"
During her time at Yale, Tinker balanced school and college hockey. In 122 games with the Bulldogs, she recorded 32 points across four seasons. Meanwhile, the NWHL was growing, and the CWHL had a tempting option in the Toronto Furies, close to home.
"Growing up, I wanted to wear the maple leaf on my chest," she said. "I obviously had the chance to do that at U18s, but at the same time, I wanted to play for the Toronto Furies. Playing professionally, wanting to be a professional athlete, no matter what sport I was going to play, was my go-to."
Becoming a Pro
As her time at Yale came to an end, the COVID-19 pandemic surged. Tinker ultimately signed with the PHF's Metropolitan Riveters for the 2020-21 season, an ideal location to go with a planned job in the medical device industry in New York City. When COVID hit, however, her employer was no longer going to sponsor her work visa, throwing a wrench into her plans. After the shortened season in Lake Placid, Tinker signed with the Six – a logical step and, in a sense, a homecoming.
"Toronto has always been home for me," she said. "We're a great team. We pride ourselves on being a family. That's something I really value, because I've played on teams where we're not connected and we have great players. If you're not connected as family, it doesn't work."
Tinker said the Six "take good people ahead of anything else," pointing out some of her teammates like Shiann Darkangelo who help foster that family-style environment that allows players to speak openly and express their opinions.
"I think we're on the right track, and we're a good team this year," she added.
As of writing, the Toronto Six sit atop the Premier Hockey Federation standings with a 9-1-2 record and 27 points. The Six are led by president Sami Jo Small, general manager Angela James and head coach Geraldine Heaney – three women with plenty of hockey history and accolades among them.
"It's an absolute blessing to be able to learn from G.O.A.Ts [Greatest Of All Time] in the game every day," Tinker said. "Having their leadership on the bench and in the stands, wherever it may be, it shows in our program. We're really strong, and we're continuing to get stronger as we move forward. I think a big piece is because of that."
Representation Matters
As her professional career began, Tinker also capitalized on the chance to make a difference off the ice. She began working with Black Girl Hockey Club and initially volunteered on the scholarship committee. During the season in Lake Placid, Tinker raised $31,000 for the organization. (I also encourage you to read this piece she wrote for The Players' Tribune, Why the Black Girl Hockey Club Matters.)
Tinker now serves as Executive Director of Black Girl Hockey Club Canada, the Canadian offshoot of the organization originally founded by R. Renee Hess. Hess & Tinker worked together to found the Canadian branch, officially introduced this past November.
"Why not take this organization cross-border?," Tinker said. "Hockey is Canada's national sport, and we take great pride in that. I have so many girls in the GTA [Greater Toronto Area] that were involved."
Black Girl Hockey Club Canada distributes scholarships and has a mentorship program which aims to provide young BIPOC women with "a community and network that not only provides them with representation within the hockey community, but builds connections and long-lasting relationships with girls in their respective cities as well as online, all across North America."
The organization will also be introducing a new mental health and wellness program next season, in addition to its various community events.
"Coming together as a community" is the focus, said Tinker. "Getting Black women together and show them that there are so many other Black women that love the game, and that they're respected and deserve a place. They can make it to pro to Team Canada, like [Sarah] Nurse, or play for the Toronto Six, like me."
Whether on or off the ice, Tinker's mission is clear: show Black women that they belong in the sport of hockey, whether as a player, a fan, or coach.
"I wasn't even going to play professional hockey because of what I had experienced, but I quickly realized that we can have an impact on [young people] very quickly," she said. "I realized how easy it is to impact them, whether it's a 10-minute conversation or a simple text back that I give my mentees... realizing that they can see me, they have a physical manifestation of what they want to do, what they want to be when they're older."
"I'm showing them that they can do it," she added. "Representation is everything. I think we're on the right track in getting more Black women into the game."
A Sense of Style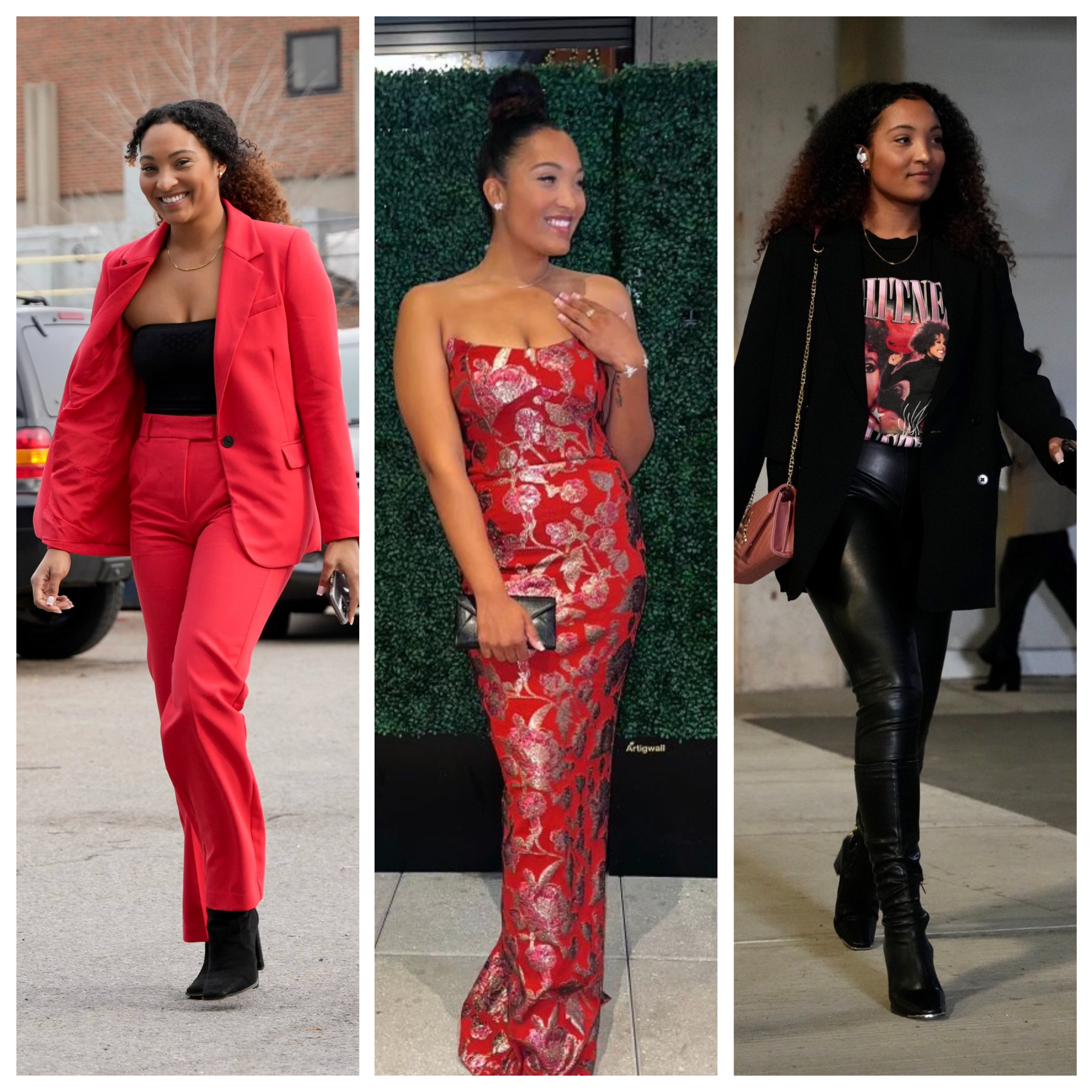 Off the ice, Tinker has also made a splash with her style, which she says allows her to express herself in her own authentic way and be true to herself.
"Growing up, I think hockey tries to kind of fit you into one box," she said. "I always felt like I had to let go of a piece of my Blackness, or a piece of who I was, to be accepted."
"It's black dress pants and a white button-up, but I ain't trying to do that anymore," she said. "In that sense, I just try to be who I am. I'm a huge sneakerhead, so I've always got new kicks on. I think it just goes to show that I'm expressing who I am."
"I'll always be unapologetically Saroya," she added.
(Cover Photo: Mike Hetzel/Buffalo Beauts)