I'm going to be completely honest here: it feels super weird to be sitting here, watching a hockey game and writing about it as if things are normal. They aren't. What has transpired over the last day or so is downright unacceptable. When it comes to bigotry and oppression, silence only serves to benefit the bigots.
Erika Nardini, CEO of Barstool Sports, posted a video on Monday where she called out (among others) Eleni Demestihas, NWHL writer for The Ice Garden, as well as Alyssa Turner, who manages many social media accounts for the NWHL itself. Nardini posted screenshots of their tweets and expressed that Barstool Sports and the possibility of Nardini purchasing an NWHL team would be good for the league, and referred to writers and staff members like Demestihas and Turner as "haters." Many NWHL fans and writers have pointed out that they do not want to be associated with Barstool Sports due to its long history of posting racist and misogynistic content, promoting targeted harassment and doxxing, and being a vocally anti-union company.
However, many women's hockey players openly associate with Barstool Sports and their associated podcasts and social accounts. Players in the PWHPA and NWHL as well as at the college level are fans of the company. Notably, Riveters captain Madison Packer and former commissioner Dani Rylan had engaged with (and in Rylan's case, promoted) a tweet from Token CEO, Nardini's podcast, expressing that she might like to buy an NWHL team.
Late Monday night, Saroya Tinker, who plays for the Metropolitan Riveters, quote tweeted Nardini and said that the league does not want to be associated with a white supremacist company like Barstool Sports.
While many of her teammates, including Packer, backed her statement, other players have continued to engage with Barstool Sports and Nardini. NWHL commissioner Ty Tumminia released a statement yesterday that failed to take a strong stand in support of inclusion and players like Saroya, who is a Black woman. Tumminia said in a media availability that the Board of Governors would discuss Barstool more in depth if it was "more than a couple of players" who were very involved with the company.
Late last night, Barstool founder Dave Portnoy posted a video that called for Saroya Tinker to be jailed for calling Barstool a white supremacist company, which is an incredibly violent and dangerous statement to make. Kelly Babstock, Tinker's teammate on the Riveters, liked several tweets in response to Portnoy's video, but has since removed those likes.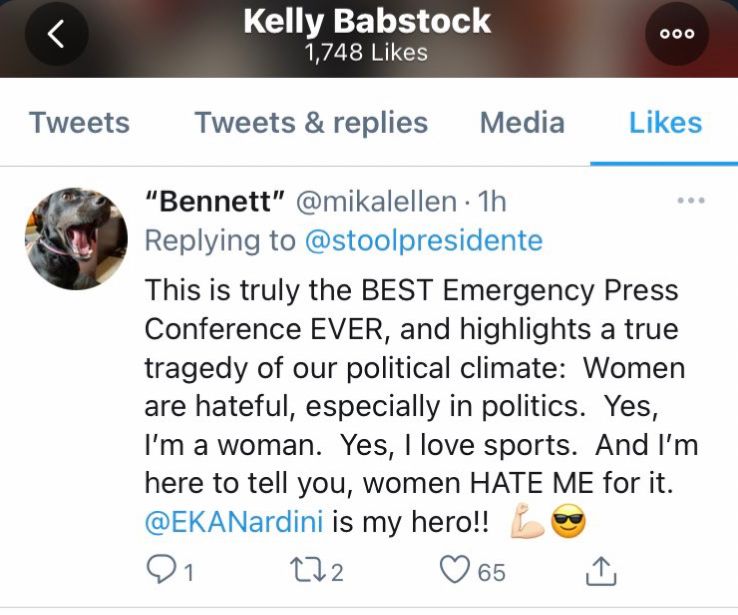 To be clear, the Victory Press stands in full support of those NWHL staff members and fellow journalists who were targeted by Nardini and Barstool. We also stand in support of any women's hockey fans who have found themselves in the crosshairs during this ongoing incident. And we stand in full support of any athlete, support staff member, or sports fan who has faced discrimination, bigotry, and harassment of any kind while trying to participate in and enjoy the games we love. We also fully believe that the quality of your work and how you treat others is more important than how much money you make.
We need to speak out against racism, sexism, misogyny and other forms of bigotry – and we need to make sure this isn't falling on the backs of BIPOC, particularly BIWOC. We need to make it explicitly clear that these forms of bigotry are not welcome – not in women's hockey, not in sports, not in society as a whole. And we need to actively work on dismantling the systems that allowed them to develop and that keep them in place today.
The NWHL has yet to respond to Portnoy's video as of about 9:20 AM this morning.
Now, on to the actual hockey...
Minnesota Whitecaps vs. Metropolitan Riveters
A closely-matched battle between the NWHL's two undefeated teams ended pretty much the way you'd expect: one goal made all the difference in the world. As it turned out, one goal was all that came in the course of sixty minutes as the Minnesota Whitecaps topped the Metropolitan Riveters 1-0.
"Whenever we play the Riveters, it's always a close game and a battle to the finish," said Meghan Lorence. A battle to the finish is exactly what this one ended up being, as they went scoreless through 59 minutes of action.
The teams exchanged chances as the game went on, with both Amanda Leveille and Sonjia Shelly putting up outstanding performances. Leveille recorded 37 saves; Shelly, 38.
It came down to the final 10 seconds of regulation, which is when rookie Haley Mack would score the game-winning goal. With both Rebecca Morse and Madison Packer in the penalty box serving holding and hooking minors, the Riveters found themselves severely shorthanded. Unsurprisingly, it didn't take long for the Whitecaps to capitalize, as Mack tapped in a puck from the doorstep.
Shelly's shutout streak ended at 119:50, having made 76 of 77 saves over that time period in the net.
"I don't think that was a 1-0 game," Leveille said of her counterpart. "We should've had three or four more... she played outstanding."
Despite suffering their first loss of the season, the Riveters are happy with where they're at.
"This is the strongest team I think I've been a part of it," said Kiira Dosdall-Arena. "I mean that in the full sense of the word 'team.' There's just a good energy across the team; there's a good balance. We work really hard. We've kept the grit that make the Riveters the Riveters since season one, but we've added some talent. Great coaching never hurts. We have confidence to play against any team. This was an awesome battle today; they're a great hockey team and we know we can play with them."
Boston Pride vs. Toronto Six
After losing just one game of 24 during the 2019-20 regular season, the Boston Pride have now dropped two of their three games in this condensed NWHL season. They handed the Toronto Six their first win in franchise history in a 2-1 decision Tuesday evening.
The Pride opened the scoring more than halfway through the first period; with Toronto's Brooke Boquist in the box, Christina Putigna scored from down low near the goal line to the left of netminder Elaine Chuli to put Boston up 1-0.
The Six had a perfect opportunity to tie the game midway through the second period on a penalty shot, but were unable to capitalize. Breanne Wilson-Bennett took the shot, but netminder Lovisa Selander got a piece of it and then the puck bounced wide of the net behind her.
That chance was quickly followed up by a 5-on-3 opportunity by the Pride, but Toronto's penalty kill stood strong to keep the deficit to just one goal. Teams continued to exchange chances – and penalties, including a handful of minors called early in the third period which resulted in about 40 seconds of 5-on-3 action for the Six.
Although Toronto couldn't capitalize on the two-player advantage, they held some sustained zone pressure and scored just after the first penalty expired. Boquist pounced on her own rebound to tie the game at one. Less than 90 seconds later, Mikyla Grant-Mentis deflected a puck into the net behind Selander, giving Toronto its first lead of the evening.
"She's a force, she's an offensive juggernaut," said head coach Digit Murphy of Grant-Mentis. "She can just control the flow of the game. I saw her tonight just get on her horse and backcheck. I love the way she plays; she's so humble, so strong and she can shoot so well. We love having her... Bucky's the best."
Grant-Mentis' goal would stand as the game-winning tally, giving the Six their first win in franchise history. Elaine Chuli stopped 24 of 25 shots faced in victory, which served the Pride their first loss to a team other than Minnesota or Buffalo since October 27, 2018.
"It's absolutely unreal," said Boquist. "It was a full-team effort from everyone. We pushed through the sixty minutes, and I'm super proud of this team."
Other Tidbits
Riveters head coach Ivo Mocek was not behind the bench in the third period. When asked about this in the postgame media presser, assistant coach Ashley Johnston said he "became unavailable midway through the game." It's unclear exactly what happened or if he'll be available for Wednesday's game.
Pride captain Jillian Dempsey collided awkwardly with Six captain Shiann Darkangelo late in Tuesday's game. Dempsey, who fell to the ice, was very evidently in pain and appeared to be favoring her shoulder as teammates helped her off the ice. Mara said Dempsey was talking with trainers and doctors after the game and will be reevaluated this morning.
Here are the current NWHL standings, with most teams having played three games. Buffalo and Connecticut have played two games each.
Minnesota: 3-0, 6 points
Metropolitan: 2-1, 4 points
Toronto: 1-1-1, 3 points
Connecticut: 1-1, 2 points
Boston: 1-2, 2 points
Buffalo: 0-1-1, 1 point
Wednesday's games (all times Eastern):
5:30 PM: Boston vs. Connecticut
8:30 PM: Metropolitan vs. Buffalo
All games broadcast for free on Twitch.
(Photo: Michelle Jay/NWHL)