The National Women's Hockey League has made its arrival to Canada with their newest team, the Toronto Six. With a start date set for January 23rd, we will see this new team hit the ice in less than two months. Having said this, the format of the season will be different from previous years. This year, NWHL teams will be playing at a concentrated site in Lake Placid, New York. We don't know when we will see the Toronto Six on home ice yet due to the COVID-19 pandemic.
But we do know where they are supposed to play. On October 1st, 2020, the NWHL announced that Canlan York would be the new home of the Toronto Six. This facility is also home to the York University Lions hockey teams and the North York Storm girls' hockey program. Being in the heart of the Humber River-Black Creek riding, and near the area more commonly known as the Jane and Finch community, the Toronto Six have a potentially great opportunity ahead of them.
The opportunity at hand is one to grow the game of hockey in a way many people would overlook. According to a sample from the 2016 census, 74.1% of people in the Humber River-Black Creek riding are a visible minority. Making up the majority of this number at 22.8% of the full sample are Black folks. Another large group represented in this sample sitting at 14.2% are South Asian folks. Other groups represented in this area include Latin American, Southeast Asian, Filipino, Chinese, and Arab communities. The Humber River-Black Creek riding is one of the most diverse in Ontario, and in all of Canada. The Six have the chance to bring more BIPOC to the sport of hockey at a rink in the centre of their community, garner their interest, and keep them coming back.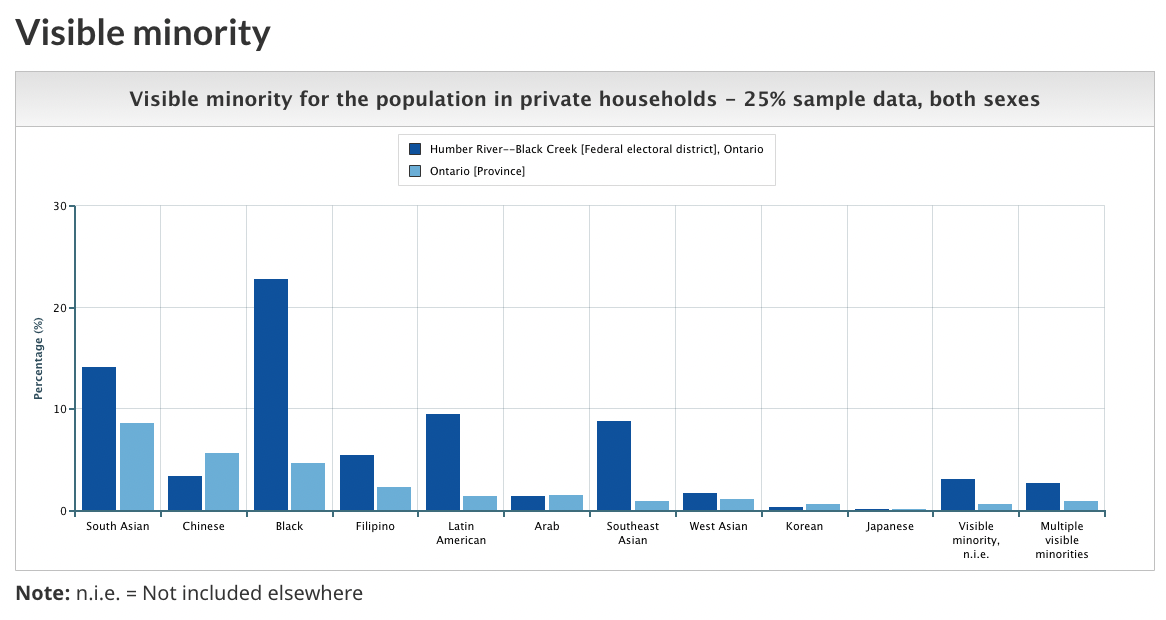 Of course, the Greater Toronto Area has had professional women's hockey teams in the past. Both the Toronto Furies and Brampton Thunder recently played in the GTA, showcasing high quality hockey at a ticket price of around $10 CAD. The main downside of CWHL games at places like the Mastercard Centre (now the Ford Performance Centre) in Etobicoke, the former home of the Toronto Furies, was the fact that they could be a long trip on public transportation or otherwise difficult to travel to for many fans.
As a Black fan and hockey writer, I felt that it was extremely important to view the perspective of the organization and see where they currently are considering the circumstances of the time. When asked if the team had any outreach plans, Alyssa Turner of the Toronto Six said, "At this exact moment, we don't have any plans in action or that have begun just yet but it has been a topic we have discussed... We want to grow the game of hockey as best as we can."
Honestly, this is what I was expecting. While they are a new team that has a lot of work to do to establish themselves, I see no problem with discussing a preliminary framework for initiatives within the community. The Toronto Six have an opportunity here, especially after their shortened season is over, to put a plan into action. From this we need to see how the Six wants to get this done. It is one thing to say the words, but it is another to actually make it happen.
The Boston Pride are based in the Allston neighbourhood of Boston. The Buffalo Beauts once played in Buffalo near the Canalside district, but are now in the suburb of Amherst. The Connecticut Whale have moved around a couple of times, starting in Stamford, moving to Northford, back to Stamford at a different arena, and now to Danbury, their current home. The Metropolitan Riveters are based out of Monmouth Junction in New Jersey. The Minnesota Whitecaps call the St. Paul area of Minnesota their home.
The hockey towns of the other 5 NWHL teams have predominantly white populations. So while there is a place for them to work with folks in their community, they haven't had the same opportunity to diversify their space and fanbase like the Six do. The Buffalo Beauts stand out among other NWHL clubs with their many community initiatives. Up until January 2020 they held or attended monthly events whether that be hosting a charity bowling tournament, visiting children and donating toys at the Oishei Children's Hospital, the Buffalo History Museum, Santa's Workshop at the Buffalo Botanical Gardens, trick-or-treating at the Walden Galleria, and more. The Six can follow that example, but they should also look specifically for ways to connect to the Jane and Finch community.
We know that the team has not currently made a commitment to any outreach initiatives. Community centres and schools would be a good starting point. Tiffany Ford, a former Toronto District School Board Trustee for Humber River-Black Creek, recognizes that hockey as a sport is not always accessible because of the equipment and facilities involved. These hurdles disproportionately affect Black communities and poor communities. She says, "It's easy to pick up a basketball and play, but getting hockey gear and travelling to the nearest ice rink presents a lot of challenges. So, it would be great to have the team come into our local schools or sponsor a program where youth can attend and learn the game."
The grassroots effort to make the sport more inclusive and accessible requires creating the opportunity for kids to try something new, without having to worry about the financial burden that hockey's equipment and facilities create. Ford also mentioned how simply watching a game is more than enough to spark interest: "When the team is playing, if a few seats are allocated to the community for free, we can get more young people, especially Black youth, to familiarize themselves with hockey."
The key here is exposure. I asked Toronto Six defender Emma Greco what she wants to accomplish this year with her team. She said: "I hope to raise more awareness in the community about women's hockey and how important it is to pave the way for young girls around the world. Other than that, I hope to volunteer and help out in the community any way I can!" Player dedication to and involvement in the community are crucial to the progression of community outreach for this team. If players don't want to make a difference, or feel forced to do so, the connections made will not be genuine. People in the community will see that, and they will feel that it is forced.
For my own part, hockey brought a new kind of family into my life. It brought back a lost love for writing, and it introduced me to tons of amazing people in person and online. It gave me another community that I can call family. I've found solace in the Black Girl Hockey Club. Being active in the hockey community has taught me to become more critical of my surroundings and not be afraid to hold institutions accountable, especially my favourite NHL teams. Women's hockey in particular has inspired me because I see how much work goes into generating interest and establishing women's teams and leagues. It's a great feeling to see the impact that women's hockey has on players both young and old. The Toronto Six have the chance to take that impact and at least double it when reaching out to a marginalized community.
Alyssa Turner said this about the overall mission of the Toronto Six: "We want to ensure that everyone that we interact with as an organization knows that we are fully committed to truly making the sport of hockey for everyone to enjoy. Whether they are following us on social media, receiving our email subscriptions, or eventually coming out to support us at a game at Canlan. As a brand new franchise we are also new to this sport and want everyone to know we are willing to teach others about the sport and grow it together. We want everybody to feel welcome within not only the Toronto Six community but the hockey community as a whole. The Jane and Finch community is a very marginalized community that sadly isn't very well represented in the hockey world. This is something we would love to be part of changing for the better."
The task of involving marginalized communities in hockey in a meaningful way is a tall one. Aside from the material issues mentioned above, inclusion in hockey also has an uphill battle in terms of creating a truly inclusive and anti-racist movement within the sport. Who does the onus fall upon to grow the game in such an incredible way? Is it up to the larger institution being the team executives? The players? The fans?
Arguably the work should fall to all of us involved in the sport, to varying degrees. Unfortunately, organizations sometimes only act meaningfully with a push from the folks that put so much of their love and energy into this sport. They need to know they should be doing better for you to continue to feel welcomed. It is up to the teams and their players to do more and be better in the communities they call home. I believe the Six have a unique opportunity to be at the forefront of inclusion efforts in hockey. And as fans, we have to make sure they know that we care about and are waiting for their next steps.
So to the community I say: they see you. Let's hold them to account.