As the NWHL's fourth season grows closer, teams are starting to really take shape. Though there are still some openings on each team's roster, and the Metropolitan Riveters still need a head coach, teams are solidly building and shaping for the season that lies ahead.
Over the past week, the Connecticut Whale, Boston Pride and Minnesota Whitecaps each added to their respective rosters. The Whitecaps also revealed their new logo, while new information has been released about the Riveters' meeting with the SDHL champions.
Boston Signs Marvin, Wasylk, Parker
The Boston Pride brought back a big piece, signing Olympic gold medalist Gigi Marvin. Marvin previously played for the Pride in the league's first two seasons, accruing 28 points.
"I realized right away [after the Olympics] that I was definitely going to keep playing," Marvin said. "I'm grateful for this opportunity to continue playing the game I love, in Boston with a great team filled with players I love."
The Pride of today, however, are quite a different team from the 2016-17 season Marvin last played with. Among those officially gone: Blake Bolden, Alex Carpenter, Brianna Decker, Zoe Hickel, and Hilary Knight; Meghan Duggan and Brittany Ott, among others, remain unsigned.
In addition to her Olympic gold in 2018, she also has two silver medals from 2010 and 2014, has won gold five times at IIHF World Championships and won eight Four Nations Cups.
"Gigi's combination of great skill, deep passion for the game, and dedication to continuing to improve in all areas has made her a champion and someone that everyone looks up to," said Pride head coach Paul Mara.
Mara worked with Marvin at the Olympics.
The Pride also signed forward Taylor Wasylk, who spent last season with the CWHL's Boston Blades. Wasylk will also serve as head coach for Suffolk University's new women's hockey program.
"Not only will I get the opportunity to play with a handful of former teammates and friends," Wasylk said, "but I am joining a team of unbelievable players as well."
Boston also added to its coaching staff, as former defender Marissa Gedman announced her retirement. Gedman will join the Pride as an assistant coach.
"Marissa's experience as a really outstanding defender, a respected leader, an Isobel Cup champion, and an original member of the Pride is going to be such as asset to me personally and to our team," said Mara.
The Pride also re-signed Mary Parker, announced on August 28.
Doyle Re-Signs with Whale
Defender Shannon Doyle has re-signed with the Connecticut Whale for her fourth NWHL season. Doyle was an inaugural member of the Whale and has played 48 games with the team. Last season, she put up five assists in 15 games.
"Seeing the growth of women's ice hockey both through the talented players who compete in the NWHL year after year and the ever-growing fan base has been an experience I am honored to be a part of," Doyle said.
"The Whale have worked hard to create a culture of hard work, dedication, and excellence from day one to this upcoming season," said Doyle. "I'm excited to be able to continue playing a role in the development of this organization. It is an honor to play alongside fantastic teammates whom are equally valued for their talented on-ice abilities and their genuine love for the game we play."
Champions Cup Moved to US
Although details remain scarce, the NWHL and SDHL announced that the first-ever Champions Cup, featuring the Metropolitan Riveters and Luleå Hockey, will now be played in the United States.
The event was originally planned as a three-game series to be held overseas. According to the league, scheduling challenges have resulted in the changes; it will now be a single game, in North America.
The game will be held "in the New York-New Jersey area," though it's uncertain if that means at the Barnabas Health Hockey House, Prudential Center, or somewhere else. More information, including the date and location, is expected to be announced in early September.
Whitecaps Sign Five, Get New Logo
The Minnesota Whitecaps introduced their new logo, pictured below, to mixed fan reactions.
Here It Is!! Beginning this October Making Dreams Come True! #Whitecaps fans we are thrilled to introduce our BRAND NEW LOGO!!🌊 #RollCaps 🌊

🔗 https://t.co/nIxcpXX7Dl pic.twitter.com/Lth850UlGb

— Minnesota Whitecaps (@WhitecapsHockey) August 21, 2018
The team also announced the signing of five players: forwards Amy Menke and Sadie Lundquist, forward-defender Lauren Barnes, defender Emma Stauber, and goaltender Julia Friend.
Menke, 23, played for the Whitecaps for most of last season. She also spent time in Sweden with Djurgårdens IF, where she put up eight points (5G, 3A) in nine games.
"I expect our team to make a statement right off the bat, proving we belong in the league," Menke said. "Even though it's our inaugural season, the talent on our team will show we shouldn't be taken lightly. Personally, I hope to bring some North Dakota grit to our team and add offensive depth."
Lundquist also played for the Whitecaps last season and also participated in the NWHL's All-Star Game in Minnesota this past February. She called it "an exciting time to be a woman's hockey player, especially in Minnesota."
Friend, a Minnesota native, played at St. Cloud State from 2011-2015 and for DEC Salzburg Eagles in the EWHL following that.
Emma Stauber, niece of Robb Stauber, also spent last season with the Whitecaps. She previously spent time at the University of Minnesota-Duluth and HV-71 in the SDHL.
Like Stauber, Barnes also played last season with Minnesota.
Both of these signings brought negative attention to the Whitecaps and the NWHL, particularly the signing of Barnes.
Stauber, it was noted by fans, has shared several Tweets from Donald Trump, particularly those about her relative Pete Stauber, who spoke at a Trump rally in Minnesota.
Barnes "liked" a number of racist, homophobic, and Islamophobic Tweets, including those below: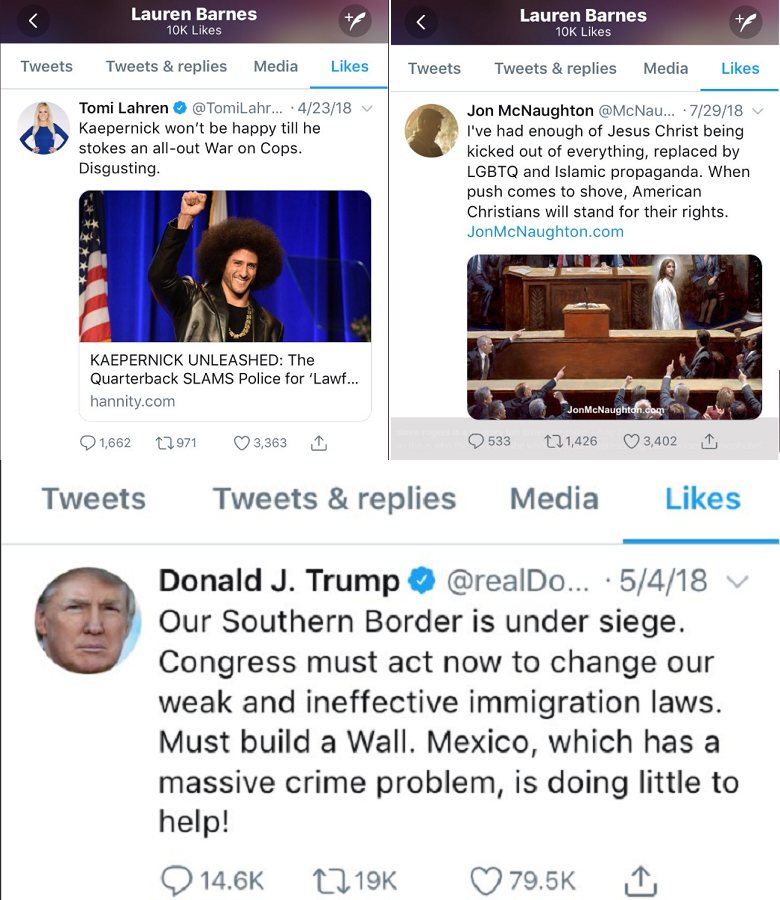 As fans discovered this and expressed their concerns via social media, instead of replying or ignoring the criticisms, the Whitecaps took to deleting the comments and blocking several fans, both on Twitter and Instagram.
Barnes' response was to initially lock her Twitter account, and then deleted it entirely. Even as fans continue to announce their plans to protest the team/league, there has been no formal response from the player, team, or league regarding fans' concerns.
It is worth noting, however, that Barnes is not the first openly-pro-Trump player in the NWHL; Rebecca Russo has also posted photos of herself in a MAGA shirt on social media and has blocked some fans who criticized her for it.
Per the Victory Press ethical coverage policies, we will exclude athletes such as Barnes and Russo who have expressed views including "racism, transphobia, homophobia, classism, islamophobia, anti-semitism, misogyny, sexism, and other types of bigotry" from our regular coverage and continue to comment on their bigotry.