The Professional Women's Hockey League (PWHL) named its six team general managers on September 1, while also unveiling its inaugural draft lottery order of selection.
The general managers are: Danielle Marmer (Boston), Natalie Darwitz (Minnesota), Danièle Sauvageau (Montreal), Pascal Daoust (New York), Michael Hirshfeld (Ottawa), and Gina Kingsbury (Toronto). They were chosen from over 60 candidates.
"We were looking for people that brought great hockey knowledge to the table, that brought a collaborate approach, a real emphasis on culture and leadership, that they could help build out their rosters in their own markets," said senior vice president Jayna Hefford. "We were fortunate to find some incredibly people that we are really excited about."
No head coaches have been announced yet, but most teams appear to be "close" to signing coaches, and at least two have verbal agreements in place with individuals.
Minnesota will get the first selection in the PWHL Draft, followed by: Toronto, Boston, New York, Ottawa and Montreal. Subsequent rounds will follow a "snake" format, so the reverse of the prior round.
In addition, the PWHL's free agency period opened at 1:00 PM on September 1. Teams can sign three non-collegiate players before the draft on September 18. As of writing, no free agent signings have been announced.
---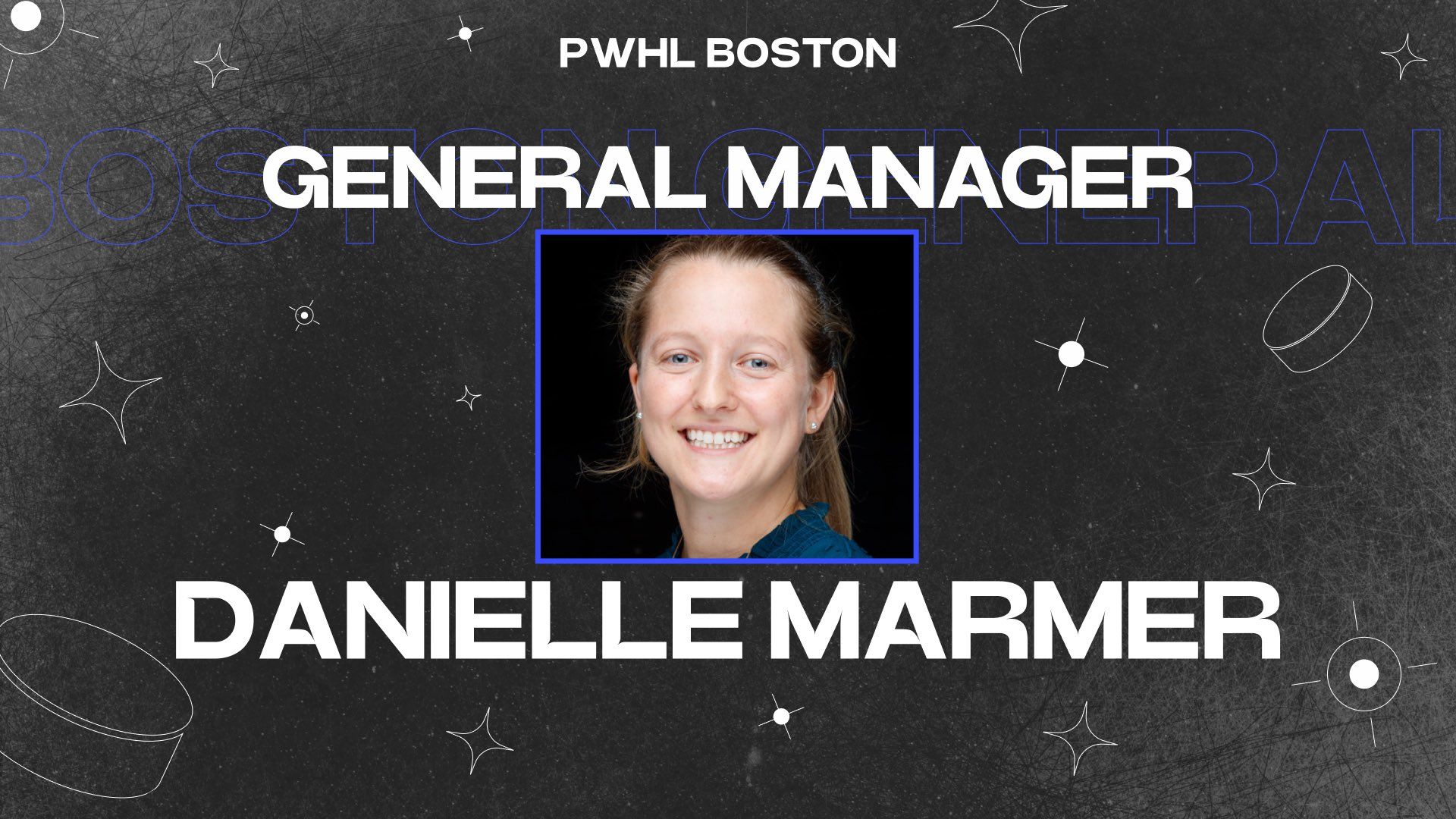 Danielle Marmer has been named general manager of the Boston team. Marmer spent last season with the NHL's Boston Bruins as a player development and scouting assistant, becoming the first woman to hold an on-ice coaching role with the team. She previously participated in the Bruins' Diversity and Mentorship Program following three years with Quinnipiac as director of player development and hockey operations. Marmer also previously played four years of NCAA Division I college hockey with the Bobcats, including an ECAC championship in 2016. Her other coaching experience includes two seasons with Connecticut College.
"This is a tremendous opportunity to be a part of this, but also for women's hockey," Marmer said. "This is a pivotal moment in the history of women's hockey, and I'm so humbled and honored to get to play a role in this."
Marmer noted her influence heading into free agency from those she's worked with in the past and she said views this as an opportunity – that building a team from scratch is "like a dream." She highlighted the Boston's region wealth of skilled hockey players but said she will look elsewhere and expects to get "three of the best players in the world."
"Boston's a proven hockey city, men's and women's... it's a championship city. The success for this team... really does come from the teams that have played here before," Marmer added. "This opportunity, this team, this organization, isn't possible without players who played in the CWHL, the NWHL turned PHF, PWHPA. All these leagues, all these players who've built the foundation for the love of women's hockey in the city. I expect, and I'm determined, to continue that legacy."
Marmer also noted her relationship with the Bruins and how supportive they've been of her taking the new role, and how she hopes to leverage that to make sure the team and league get the credit and visibility it deserves.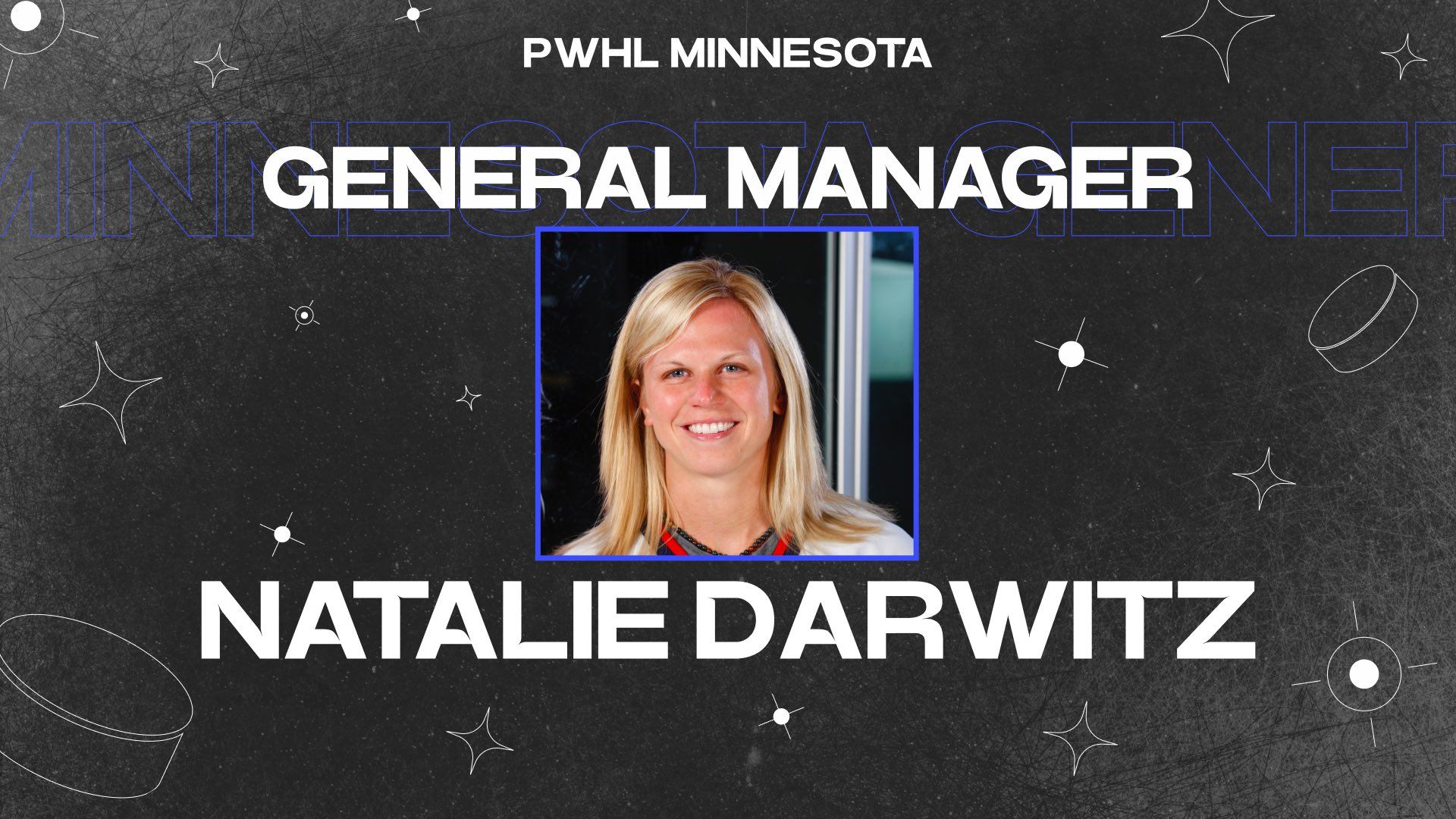 Natalie Darwitz joins the PWHL's Minnesota team as general manager following two seasons as an associate head coach with the Golden Gophers. Her departure from the Gophers was announced in June. As a player, she captained the United States national team for three seasons from 2007 until 2010 and represented the US at various World Championships and Olympic Games from 1998 to 2010. Darwitz has additional coaching experience across Minnesota at both the high school and collegiate levels.
"The women's team will join the rich tradition of hockey excellence in Minnesota," Darwitz said in a press release. "I am impressed by the vision and professionalism of the PWHL owners and league and their commitment to the growth of women's hockey... it's an exciting time for women's hockey and I am thrilled to be a part of it."
Darwitz said that growing up, she dreamt of playing professionally but never got the opportunity. She said she's happy for the players, and is excited to bring a high level of women's hockey to fans in Minnesota. She was previously slated to coach at Hill-Murray high school this year, but was approached "about a month ago" regarding her interest in the PWHL.
"The competitive juices and the heartbeat and the excitement, I don't think I've slept in a month, in a very good way. We didn't have this opportunity. Jayna didn't have this opportunity. To now be a part of it, in a different route... to be a part of this was something I couldn't pass up and had to pursue," Darwitz said.
Darwitz also noted that she has a "pretty good idea" of who the team will select with the first-overall draft pick.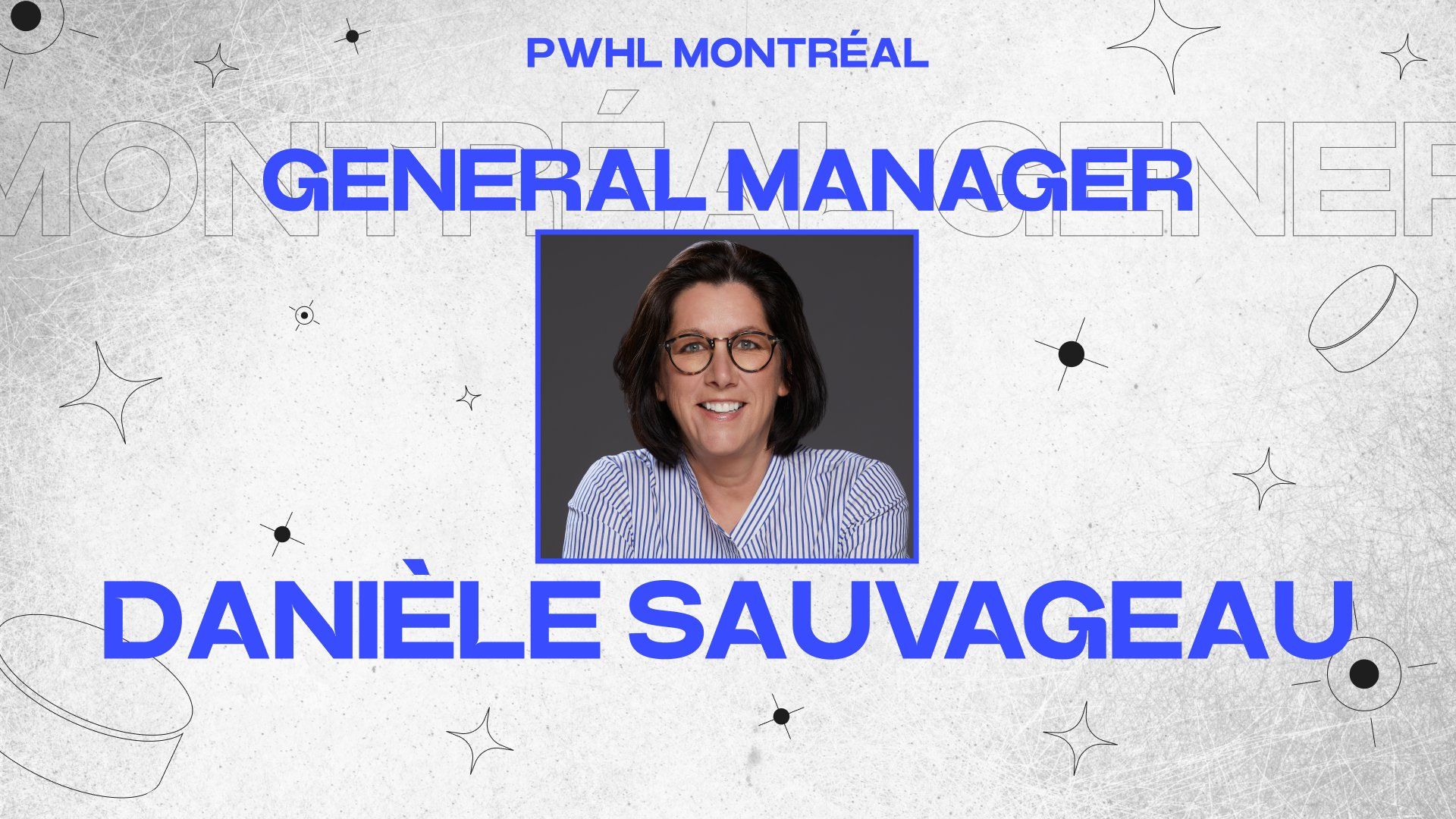 Danièle Sauvageau will serve as general manager of the Montreal team, after having the same role with the PWHPA's regional team. She was the head coach of the first Canadian Olympic team to win gold in 50 years, and has coached and managed women's hockey at various levels since 1996. She is a member of the Canadian Olympic Hall of Fame and an Officer of the Order of Canada.
"This position is a pinnacle," she said. "Growing the game over the last few years... it's a pinnacle."
"We started to have kids seeing that women could go to college and play hockey, to go to university, and then to see them on the national team. In Ottawa earlier on, we had the first World Championship in 1990, then the first Olympics in Salt Lake City where we won the first gold and '98 was won by USA."
"Now, it's like, I could be a part of it as a player, as a coach, as someone who could work in a professional sporting environment. This is huge," she added.
In 2019, Sauvageau launched Verdun's Centre 21.02 and served as the director, a role she will step away from now. While everything would certainly point toward Centre 21.02 becoming the Montreal team's home rink, nothing has been confirmed at this point.
"Montreal is a great city, Montreal is a great hockey city," she said. "Les Canadiennes used to have a great reach in the community." She noted that the full name of the building, Centre 21.02 Les Canadiennes, a moniker that pays homage to the day Canada won its first gold medal (February 21) as well as the CWHL team.
"We wanted to honor the past, and obviously offer a place for the players to play and build a future," she said. "The name of the team hasn't been decided; that all belongs to the leadership of the league. There's a lot of people that already started to call us Les Canadiennes, but we'll see. We need to stay open."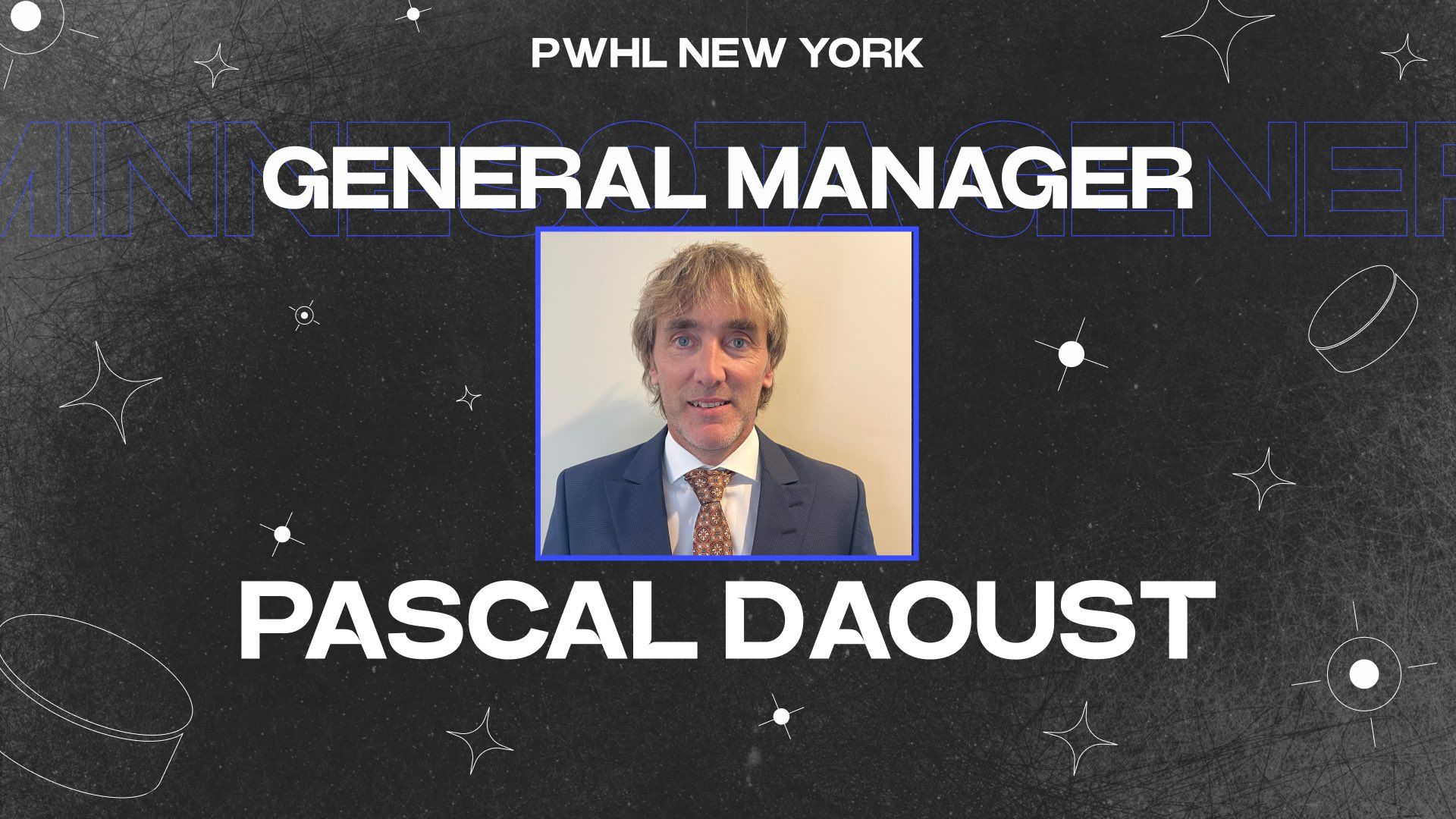 Pascal Daoust joins the PWHL's New York team after seven seasons in the same role with the QMJHL's Val-d'Or Foreurs. He served as an assistant coach with the University of Montreal women's hockey team from 2010 until 2016, a tenure which included two national championships.
"I've been lucky to work with a lot of great people, great colleagues, like Danièle Sauvageau," he said. He said he's helped NHL prospects realize their full potential, a similar goal he has for his PWHL team, and that although he has spent the last few years in men's junior hockey, he "never really left women's hockey."
Sauvageau was general manager at the University while Daoust was an assistant coach. He also worked with Maude Gélinas and Kim Deschênes, both of whom played with the PHF's La Force Montreal last season.
"Already, my phone is ringing, emails are coming in, because a lot of people I know or don't know are asking about our franchise. They want to join us, they want to work with us, they want to work with the best players," he added. "I'm quite excited to receive all of that energy and I look forward to compete on the ice, but also help the six franchises work together to bring the league to the highest level."
"We're going to give all the reasons in the world for the players to come to New York," Daout said of building his team. "We want to treat them like professionals. We want to get the best staff available. We want to give and provide them with all the services that a professional player deserves."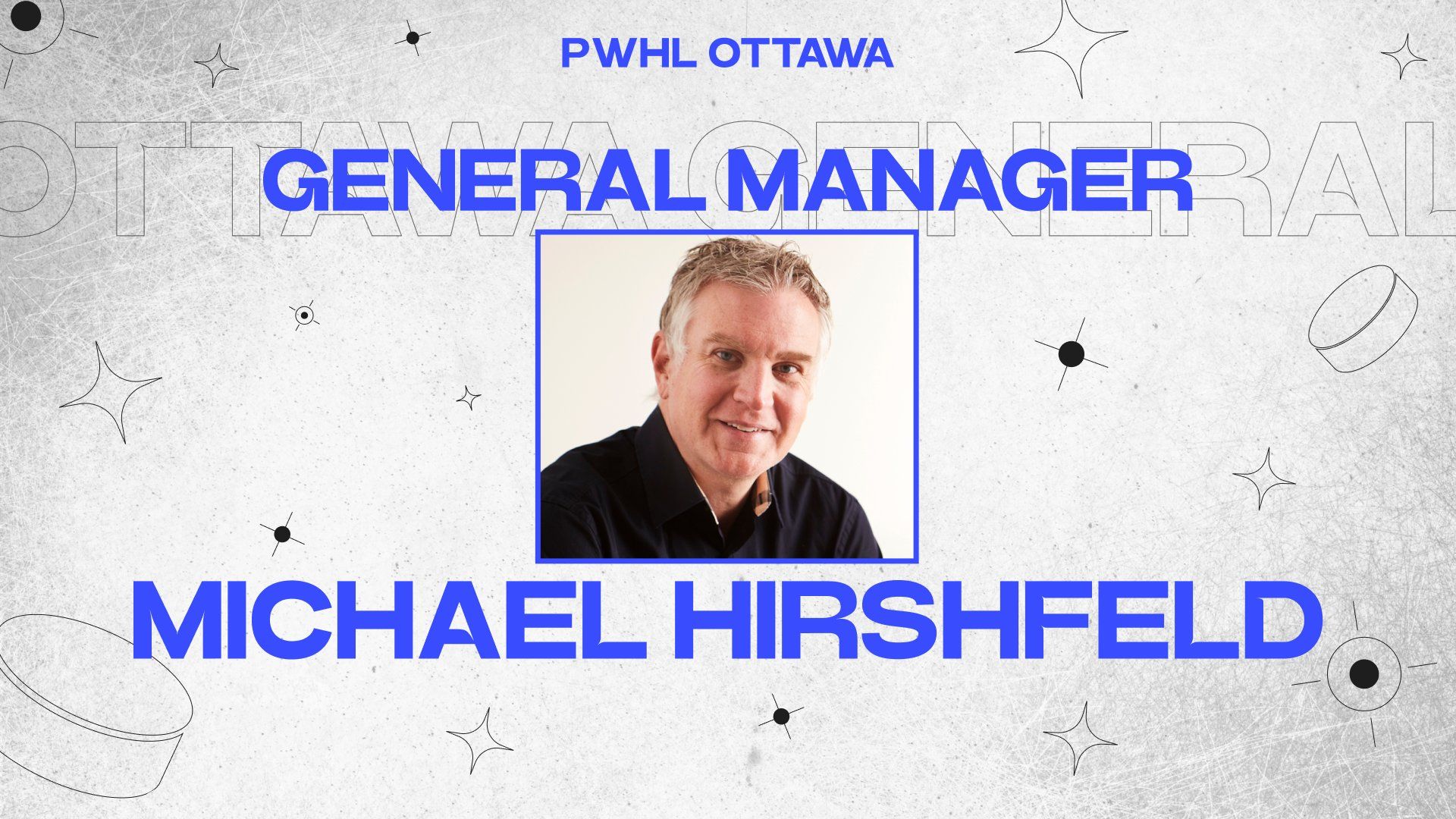 Michael Hirshfeld joins the PWHL's Ottawa team following seven seasons as executive director of the NHL Coaches Association. This appears to be his entrée into women's hockey, though the Coaches Association did begin both the Female Coaches Program and the BIPOC Coaches Program during his time there. His additional past professional experience includes a career as a corporate lawyer and 14 years in the investment business. He also previously worked for the Ottawa Lynx, former Triple-A affiliate of the Montreal Expos.
"I think I bring a unique skillset, a different perspective; a business mind, a legal mind," he said. "I think that can be really valuable to a new league starting up, so I hope to be able to share some of my expertise and knowledge."
Hirshfeld said he wants to describe his team as playing a "gritty, dynamic-style hockey" that will be skills-based. He noted the talent available for the PWHL and said he's "blown away" bow how many great players are out there.
He also said that he's spoken with the Ottawa 67'a team of the OHL. Again, although nothing has been officially announced by the team or league yet, Hirshfeld said that the PWHL team will practice and play at TD Place Arena, home of the 67's, which seats 6500 spectators for hockey. He also said that the arena is building a brand-new dressing room specifically for the PWHL team, which should be ready by the time players arrive for training camp.
"It's a great sports town, and I think that this team will be adopted with open arms," he said. "We're going to put a really exciting product on the ice, and we're going to the best we can to connect with the community. Ottawa is a terrific sports market."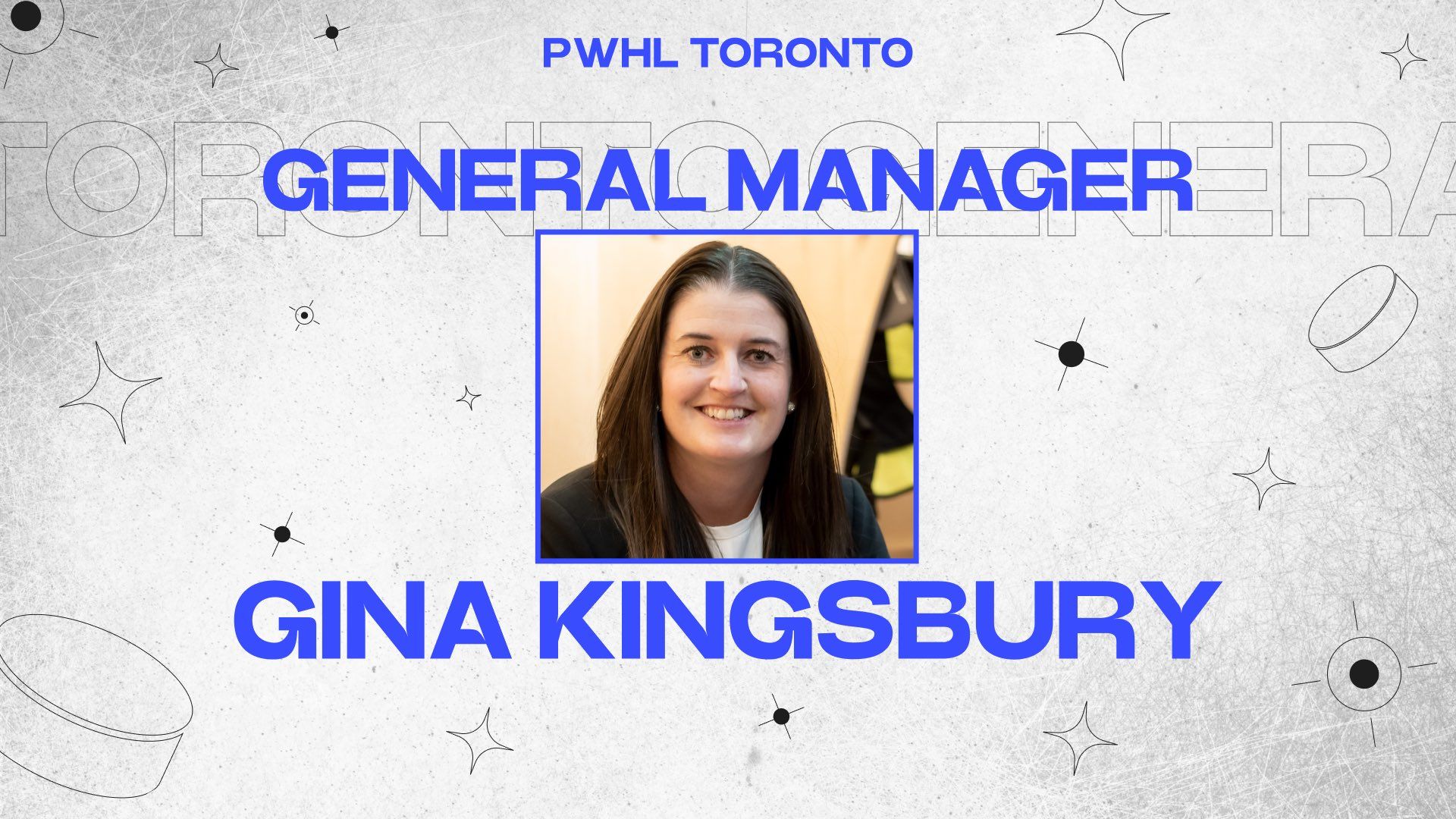 Gina Kingsbury has left her role as Vice President of Hockey Operations at Hockey Canada to join the PWHL's Toronto team as general manager. Kingsbury served as general manager of Canada's national team since 2018. As a player, she represented Canada at World Championships and the Olympics and skated in both the CWHL and WWHL. She was an assistant coach for the Calgary Inferno from 2015-2018.
"I don't even know where to begin," she said. "That's how excited I am about this incredibly historic moment in the women's game and to be in the position that I'm in. I'm extremely grateful to the league for believing in me and allowing me to play this position. I'm very grateful for the support I've received through Hockey Canada and the experiences I've been able to gather over the... years being in a management position."
Kingsbury said that the team's identity will focus not just on the ice, but also on the culture surrounding the team and being part of the Toronto community. She also said that it's "very critical" to build relationships with other teams in their local markets, such as the Maple Leafs and Marlies, and that she looks forward to sharing her vision and plans.
Coming from the Hockey Canada background, Kingsbury spoke in her media availability about how the PWHL will change how national teams train. Historically, teams like the US and Canada have centralized for several months prior to the Olympics. Only time can tell what exactly this will look like going forward, though the PWHL will take breaks to allow its players to participate in international competitions.
On leaving Hockey Canada for the new position, Kingsbury said that she believes she can have a greater impact with the PWHL.
"There's just something about here, making history in the women's game," she said. "We've all dreamt of being able to play roles in a professional setting... I've always had the belief that it's not the role you play, but the impact you can have."
---
Here is the full order of selection for the PWHL draft, being held on September 18.
Round 1
Minnesota
Toronto
Boston
New York
Ottawa
Montreal
Round 2
Montreal
Ottawa
New York
Boston
Toronto
Minnesota
Round 3
Minnesota
Toronto
Boston
New York
Ottawa
Montreal
Round 4
Montreal
Ottawa
New York
Boston
Toronto
Minnesota
Round 5
Minnesota
Toronto
Boston
New York
Ottawa
Montreal
Round 6
Montreal
Ottawa
New York
Boston
Toronto
Minnesota
Round 7
Minnesota
Toronto
Boston
New York
Ottawa
Montreal
Round 8
Montreal
Ottawa
New York
Boston
Toronto
Minnesota
Round 9
Minnesota
Toronto
Boston
New York
Ottawa
Montreal
Round 10
Montreal
Ottawa
New York
Boston
Toronto
Minnesota
Round 11
Minnesota
Toronto
Boston
New York
Ottawa
Montreal
Round 12
Montreal
Ottawa
New York
Boston
Toronto
Minnesota
Round 13
Minnesota
Toronto
Boston
New York
Ottawa
Montreal
Round 14
Montreal
Ottawa
New York
Boston
Toronto
Minnesota
Round 15
Minnesota
Toronto
Boston
New York
Ottawa
Montreal
Here are the draft picks by team:
Minnesota: 1, 12, 13, 24, 25, 36, 37, 48, 49, 60, 61, 72, 73, 84, 85
Toronto: 2, 11, 14, 23, 26, 35, 38, 47, 50, 59, 62, 71, 74, 83, 86
Boston: 3, 10, 15, 22, 27, 34, 39, 46, 51, 58, 63, 70, 75, 82, 87
New York: 4, 9, 16, 21, 28, 33, 40, 45, 52, 57, 64, 69, 76, 81, 88
Ottawa: 5, 8, 17, 20, 29, 32, 41, 44, 53, 56, 65, 68, 77, 80, 89
Montreal: 6, 7, 18, 19, 30, 31, 42, 43, 54, 55, 66, 67, 78, 79, 90
Thank you to The Messenger's Alex Azzi for sharing audio recordings of Friday's media availability sessions. The PWHL has also shared recordings of the entire availability with members of the media.
All graphics courtesy of the PWHL.