For the first time in its three-year history, the NWHL is heading to Minnesota -- if only for a weekend. Amanda Leveille and Brittany Ott will lead their respective teams, with a host of the league's top talent heading west.
In addition, two players from the Minnesota Whitecaps will join the NWHL at its All-Star festivities.
This year's All-Star events will be held in partnership with the NHL's Minnesota Wild at the TRIA Rink in Saint Paul, MN. The skills challenge will held on February 10 at 6:45 PM Central, with the All Star Game to follow February 11 at 11:30 AM Central.
Although the list of events for the skills challenge has yet to be released, past years have included competitions such as shooting accuracy, hardest shot, and fastest skater. The All-Star Game itself will be played 4-on-4.
Tickets for the skills challenge are $15, with tickets to the game available for $25. Both events are general admission and include post-event autograph sessions with the players.
Per the league's Twitter account, the game will be broadcast on Twitter. Broadcast information for the skills challenge have not been released yet.
Matt Falkenbury will provide play-by-play alongside analyst Erica Ayala. Kelly Schultz, radio voice of Bemidji State women's hockey, will be the bench reporter.
Here's a look at the jerseys the teams will be wearing this weekend: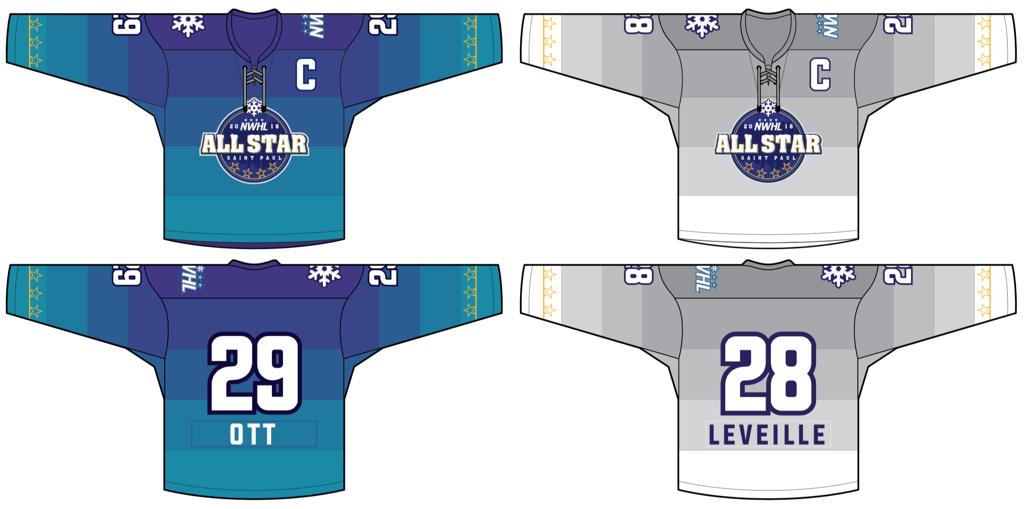 (photo via NWHL)
Ahead of this weekend's events, here's a closer look at both teams:
Team Leveille
Roster
Goalies: Amanda Leveille, Katie Fitzgerald
Forwards: Kelly Babstock, Sam Faber, Kristen Lewicki, Meagan Mangene, Rebecca Russo, Rebecca Vint*, Kate Schipper (Minnesota Whitecaps)
Defense: Lexi Bender, Jordyn Burns, Lisa Chesson, Sarah Edney, Kelsey Koelzer
Coach: Winny (Brodt) Brown
Janine Weber was initially named to the All-Star roster, but is injured and has been replaced by Rebecca Vint.
What to watch
Team Leveille is strong in net, with two of the league's top netminders who should each play half the game. Both Leveille and Burns will want to put on a good show, returning to Minnesota years after they played there with the Golden Gophers. They've also got a talented backend with some offense up front. Weber missed the last two regular season games for her team, and it was announced today that she will not make the trip to Minnesota.
In her own words:
"I was fortunate enough to play for the Gophers and to get to go back there and play another game is just something that's really special for me and Jordyn [Burns] as well." -- Leveille
Team Ott
Roster
Goalies: Brittany Ott, Sydney Rossman
Forwards: Corinne Buie, Jillian Dempsey, Emily Field, Alexa Gruschow, Hayley Scamurra, Jordan Smelker, Sadie Lundquist (Minnesota Whitecaps)
Defense: Amanda Boulier, Courtney Burke, Jenny Ryan, Alyssa Gagliardi, Michelle Picard
Coach: Tricia (Dunn) Luoma
What to watch
Team Ott is arguably strongest on offense, including Gruschow, who leads the league in points (19) and goals (9) and Burke, who leads in assists (14). It'll also be a homecoming of sorts for Buie, who is from Edina, Minnesota.
In her own words:
Can't wait to play in my home state! Thanks to @b_ott29 and @mnwild. #TeamOtt for the win! https://t.co/NpTZpEE60S

— Corinne Buie (@corinnebuie) January 23, 2018
---
Tickets for the skills challenge and All Star Game are available for purchase online here. A weekend package which was previously available for both events has sold out.