The buyout of the Premier Hockey Federation (PHF) impacted every player differently, but for Autumn MacDougall, it put her in a position that allowed her to pursue a goal she's had for years: to play in the SDHL.
A year ago, MacDougall was in the beginning of her third season in the PHF. She was coming off a breakout season with the Buffalo Beauts, where she'd put up 14 points in 20 games and was the team's leading scorer, and ready for another season in Beauts blue.
Fast forward to today, and to say a lot has happened in the last year would be an understatement, not just in MacDougall's life, but in the world of pro women's hockey at large. The 26-year-old is in the midst of her first season in the SDHL, playing with Leksands IF, and is finding her place overseas in Europe.
The question begs: how did we get here?
Let's start by going back to the PHF. Just a few games into the 2022-23 season, MacDougall found herself on the Beauts' fourth line, getting minimal playing time or even being a healthy scratch. She'd put up two points in eight games, but it was clear to anyone watching that the situation had become less than ideal.
On January 16, the Beauts announced that at MacDougall's request, the team had agreed to a contract release. They also agreed to support her with compensation for up to 30 days (unless she signed elsewhere), and waived her non-compete clause.
Three days later, she'd signed with the Montreal Force. Her role in Montreal, especially with coming in later in the season, wasn't as pronounced as her previous role in Buffalo had been, but she still registered two assists in 13 regular season games on a struggling Force team.
After the season ended – with the Force missing the playoffs and finishing in sixth place – it was time for MacDougall and her teammates to start working for new PHF contracts. Until suddenly the PHF was gone, bought out by the Mark Walter Group, which was finalized and announced at the end of June.
That same week, MacDougall decided to head overseas.
"I've always been interested in coming overseas to play," she said. "It just never worked out for me previously. When the PHF folded, I thought this would be a great opportunity for me to get a chance to come play here."
"I knew of the coach [Jordan Colliton], as my team in university played against the team she coached in Calgary," MacDougall added. "I messaged her to see if they were looking for any more forwards, and it seemed like a great fit after talking to Jordan and our GM Alex."
Colliton spent four years as an assistant coach at Mount Royal University before joining Leksands in 2022. MacDougall is an alum of the University of Alberta, where she recorded 125 points in 139 games over five years. The pair had seen enough of each other over the years to have a sense of familiarity, which encouraged MacDougall to join Colliton's team.
On top of that, MacDougall had long been interested in what the SDHL had to offer. "The SDHL has been a well-known, good hockey league, and I've been wanting to play in this league since I graduated college," MacDougall said.
After she signed her one-year deal, Leksands general manager Alexander Bröms helped set MacDougall up with her visa and flights to make the trip to Sweden, and the overall process, as smooth as possible.
Per the SDHL, players are not allowed to disclose their salaries or the terms of their contracts to the media. Not all players are paid, but arrangements are often made with North American players where components like housing and living expenses may be covered, even if a straight salary is not offered.
Fast forward a few months, and MacDougall is making a home for herself in Sweden. The city of Leksand sits at the southern edge of Lake Siljan, and has a population of less than 6,000. In addition to the women's team playing in the SDHL, the city is also home to the SHL men's team Leksands IF. Both teams play at Tegera Arena, which has a capacity of 7,650.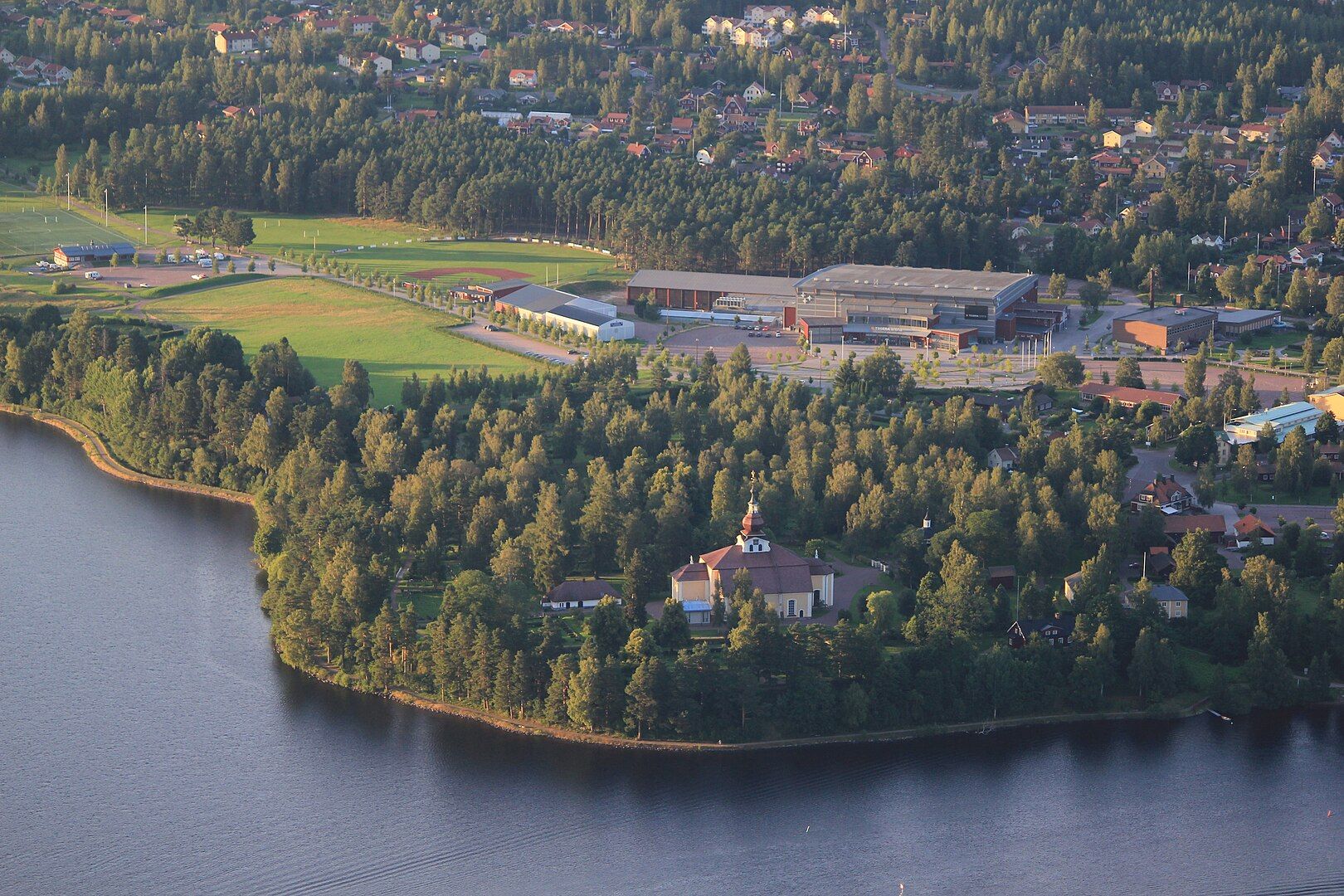 Playing overseas comes with its challenges – and its rewards, as MacDougall has quickly found out. The Swedish game has its differences from the North American game, as does life in Europe, but MacDougall seems to be adjusting well.
"[It's] ... a lot more hockey than I'm used to playing in the PHF, but I love having more practices and games," she said. "The food was a bit of an adjustment for me at first, but I found things I like and I'm getting used to it now."
The 10 teams in the SDHL each play 36 games in the regular season. Playoffs are best-of-three series, while the two worst teams in the league play a qualifier to defend their spots in the SDHL against a challenger from Nationella Damhockeyligan, the second-tier women's league in Sweden. In comparison, PHF teams played 24 games in the league's final season, and 20 in the prior season. The Isobel Cup Playoffs last season saw best-of-three semifinal series, followed by a single-game championship.
There are in-game differences, too. "It's a bigger ice surface, which I personally like as a smaller player," she added. "There's also body-checking in our league. That's different for me, and will be a challenge, but hopefully I'll get used to it."
Outside of the rink, signing and playing in the SDHL has given her the chance to see parts of Europe she might not have otherwise had the chance to, and she's enjoying the opportunities she's been given.
"We toured Stockholm a bit, and we have a national team break in November, so some of us are able to go to Budapest for the week," she said. "It's busy with hockey, but it's nice we have some weekends off to travel and explore Europe."
Away from the rink, MacDougall is taking a personal trainer course online and mentoring young hockey players from back home that she typically trains in the offseason. She's one of six North American-born players on her team, alongside fellow Canadians Tatum Amy, Anna Purschke, and Courtney Vorster, plus Americans Taylor Leech, Shay Maloney, and Emma Polusny. Amy and Purschke both played for Colliton at Mount Royal.
Nine games into the season, MacDougall has scored one goal and added three assists for four points. She's tied for third on her team in scoring, and has found her way to the top offensive line, getting the opportunity to play with Norwegian left winger Emilie Kruse Johansen, who has eight points in as many games. Leksands IF sits eighth in the SDHL standings as of writing, with a 3-5-0-1 record and 10 points. Luleå HF leads the league with a perfect 9-0 record. (Leksands has a game against SDE HF today, October 27, at 12:00 PM Eastern US time, 6:00 PM local time.)
MacDougall understandably doesn't want to focus on the past or what happened in Buffalo that led to her exit, though she did say that she's glad she had the experience of playing in the PHF for a few seasons. Now, she's enjoying playing in the SDHL and living in Leksand, and is looking only towards the future.
(Photo: Daniel Eriksson, licensed via Imago)