"Surfing invites us to fall in love with the magic of liquefied energy waves that begin as distant winds and deliver us into the heart-bursting beauty of being alive in this inimitable point in time," writes Lauren Hill, a 35-year old professional free surfer and writer, in her book She Surf: The Rise of Female Surfing.
Hill was raised on the small barrier island of Anastasia off of Florida's East Coast. When she was in high school, she was competing in long-boarding when her surf sponsor offered her a chance to go around the globe participating in competitive surfing. She had to make the hard choice of either finishing high school or going on the trip. Ultimately, Hill decided to remain in school and go to university after that. By the time she got to college, she found that she wasn't actually keen on competitive surfing any longer –⁠ it wasn't rewarding anymore. This shift in her relationship with the sport drove her to the path of critical inquiry of surfing and applying feminist and environmental theory to surfing culture.
Competitive surfing is for surfers who compete to win prizes, awards, and money at league competitions; the World Surf League, headquartered in Santa Monica, California is the international governing body for competitive surfing. These surfers have sponsors and compete around the world for points that accumulate to crown a World Champion each year. On the other hand, free surfers may also have sponsors, but they don't participate in direct competition or events with other surfers. They make money based on their ability to make films, write stories, communicate the spirit of surfing, and stretch and innovate the performance of surfing. They are more involved in being ambassadors of the lifestyle and culture of surfing. Hill's switch to being a free surfer allowed her to view the sport in a completely different way.
"My primary interest has been looking at surfing through an eco-feminist lens and telling stories that share the voice of women from various surf cultures, and trying to interject their voices into the mainstream narrative," Hill explained. Modern competitive surfing culture has been quite exclusive and homogenous –⁠ fundamentally envisioned by and for young white men. Hill felt like it was her obligation as a professional female surfer who has frequently felt isolated to help change that sense of belonging for other surfers.
"Beyond the intimate experience of a singular surfer in the water, surfing has never been about only riding waves. How we play is saturated with the ideas, ideals, and morals of our world," writes Hill in She Surf. "The true legacy of surfing is that it is for everyone –⁠ no matter the race, gender, or sexual orientation –⁠ it's only that this modern incarnation of surfing over the last 60 to 100 years that has made it appear to be an exclusive boys' club."
It's intimidating to be the only woman in the water, "particularly when you're in the surfing wave of consequence" (when the ocean's waves are quite powerful) and "you're the only woman in a sea of men." It can feel quite aggressive, intense and terrifying; which has kept a lot of women from entering the water and feeling like they have a place once they're there.
In her book, Hill shares experiences of women from different ends of the world: Sri Lanka, India, islands in the South Pacific, Seychelles, Europe and the United States, amongst others. "I met women who were surfing and were deeply embedded in their respective communities and were deeply committed to protecting the ecologies that they were a part of," she says. She Surf is the result of 10 years of Hill's traveling, meeting other surfers, and learning diverse stories about surfing culture.
As for Hill herself, when she was pregnant with her first child in 2017, she experienced many pregnancy complications which required long-term hospitalization and bedrest. The entire experience of pregnancy and parenthood has engaged her to risk more in her surfing life, and for the surfing community. It has pushed and stretched her to become more creative when she's in the water. At 35, Lauren is still going strong as a professional free surfer.
---
In India, Ishita Malaviya has had to grapple with lots of different expectations regarding what's appropriate in her community for a young woman to be doing. In much of Southeast Asia, lighter skin tones are often favored due to colorism, which is at odds with the fact that surfers often spend a lot of time in the sun, causing their skin to tan and darken. Malaviya has had to battle with defying stereotypes around beauty and lightness in India, and contribute her own recharged ideas of beauty as being defined by what she does, how she performs, and her adoration for surfing.
As Malaviya told Hill in She Surf: "I feel like, as a woman in India, you're sometimes forced to grow up too soon. Surfing brought back that element of play in my life and gave me a sense of freedom and liberation that I didn't know I was seeking, but desperately needed. I encourage people to surf for its immense potential to bring joy and healing by developing a deep connection with the ocean."
For Hill as well, surfing has been an amazing compass. She has built her life around her love of surfing and the ocean; it has been something that has caused her to settle on the main choices in her day to day existence. To Hill, "surfing is about the play, feminism, experiencing strength, embodiment, connecting with her own body, and interfacing with the global ocean community that has a crazy passion for riding waves." From the university she chose to attend, to the life partner that she picked and the place she has chosen to make her life and raise her family: surfing has figured in to everything. "I made these decisions based on maintaining proximity to the ocean, and said no to many opportunities because they were too far from the ocean or would have required me to organize my life in a way not conducive to being ready to take action when the ocean's conditions align optimally," she says.
Every surfer that Hill interviews in her book is effusive about their love of the sport. Surfing might seem superfluous or trivial to an outsider, but the passion for it has brought many together from around the globe in a unique and almost spiritual way. "Riding these energy waves that have traversed oceans, streams, and seas that we align with, fills our hearts, lightens our spirits, and inspires us to do incredible things like engaging in our communities, and protecting the spaces that gift us this joy," says Hill. Different surfers interpret their relationships to the sport and the ocean in different ways, but one of the really common threads that Hill personally found is a pretty constant commitment to environmentalism –⁠ especially when it comes to woman surfers. "Surfing for many women is a call to action to protect their local beaches, and to protect the waterways and airways that surround their time in the water," she explained.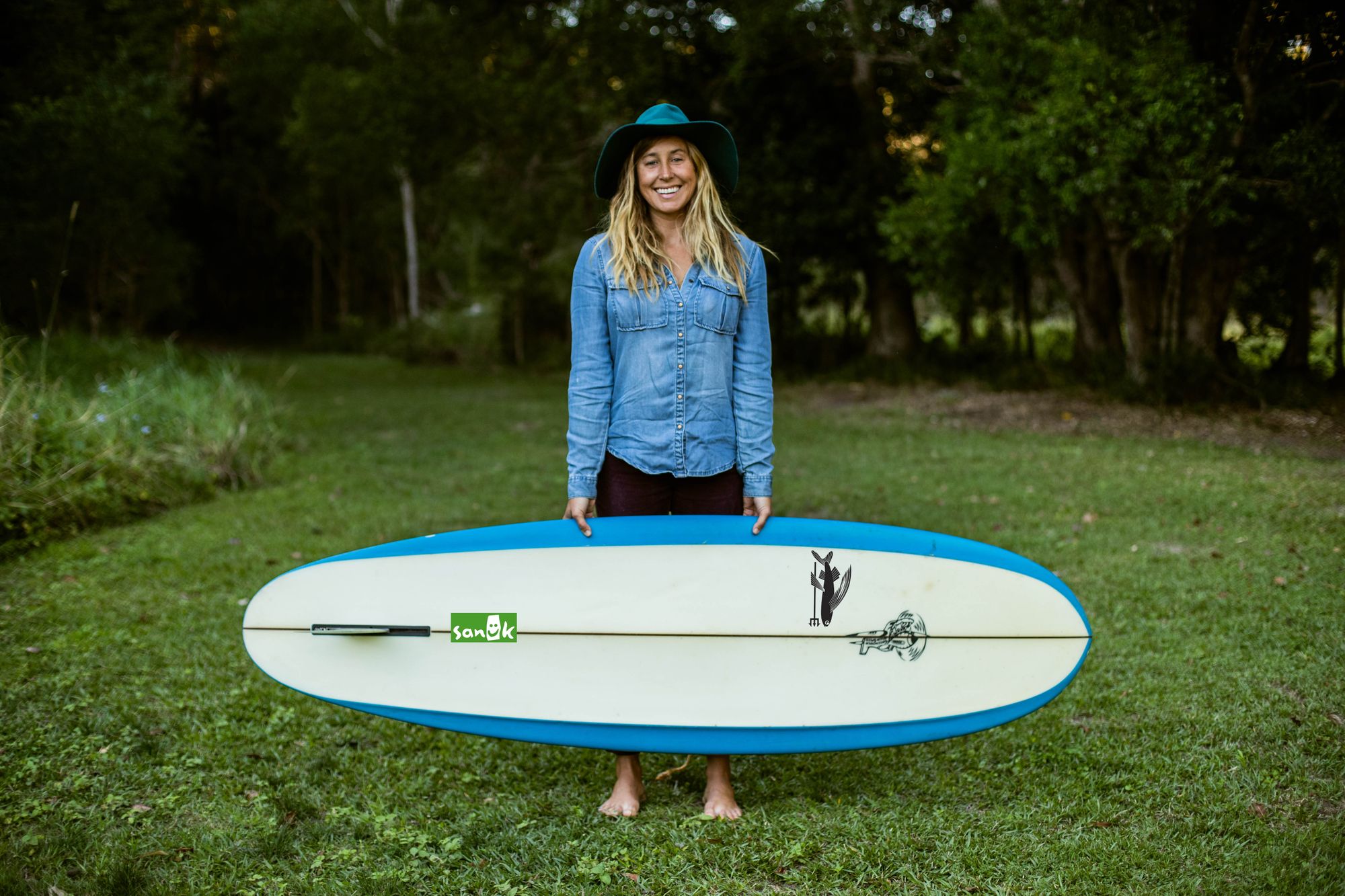 Besides, the ocean is a gift, for the surfers as well as for every living being that's surviving on this planet. The waves also are endowments from the great pulsing energy of our planet. They come with no prerequisites for any particular kind of being, and are free for all individuals. "Everyone's welcome in the ocean and that's why the ocean never discriminates," Hill explains. Same as that, the ocean is also an equalizer:  "No matter how good you are, or how advanced you are, you are going to fall down in that similar salty water. We collectively have that experience to be humbled by a force more powerful than us."
Surfing requires an intimate relationship with that powerful force of nature, and navigating that relationship successfully can be a transformative experience. When asked for advice for young surfers, Hill told the Victory Press: "Don't be daunted by other people's opinions of what you should be doing. In any capacity, but especially when it comes to surfing. If you stay true to your passion for riding waves, it can open up incredible worlds both within and outside of you."
Right now, "women are reclaiming their natural place in the global sport, art, and culture of surfing," wrote Hill. "While men's performance and perspectives have tended to dominate surfing narratives, the last three decades have seen women's participation increase exponentially."
---
Lauren Hill currently lives outside of Byron Bay in Australia and has kept on creating projects that rotate around the power of storytelling to build a community and inspire action to protect our planet. She has been featured in the surfing films Bella Vita (2013) and The Church of the Open Sky (2018) in addition to her book, She Surf, which was released in 2020.
(Photo: Celia Galpin, courtesy of Lauren Hill)