New Hampshire PWHPA Chapter Has a Rough Start
Less than a week after holding their tryouts, the New Hampshire regional hub of the PWHPA participated in its first two exhibition games in Hudson, New Hampshire this past weekend. The PWHPA team featured a combination of returning players, like defenders Megan Keller and Jacquie Greco, and newcomers, like forwards Delaney Belinskas and Lacey Eden.
Overall, the PWHPA team looked like exactly what they were: a mish-mash of players who haven't had much time together and many of whom haven't played a meaningful game of hockey in months, thanks to the COVID-19 pandemic. Their opponents, however, had several weeks of training camp and a handful of exhibition games already under their belt, and it was evident.
Here's a general look at this past weekend's roster for the PWHPA New Hampshire region, which included a handful of players who hadn't yet been announced as having joined the organization:
Goaltenders: Katie Burt, Brittany Ott, Kimberly Sass
Defense: Kali Flanagan, Megan Keller, Codie Cross, Lillian Ribeirinha-Braga, Jacquie Greco, Breanna Scarpaci
Forwards: Haley Skarupa, Haley Scamurra, Makenna Newkirk, Delaney Belinskas, Lacey Eden, Alex Carpenter, Chelsey Goldberg, Alexa Gruschow, Cassidy Vinkle, Meghan Turner, Courtney Turner, Dana Trivigno, Emily Field, Amanda Kessel, Andie Anastos
And below, here is a complete list of PWHPA players for 2020-21 so far. Players listed in red participated in at least one of this weekend's exhibition games in Hudson: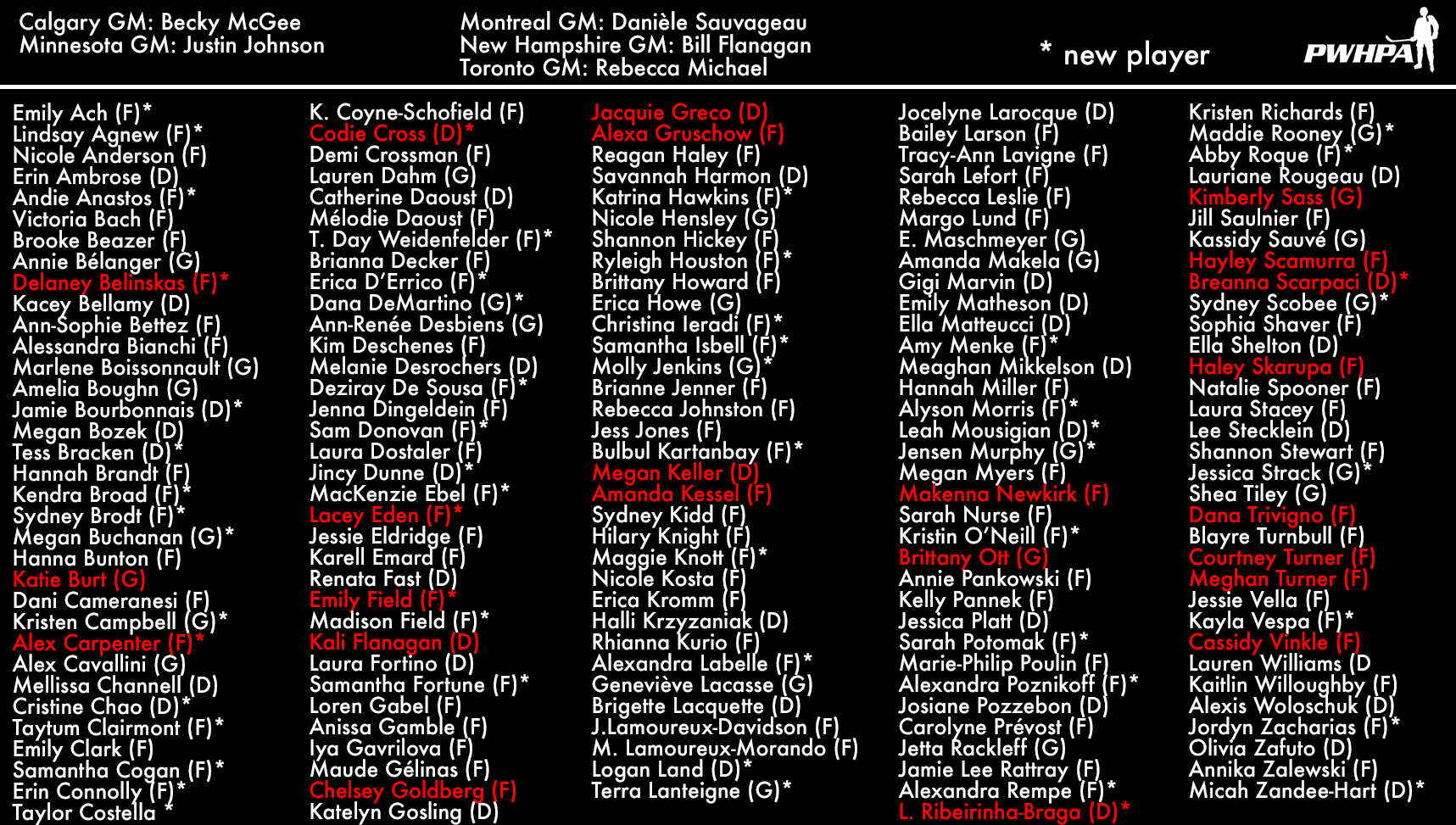 (follow this link for a text version of this list)
The PWHPA team dropped a 5-0 decision to the USPHL'S NCDC Islanders Hockey Club on Friday night. Initially, the New Hampshire team often had trouble maintaining possession or their zone. In spite of that, the Islanders only held a 1-0 lead after the first half. (These games were played as two halves, rather than three periods.)
Unfortunately for the PWHPA, things only got worse in the second half. Although Katie Burt generally put up a strong performance, making 45 saves in the game, the team couldn't get much else going in the Friday night tilt.
The PWHPA returned to the ice less than 24 hours later, this time facing the USPHL's Boston Junior Bruins. Burt was back in net, with Ott on the bench. Kessel, Courtney Turner, and Dana Trivigno also joined the roster, along with former BC captain Andie Anastos.
These additions shifted the lines slightly, with Skarupa bumping down to the second line, where she was joined by Trivigno and Anastos. Kessel took the right-hand spot on the first line, alongside Carpenter and Scamurra. The defense pairings (Keller-Flanagan, Cross-Ribeirinha-Braga, Scarpaci-Greco) remained the same.
Saturday's exhibition didn't start off much better for the PWHPA, as they found themselves down 3-0 with about five minutes to play in the first half.
Alex Carpenter finally scored the first goal for the PWHPA at the 21:21 mark, banking off a play that started with Kessel using her speed to bring the puck into the zone. Carpenter got the Bruins goaltender out of position and was able to capitalize on the opportunity. Kali Flanagan and Kessel were awarded assists.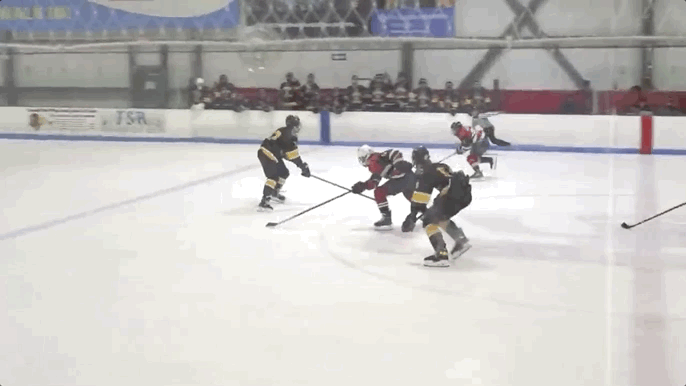 Carpenter's goal would be the only one of the weekend for the New Hampshire region PWHPA team, as they fell by a score of 5-1 on Saturday afternoon.
If you'd like to watch this past weekend's games, you can find them on YouTube here (Friday) and here (Saturday).
Meanwhile, in Minnesota...
The PWHPA's New Hampshire regional group wasn't the only one in action this weekend; the Minnesota region also played a pair of games against the USPHL's Minnesota Mullets – and came out with significantly better results.
These games were played as 'closed-door' scrimmages, so there was no full broadcast of the games and no official scoring kept. The Mullets did several short live videos on Facebook during the game; if you're interested, you can watch those here.
The PWHPA beat the Mullets 8-1 on Saturday before capturing a 9-3 victory on Sunday afternoon. Nicole Hensley was in goal for Saturday's win, while Maddie Rooney and Sydney Scobee split Sunday's game.
Here's what the roster looked like for those games:
Goaltenders: Maddie Rooney, Nicole Hensley, Sydney Scobee
Defense: Emily Ach, Lee Stecklein, Savannah Harmon, Demi Crossman, Nicole Anderson, Margo Lund, Samantha Hanson
Forwards: Kendall Coyne-Schofield, Hannah Brandt, Hilary Knight, Dani Cameranesi, Kelly Pannek, Sydney Brodt, Ryleigh Houston, Abby Roque, Sophia Shaver, Sam Donovan, Reagan Haley, Nicole Schammel, Amy Menke
(Thank you to Noora Räty for providing the roster, including goaltending info for both games. The Minnesota Mullets also provided Sunday's final score.)
Final Thoughts & What's Next
The rosters for both PWHPA groups that were in action this weekend are considered unofficial; they aren't finalized for the 2020-21 regular season, so expect some changes in the next few weeks before anything else gets going. That being said, this weekend's exhibitions were a good start for the two American regional hubs.
From watching the New Hampshire games, Katie Burt looked sharp in net, despite the overall results being quite one-sided in favor of the USPHL teams. Burt made 45 saves on Friday and 51 on Saturday for a combined 96 saves on the weekend. Regardless of the fact that these were exhibition games, and regardless of the caliber of the opponents or play – that's a damn solid number.
Elsewhere on the ice in New Hampshire, it was hard not to notice the play of Lacey Eden. The 18-year-old spent the last two seasons with Shattuck St. Mary's and is heading to Princeton for her college career. Saturday's top line of Kessel, Scamurra, and Carpenter was certainly intriguing and something to potentially look for in future games.
It's hard to judge the Minnesota team without having much tape to look at. However, if the scores are any indication, that team is highly skilled and will be quite the opponent once the regular season gets underway. All it takes is one look at the roster to see just how stacked with talent that team could be, depending on how it looks once it's finalized.
Expect more games between the PWHPA and USPHL to come; the USPHL's initial announcement about the series of exhibition games, which came in late June, said that the PWHPA "will play each of the USPHL's NCDC teams once." The NCDC member teams are picking up the costs of these games.
In addition to the regional hubs in Minnesota and New Hampshire, the PWHPA will have hubs in Toronto, Montreal, and Calgary. There's no word yet about any exhibition games for those teams, but stay tuned for continued PWHPA coverage here at The Victory Press.