(Photo: Melissa Burgess)
Roller derby can be described in many ways, from physical and tough to a highly-mental, strategy-filled game; all of those pieces combine to form a multi-faceted sport that can be incredibly empowering for women and girls of all ages and backgrounds.
That's what I discovered when I dove into the world of roller derby by watching the Queen City Roller Girls (QCRG) in Buffalo, New York.
First, here's a quick Roller Derby 101. (This information is also included in QCRG's game-day programs, making it an extra-welcoming environment for newcomers!)
Each team can have up to five skaters on the track at once: the jammer (the point-scorer), who wears a star on her helmet; and four blockers -- the people who try to stop the jammer from getting through. One of the blockers can be designated the pivot blocker, and can become the jammer by receiving the star onto her helmet.
The game is broken up into "jams," which can last up to two minutes. During a jam, the jammers try to pass each opposing blocker. The first to do this is the lead jammer, and earns a point for each opposing blocker she passes legally (no fouls, and she must stay in bounds). The lead jammer also has the ability to end the jam -- which can come in handy to prevent your opponent from scoring points.
While you can use your shoulders, upper arms, and hips to block, using hands, forearms, and elbows are off-limits. You also aren't allowed to trip another skater or block them above the shoulders, below the thighs, or on the back.
Thirty-second penalties can be handed out for an illegal action during game play, which results in a power jam for either team. During a power jam, the penalized team doesn't have their jammer during the penalty -- meaning that only the opposing team can score. Each game consists of two 30-minute halves, and whichever team has the most points at the end wins.
Roller derby is both an offensive and defensive sport, as jammers try to pass their opposing blockers and earn points, and blockers simultaneously try to stop the opposing team's jammer while helping their own jammer get through.
Queen City Roller Girls became Western New York's official women's flat track roller derby when the league first formed in 2006. Now, they're celebrating their 10th season.
The league is composed of three teams: the Suicidal Saucies (a play on the city's infamous chicken wings), the Alley Kats, and the Devil Dollies. It also has the Lake Effect Furies (a play on Buffalo's location on the lake), the league's travel team, made up of players from the other three teams; and the Queen City Junior Roller Girls, a junior league for girls between the ages of 10 and 17.
The Queen City Roller Girls league is part of a larger organization, the WFTDA, or the Women's Flat Track Derby Association, which houses 369 full-member leagues and 76 apprentice leagues from across the world –- including the United States and Canada, Germany, Australia, Sweden, and more.
Here's a brief clip from a recent QCRG bout that I attended:
Each player has their own "alter-ego," many of which are fun plays on words or celebrity names: from Vajeena Warrior to Karsmashian, La'Batt Bruise to Flame Throw-Her and everything in between.
The league is, at its core, about intersectional feminism, welcoming cis and trans women, as well as women of all ages, ethnicities, sizes, and athletic backgrounds.
Everyone is welcome at the track.
Sissy Fit, a referee (part of the "Buffalo Herd"), is one of the founding members of QCRG; she also described roller derby as "female empowerment on eight wheels," which inspired the title of this piece.
After watching the A&E show "Rollergirls" upon a recommendation from her best friend, they started from the ground up and began the league.
At first, she said, they had no idea how many women in Buffalo would be interested –- but the numbers grew, and continue to grow.
"After a couple of months, we had enough women to form three teams," she said. "It was then that I realized we had our finger on something really special here."
"It became apparent that it wasn't just me that needed roller derby in my life; we had a whole network of women out there who were looking for the same thing but just didn't know it yet," Sissy Fit said.
From 2006 until 2013, Sissy Fit played on the Suicidal Saucies, and then joined the Buffalo Herd.
While her childhood was mostly filled with the solo sport of gymnastics, she's enjoyed being part of the team experience that roller derby provides. When she's not on the track, she creates art –- including painting toilet seats -– and selling items on Etsy.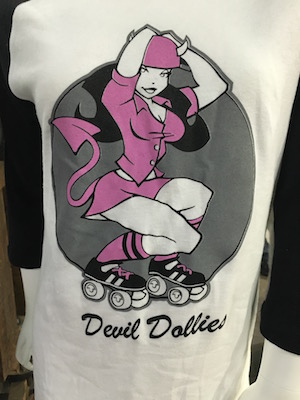 While Sissy Fit has had years of experience, Molly Malign, a blocker for the Devil Dollies, has been in roller derby only since 2014. Her 20-year background in Irish dance left her with a variety of recurring injuries, and she decided to give roller derby a spin.
In addition to the Dollies, she also plays on the Subzero Sirens, QCRG's "B-league" travel team. She's an IT specialist, but when it's time for a bout, it's all about laying it on the track.
"Female empowerment is what roller derby is all about," Sissy Fit said.
"So many women are taught from a young age not to be aggressive, to apologize, to do things that are 'appropriate' for their gender," Molly said. "Derby shows that women can play physical sports, to great success, and that we can still be feminine if that's what we want, even when we aren't [being] 'ladylike.'"
Joyride, a blocker for the Suicidal Saucies, has been playing roller derby since 2012. She joined the sport after watching her cousin play, and comes from a background that includes softball, volleyball, competitive dance, and cheerleading.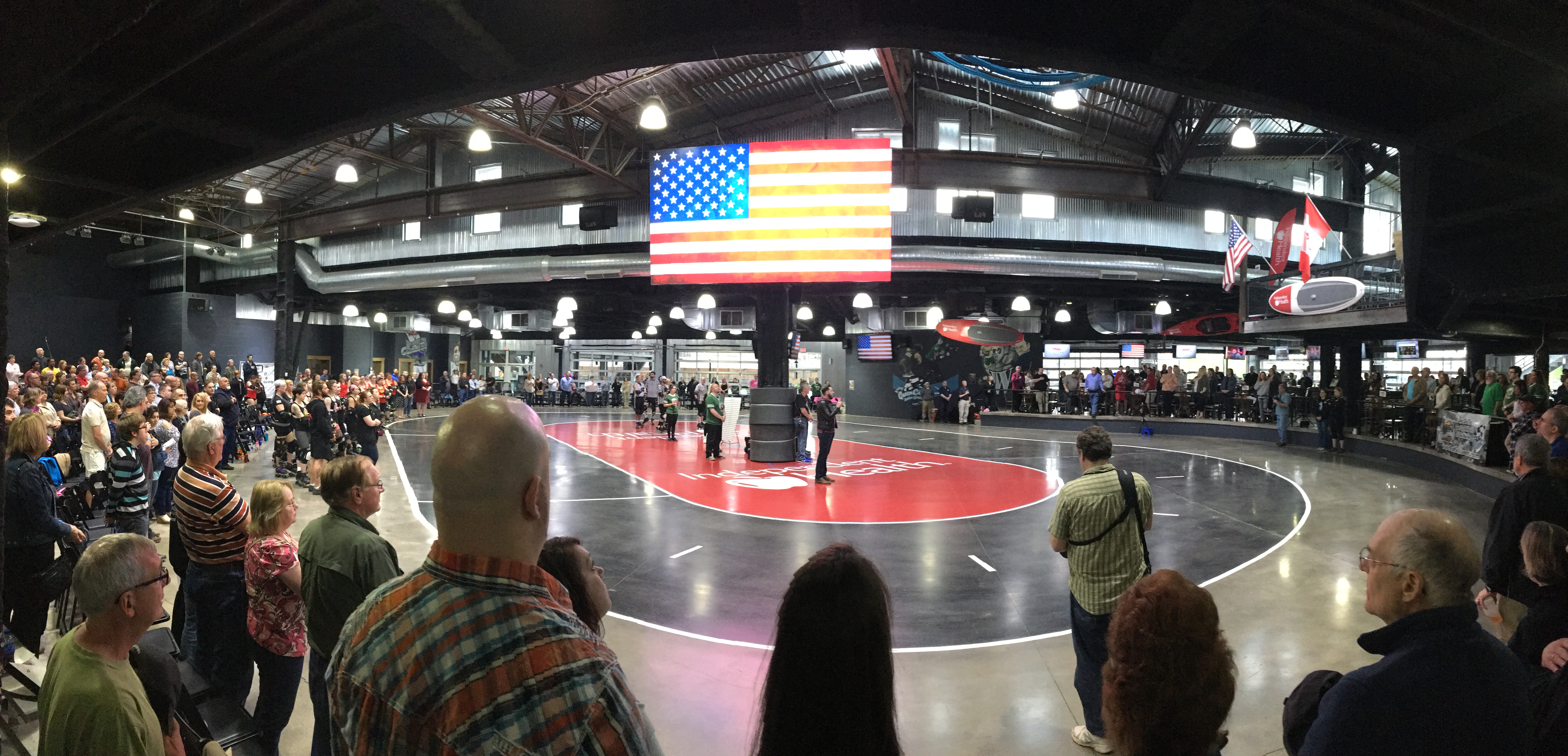 She quotes a line: "Roller derby saved my soul," and noted that it can be taken many ways: the sport is empowering, in that women can feel strong and athletic while taking control of their health, but it also creates friendships that help participants through difficult times and to celebrate the exciting times.
The junior league, for girls ages 10-17 features two teams: the Cereal Killers (a play on the fact that the General Mills plant is in Buffalo) and the Atomic Bettys.
Like their older counterparts, these girls also have their own names, from Little Missfit to Dora Destro-ya. The juniors play non-sanctioned games on three different levels (based on their skating abilities and the amount of physical contact allowed), and also travel to places like Toronto and Dallas to compete against other teams.
Here's full video of a recent bout between the QCJRG and the Pittsburgh Derby Brats:
Two of Sissy Fit's daughters –- aged 16 and 18 -- play in the junior league, and this allows them to have a sense of what "true female camaraderie" is all about, she says.
"How amazing is it to see women play hard against each other on the track, hitting and blocking with pure full force, and then immediately stepping off the track, giving hugs, love and support?" she said.
Her daughters, she said, have grown up knowing nothing other than roller derby.
Veggy Cowgirl, 18, has already graduated to the adult league, while Jiffy Pop, 16, has been chosen to participate in the first AU Junior Roller Derby Olympics.
Sissy Fit said she can see how much confidence roller derby has given her daughters in their daily lives.
"They have a strength in character that I believe roller derby has helped shape in them," she said, "and a security in their physical self, seeing what their bodies are capable of and to embrace their strength."
While QCRG is an all-female league (save for some male coaches and referees), roller derby can certainly be a co-ed sport, but women play it just as well as the men, if not better, Molly said.
"While men may have learned from coaches and parents at an earlier age to be more aggressive, and may have some size and muscle advantage," Molly said, "women frequently have a lower center of gravity, an analytic mindset, and powerful hips that they can use to take those dudes out! It all evens out in the end."


With its physicality and full-contact nature, the sport also challenges traditional stereotypes around women's sports -- but even as it challenges those stereotypes, people still sometimes question whether or not the sport is staged, Joyride says.
Pro tip: it's definitely real.
"We just hold our heads high and know we gave it our all," Joyride said.
"It's not easy, and there are many times that several of us wanted to walk away. But then the offseason hits, and you see your skates, and then you find yourself counting down till the next season starts," she said.
"I'm proud when I think of the limits (both physical and mental) that we've pushed ourselves past when we thought we couldn't," she added.
Among the lessons learned from her roller derby days, Molly said she's learned that there has to be a give-and-take, both in sports and in real life.
"Sports have helped teach me when it's appropriate and helpful to compromise," she said. She also pointed out that she's learned not to make excuses.
"There isn't a coach alive who wants to hear your life story and all of the reasons why you 'can't' do something," she said. "They just want to hear that you'll try harder next time."
In the end, Molly says, roller derby isn't about your size or your athletic abilities.
"You just have to have passion and drive and try your hardest every time you strap on your skates."
What's next for QCRG, who will be wrapping up its 10th season in the coming weeks?
Hopefully, Sissy Fit says, the league will continue to grow and sell out every game. The league recently surpassed 10,000 tickets sold for this season. In addition, she said she hopes to see more young girls joining the junior league, as they are "the future" of the sport.
As Sissy Fit puts it, roller derby is all about sisterhood, support and athleticism, and creating a network of people who love the sport and want to see it succeed:
"Roller derby players encompass all that it is to be a woman: compassion, resilience, love, and strength."